Thank you Ruby Rock-It for having me as a Guest Designer this month. It was fun to play again with Scrapbooking Paper and here are two Scrapbooking Layouts I created for them :)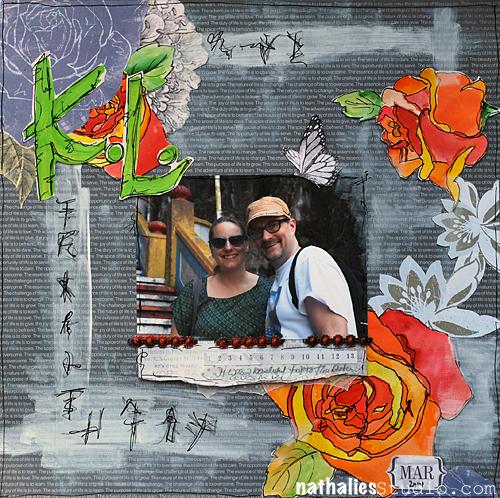 K.L.
I used the Year in Review April page as a base and toned it down here and there with Gesso. I also scribbled some marks on there. I cut out the flowers of the Mother Nature Point in Time Paper and colored three of them with watercolor.
I also cut out Flowers of the Mother Nature Royale and Mother Nature Flutterby Paper as well as the beautiful butterfly. I layered different paper and vellum a the bottom of the photo. The title which is short for Kuala Lumpur where the photo was taken is hand painted with a brush and acrylic paint and then doodled on with a black journaling pen.
Life is like a box of chocolate
For this layout I used the beautiful Mother Nature Cardstock and painted with some Liquitex Acrylic Paints over it.
 I also painted the back of some of the Damask Vellum and cut out one of the damask shapes.
I layered stripes and rectangles of the Floral Vellum, Mother Nature Royale and Year in Review June Paper. I wrote the title with a Liquitex Acrylic Marker on the Mother Nature Royale paper, traced it and cut it out for a nice extra hand made touch.
I splattered some Liquitex Acrylic Ink onto the layout to give it a bit contrast with black and make the colors more pop.
Hope you have a gorgeous day with lot's of chocolate …I mean…who doesn't like chocolate?
Related articles across the web