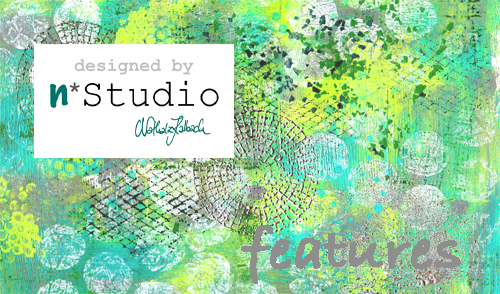 One of the things that make me really giddy is when I spy someone using my new stamps by Stampendous or also my Stencils with StencilGirl Products 
 So I thought once in a while I would feature the work of those wonderful talented people with a new Series called: designed by n*Studio features:…..
And today I feature: Judi Kauffman
Judi and I met several years ago at CHA and ever since I have been blessed by her friendship, advice and honest opinion in many fields of my artistic life. I am super stoked that Judi played with my stamps and templates – and she even wrote a tutorial for the cards she created. Here is what she has to say and more about herself (Judi has no blog- so leave some love here for her)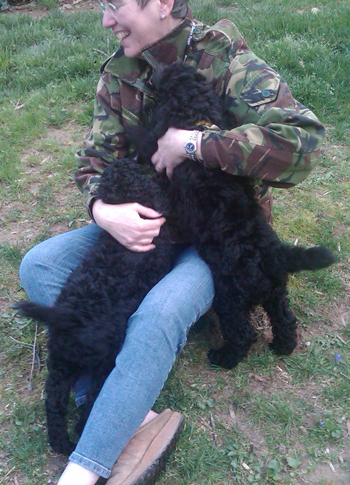 About Judi:
Judi Kauffman wears, and has always worn, many hats at the same time. She is a designer, writer, and teacher who has worked in the craft industry for over 25 years. She has also been a graphic artist, art director, photo stylist, illustrator, and weaver. She has an undergraduate degree in printmaking and a master's in fibers. Judi's projects, articles, and reviews appear in a wide variety of magazines, she works for several manufacturers in design and product development. She is a frequent guest artist for Elizabeth Craft Designs, Walnut Hollow, StencilGirl Products, and other manufacturers. She has also written five books (alas, all now out of print).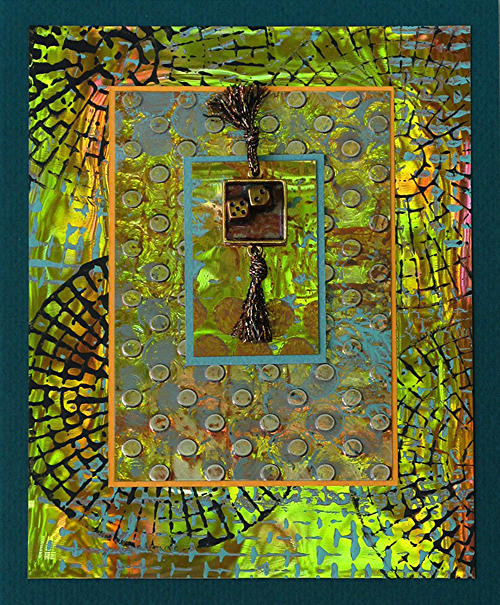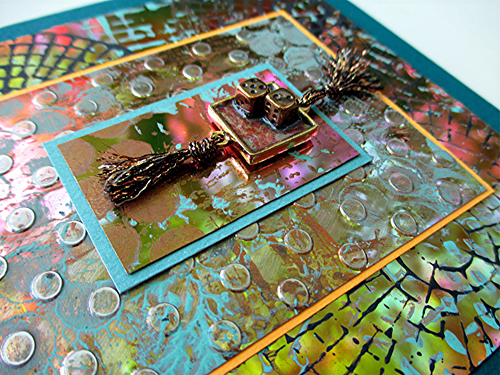 Thank you for inviting me! My project: Cards made with nothing but rectangles! But there are other options for stamped and stenciled Shimmer Sheetz: Mat and frame your creations instead of using them for card fronts. Incorporate pieces into art journals and mixed media projects. Stamp and stencil with alcohol inks formulated for non-porous surfaces instead of paint (StazOn). Stitch the layers instead of using adhesive (set the machine to 5-6 stitches per inch, or use a piercing tool and hand-sew).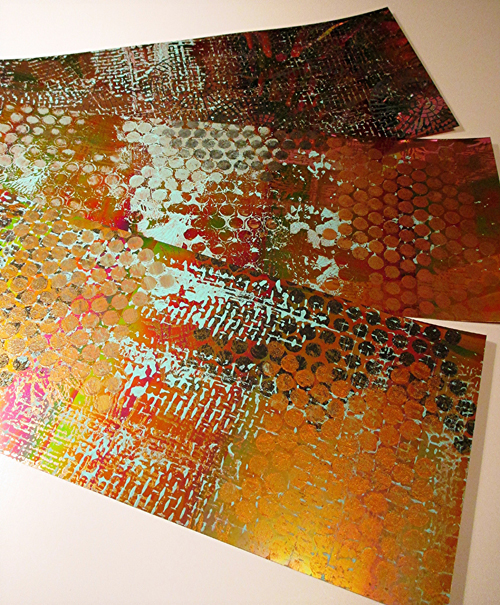 1. Stamp and stencil three 5" x 12" pieces (one package) of Fire Opal Gemstones Shimmer Sheetz using acrylic craft paint (shown: Primary Yellow, Sea Breeze, Metallic Bronze, and Traditional Raw Umber – or choose your own combination).
2. When the paint is dry, cut 2 of the pieces into thirds, each piece measuring 4" x 5", for six of the cards.
3. Cut the remaining piece into assorted smaller rectangles, at least 5 of which are sized at 2.5" x 3.5".
4. Cut a piece of cardstock measuring 9" x 5.5" for each card base (make seven). Score and fold in half (card size: 4.5" x 5.5", folded at the left).
***Use double-sided adhesive strips for steps 5, 7, and 8.
5. Center and adhere a 4" x 5" Shimmer Sheetz rectangle on six card bases. Center and adhere a 2.5" x 3.5" piece of solid color cardstock on the seventh card base.
6. For added texture, emboss some of the small rectangles with Lots of Dots embossing folder, lightly sand to tone down the shine and highlight the dots.
7. Mat some of the small rectangles onto solid color cardstock, leaving a narrow border.
8. Arrange and rearrange the pieces, layering them as shown or as you prefer. Attach the layers. (Use the last couple of scraps for the seventh card.)
9. Using strong-hold Tombow Power Tabs to secure embellishments (found objects, beads, gems, charms, fibers).
10. Cards with low relief, unbreakable embellishments can be mailed in standard envelopes, others should be delivered in person or mailed between sturdy cardboard in a padded envelope.
Note: Shimmer Sheetz is reflective and difficult to capture in photographs, it changes color depending on the light and angle at which it's viewed! Fire Opal is my favorite, but there are over 20 other choices (including sampler packs).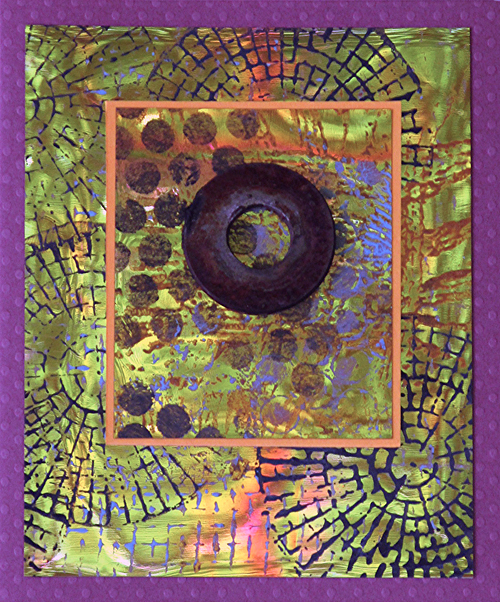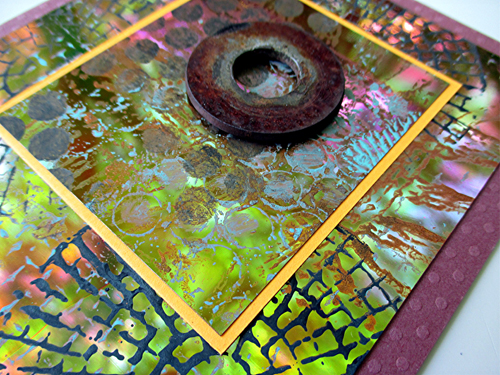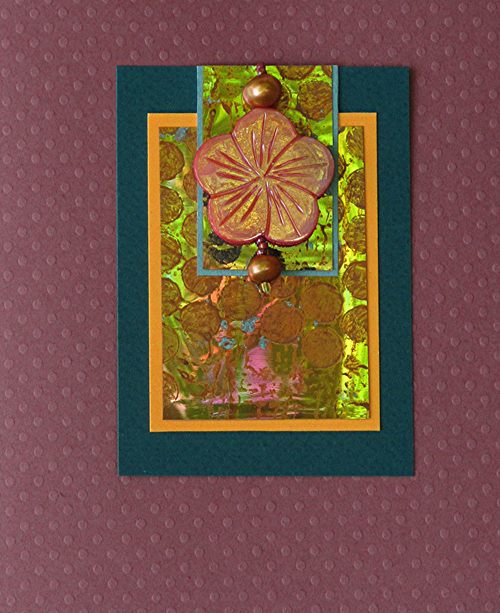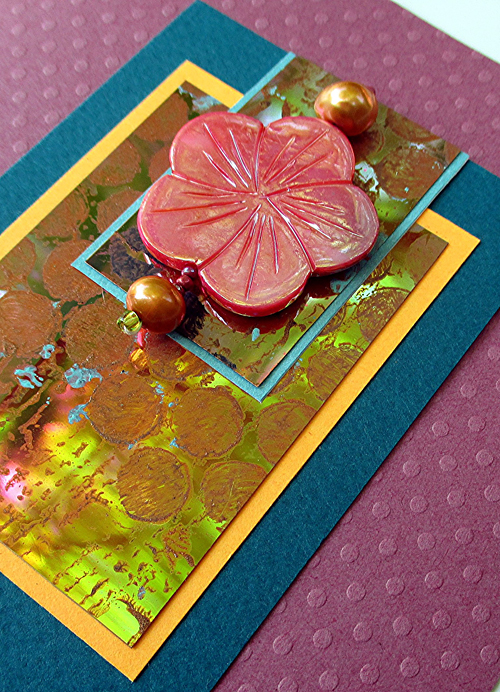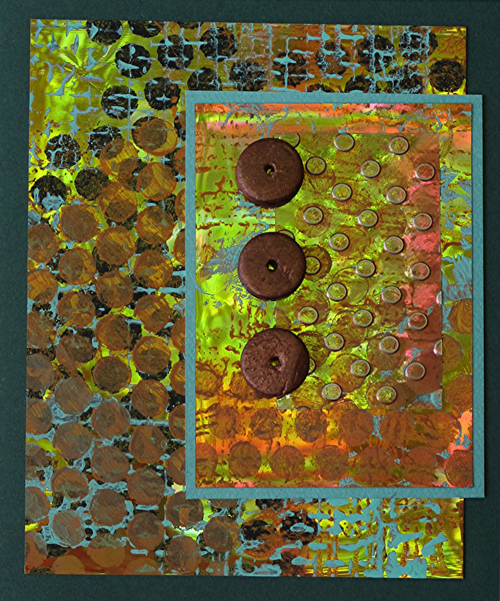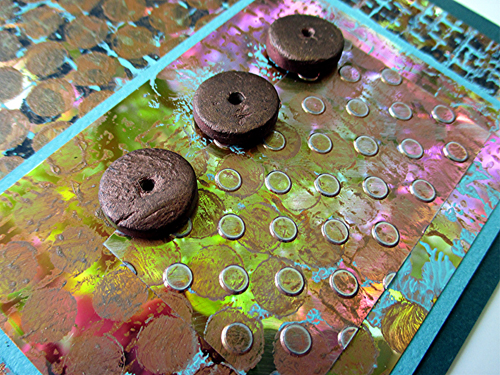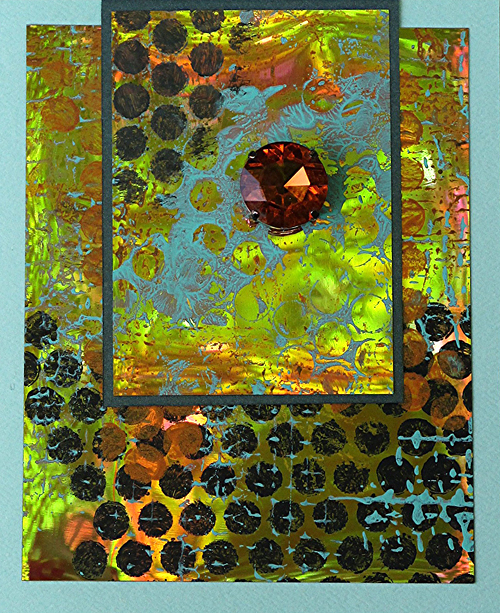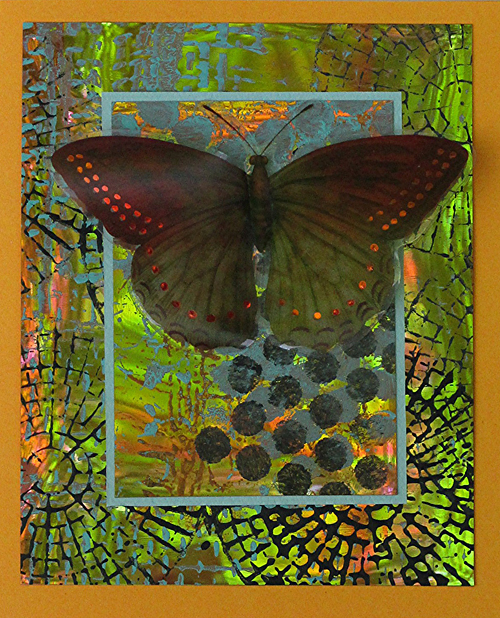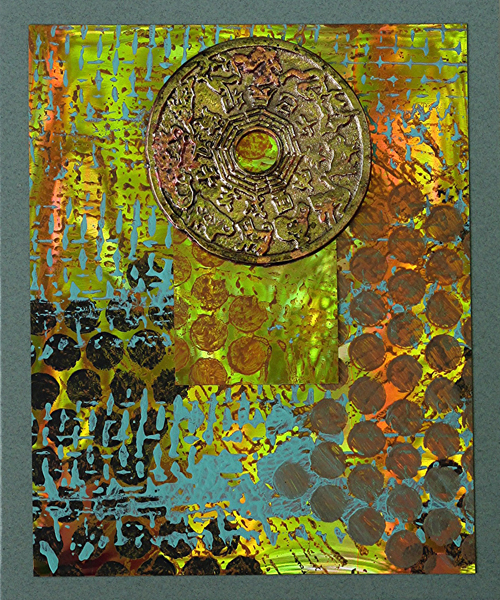 Thank you so much Judi – I so love how the stamps and stencils pop off those gorgeous Shimmer Sheetz – make me want to play with those instantly! I love the cards!
SUPPLIES Judi used for the Cards:
Stamps and Stencils – N*Studio by Nathalie Kalbach in Wired, Grunge, and Mish Mesh (Stampendous!)
Surfaces – Fire Opal Gemstones Shimmer Sheetz, one 3-sheet package (Elizabeth Craft Designs, www.ecraftdesigns.com); Assorted solid color cardstock
Paints – Americana Acrylic Paint in Sea Breeze, Primary Yellow, and Traditional Raw Umber; Dazzling Metallics Metallic Paint in Bronze (DecoArt)
Adhesives – Double sided adhesive sheets (Elizabeth Craft Designs); Power Tabs (Tombow)
Other – Lots of Dots embossing folder (Elizabeth Craft Designs); Machine for embossing (Big Shot, Cuttlebug, or other); Stencil brush; Assorted embellishments; Craft knife, gridded ruler, cutting mat
Here are the n*Studio Stamps  Judi used:




thank you for visiting today- have a gorgeous day
Nat