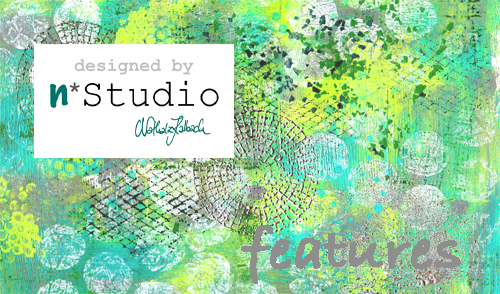 One of the things that make me really giddy is when I spy someone using my stamps by Stampendous or also my stencils with StencilGirl Products 
 So I thought once in a while I would feature the work of those wonderful talented people with a series called: designed by n*Studio features:…..
And today I feature: The Stampendous Design Team – and since it is a bigger design team …here a  couple :)
Janelle is part of the Design Team since 2011 and I spied this wonderful notebook she created, using my Fiesta Stamp Set for the flower .
Love how she stamped the flower on painted canvas and then cut it out and layered it for a dimensional book mark – so clever and beautiful!
Check out her blog post including a tutorial on how to create the notebook on her blog here.
Lea is part of the Stampendous DT since 2012 and I found this fun Garden Canvas she created using my Fiesta, Kaffee Klatsch, Mish Mash, Wired and Grunge Stampset.
I love how Lea used all the different stamps and created this whimsical garden – I also love the texture and the happy colors. Here is what she used and how she did it.
Wendy is part of the Design Team since 2009. I love her darling scrapbooking layout using my Kaffee Klatsch Stamp Set on an acrylic sheet.
I love how the stamps look really lacy on the sheet- beautiful. You can see what she used and how she did it, here.
Pam is part of the Design Team since 2002 – WOW! Given my obsessions with houses and cityscapes – I was delighted to spy this piece by Pam using my Mark Maker Stampset.
I love how she used some of the stamps in the set to mimic roads and how she used some others with embossing powder for the background. You can read what she used and how she created these happy houses here.
I love how all four of them incorporated the stamps in their own styles and so differently. Thank you to the Stampendous Design Team for using them and  doing such wonderful work- you girls rock!
Here are the stamp sets that they used:



;