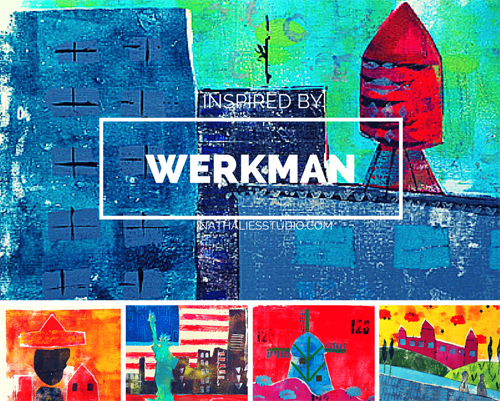 Remember the blogpost of my museum visit to the H.N. Werkman Exhibition in Groningen in The Netherlands? When Birgit and I came back from that trip, we were so inspired by Werkman's artwork, that we went right into her studio and played. Instead of using a printing press we used a mono printing plate. I later continued playing and refining some of the Werkman inspired printing techniques in my own style at home.
This is the first print I made inspired by Werkman.
I call this "Man with hat between houses" :) LOL- titles are also inspired by Werkman- I loved that he just described what you see in his titles and it was kinda funny.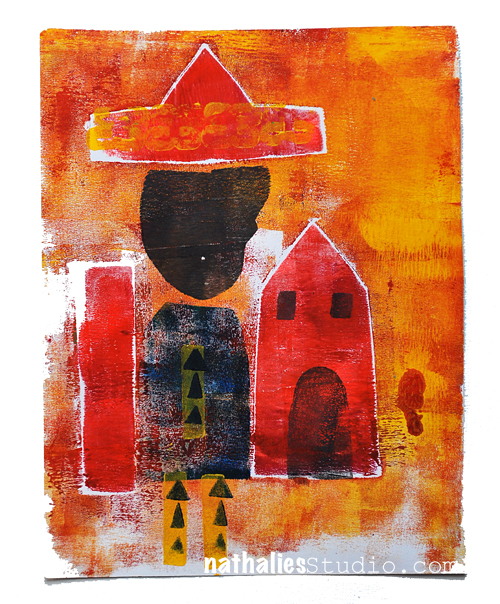 The Werkman exhibition inspired me, because his prints talked to me. I love how simple shapes combined tell a story.
As you can tell- the following one was inspired also by The Netherlands trip :)
"Windmill with 5 sheep"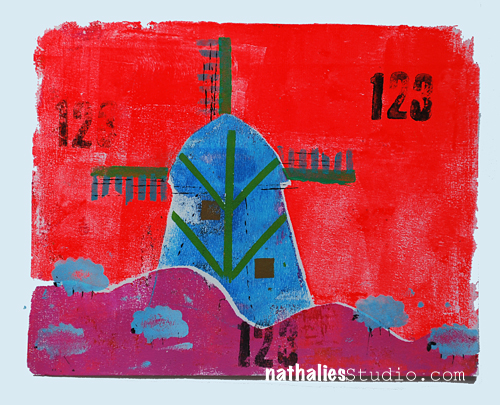 Werkman worked with Stamps, Stencils, Paints and texture Tools – I loved the combination of these tools and media as that is what I use all the time too.
"Blue Skyline with watertower"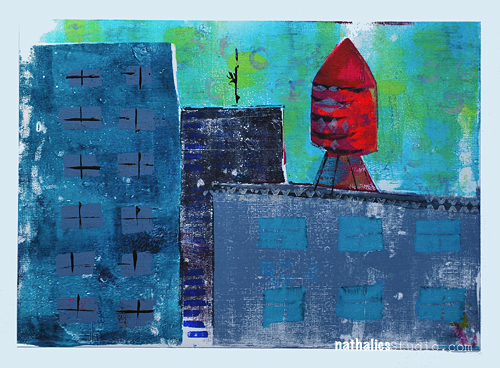 I loved his color choices – He was very bold in his colors which as you know speaks to me too.
This print is inspired by my visit to Toledo, Spain.  "Passing on the Toledo Bridge"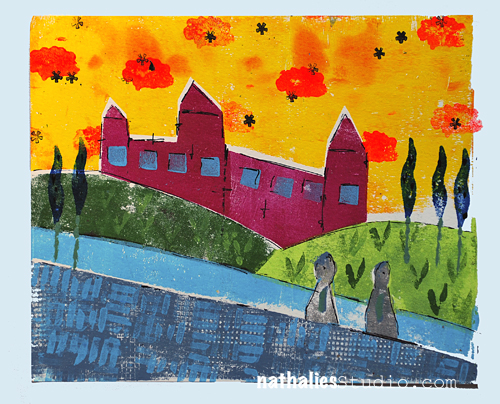 Most of all, Werkman was inspiring to me because he dared to try new things. He was a printer by trade…who wanted to be an artist, and he combined his knowledge of printing with experimenting with new and revolutionary techniques for prints. Amazing!
This last print I did was a bit tricky with all the different elements and I am not super happy with the colors- but still fun! "Lady Liberty on 4th July". I learned a lot from experimenting with this.
It is wonderful how a visit to a museum can expose you to artists you might not have known before and then give you a huge push to try something new and fun.
What did you see lately in a museum that inspired you?