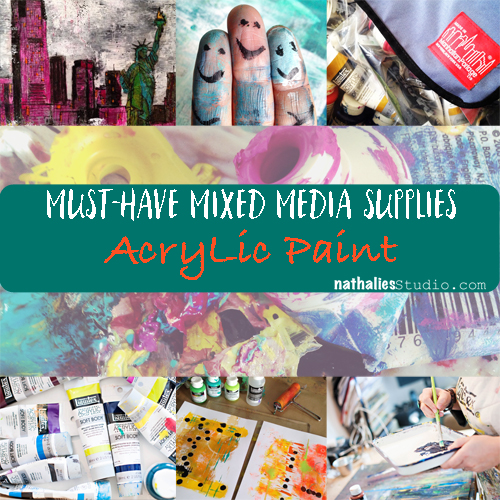 Hands Down – my absolute favorite and ultimate must-have mixed media supply is: Acrylic Paint! For many years Acrylic Paint is a companion of mine and I feel as if there is never a moment where I feel that this buddy and I might part. If I wasn't too scared of needles, I might actually get an acrylic paint tube tattoo …maybe ;)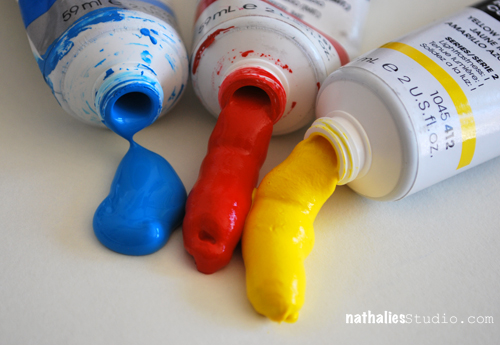 What I love about Acrylic Paints is:
well – they look beautiful
they are fast drying
if stored and used right they last long
they stick to almost anything (yes…that includes your clothes, if you are not careful) – giving lot's of wonderful possibilities of substrates you can use acrylic paints on
they have a plastic like surface (due to the acrylic polymer emulsion)
they can be thinned with medium and that can make them almost look like water-color in some cases
they can be thickened with medium and that leads to a lot of texture
they are permanent once dried
they are water-soluble while wet.
they cover surfaces if opaque
you can use other paint media on top of acrylic paints
you can use some fun media with them for amazing backgrounds and textures
you can create amazing backgrounds and texture with solely acrylic paints and different techniques and tools
they are easy to clean up and off
Here are some examples using Acrylic Paint:
Acrylic Paint on Canvas – painted, brayered, stamped, stenciled, scraped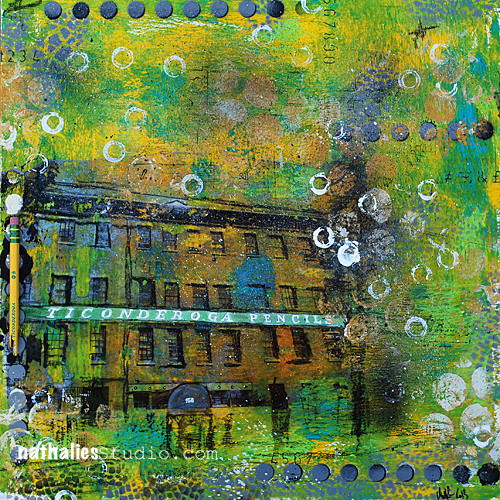 Acrylic Paint on Canvas – abstract background, collage elements and urban elements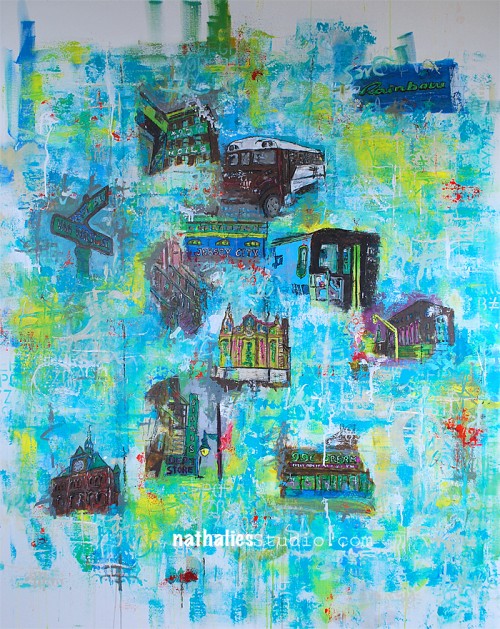 Acrylic Paint in an Art Journal Spread – brushed on, mixed with other acrylic media and stamped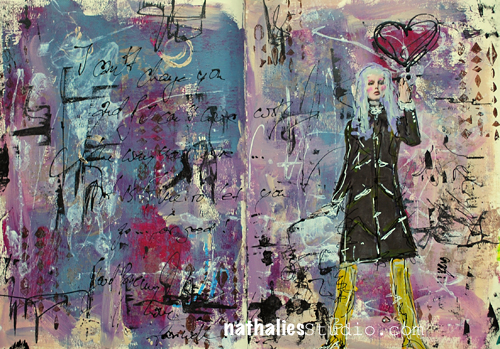 Acrylic Paint used for mono prints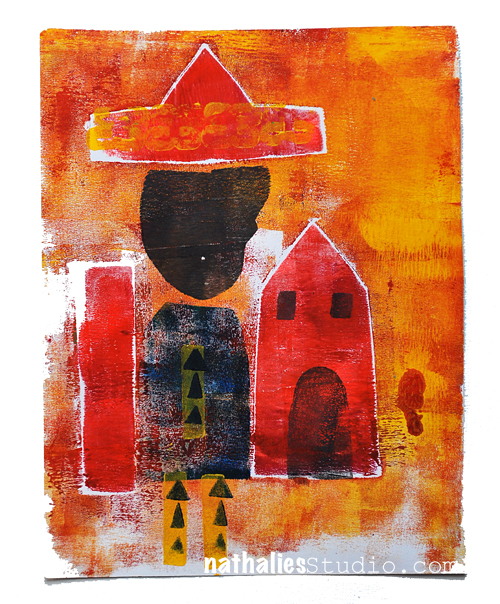 Acrylic Paint used in different viscosities to create texture and dimension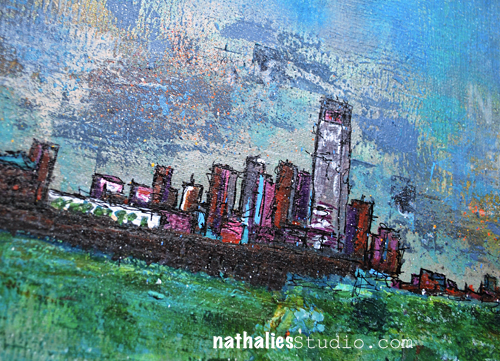 Acrylic Paint on clay revealing stamped texture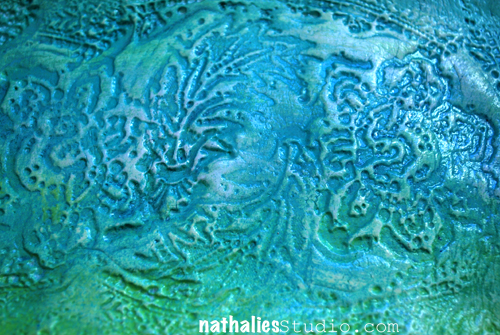 Acrylic Paint on canvas used in different viscosities, with different acrylic media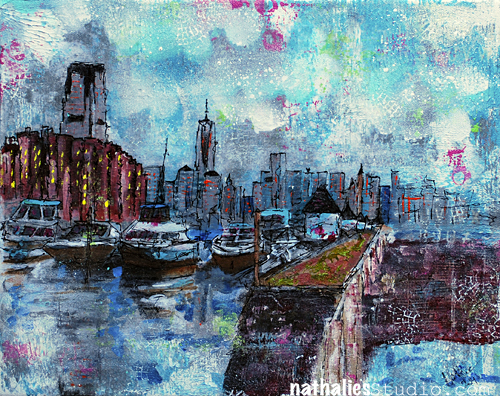 Acrylic Paint used in mark making on art journal spread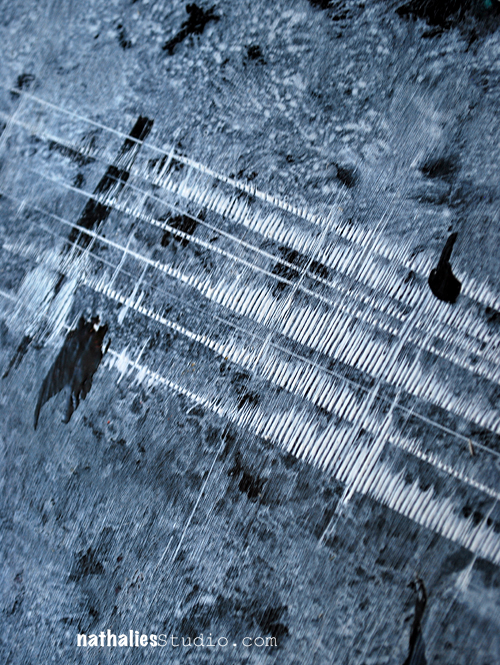 Acrylic Paint Skins used in art journal spread – stamping with acrylic paint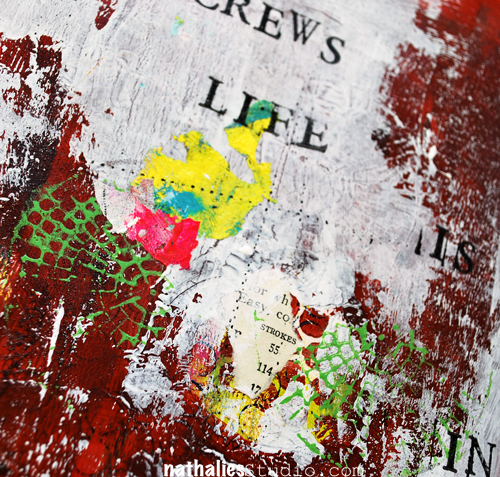 Pretty amazing the different things and looks you can achieve with acrylic paints, don't you think? And there is way more because I only showed examples on how I personally like to use acrylic paint!!! So yes – just because of it's versatility it knocks me off my socks and is my all time favorite must-have supply.
Which acrylic paints I use:
First off – Disclaimer: I am a Brand Ambassador for Liquitex so naturally I tend to recommend Liquitex products. But my love for Liquitex Brand paints began long before I began working with the company and it is a genuine love for their products. In fact I was playing with their paints back then in Germany and I was just having the best of times and I shared this with the world. And that is how the relationship with Liquitex many years ago began :)
I used a lot of acrylic paints in my artist endeavors. And over the last couple years I learned what I like and what I do not like. What I like, doesn't have to be necessary what you like.  So just take it as my thoughts and my preferences, ok?
So first of all let's state that I like good quality artist paints. Because I learned over the years that especially when working in an art journal for example that they aren't as tacky as a lot of the cheaper non artist ones. I also learned the hard way that good quality paints give your paintings a longer vibrantly colored life. Nothing worse than a wonderful canvas you created where the colors fade significantly after a year or so.
I also love good quality artist paints because the color shift between wet and dry is not that high. I love to see how my work might look like when it is dry while I'm still working with my paints. I had many disappointments in the past where I was thinking a nice bright red was rocking my socks and then it was dry and a dark bloody mess as the paint shifted a lot when it dried.
Highly pigmented colors go a longer way and they are usually also more beautiful and intense.
I love texture and I love to create texture with paints – so especially when painting on a canvas I prefer thicker paints like Liquitex Heavy Body Paints – more about this below
I do love thinner paints in my art journals and use Liquitex Soft Body mostly when working in a book – also more below about viscosity
I would start slow with just a couple colors and add up as you go. You can always start with some Liquitex Basics if you want to first play around a bit in your art journals and start stocking up Professional Quality paints as you paint more and more.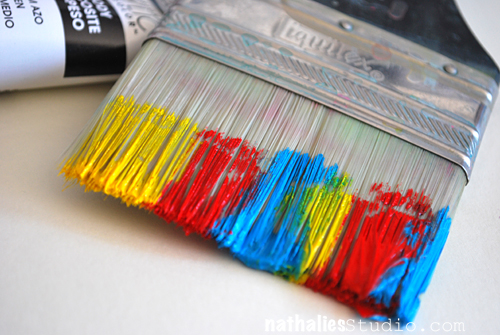 Viscosity:
Acrylic Paints come in different viscosities which means the state of being thick, sticky, and semifluid in consistency. Different Brands sometimes use different ways to label the thickness or thin-ness of their paints. Here are the ones that I use most often:
Soft Body Paints by Liquitex usually have a medium viscosity which means they are creamy and smooth. They cover evenly and they level out so that brushstrokes are rarely visible. I use them in my art journals and most often for the first layers of a painting on a canvas as well as detail work. I use them also whenever I paint on a project where I want an even smooth coating. I use Soft Body Paints when I need a glaze or when I want to stain fabric. I usually use Soft Body Paints instead of Heavy Body Paints for Mono Printing and they are the only paints that I use when I stamp with rubber stamps.
Heavy Body Paints by Liquitex have a thick consistency for traditional art techniques using brushes or knives, as well as for experimental, mixed media, collage and printmaking applications. Impasto applications retain crisp brush stroke and knife marks.  I love to use my brayer with Heavy Body Paints and another favorite of mine is to use Sgraffito-Techniques with Heavy Body Paints (check out the video below). I also love to use Heavy Body to build up texture and dimension on my urban paintings.
Here is a video where I use different Heavy Body Paints and the sgraffito technique I mentioned above
I will list the supplies that are still available and everything I mention in this post below in case you want to check it out.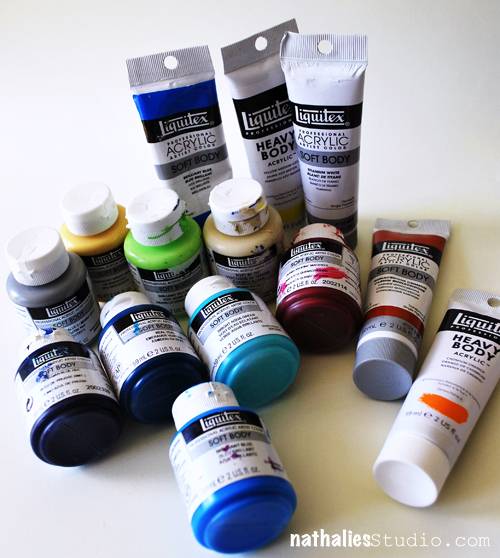 My personal favorite colors:
Often times I get asked which are my absolute favorite acrylic paint colors  -that is a hard one – because it is like asking me which of my children I like the most. But of course there are a couple colors that I tend to grab all the time –

Art Tapas – Bite Size Tips for the Mixed Media Artist
Here are some bite sized tips and tricks around Acrylic Paint for the Mixed Media and Hobby Artist. They are part of a video series that I am putting together and I will update this post as I go along and there may be more tips relating to Acrylic Paints.
How to Store Acrylic Paint
Art Tapas – Bite Sized Tips for the Mixed Media Artist – #1 Storage from Nathalie Kalbach on Vimeo.
How I label my paint and why
Art Tapas – Bite Sized Tips for the Mixed Media Artist – #2 Labeling from Nathalie Kalbach on Vimeo.
You want to learn some fun things using Acrylic Paints?
Sign up for an In- Person Workshop with me or join me for a fun Online Workshop. I love talking about the Why and How I use my art supplies and my workshops. Most of my workshops are not so much about a specific project than more about enabling you to know your supplies, techniques and craft in order to dive full in into your own style to create your own amazing art! Not convinced yet? Read some testimonials from other students that have taken my classes and come and join me :)
Here are the supplies that I have mentioned throughout this Must-Have Mixed Media Supplies – Acrylic Paints post 

I hope you enjoyed the first installation of my Must-Have Mixed Media Supplies. See you next month for the second part!
Happy Creating