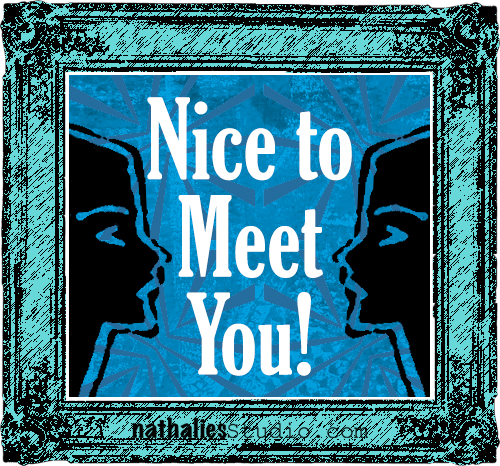 I'm introducing a new blog post today that I'm very happy to share with you – a feature I'm calling Nice to Meet You! From time to time I learn about some amazing artists out there who are working with my stamps and stencils and are creating some pretty fun and exciting projects. It's always inspiring to see what others do with my designs and sometimes they even introduce me to a new way of seeing the pattern or a new technique to try on my own. Today I'd like to introduce to you Sherry Canino to kick off this new series :)
---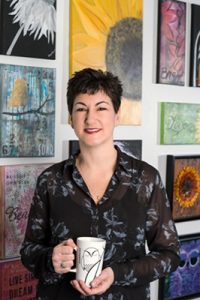 Please introduce yourself to our readers:
Hi I'm Sherry Canino of Canino's Artistic Café and I live in Upstate NY in a town called Liverpool – this is about 5 hours from NYC so I am not a city girl, where I live is very much suburbia.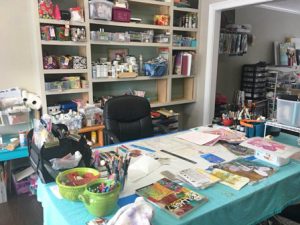 How do you make time to be creative?
The evening is when I make sure that I carve out a little time for myself in my art studio – I am fortunate to have a large space in my home that is set up as a studio, which makes it easier to have that creative time. I really like to have an hour or 2 (although sometimes it's just 20 min) in the evening to just chill out in my studio and work on something for me – it might be art cards, a journal page or just dabbling and trying out new products or techniques but this is my "me" time and I don't force having to finish a project or even make something that I like, I just allow it to be what it is and that is my "down time".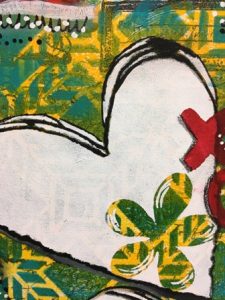 What are some of your favorite n*Studio stamps / stencils?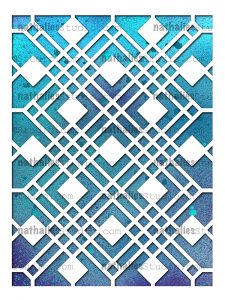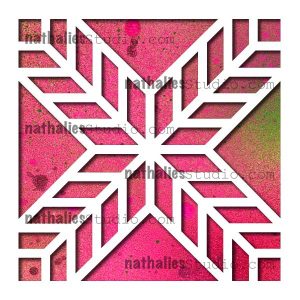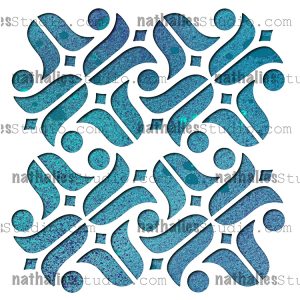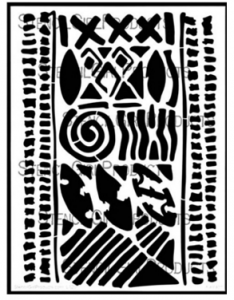 How do you love to use them?
I love to create fun gelli prints for collage elements with my n*Studio stencils, I also love to use them as backgrounds on art journal pages and the mini 4×4″' stencils I love to use as focal points in my journals. I also tend to have an eye that picks apart a stencil and I love to use just bits and pieces of a stencil especially in not the typical way and the n*Studio stencils are amazing for that.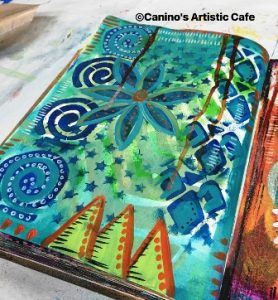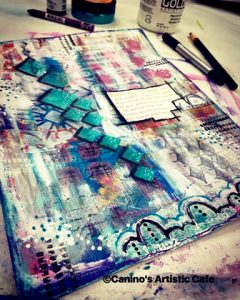 What is your favorite medium to work in?
I started out working in an actual art journal and I do still sometimes but I find it more flexible to use individual sheets (especially because you can choose your substrate – mixed media, watercolor paper etc) but also you can turn the paper around and work on it at all angles a bit easier without the bulk of a book. I love my acrylic paints I probably have some of every brand out there. My newest love is watercolor crayons and lately I have to add a bit to almost everything I create.
What inspires you to be creative?
Sometimes watching others create is a huge inspiration to me but mostly it's just something inside of me, a passion that is constantly screaming to get out (yeah I know sounds a bit odd lol) but it's true. I really love to share my passion with others – social media has allowed for more of this. I have recently started what I call "Stencil Crush Tuesday" Videos on my YouTube channel and this has allowed me to express and share my passion for creating. I like to say, "the more I create the more I want to create".
Do you have a favorite artist?
It is really hard to have a "favorite"- there are many who have inspired me throughout the years: Back in my scrapbook days Julie Balzer's uninhibited approach to doing her "own" thing, also Donna Downey and her change and growth from scrapbooking to other forms of art has been amazing to watch, and about a year ago I learned of Flora Bowley who has had the greatest impact on me in teaching me to be "authentic" and finding my own style (which by the way I'm still not sure I have one lol) by studying other artists, practicing their style, and then using bits and pieces that you have learned from each one to "Create Your Own Style" and I have really heeded that message.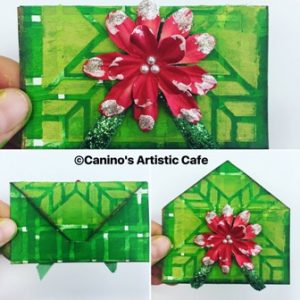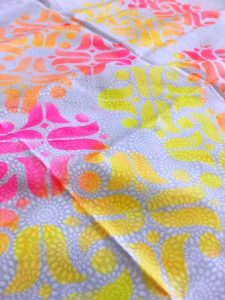 How did you get into art-making?
I have been a creative since I was a kid although I never thought someday "I am going to grow up and be an artist". I started scrapbooking about 14yrs ago and slowly transitioned into art journaling about 10-11 years ago. Then with things in my life changing, my son grown up etc, I was allotted more time to decide "what do I want to do when I grow up?" So I started Canino's Artistic Café in 2014 and although it's been a ride to say the least, I have met so many amazing people and artists since I started this journey, that in itself has been "worth its weight in gold". I also work as an Art Therapist with individuals who have eating disorders in an Out Patient Clinic here which has been a blessing for me to be able to use my art to help others. All in all I'm not where I want to be yet but I am happy where I am and I have learned to enjoy the journey.
In three words, how does your art-making make you feel?
Peaceful, happy, blessed
---
Thank you for sharing your story with us Sherry! It's wonderful to hear how you're using your art in your community and I cannot wait to see what you do with that Amsterdam stenciled fabric.