Wow – did you catch the latest episode of Spill your heART? If not, you can enjoy the recording below. In Episode 3 we tackled the topic: Social Media – Taming the Beast with my stellar panel of artists: Jimmy Leslie, Iris Fritschi-Cussens, and Julie Fei-Fan Balzer. It was an informative but also super fun time to chat with these 3 professionals on their take.
Recap: In this Spill your heART webinar we talk about why we use social media, how we set boundaries, our own ways of dealing with comparison, the importance of meaningful interaction, and the question of authenticity. Hear 4 different perspectives on Social Media, and how we "Tame the Beast" as professionals, artists, business owners, and human beings.
Whenever you miss an episode or want to revisit, you can find recordings of past episodes and info about upcoming Spill your heART episodes here in the Community section of my website. To always have the latest news on webinars, be sure to sign up for my monthly newsletter here.
Next Episode: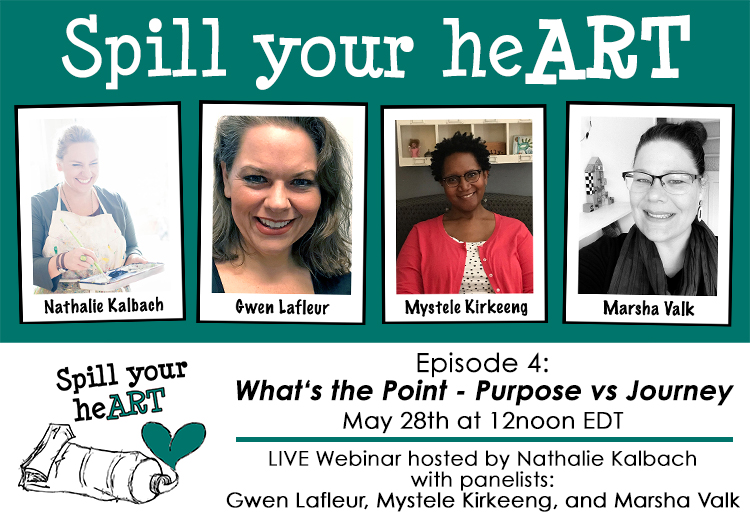 Coming Soon: This time I'm getting together with Gwen Lafleur, Mystele Kirkeeng, and Marsha Valk to talk about why we make art with Episode 4: What's the Point – Purpose vs Journey. Join us on Friday, May 28th at 12noon EDT. Register here today.
We will discuss What's the Point – why are we making art? Are you creating for a purpose or is your goal to focus on the journey? Are you somewhere in between? Everybody creates for a different reason and as professional artists (and hobby artists too) that may include a blend of reasons. We'll explore the why and then also the aftermath – what do you do with it all afterwards. Selling, personal collections, gifts, the closet, and the trash will all be on the table.