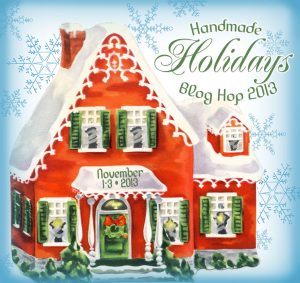 Welcome to the Third Annual Handmade Holidays blog hop!! I was invited to join some wonderful crafters, designers, and makers to come together to create and share  a series of thoughtful, handmade gifts for the holidays during this 3 day blog hop. Our goal is to inspire you to create something from the heart this holiday season as well as share how to use products in fun, innovative ways. We intend this hop to serve as a resource to you for this holiday season and for years to come.
Hop along to each blog in the list. Each day, from November 1 through November 3, 2013, we'll be posting a brand new list of blogs to hop to. Comment on each blog, share your favorite posts over social media, and then use the Rafflecopter widget at the bottom of each post to enter to win the Grand Prize, a gift basket filled with crafty swag from the companies on the hop! We're ready to inspire, share, and create – are you ready to hop?
Advent Calendars are an old German tradition and they are used to count down the days till Christmas. In Germany we have a huge variety of Advents Calendars filled with Chocolate treats or little gifts and sometimes also just pictures. It is a a big token of Love when you give someone an Advents Calendar and I have always loved creating my own with little tiny gifts and give it to a dear friend or my hubs. This year I created one for a special friend…and since the task of collecting 25 little gifts is already a bit time consuming – I kept the creating of the Advents Calendar easy, fast and fun . Let's go :)
I love using these Spray Paints as you can work so quick and there is not much bleeding on the kraft paper since it is Acrylic Paint.
Then I used some Cardboard Stencil Numbers to spray the days from 1-25 on the book paper – I used black here.
This is probably the most time consuming part of creating the Advents Calendar but I love the stenciled look.
Next I spray painted the Prima Leaves a bit so that they would fit the calendar
Then I filled the lunch bags with my gifts, attached the numbers with a stapler and added some lace to the bag. I folded the opening of the bag to the back and then used a Japanese Screw Punch to make a hole through the flap. I love the Japanese Screw Punch – a very sharp tool (use a craft mat!) which makes no noise -perfect when you share your place with other people :)
Then I started attaching the bags on a string to the clothes hanger. The good thing about a clothes hanger is, that it can be hung anywhere – on a closet, on a nail, on a shelf edge – the possibilities are endless for the person who receives this calendar and then …after Christmas…they have another hanger… ;)
Try to add the bags picking up different days  – I had sorted them in groups of five and then picked from each group one bag to make sure to mix it up nicely. Also make sure you keep the balance on the hanger  – you get the picture ;)
At the end I just added the Wooden Disks which I had drilled wholes into and the sprayed leaves as a little grungy decoration and voila- done :) Of course you can alter this fitting your taste- so if you do not like the grungy look you are very welcome to use for example red & white baker's twine and add nice red cardboard numbers onto doilies instead of the book paper- and there it is- same concept – different look :) Make someone happy this holiday season with an Advents Calendar – I promise you it is well worth it when you see how much the person loves it !
Here are the supplies and tools I used:
Enter here for the grand prize and comment also on my blog :)
a Rafflecopter giveaway

Now hop on over to the next person on the list:
Jen Goode http://www.100directions.com/
Here is the complete blog hop list for today
Have a wonderful creative day and huge hugs