In this interview with Jen Crossley, we talk about Craft vs. Art, metal edging, junk stores, her love of cooking and the unlikely likely occurrence of poisonous spiders in Australia ;)
Jumping with… Jen Crossley…a CJS Interview Series from Nathalie Kalbach on Vimeo.
Jen is also sharing one of her favorite recipes with us: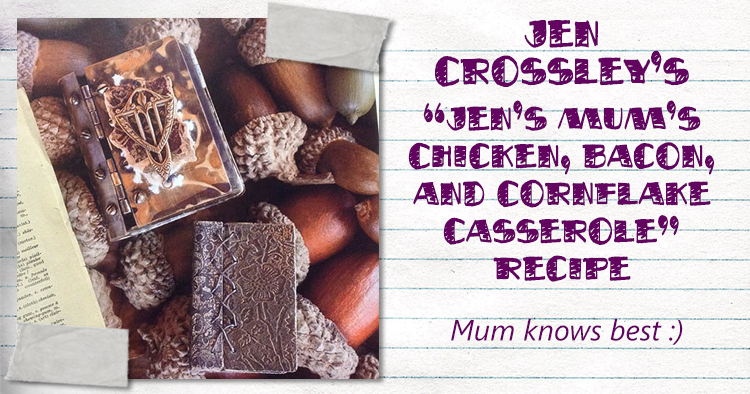 1 Lge BBQ chicken cooked
1 small Brown onion
1 pkt Bacon
3/4 cup Chicken stock
1 cup Milk
3 Tablespoons Plain flour ( not self raising)
3 dessertspoons Butter
Topping:
3 tablespoons of butter
2 cups cornflakes
Break up the chicken into small pieces no bones. In a saucepan melt the butter then add the onion, add the bacon and cook until done, do not brown the bacon or onion. Next add flour – do not brown the flour. Cook for 2 minutes. Add chicken stock and milk, stir until this thickens then simmer for two minutes. You can add a bit more milk if the sauce is too thick. Mix in Chicken pieces then put it into a casserole dish.
Topping:
Melt the butter and the cornflakes together then spread on top of the chicken base. Bake in a oven on a medium heat till the cornflakes brown on the top.
Serve and enjoy!
You can download Jen's recipe here: CJS18 Recipes Jen Crossley
I hope you enjoyed the interview- Jen's video for CJS is shows such a cool technique! Come and join us for Creative Jumpstart 2018  and see yourself !