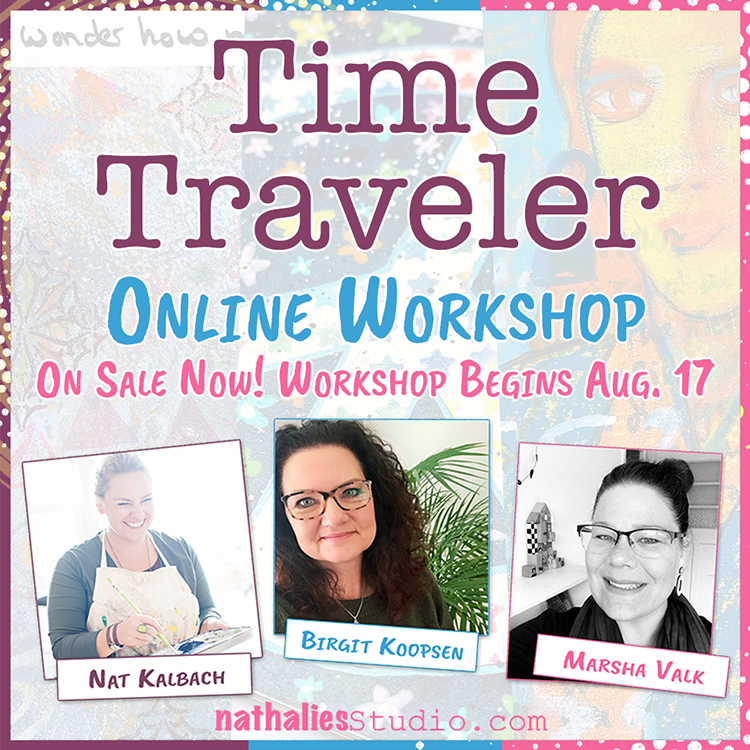 Super happy to announce this very special workshop that I am releasing today – Time Traveler. I'm teaching along with my amazing friends Birgit Koopsen and Marsha Valk in this 3 week online workshop that goes on sale today and begins on August 17th.
Become a Time Traveler with us! With this course each teacher will help guide you through space and time, finding inspiration from different eras in history. Each teacher has chosen a time period and will show you mixed media techniques and design motifs inspired by their modern take on that period. The goal of this is to create 3 different handmade book projects using gelli plate printmaking techniques and favorite mixed media techniques unique to each teacher. You will get 3 different artistic perspectives and oodles of fun and creative ideas to try.
Sign up TODAY for Early Bird pricing: Today, Aug 5 through Aug 8, 11.59pm EST this course is just $89 USD. From Aug 9 to Aug 17, 11.59pm EST Time Traveler will be $99 USD. From Aug 18 the course will be its regular price of $139 USD.
Check out the promo video below:
Time Traveler will begin on August 17 and will run for 3 weeks, with a new video publishing each day. There will be a total of 21 videos, over 5 hours of video in total, as well as supply lists and additional lesson content in the classroom to help you along the way. All the videos are downloadable and available to you to enjoy at your own pace.
Here are some of the topics covered in this workshop:
Mixed Media techniques
Gelli plate printmaking techniques
Bookbinding techniques
Tips and tricks for translating inspiration into art
Creative ideas to take to all your artmaking, art journaling, cardmaking, and beyond!
Sign up HERE for this one-of-a-kind take on creating personal, expressive mixed media art in book form from 3 talented teachers.