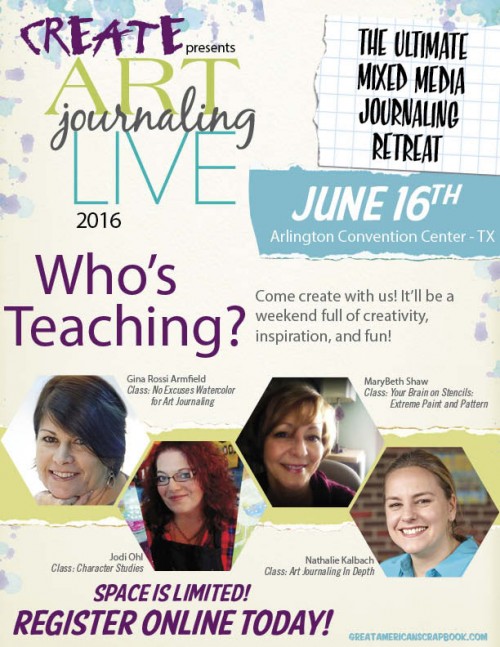 Super excited to teach at Art Journaling Live in Arlington, Texas again June 16th. It is a whole day workshop teaching together with Jodi Ohl, Mary Beth Shaw and Gina Rossi Armfield.
Unique techniques using the best tools and supplies, and you'll expand your art journaling to a whole new level! Check out all four class segments here.
PLUS! With a ticket to Art Journaling LIVE! you'll receive an ALL ACCESS PASS to the Great American Scrapbook Convention!
Art Journaling LIVE! 2016
June 16, 2016
Arlington Convention Center
Arlington, TX
You can sign up here!
And …if you want to know more – Join us!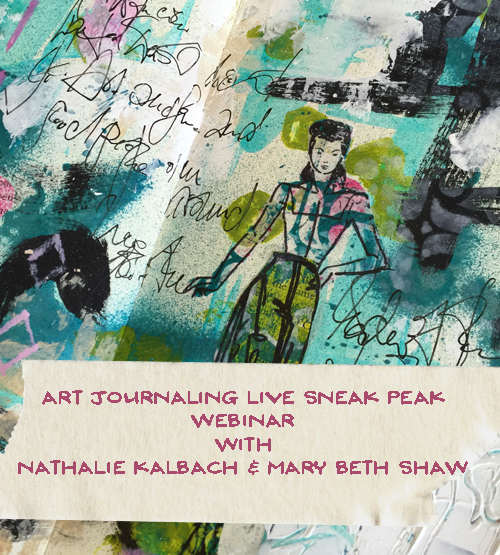 Art Journaling Live Sneak Peek: Live Webinar with Mary Beth Shaw and Nathalie Kalbach
Date: Thursday, May 5th
Time: 4:00-5:00 PM ET
Where: Your Computer
Join artist instructors Mary Beth Shaw and Nathalie Kalbach in a live, one-hour webinar that offers a sneak peek of Art Journaling Live 2016, our one-day mixed-media workshop in Arlington, Texas June 16th that also features workshops by Jodi Ohl and Gina Rossi Armfield. They'll reveal some of the dazzling art journaling techniques they'll be showcasing; Mary Beth will talk about using stencils and acrylic paint to create art journal pages that pop, and Nathalie will discuss adding interest and an important spark to your art journal with textures and layers. They'll also give a behind-the-scenes look at last year's fun event, and you'll learn about the great things in store for this year.
This webinar consists of a PowerPoint presentation, and you'll get a chance to ask Mary Beth and Nathalie your questions in a live Q&A. Everyone who registers will receive a link to watch the recording, a video showing scenes from Art Journaling Live 2015, and discounts to use at the Interweave Mixed Media Store.
You can sign up for the webinar here.
Did you miss last year's Art Journaling Live Event with Dina Wakley, MaryBeth Shaw, Julie Fei-Fan Balzer and me? No worries- we gotcha covered with a DVD or Download of Art Journaling Live 2. Or do you want to take a fun online class with me? Check out the DVD's and Downloads below :)
Hope to see you on- or offline :) Have a gorgeous day