Last Friday was the first of my ongoing once a month evening class at The InkPad in New York City.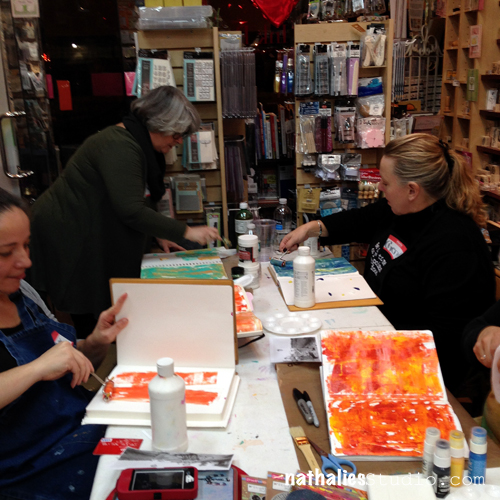 Every month I teach about a special medium or supply and I bring it for an ongoing Artjournal Class. This time the theme was Stamping :) So I brought my new Stampendous Stamps and showed some techniques how you can incorporate them in your artjournal. so much fun to see them in the store and to see how people liked them :) – here you see Ana having a hard time deciding…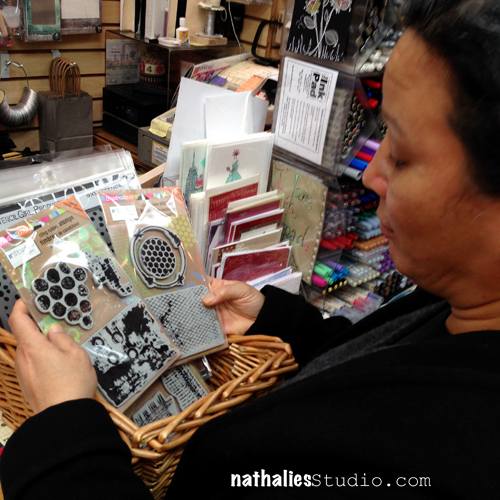 I love the intimacy of the class- since the evening classes take in  the tiny but wonderful store (the weekend class are taking place in an out-of-store location) – there is only room for 8 students. It is a wonderful way finding out what expectations of a class exist and I loved being able to talk to each one and having them show their results and talk about it.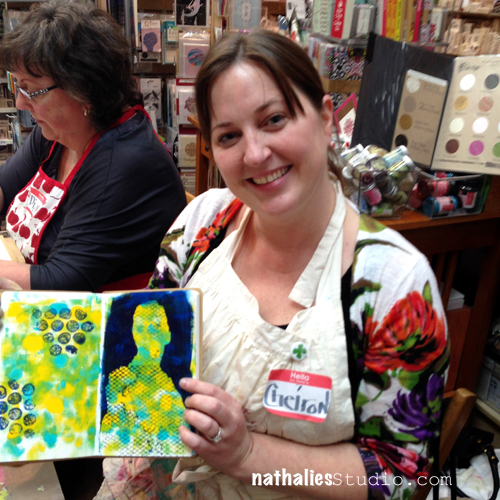 Here is Cheiron showing her two page spread playing with different techniques – love the color combination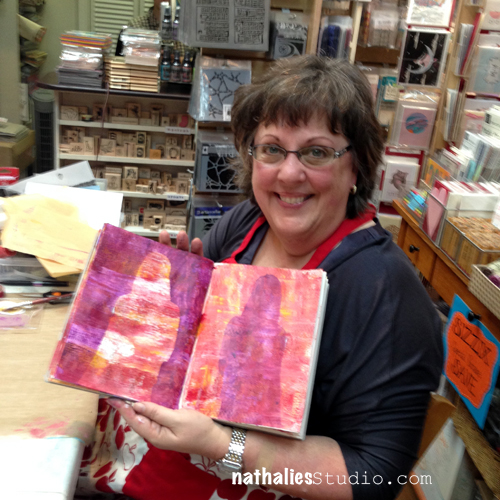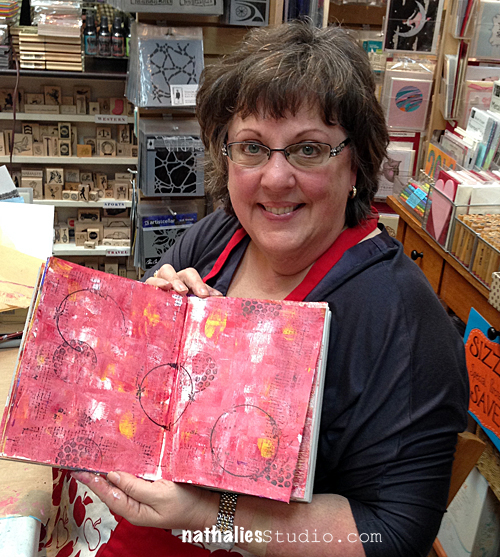 Diane playing with backgrounds and the stamps- especially love her silhouette outcome.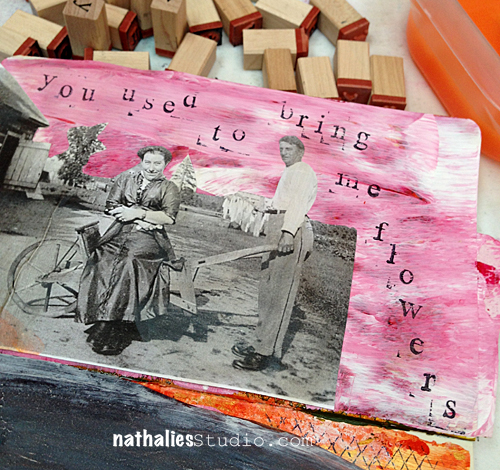 Sandra playing with the latest Whatever Photo- love the sentiment!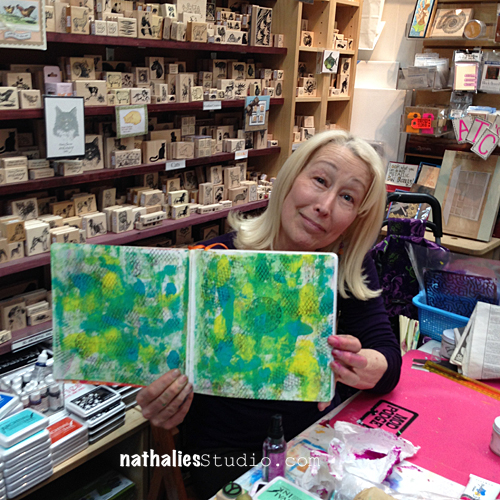 Robin showing her wonderful background- great base for an art journal page!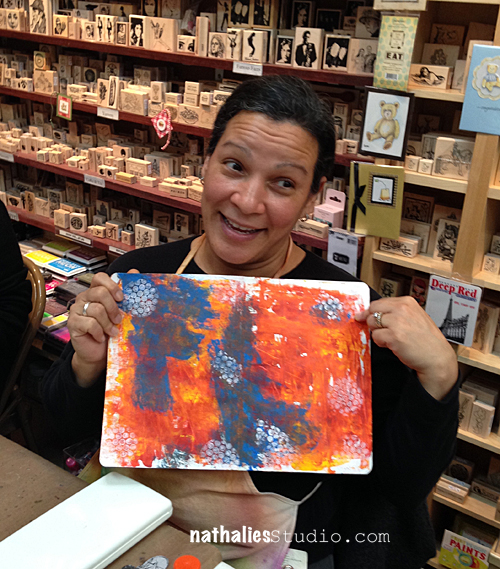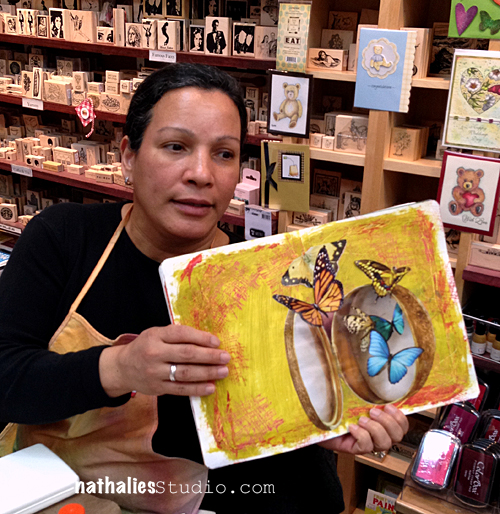 Ana with some beautiful color combinations and I love how she framed the second spread with the stamps – it looks so organic.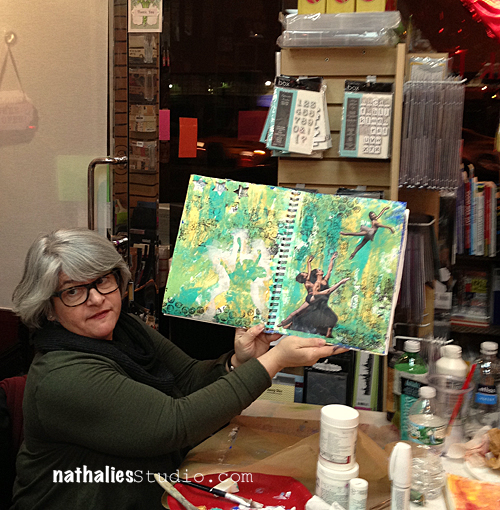 Karen's wonderful spread- I love how all fits perfectly together!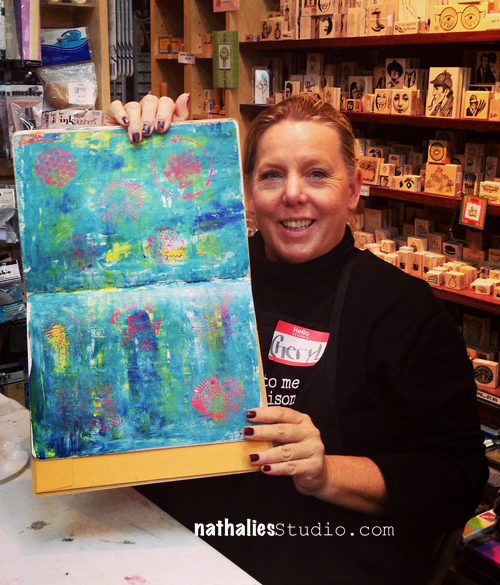 Love Cheryl's spread which totally reminds me of a Monet painting
The next session on February 20th, 2014 is about Mono printing and already full – sorry- there is a waiting list at The InkPad. If you are interested in the upcoming sessions in March and April sign up for their Newsletters so you don't miss out to sign up.
On another note :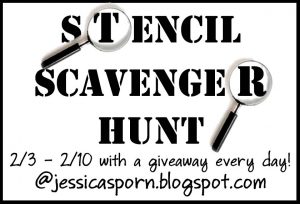 today is the start of fellow Stencil Girl Products Artist Jessica Sporn's awesome Stencil Scavenger Hunt. Check it out- she posts every day this week a new design and let's you guess which stencils by Stencil Girl Products she used.. you can win something too- so check it out ;)
Wishing you a wonderful start into the week!
hugs
Nat