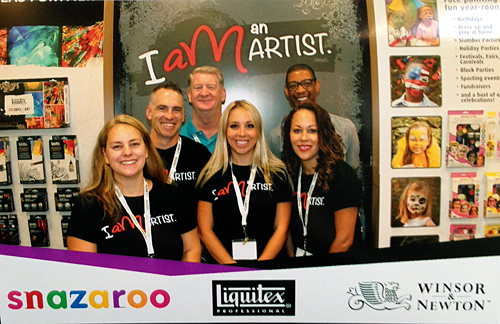 Last week I headed with Liquitex and Winsor & Newton to Dallas for the Michaels Leadership Conference. Michaels Store Managers from all of North America come to this conference and part of is is to attend  an exhibition to learn more about the newest products they sell in their stores.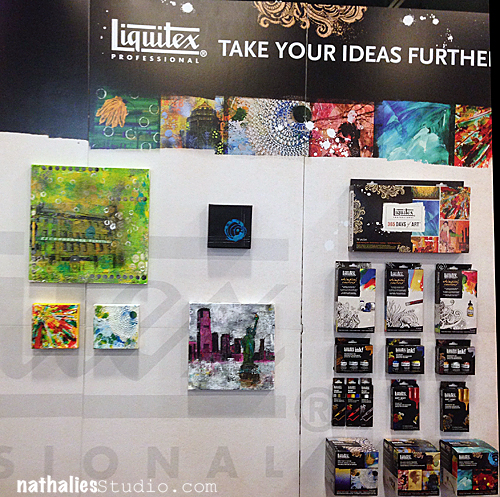 Liquitex was showing their new awesome Mixed Media Kits which show some of my artwork on the packaging and I was super duper stoked that I was asked to demo the contents and display some of my artwork at the show.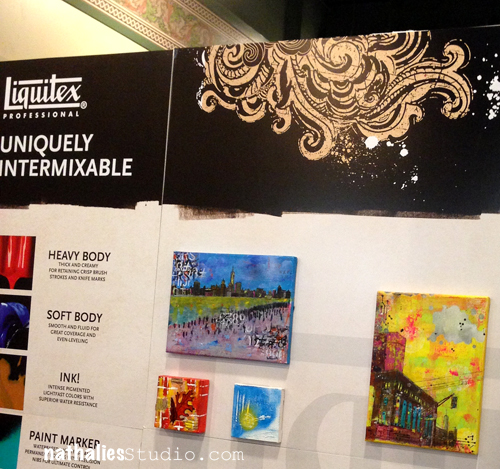 It was a very interesting show and the questions differed a lot from those of the retail or trade shows I have been working at so far. This show was mostly about Education. And as you know – I love teaching and get people excited about the things I love. I loved the enthusiasm of the attendees about the products and we played a lot in the booth – like here with Pouring Medium ….that bowl that was so much fun! Too bad we couldn't take it back with us – the paints were so thick in there- it would have taken a couple weeks to cure.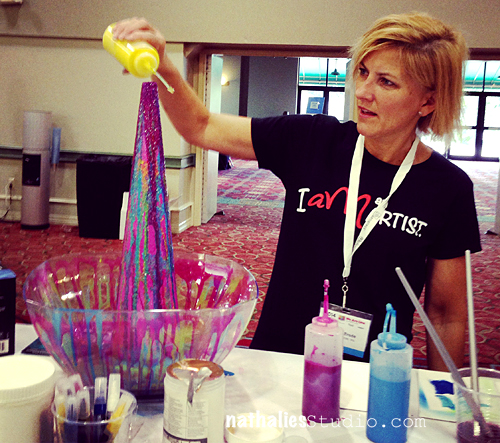 And I had the best girls with me at the booth – they took so good care of me and I had a blast working with them!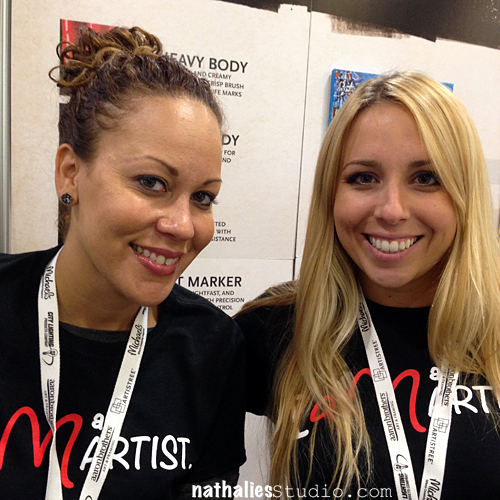 gosh what better day when dabbling my hands in paint in my art journal and on mini canvases all day  – I was in a pretty happy place there !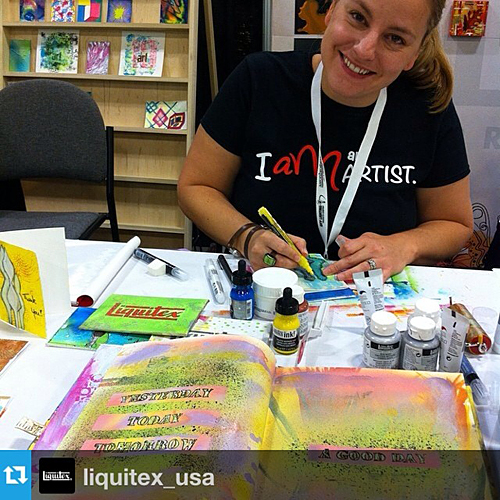 We also had to get up pretty pretty early and the days were long…the result of which ended in amazing drawings like this one by Liquitex and Winsor & Newton 's Resident Artist Jimmy Leslie .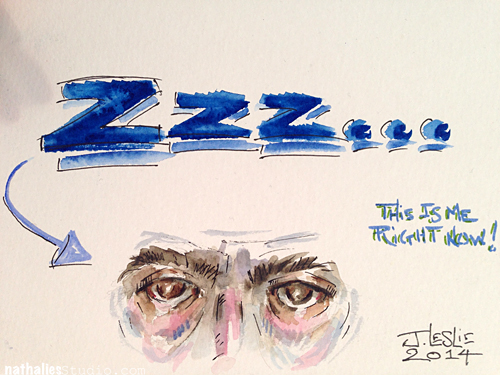 I might have "stolen" the sketch from him – LOL. Jimmy does amazing Sketches  (his sketchbook is basically a diary with cool drawings- he shows those often on twitter – so go and follow him if you want to see) and he used the new Winsor & Newton Water Colour Markers – awesome stuff – can't wait to play with them myself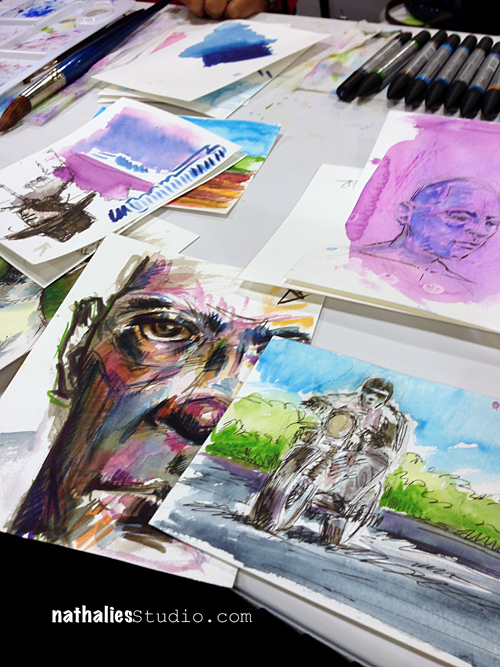 Mario A. Robinson was also there demoing the water markers and water colors, and I was just in awe by his amazing work – and personality! You can follow him on Facebook or Twitter– his paintings are amazing and he also teaches a lot of classes !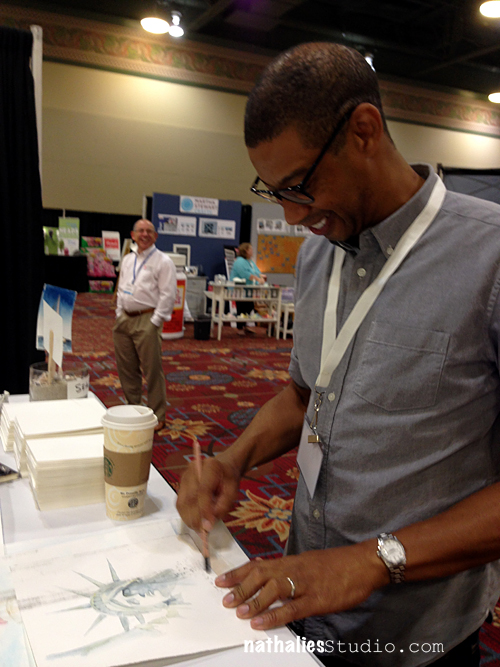 His Lady Liberty…might have fallen also into my suitcase – so so so cool!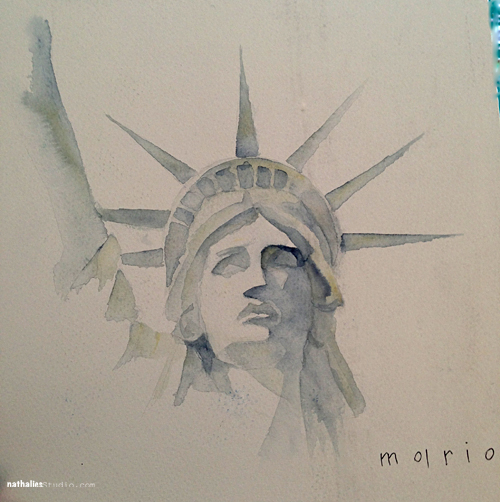 It was awesome to hang out with all those wonderful artists and share time and talk. In fact this was my highlight of the show – I felt inspired when I came home and I couldn't wait to get into the studio.
And Nat…What about Dallas? …Yeah…what about it? Well…I have not seen ANYTHING besides the hotel, the booth and the highway back and forth to the airport . But …that might change next month when I come back to Dallas to teach at the CREATE Mixed Media Event !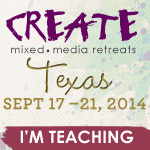 I will show loads of fun Mixed Media Techniques in all my workshops and for sure use a lot of Liquitex Products! so I hope I see some of you there and I hope I will at least see a tiny bit of Dallas .
Have a creative day