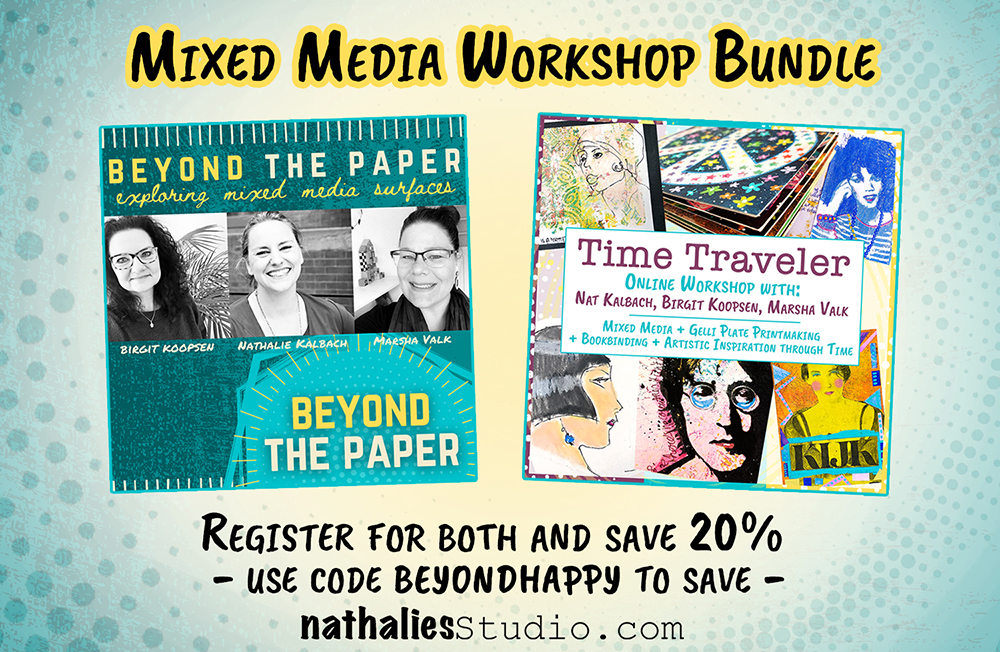 We're nearing the end of one long, hot Summer around here and if you're like me, you want to make the most of it… maybe inside with the AC on LOL. Now's the perfect time for some me-time, personal enrichment stuff though – like a couple of good online mixed media workshops! Soooo, we've got a nice bundle deal for you:
Register now for both the Beyond the Paper and Time Traveler online workshops and you will receive 20% off both of them. Just use the coupon code beyondhappy when you check out and the discount will be applied*.
These workshops approach mixed media from a unique angle: Beyond the Paper looks at alternative mixed media surfaces and Time Traveler explores design styles through history. On top of that, the workshops are both taught by three instructors: yours truly (Nathalie Kalbach), Birgit Koopsen, and Marsha Valk. Three artists with three different styles and techniques to inspire and teach you. Check out the workshops here to watch the promo videos for a taste of what each has to offer!
Spend the rest of Summer doing what you love. See you in the classrooms!
*Coupon expires at 11:59pm NYC time on Monday, August 29, 2022.