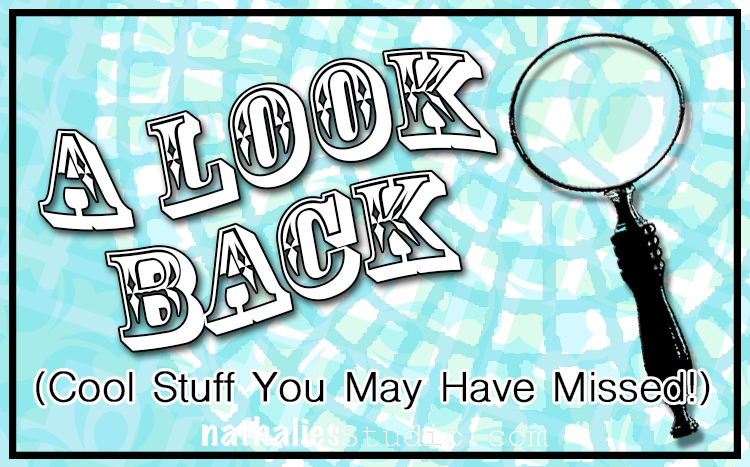 A Look Back – Today I'm looking at art journal spreads, projects, and even an old layout from 2009 where specific songs inspired me to create. I have always been a big fan of alternative and punk music but lots of times a song from an entirely different genre will inspire me. Poetic lyrics definitely catch my… ear lol
A Look Back is a blog series to show you some projects and posts that you may have missed – sometimes going WAY back in the archive. I think it will be fun to revisit a few ideas that we haven't seen for a while. I'm excited to see how a little look back might inspire something new in the future :)
I created this art journal spread in 2019 after watching a doc on John Lennon and Yoko Ono. I think this song ("Imagine") in particular always resonates when we are going through a period of strife. I felt the need to copy down a lot of the lyrics (maybe all of them), filling in the empty space I created using my Hex Set Small and Hex Set Large stamps.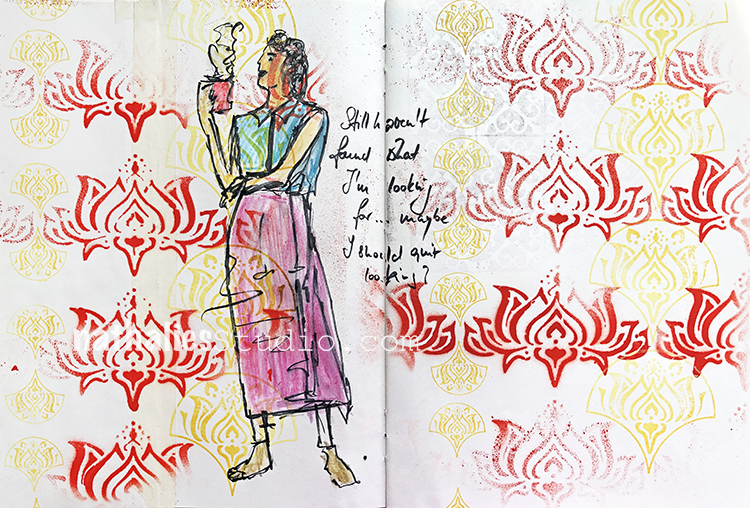 Also in 2019 I joined a challenge by my friend Tina Walker called The Stencilfied Journal and it was a series of about 25 song prompts to get inspired by. The above one was U2's "I Still Haven't Found What I'm Looking For" – and as a U2 fan I had no trouble finding inspo in that. I created a background with my Lily Wallpaper stencil and my Fan-tastic Large and Fan-tastic Small stamp sets and then put in my contemplative figure who is wondering, "maybe I should quit looking?"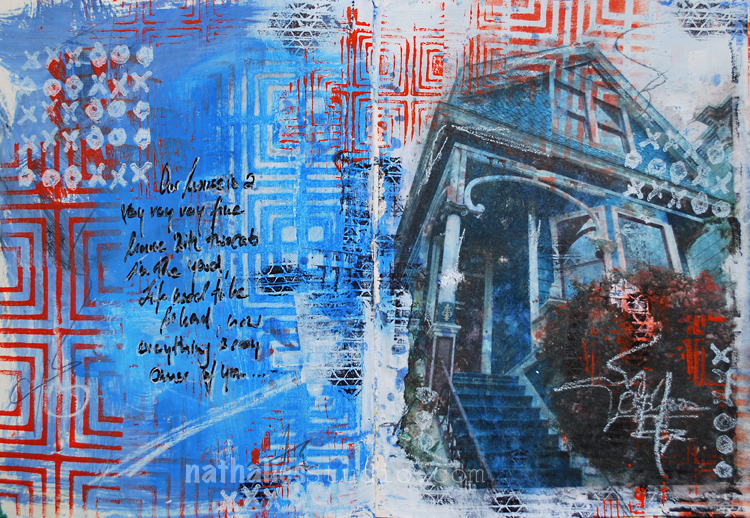 As you know, I always have my eyes open for architecture and one time in San Francisco I saw this great house, snapped a pic of it, and later put it in this art journal spread as a transfer. The Crosby, Stills, Nash, and Young song "Our House" often comes to mind when I see a lovely home so it all came together in this spread in 2017. I added my Manhattan stencil, Love Knots rubber stamp, and my Tread rubber stamp too. Now where are those two cats…?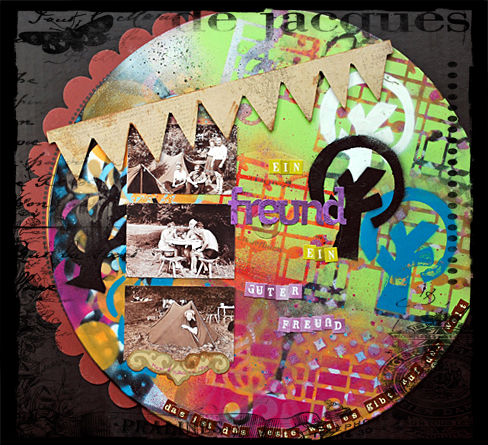 Time to go back in time to 2012 and this collage I created on an old record, inspired by the German song "Ein Freund, ein guter Freund" – a song that came to my mind when I was going through old photos of my Aunt Margo and her friends on a camping trip in 1949. She had shared some of the funny stories of that trip with me and I loved thinking about her and her good friends going on a rather madcap adventure when they were young :)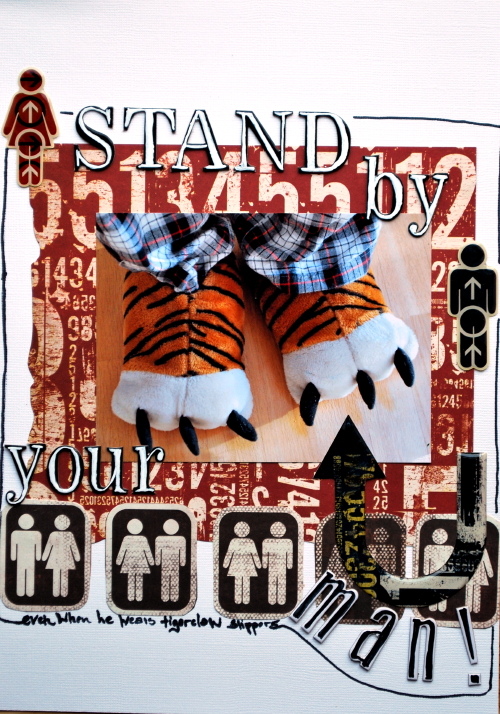 And now I take you alllll the way back to 2009 and this layout inspired by "Stand By Your Man" (as performed by the incomparable Blues Brothers) and featuring some ridiculous slippers that my husband had back then. I don't know about those slippers but I still dig some of the collage elements I brought into this.
I hope you enjoyed this look back on some artwork inspired by songs. Here are some of the supplies I used: