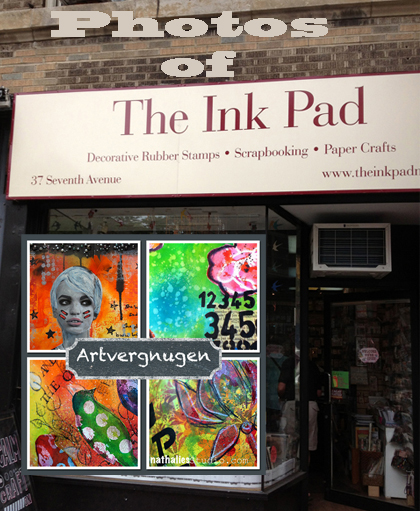 This friday I had the pleasure of teaching another Artvergnugen Workshop at The Ink Pad in New York City. Artvergnugen is an ongoing Evening Art Journaling Class – once a month I teach with a different medium or tool and it is loads of fun. This Friday it was all about: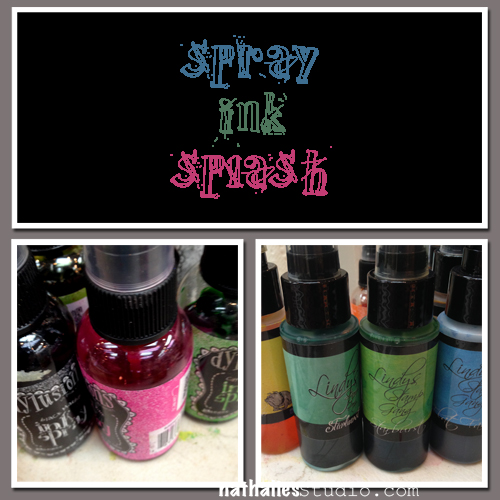 The Dylusions and Lindy's Stamp Gang were both equally loved- since they are different but both are very vibrant and beautiful it was fun to explore the different techniques and applications you can use them for in an art journal. I do love them both a lot – for different reasons  :)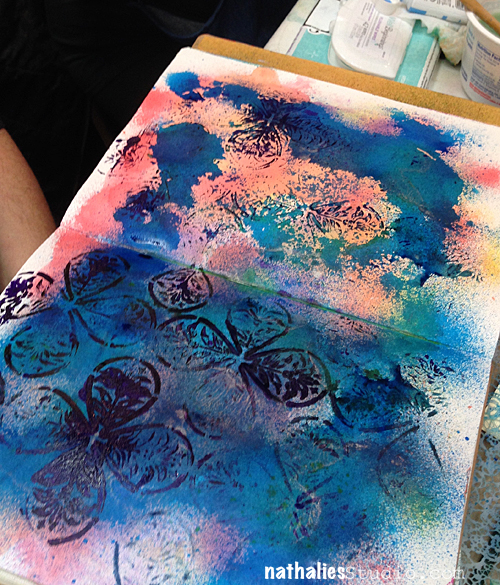 I must say I love the ongoing concept of the Artvergnugen Class at The Ink Pad – it is a good challenge for me, because I constantly have to adjust to a new medium, it is very technique based and I do have people that have been in the last class but some are new and cannot just pick up at pages from the last Artvergnugen class.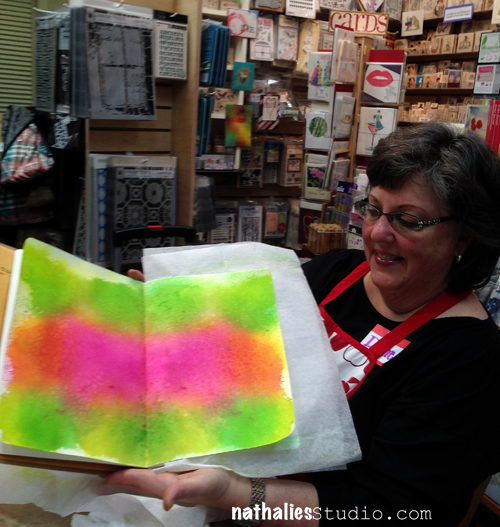 Nice ghosting here, Diane …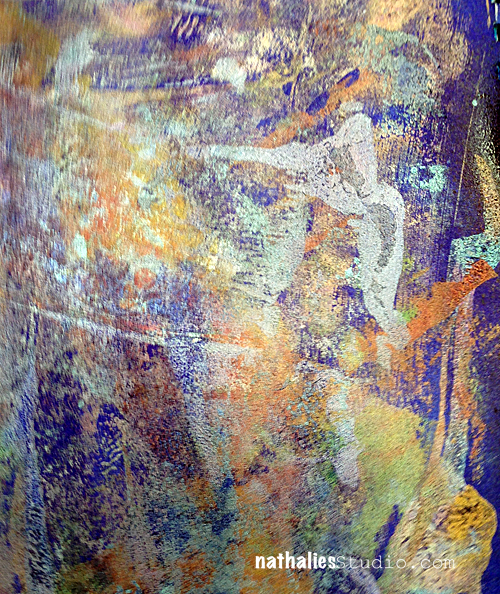 and yummie abstract backgrounds that are a perfect base for an art journal page – love it!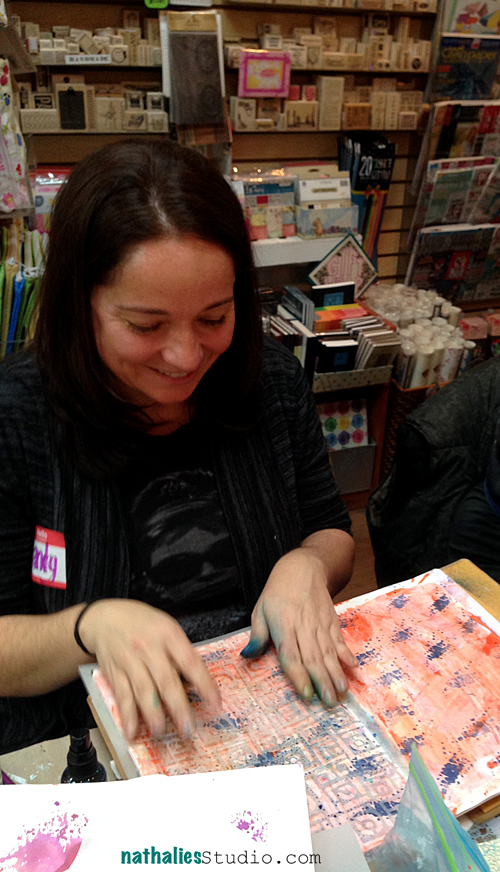 I love those girls- they all love to experiment…and get their hands messy ;)
Plus I come out every time inspired by a color combination I have to use in my next project :) Green, Yellow and Pink..oh yes!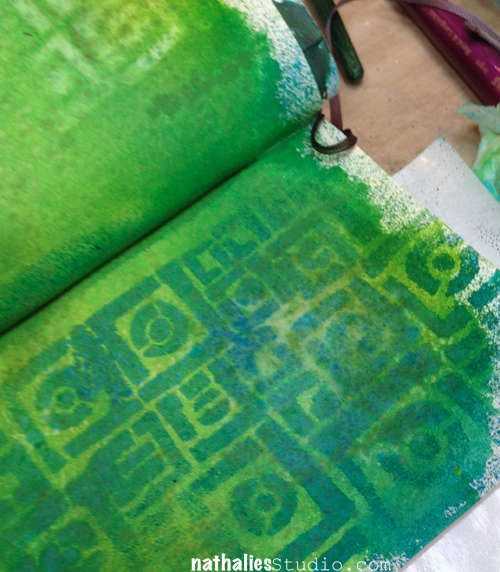 Lot's of stencils used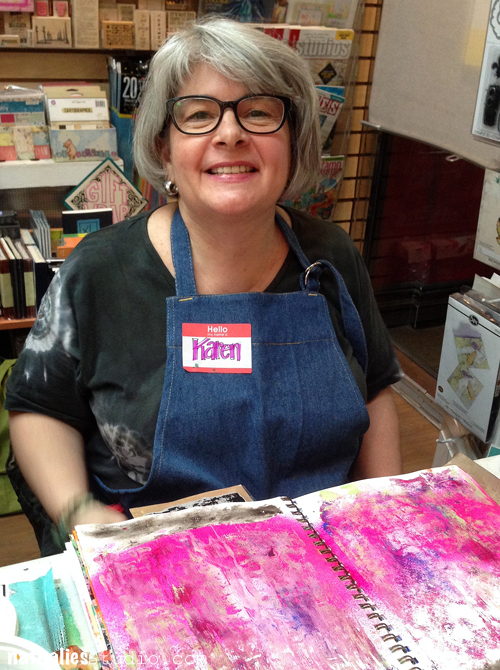 and smiling faces :) – I cannot wait to see how Karen will finish up this page …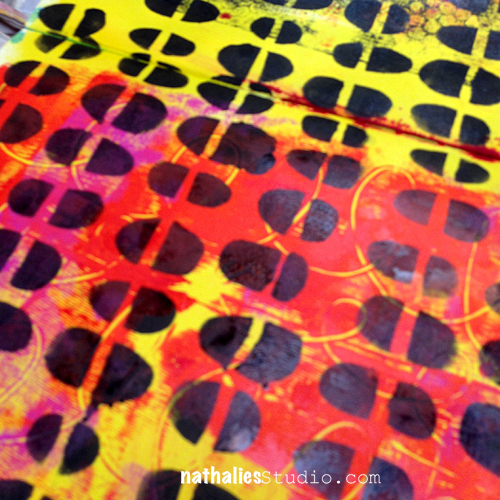 Awesome page by Cheiron picking up a page from last week and continuing with the new techniques- love it!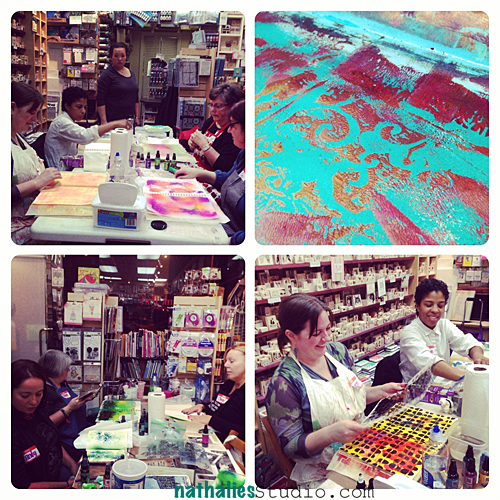 The next Artvergnugen class will be about: Stencil Madness on April 25. There is a waiting list for this date. The May and June dates and themes will come out soon – Artvergnugen…it is what makes your journal a piece of art :)
If you could attend an Artvergnugen class by me…which medium or tool would you like to play with? We had Stamps, Mono printing and Spray Paints so far :)
Have a gorgeous day
Nat