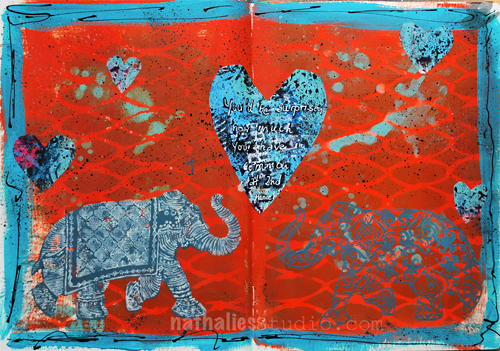 "You'd be surprised how much you have in common at 2nd glance!"
On this page I used teal acrylic spray paint over a stencil and then covered the spread with translucent orange acrylic paint taking off some of the paint while still wet to reveal the color underneath.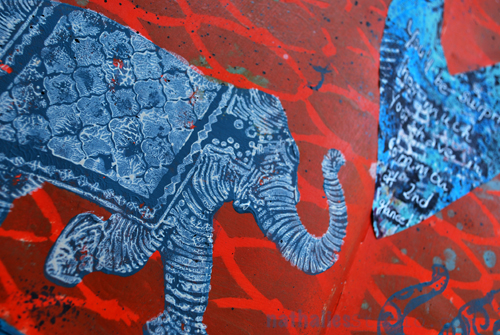 I stamped the silhouette side and the pattern side of the Elephant Foam Stamp with baltic blue acrylic paint onto the art journal spread. For the elephant rubber stamp, also in the set, I applied paint through a dauber bottle and then stamped on top of the elephant silhouette created with the foam stamp. I had mixed the paint in the dauber using 1/2 of Unbleached Titanium White Soft Body Acrylic Paint and 1/2 Titanium White Acrylic Ink. I love the texture the dauber creates but also the easy application method.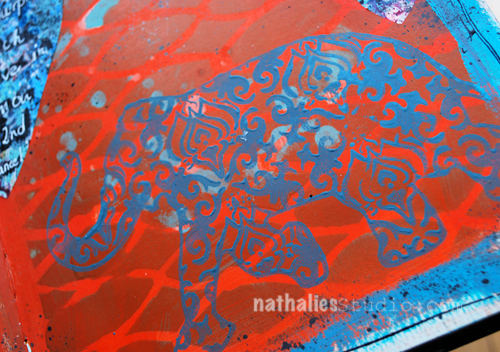 Then I painted a turquoise border -actually only to try out the new paint I had just received ;)  Next I cut heart shapes out of a sheet of deli paper which I had used to run off paint and stamps while demoing and applied them with some Matte Gel Medium.
I flicked some black ink with a brush to tie the hearts into the background and added some black lines with a fine liner to the border. The fineliner is filled with a mix of 1/2 Black Carbon Acrylic Ink and Mars Black Soft Body Acrylic Paint.
The journaling was added with a black acrylic marker overwritten with a white Signo pen – my go to pen when it comes to white journaling pens.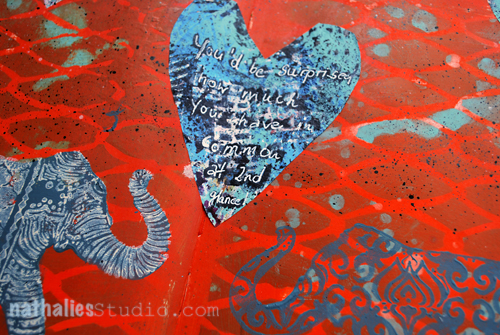 Here is a list of the supplies I used: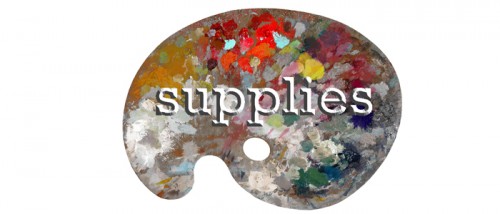 Can you tell I am still obsessed with elephants? What animal do you like to use in your art?