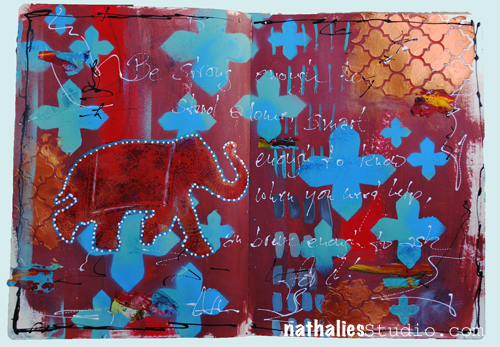 "Be strong enough to stand alone, smart enough to know when you need help, and brave enough to ask for it"
Very true and this year I will be brave enough to ask for help when I need it…hope I will be smart enough to know when I need it ;)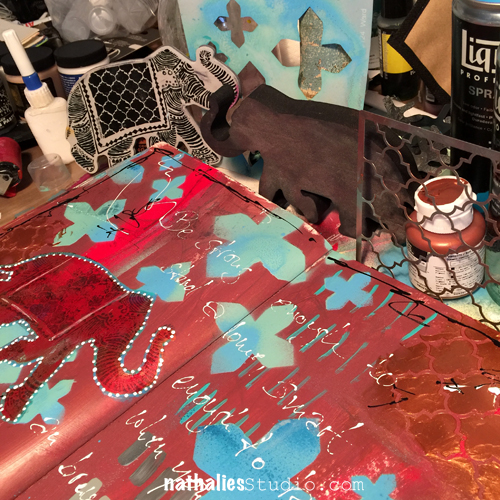 I have tried out some new supplies for this art journal spread. Well – my new Elephant Set also counts as new :) I painted the background with several soft body acrylic paints and then applied the copper acrylic paint with a brayer onto the solid Elephant Foam Stamp side. I stamped the elephant and let it dry. I cleaned the Foam Stamp with a baby wipe and later throughly cleaned it with water. I stamped with archival ink applied to the Elephant Rubber stamp on top. I added some white dots with a Fineline applicator filled with a mixture of white soft body paint and acrylic ink.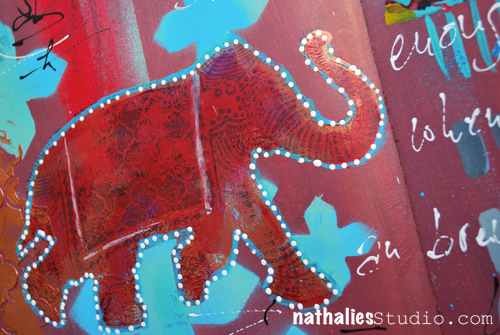 As the Elephant has the quatrefoil blanket, I pulled out my new metal Stampendous Dreamweaver Quatrefoil Stencil for pattern repetition. I applied the Metallic Copper Dreamweaver Paste through it. Oh how yummie!!! It is shiny and beautiful and dimensional and oh so scrumptious – I might have fallen in love with the paste :) I also thought Michelle Ward's Maltese Stencil would be a good pattern fit and spray painted with two different colors through it . For the journaling and some mark making I used again the Fineline Applicator – one filled with white and one filled with black acrylic paint+ink.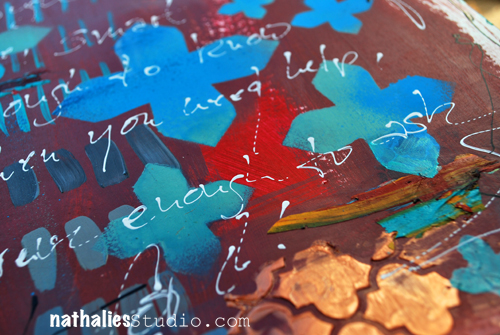 I love the rich colors – not my usual color palette but I really liked playing with it and I think I will use it again :)
What new supplies have you tried out recently?
Here is a full list of the supplies I used: