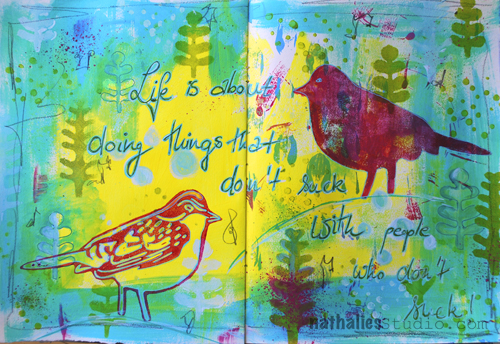 "Life is about doing things that don't suck with people who don't suck!"
so true – isn't it? Tell you, what didn't suck – playing with paint and doing a happy colored art journal spread :)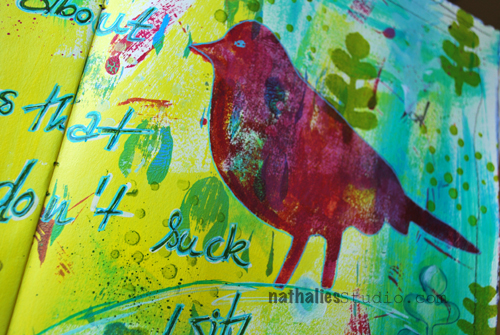 I played with my Bird Foam Stamp Set. I used the frond stencils and masks with acrylic paint on the background. Stamped the two sides of the included foam stamp- one side is solid and one is patterned. for the solid side I used a magenta color by decor art which is translucent and applied it very thin to my stamp with a brayer as I wanted the background to still show through and create the pattern of the bird. I love the outcome.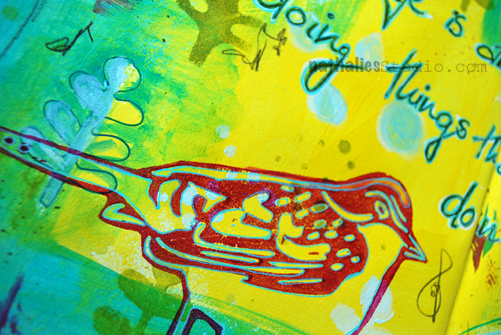 I traced the lines of the patterned foam stamped bird with a Graphic Painter Pen by Derwent- just to make it pop a bit. The flicks of paint you see here and there are actually also made with the Graphic Painter Pen – if you blow the side of the pen you can get some fine color mist spreading out- it is fun  to do  and looks awesome.
Here are the links (some are affiliate links) for the supplies I used:


Hope you have a wonderful day and some time to create something!