Some of you know this sign already – n*Lab Tales are just a little summary of my experiments with a certain products that are either new or new to me. When I get something new I need to take it apart and examine it in all kind of different ways in order to be able to make it my own and add it to my stash.  Sometimes I take it even further and integrate the product into my workshops. n*Lab tales are not tutorials -just basic narratives of what I found out, how I used it and what I liked/disliked. It is little peek into my n*Studio life.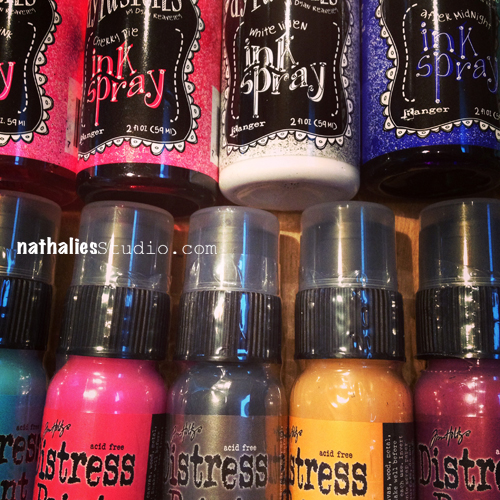 I got the new Ranger Dylusions' Colors -six there is- and there is not secret I really love these Ink Sprays – and there was no surprise I loved the new ones too. The new White Linen btw- is awesome – I will show a little spot where I used it.
What was totally new was the new Distress Paints by Ranger and I was told they are unlike any other paint product out there. AHA…mmmhhh – really? LOL- sorry Ranger, I love your products- but I am like that- I need to know for sure plus everything paint makes me excited to try. So let me first give you the known gist of the Distress Paints – 24 colors,  fluid water-based acrylic paints, reactive with water and coming with a dabber.
I will admit – that the description at first did not knock me out of my shoes- because I know fluid acrylic paints, acrylic paints are water-based and react with water – so what is the big deal besides that the colors are appealing if you are already familiar with and you love the other Distress Products from Ranger, which I do.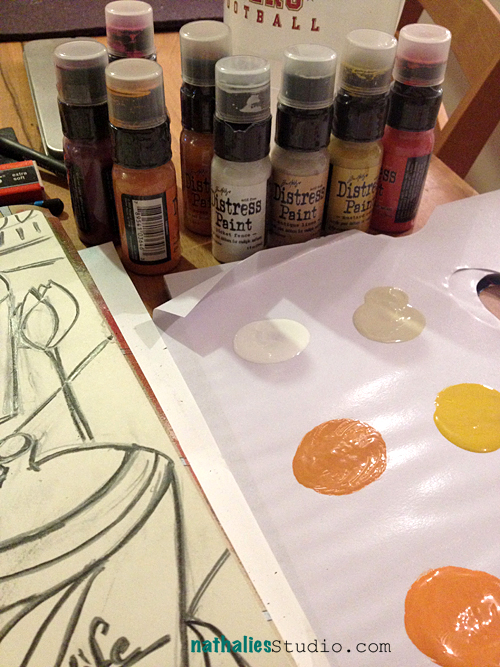 So…with a bit of a MEH-approach (I am honest) I started experimenting with those paints. I actually almost thought they would be more a Gouache like paint- until I realized "nope- they are permanent, once dried". So what I started doing was just playing with them in my art journal. Seeing how they are with different brushes, how I can control them , how they react when I mix them dry and wet with a brush.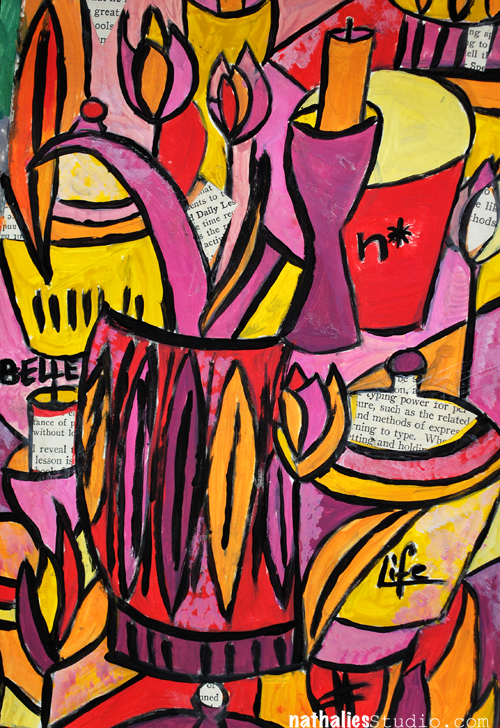 This is when I started to like the paint already quite a bit. I liked how you can work them and that they are actually VERY controllable although so fluid. I also like the very long opening time of the colors on the palette/ranger mat. I like that the mixing and blending is nice in a wet on wet technique- while it is very opaque on a wet on dry technique. I also love the matte still very vibrant appearance the matte finish by the way perfect for art journals as they help with the "sticking" problem. I also like this chalky like effect.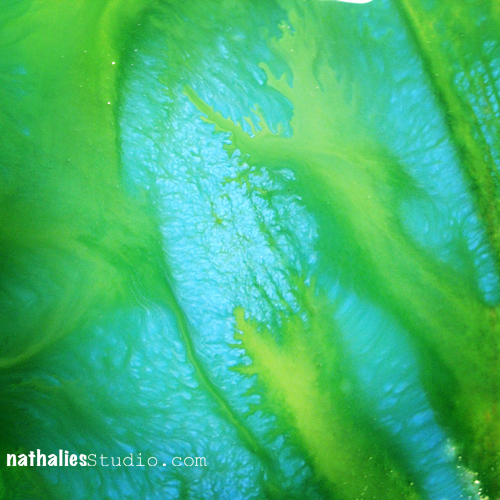 Next I played and experimented a bit with the reaction to other water-based products while wet. I liked the marbling effect. Here you see the Broken China Distress Paint mixed with some Dirty Martini Dylusions Ink Spray. It takes  a bit practicing on when to mix those for the best and still vibrant result, as you want to avoid the matte Distress Paint mixing too much into the nice vibrant Dylusions Ink Spray…so that it is not just a matte finish in the end- but it is doable and fun. Love it.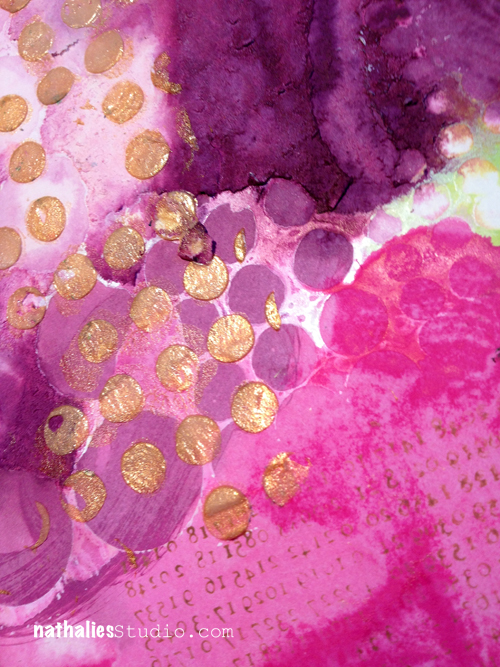 I started playing with different paper surfaces. On the top you see ripped and very rough paper and on the bottom very smooth paper from Dyan's Dylusions' Journal. What I found was that the rougher the surface -like the torn paper- the faster the paint dries. It was almost impossible without wetting with water to work the paint on rough paper, while it was without water super easy and nice (even with your hands a fun thing) on smooth paper. Well once you know that – all is good and you can work with that knowledge – plus you can use it for more visible texture as the rough paper parts getting darker of course :)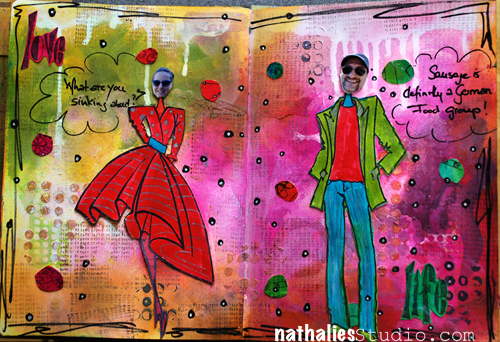 here you see the whole page- the background was just playing and trying things- I used a lot of the Dylusions Ink Sprays with the background too to see the results with the dried Distress Paints, and then as you can see the white that is the new Dylusions White Linen – love it. I also used Dyans new Couture stamps- I had fun- as you can tell ;) I worked a bit more with Wendy Vecchi's new Golden Embossing Paste – yum. I also tried a bit stenciling with the Distress Paint Dabber but the paint is definitely too fluid for crisp results with stencils, so you would still need a cosmetic sponge or similar to apply the paint in a thinner matter – or maybe I need to practice more ;).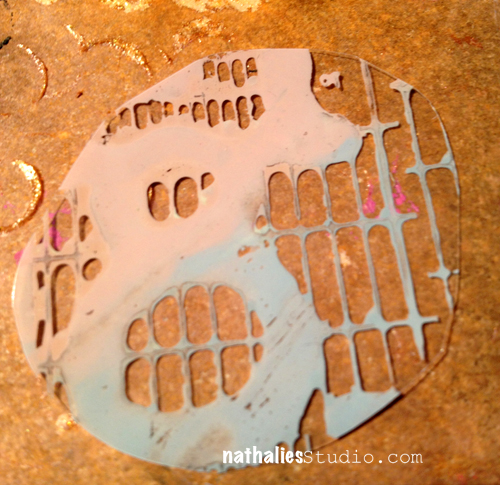 And then came the part that made me like super exciting. Stamping! Indeed a very nice paint to be able to stamp with ruber stamps- and super easy to apply because the dabber and you can also add different colors- and you can then stamp directly on Transparencies (remember that one Creative Jumpstart video I did? ;) ) – LOOOOVEEEE. But wait there is more….
This made my heart pitter patter – The resist results with the paints. I used here Picket Fence and Weathered Wood Distress Paints and stamped with my favorite Stampers Anonymous Stamp. Then I sprayed with Black Marble and Squeezed Orange Dylusions Ink Sprays and also applied some Distress Inks – I think – Spiced Marmelade and Fired Brick over it. I loooooveee how this came out. That was one of my highlights, as yes – you can do resists with all acrylic paints- but this so far- had the best result for me.
So before I show you another art journal page- my favorite features of the Ranger Distress Paints:
Resist Results 

Matte but yet vibrant finish – perfect for art journals

Capability of applying to plastic and metal

Dabber cap – in the hope it won't dry out

Possibility to use it with my rubber stamps

Color Range – love the colors and wonderful to mix with other Ranger Paint Products

Texture when dried – more visible texture than tactile

Opacity when applied over dried areas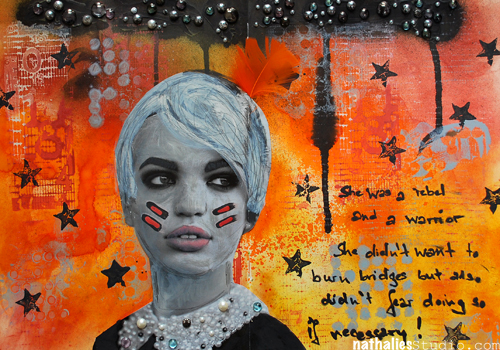 supplies by Ranger:  Distress Paints Distress Inks Distress Stains Dylusions Ink Sprays Dylusions Stencils Inkssentials Glue Stick Inkssentials Mini Mister Other:  Pearls, Stampers Anonymous Stamps, Derwent Sketching Pencils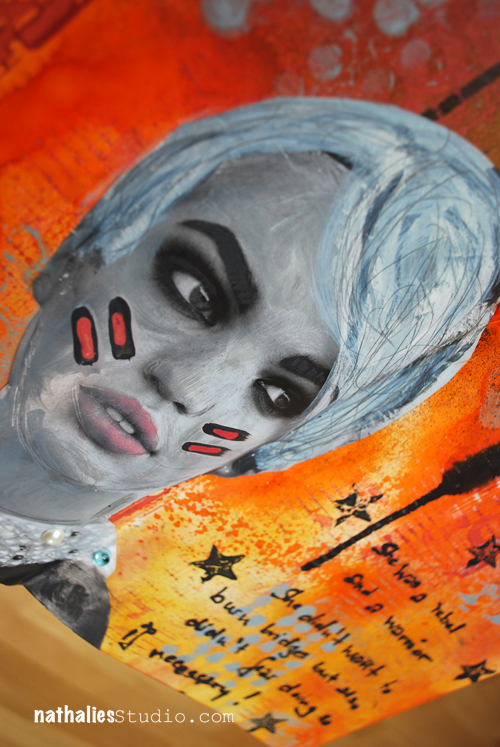 I will definitely use those in my stash and I see them also in future classes as I have some more ideas to use them with techniques already  ;)
Have a gorgeous day
Nat
Related Links:
n*Lab Tales – Letraset Promarkers with Letraset Airbrush System