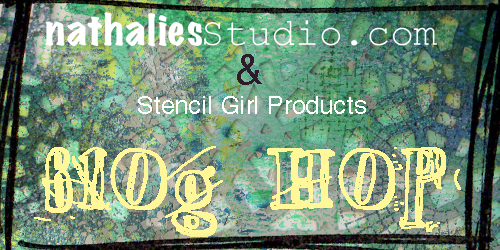 Welcome to my 4th Stencil  Blog Hop! This time I invited four wonderful artist friends to hop along with me and show case my StencilGirl Products Typewriter Stencil. It is a 6×6 inch stencil.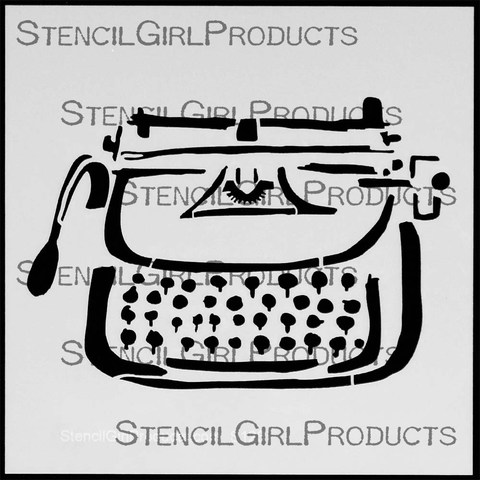 And I give away one Typewriter Stencil! Comment here for an entry into this giveaway! And if you also comment on all the other listed blogs I will  give you an entry into the giveaway for each blog you comment on–how cool is that! You have five chances to win it. Leave a comment on each of the listed blogs and on my blog  and let us know how you like the projects and I will pick randomly one lucky winner. You have time to comment till August 20, 2013 – midnight EST.
Edited on August 21, 2013: The winner is Lura Brown, Congratulations. Lura, please email me with your postal address so I can get this stencil sent out to you 
 , Nat
Here are my friends joining me this time :
Martha Richardson: I know Martha now for some time- we worked together on a design team and she always blew me away with her amazing projects.
Maria McGuire: She is rocking it now for several blog hops- she is awesome!
Corrine Gilman: I discovered her because she is a member of the StencilGirl Creative Team and boy do I love her work – it is so beautiful!
Michelle Hernandez: Michelle is an awesome scrapbooker who makes me laugh a lot with her humor and who I finally had the pleasure to meet this summer in NYC
I designed this stencil because I love typewriters. When I grew up I had this gigantic old office typewriter from the 40s which I used to write my first novel on. The novel never made it to more then 11 pages, when it was replaced by a new idea- but anyway- I loved my typewriter. I am also one of those people that learned proper blind typewriting and I am quite quick and good at it – LOL. I bought a nice old one at a flea market and it must weigh a thousand pounds. There is a lot I connect with typewriters: vintage, office, notes, letters, work, messages….
Check out some samples I did already here: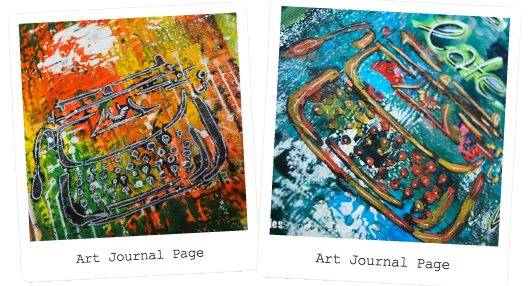 Here is what I created for today: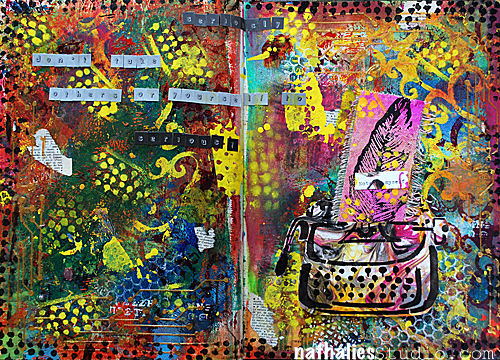 It is a crazy art journal page ;) I do love to use random pages in my art journal and scrape off leftover paint, try out on an small area a little technique and often times I get this huge dimension and depth in a background which is ready to finish. I used the typewriter Stencil with some acrylic paint that stenciled through onto some marbleized paper.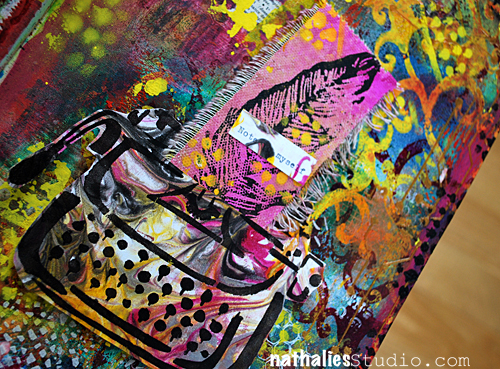 I cut out the typewriter – added a slid through which I put a piece of canvas with with a "note to myself" tag and then mounted it on small 3D Foam Pads. The journaling reads "Seriously don't take others or yourself too serious!"
I also love using the typing keys of the typewriter by itself for mark making -and you can see I did it throughout the spread but also around the pages as a frame.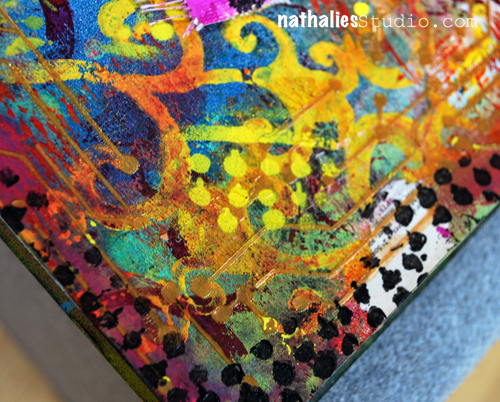 Here are the supplies I used:

Now hop on over to my friends and check what they did and comment for some changes to win the stencil :)
Have Fun
Nat