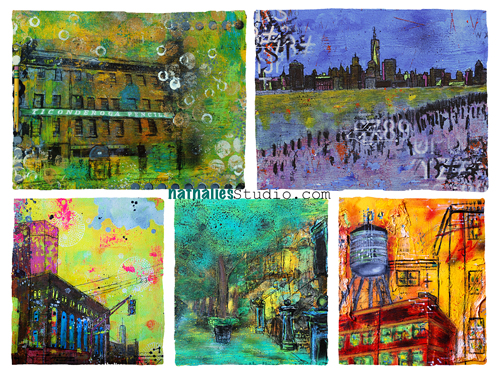 A couple weeks ago we had a little art show with artwork of the artists living at Dixon Mills and for the residents of Dixon Mills. It was a fun social event in our Social Club and I think there were about 60-70 people. It was not only awesome to be able to show some of my work, but also to connect with the other artists in our old factory buildings and to connect with neighbors. It wasn't a public event- so I didn't invite everyone I knew – but I had my sweet friend Julie Fei-Fan Balzer and my friend J. coming over. Hubs unfortunately had to travel.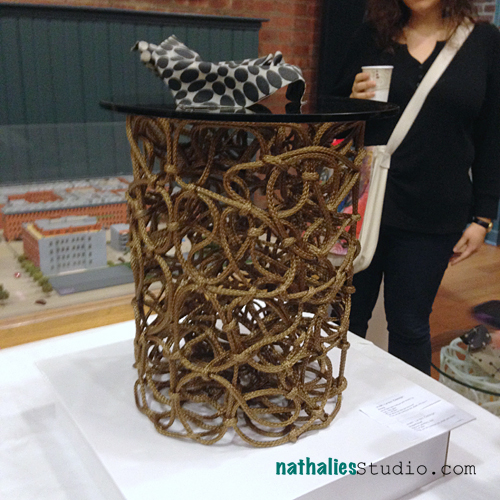 Kim and Josh from Josh Urso Design showed some of their wonderful knoop (dutch for knots) tables and the gorgeous light below (WANT – I love their lamps too!). They create really awesome furniture and lamps with all kinds of awesome and sometimes unexpected materials and resin.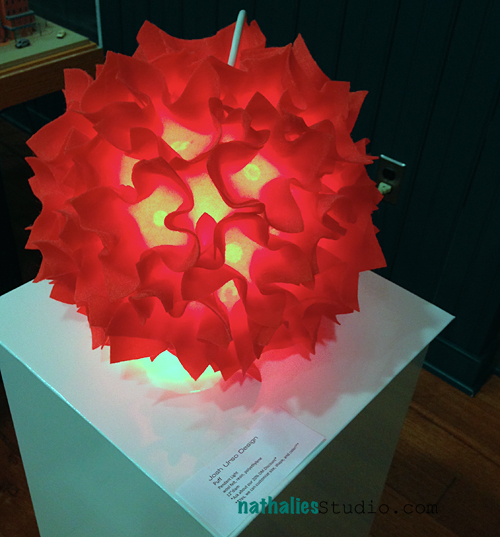 Also one of our Residence Artists is Donna Greenberg, a known polymer clay artist. She brought some of her jewelry and beautiful home decor items.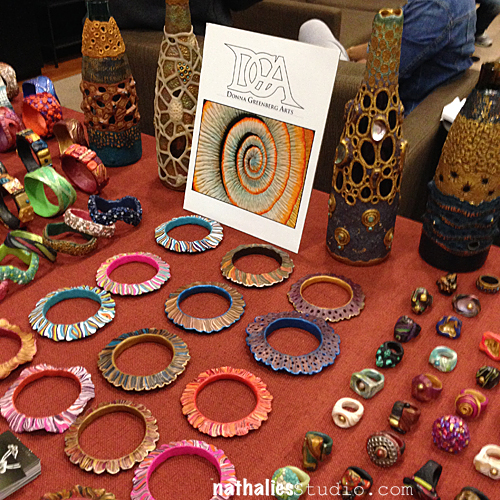 And here is us waving to our friend Anke: we found out that we both know Anke Humpert from Germany quite well. Anke and I have met several times doing Mixed Media things together and now she is super thriving in polymer clay art and knows Donna well. (The world is so small…it is not only a saying – remember- I met Maeghan at NAMTA in Pittsburgh- she was at the Artshow too- Loveee her – and when we talked it turned out she lives in the same building – CRAZY!)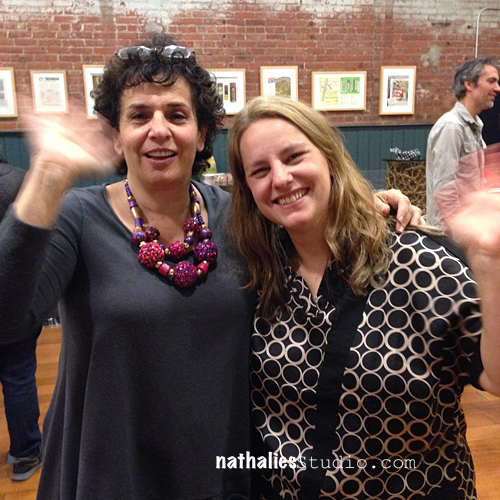 There were also lot's of wonderful photographs, glass painting art, mixed media collages and watercolor paintings – but I stink at taking photos when I talk so much- I always forget to take photos when I am talking with so many people. It was a great little show and a wonderful evening and I got a lot of positive reactions and inquiries about my work – including emails the next day. Yes there will be prints. These originals will not be sold yet as they are part of a bigger work theme. Thank you for all of those there and for being so supportive about my work! Here is my big fat happy grin at the end of the show :)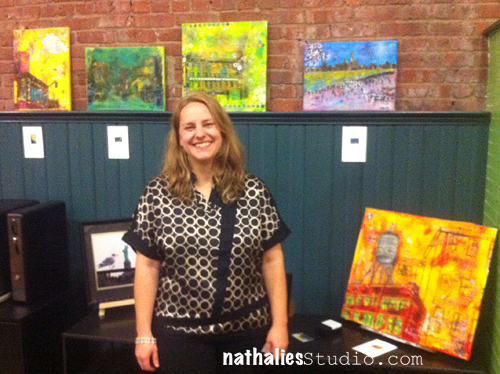 This would be the perfect time to stop this post…huh? Wait wait…you have not seen Julie, right? Well- kind of …she is standing behind the knoop table. But – Julie actually slept over and we had a VERY long night, talking and planning and laughing. And then this is how a joint fashionable jammie day looks like ;)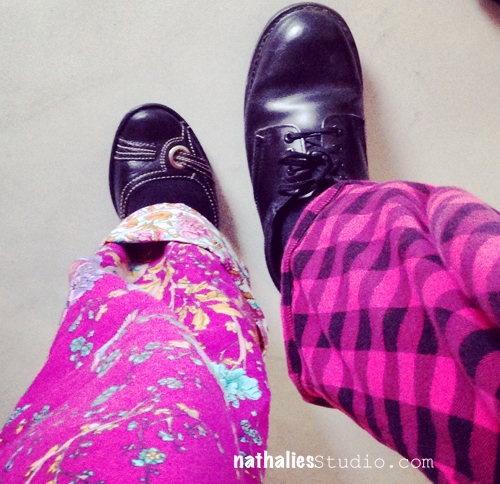 She wrote all about our Art Slumber Party here. I do love her- what a good friend she is – and how awesome , she lives so close now..It is 45 mins – btw- she is a true New Yorker whining, if they have to travel outside their little island, but over an hour traveling inside the city to Brooklyn is totally cool- LOL. It takes me as long to Downtown Manhattan as her = 20 mins ; tsss ;) But sorry, I was shifting away..here is Julie writing down our evil plans to take over the art world …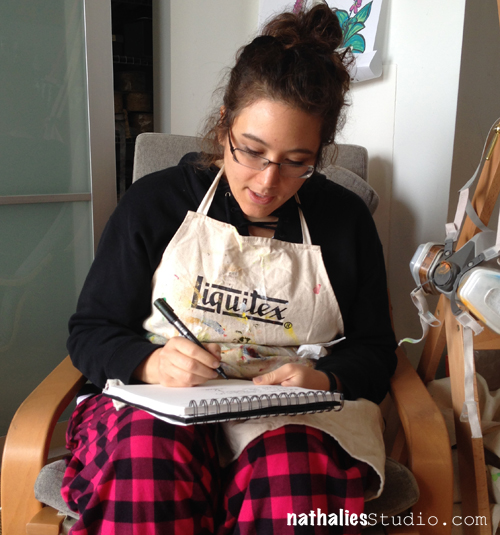 And here is me holding up a hostess gift she painted in my studio, trying out my beloved Liquitex Markers…pretty cool. She made sure I hold it up high enough to cover up my Yankees Hoodie – she as a true Red Sox Fan had a hard time looking at it – snigger (I am not even a fan…I am European – I have no clue about Baseball – it is just a nice cozy hoodie- LOL).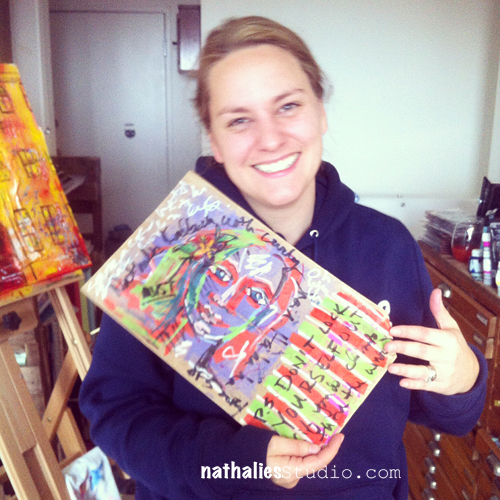 And that was it…amazing night, amazing day- I was so inspired and full of energy afterwards (despite the fact we slept about 3 hours and I had to teach Friday night ;) ) – I cannot wait until the next Artshow and Art Slumber Party ;)
Have a gorgeous day
Nat

Related articles across the web