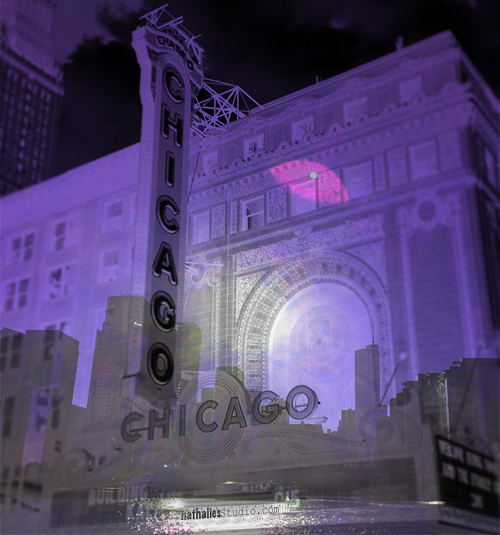 As you might know, a couple of weeks ago, I meet some dear old friends in Chicago and we had a fun weekend. One of the repeated recommendations to do in Chicago had been the Architecture River Cruise and since this is one of the few "touristy" things that even my friend A. who lives in Chicago loves – we were in!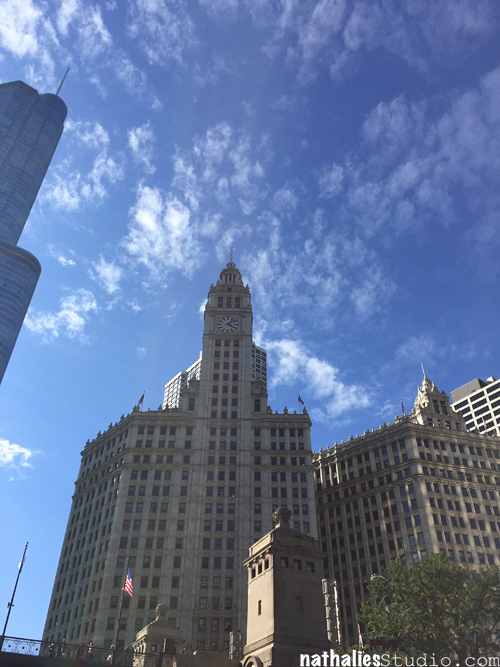 It was pretty pretty awesome! I am interested in architecture but there is a lot of mid century and more modern building where I am a bit at loss as to the initial appeal. Hearing a lot of background motivations and ideas for buildings was a total eyeopener. It started with this building which was in my "love it without much explanation" range. The Wrigley Building built in 1924 shining in it's white terra cotta facade inspired by Seville's Cathedral.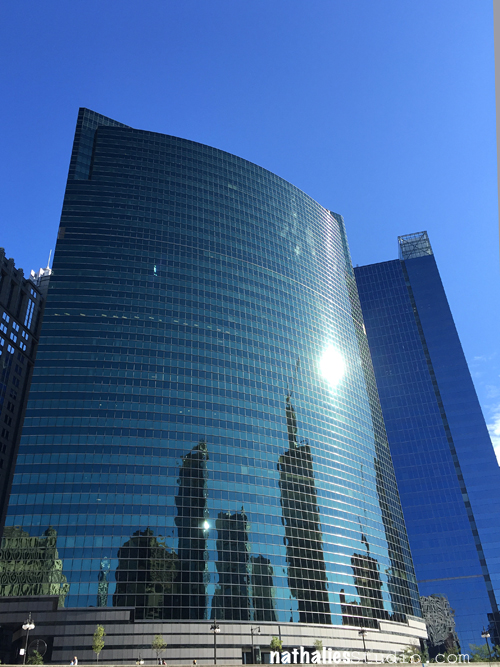 333 West Wacker built in 1983 – I love the reflection and the fact that the curved facade is mimicking the curve of the river as well as it's color. That I can see and it made me kind of like it more :)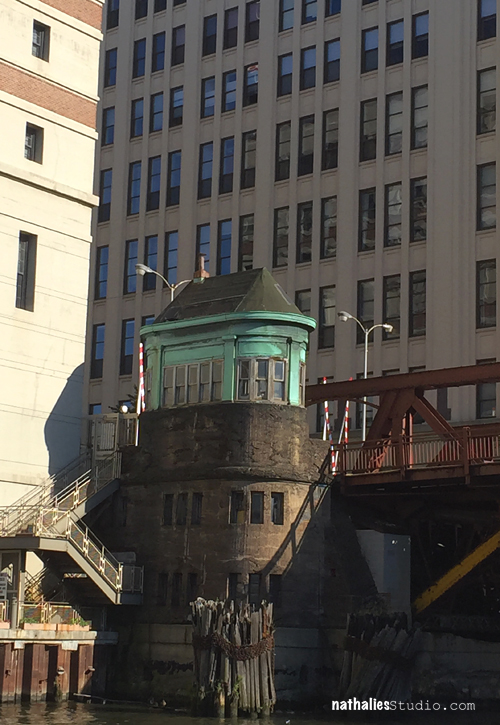 Chicago Avenue Bridge Tender House- can I have my art studio in there? Love this!!!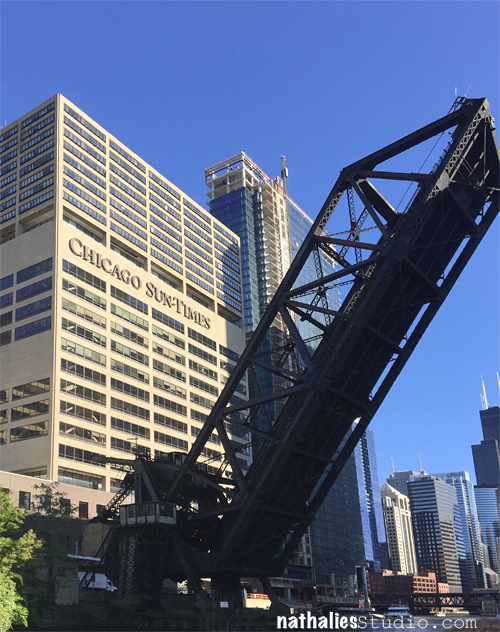 One of the many draw bridges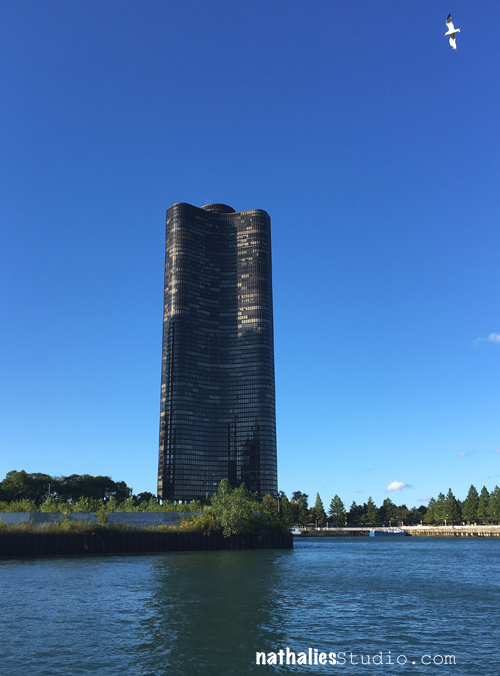 Lake Point Tower – 1968 – by John Heinrich and George Schipporeit, two students of Mies van der Rohe. It looks elegant with it's curves. It probably has the most stunning views in all directions -but I still wouldn't wanna live there, I think.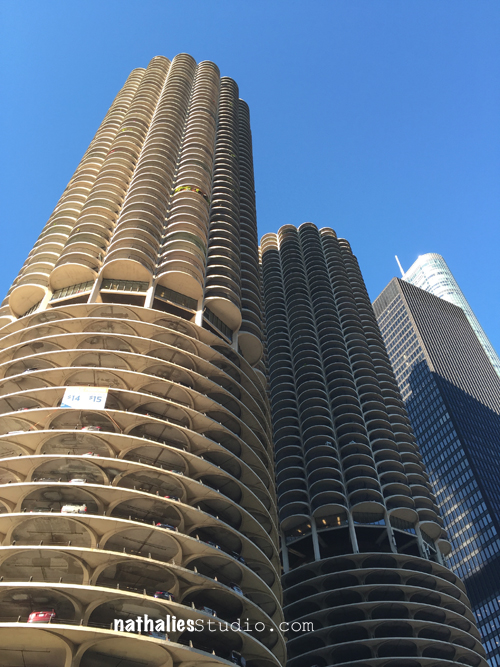 Marina City 1967 – by Goldberg (another Mies van der Rohe student) who believed since no right angles exist in nature, none should exist in architecture. I looked at some floor plans of those corncobs and found them super intriguing. Think living in flower petals.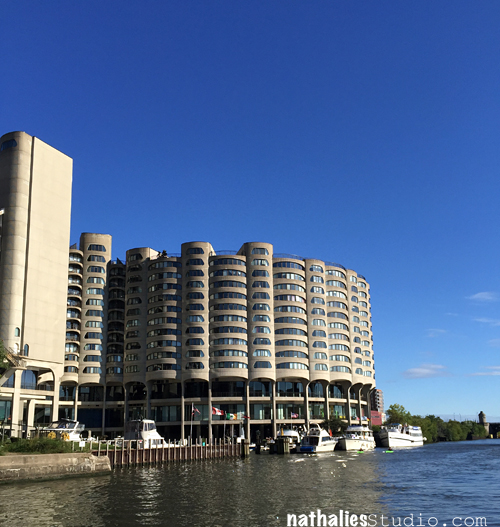 Finished in the 80s is this River City building also by Goldberg. While I found the windows fascinating and they reminded me of some Gaudi buildings in Barcelona – this one looked like a nightmare to live in especially upon coming closer with the boat. I don't know – but the shapes – intriguing again and inspiring.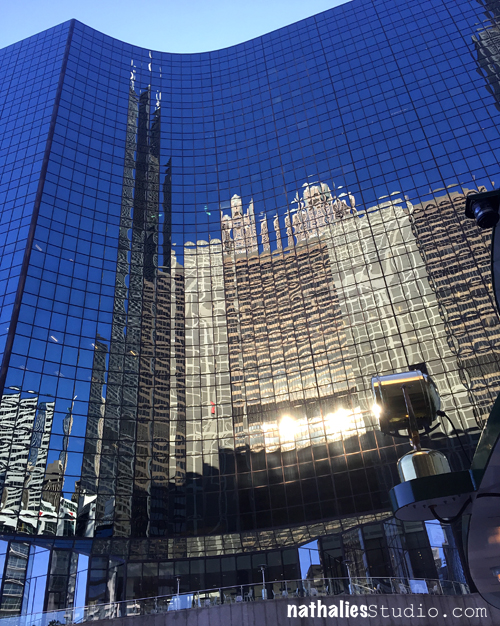 Gorgeous reflection – I would love to paint this!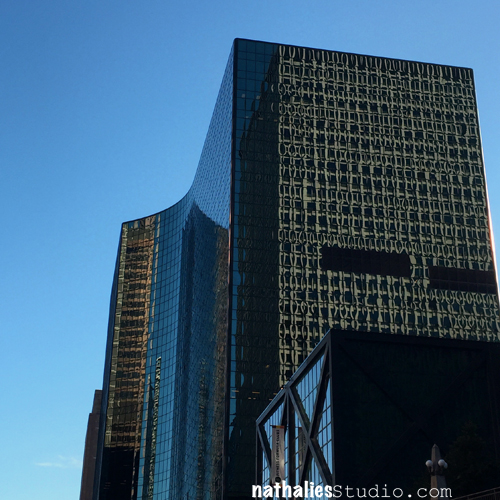 And more gorgeous reflections- the reflection that changes everyday is making the building interesting for me.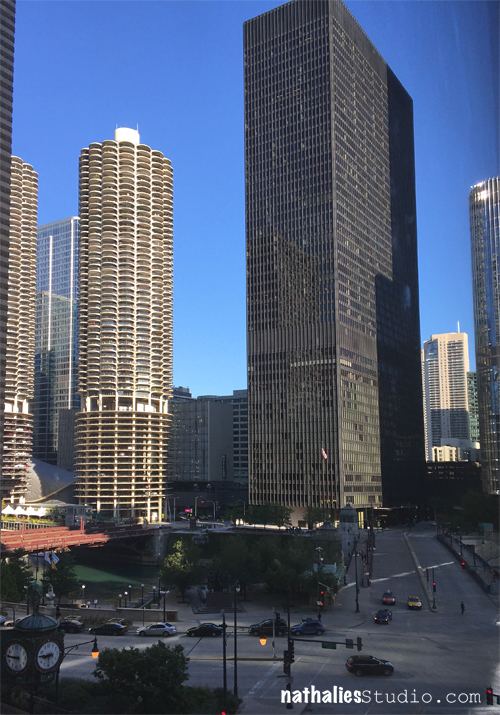 This was actually the view from our hotel room.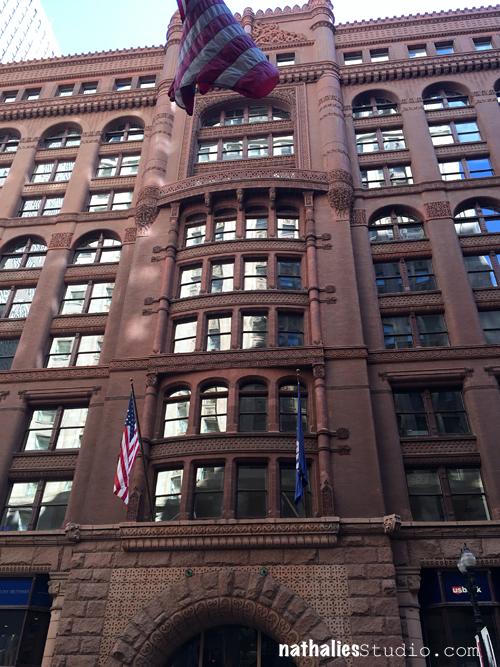 After the river tour we walked to The Rookery 1888/1907  – Frank Lloyd Wright – which was unfortunately closed already -but boy did I love all the details on the facade. It contains decorative elements reminiscent of late Roman, Venetian, Moorish and medieval-European architecture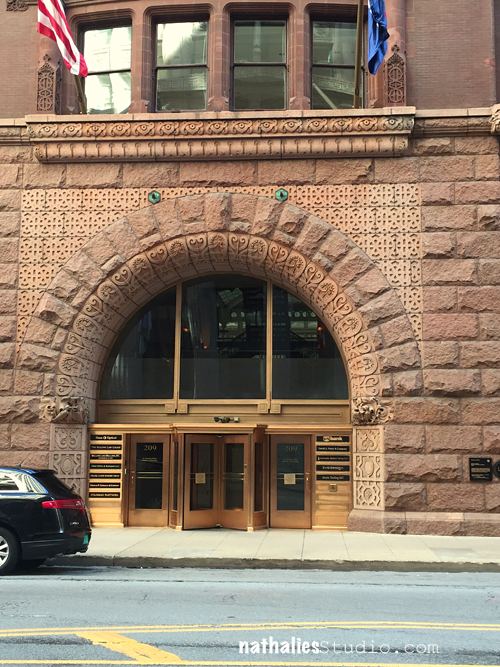 Stunning!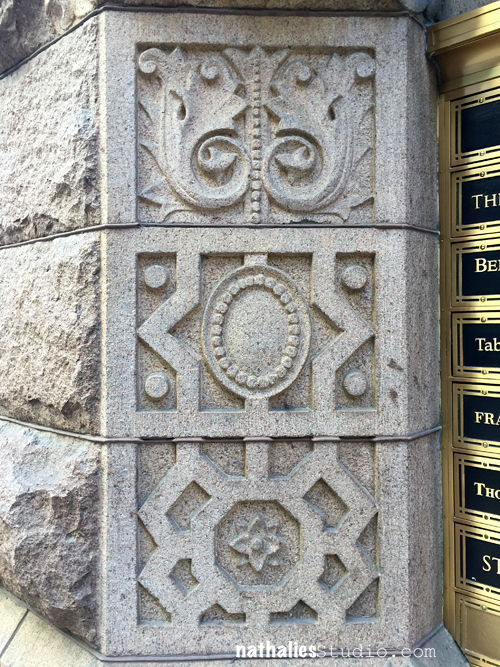 I see border stamps ….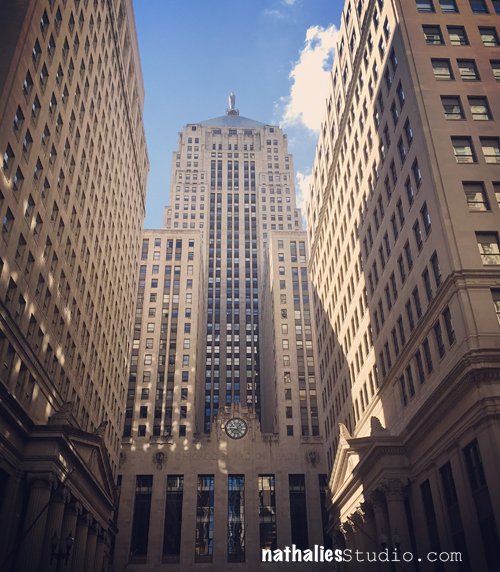 This building is the Chicago Board of Trade – 1930 – a breathtaking art deco building which makes me think of old Chicago Gangster Movies and Gotham City :)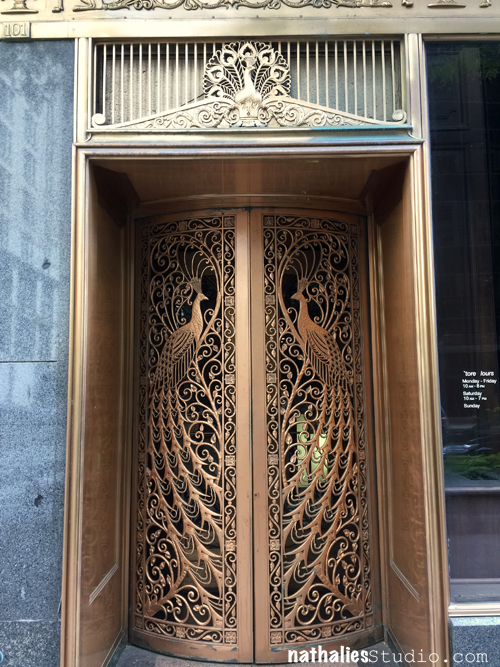 My favorite door – can I take this home, please?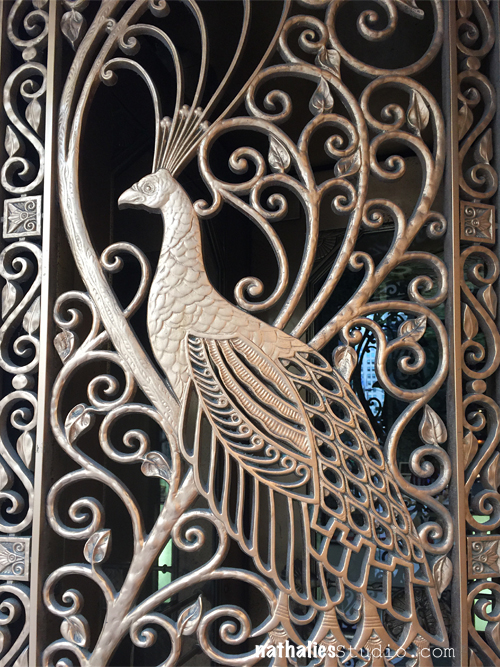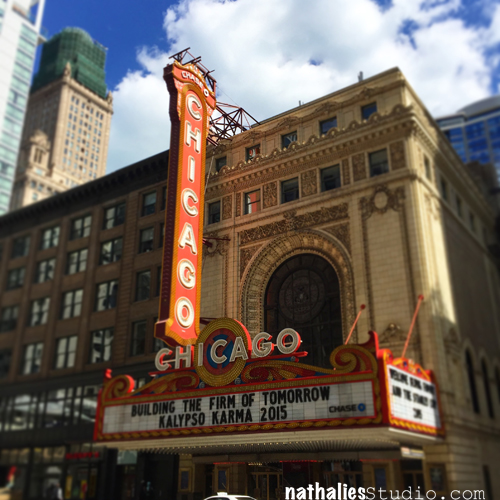 And the famous Chicago Theatre built in 1921.
All in all I felt pretty inspired by the architecture of Chicago – the shapes, patterns, reflections and I am sure some of them will move into future artwork :) Time to get into the studio. I hope you enjoyed the little tour. Have a gorgeous day!
P.S.
My friend Julie Fei Fan Balzer and her Mom and I had a conversation about
tune in and listen to the podcast –
I hope you enjoy it. Do you like going to a museum with a friend?