Let me share another layout I did with the third of my sets of  my signature stamps for Stampendous! for CHA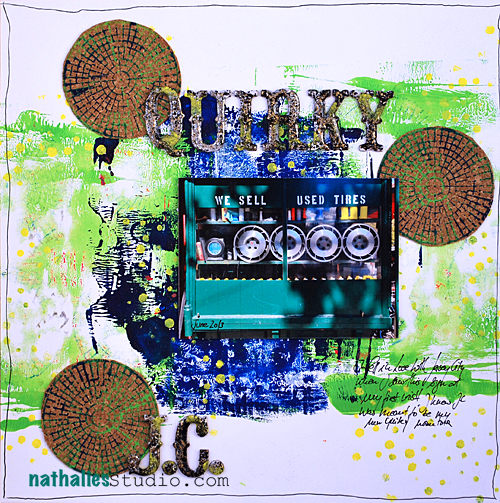 For this layout I used my Mish Mesh Stampset:
It comes with a free template which I used here and there with yellow.
I started out with some mono printing using the new Stampendous! Creative Palette – stamping into it with my stamps and then using the two colored stamps on cork. I cut out the cork circles and added them tot he layout. I applied Stampendous Aged Embossing Enamel on top of the letters – I love how you can grunge things up with it – also added some yellow acrylic paint on the letters to repeat the color.
The sight where they sell these tires was one of the first ones when I visited Jersey City for the first time last year and hahhaa- you bet I thought that would be a good spot to live if they have stores like that ;)
want to know where my stamps arrived so far? – I started a list of the stores carrying them – so check it out. If you stock them as a storeowner let me know :)
Here are the supplies I used with this Layout:

Have a beautiful day
hugs
nat