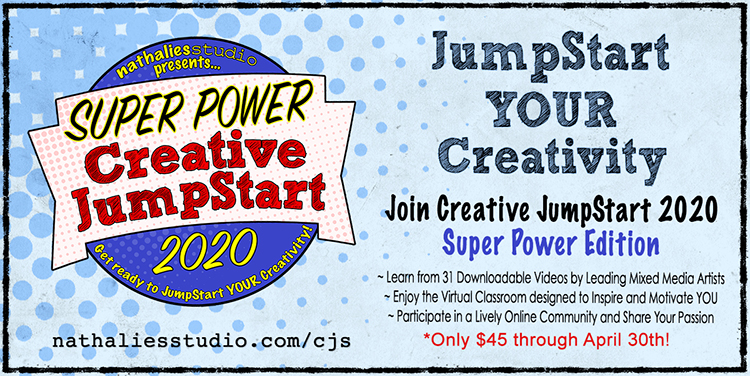 I am having a very special sale in response to these unprecedented and difficult times – Creative JumpStart (CJS) 2020 will be just $45 through the end of April. Yes, this is the online workshop CJS that started back in January – the Super Power edition. I know many of you are at home these days and looking for activities, a sense of community, and artistic inspiration. Join us for Creative JumpStart!
Here is the promo video to introduce you to our amazing group of 31 artist teachers. They have each contributed a lesson with the theme Super Power:
These super talented artists are sharing their artistic Super Powers with you through a project or technique lesson. There are 31 teachers and 31 lessons, spanning a wide variety of styles and media. The goal is to JumpStart YOUR Creativity. Learn more HERE.
And check out a peek of some of the artist's lessons below: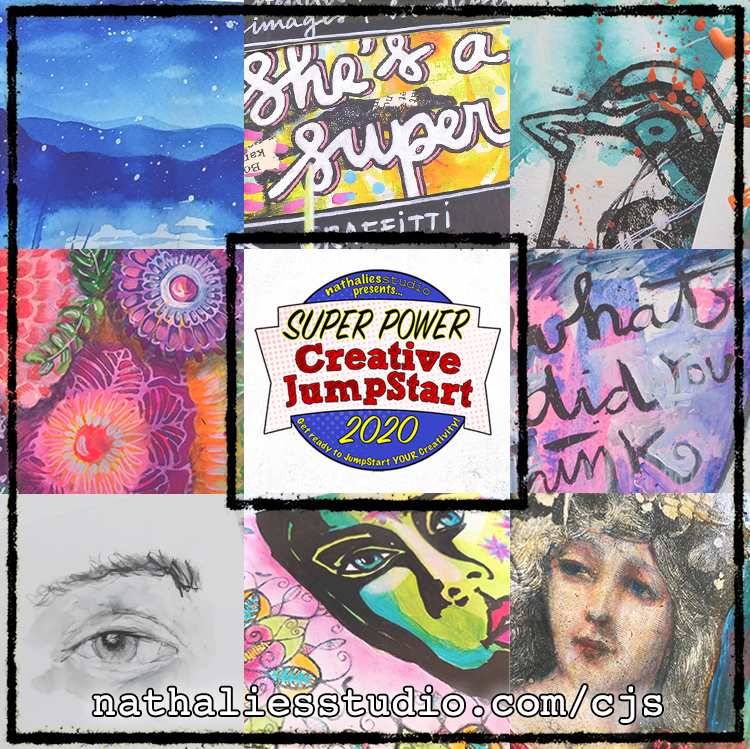 Creative JumpStart is also about Community. The goal is to have a place to get together with other creative and artistic people. In the classroom you can comment on lessons and share your experiences and ask questions. There is a Show & Tell page where you can share your artwork and see what other students are creating. And of course we invite you to interact on social media with hashtags like #cjs20 and #creativejumpstart20.
We are a community of over 1000 people – and now is the perfect time to join in and make some new online friends :)
Already participating in Creative JumpStart 2020? Come back to the classroom and say Hi! Maybe revisit some of the lessons that you loved or techniques you haven't tried yet. Show & Tell, post on social media, let's get the conversation going and all enjoy a break from things with some artistic FUN. 
These are unprecedented times of crisis and now more than ever we can see the beneficial powers of artmaking and getting involved with arts communities.
This special sale ends April 30th at 11:59pm EST. Sign up today!