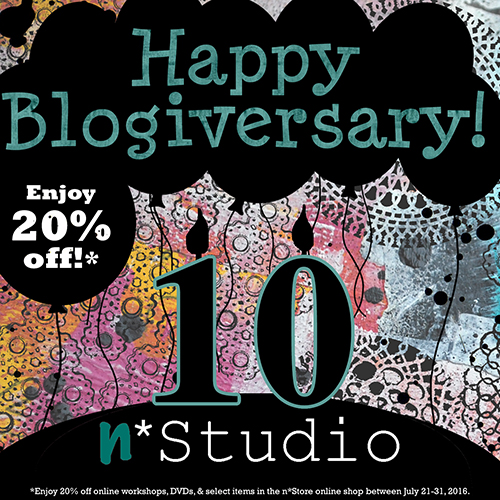 So I can't quite believe it, but I am celebrating 10 years of blogging on n*Studio.  The actual anniversary happened last month and I spent a little time looking back through old posts and projects and sometimes laughing and sometimes cringing.  As you may know, I started 10 years ago  while I was still working as a paralegal and some of you readers were here through the time when I was transitioning to being a full time artist.  It was a big change but the whole process has been an amazing and rewarding experience, filled with new opportunities, colleagues, and friends!  I want to thank every one of you readers who tune in and I am totally looking forward to many more years of blogging with all of you!
In honor of the occasion, I am super excited to offer you a Happy Blogiversary Sale!  Between now and July 31st 2016 at 11:59PM Eastern Standard Time (yes with the help of modern technology it is a very precise time) you can enjoy 20% off online workshops (like Creative Jumpstart 2016), DVDs, and select items (including all the stamps and stencils) from the n*Store online.  The sale prices are reflected in the store now.
In the comments below, I would love to hear how long you have been reading this blog and if you are a blogger yourself, how long you have been blogging.  And as always, please share with me the mixed media, craft, and art journal projects that you've created using my stamps and stencils!