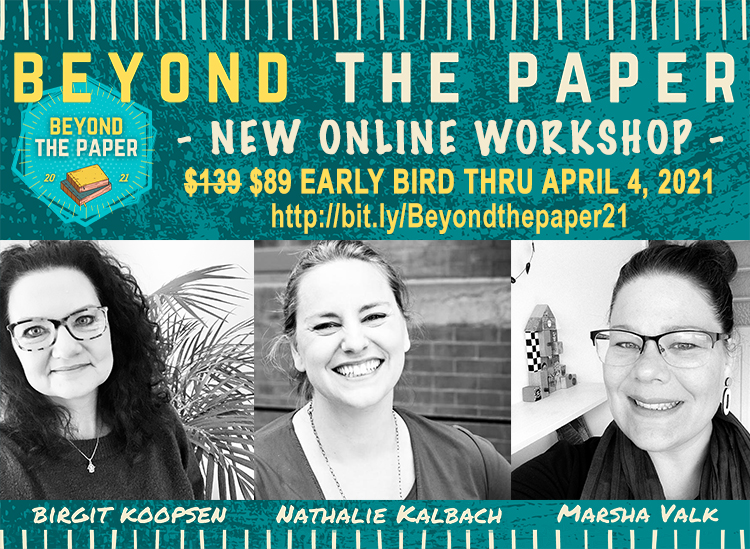 Super happy to announce this very special workshop that I am releasing today – Beyond the Paper. I'm teaching along with my amazing friends Birgit Koopsen and Marsha Valk in this 3 week online workshop that goes on sale today and begins on April 4th.
Let's go Beyond the Paper: Join Nat Kalbach, Birgit Koopsen, and Marsha Valk for an online workshop that goes Beyond the Paper! We'll be exploring exciting and original substrates to create on, that will invigorate your idea of art journaling and mixed media in general. Cardboard, Dura-Lar, Fabric, and more will be the foundation of our creations and we'll discuss how to make the most out of these unique surfaces with techniques including foam stamping, printmaking, collage, stitching, and image transfers to name a few. To wrap things up, each teacher will bring some pages to completion and then show you a binding technique for pulling it all together. Learn more and register here.
The goal of Beyond the Paper is to inspire interesting, new ways to think about mixed media and to learn from the perspective and artistry of three different teachers. Also a special NEW foam stamp set, Triple Play will be used in the lessons and is newly released TODAY – for more on that, keep reading :)
Sign up TODAY for Early Bird pricing: Today, March 19th – April 5th, 11.59pm EDT this course is just $89 USD. After that, the course will be its regular price of $139 USD. Sign up now and get a fantastic deal.
Check out the promo video below:
Beyond the Paper includes 21 downloadable video lessons: 7 lessons by each of our teachers. The workshop will begin on April 4 and run for three weeks. Students will have access to a virtual classroom where they can comment on the lessons, ask questions, and share examples of their own work. A live webinar with the teachers will take place at the end of the workshop and students are encouraged to attend to learn more about the teachers, ask questions, and participate in some light-hearted activities.

NEW ArtFoamies set – Triple Play!!!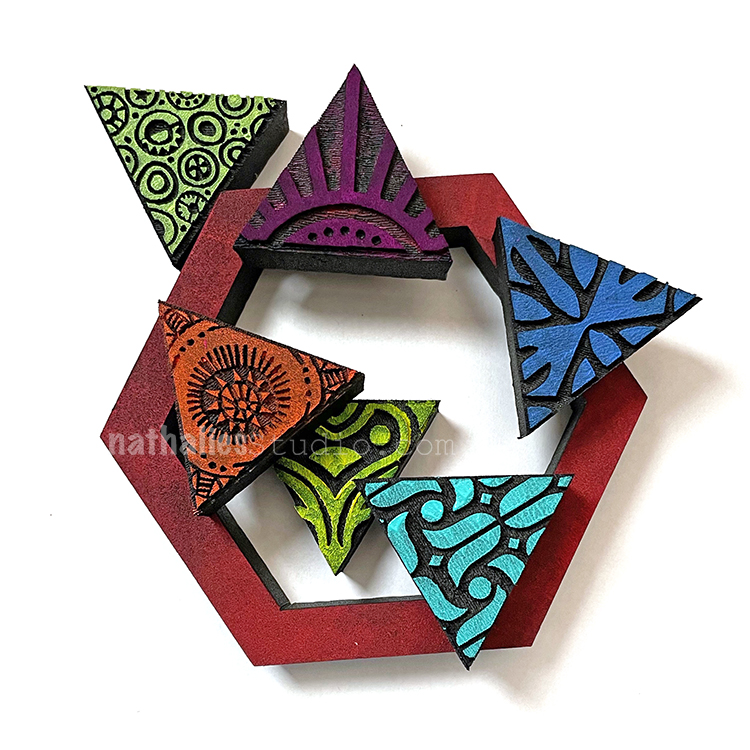 I'm also excited to announce the new Triple Play foam stamp set!!! Birgit, Marsha, and I designed this 7 piece ArtFoamies set to be used alongside the Beyond the Paper workshop, but of course this versatile set is perfect for any of your mixed media activities :)
Each of us designed two of the triangle stamps that fit nicely inside the hex border. Can you guess who designed what? I'm sure some of you may recognize our signature style.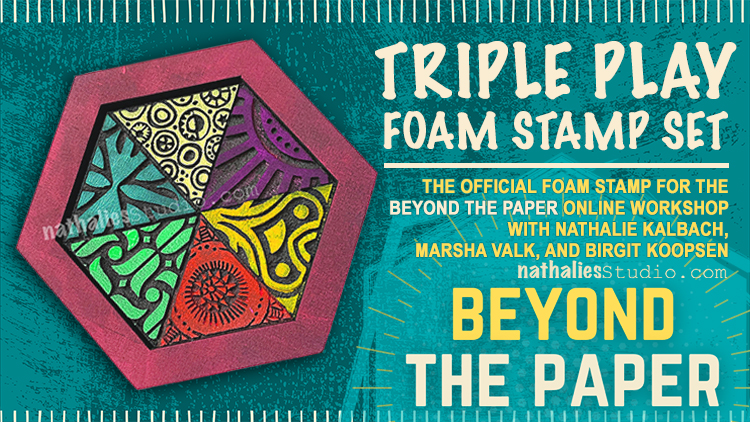 For a while I have been obsessed with creating patterns with stamps (remember April Patterns?) and this set really allows you to explore that like crazy. You can use just one triangle to make all kinds of designs within the hex…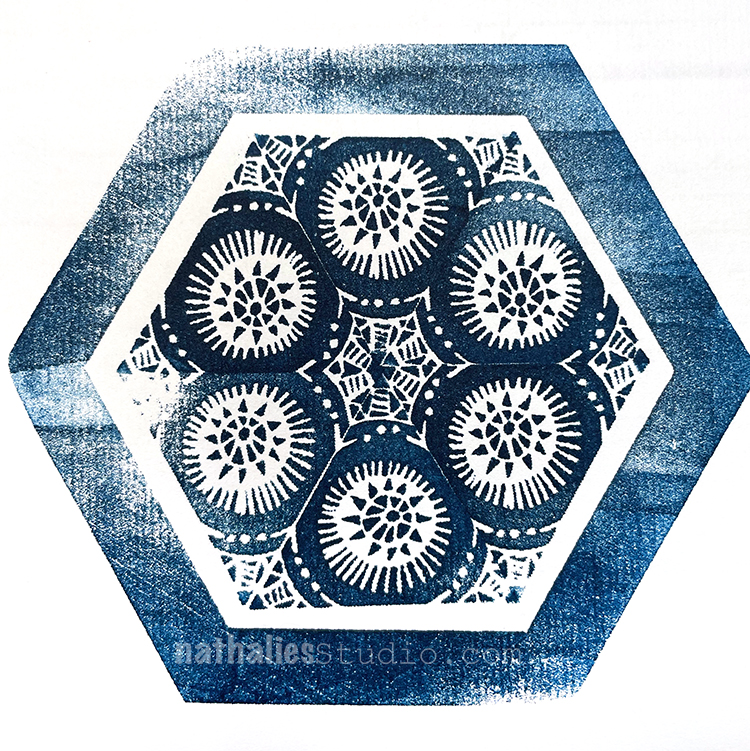 Or try combining two of the triangles for a cool field of pattern…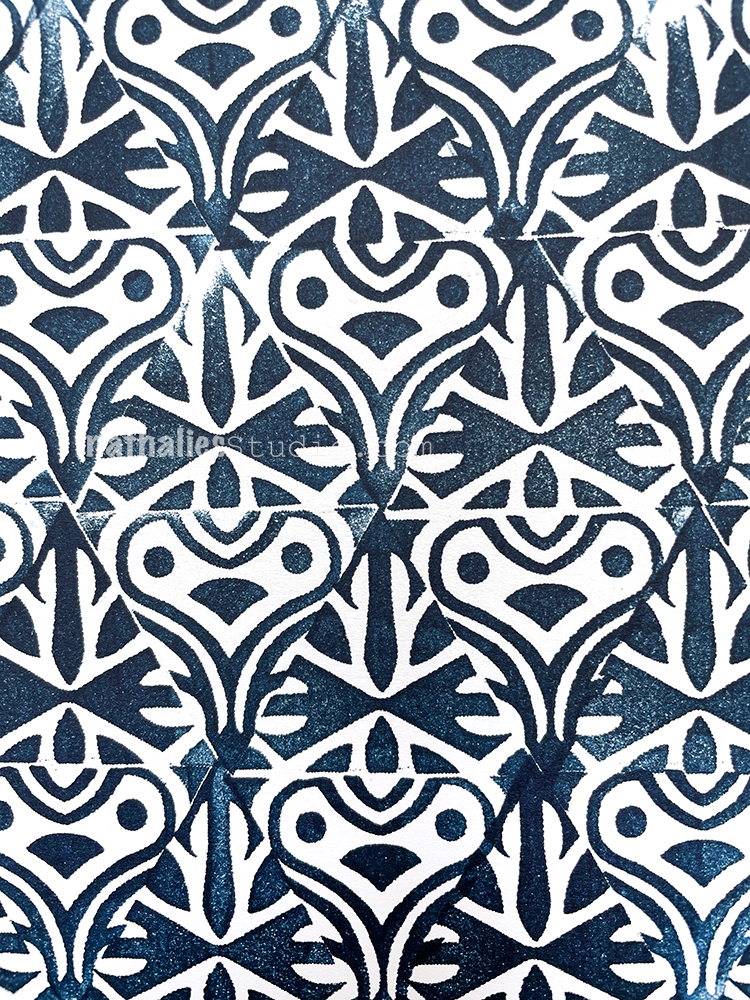 And how about layering it up a bit?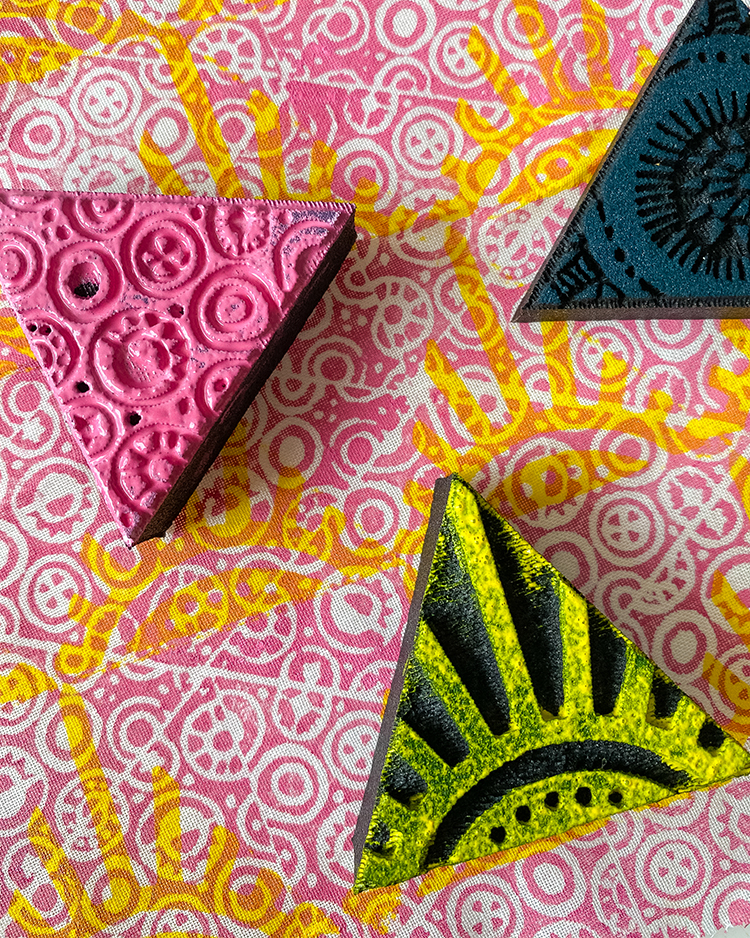 And then just look what happens when you really pull out all the stops?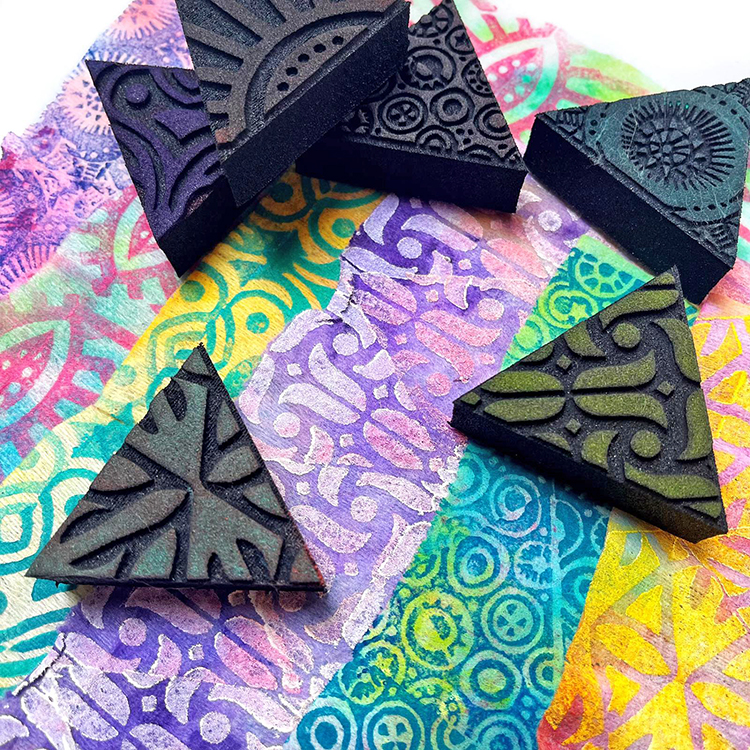 I hope you join us for Beyond the Paper, with your Triple Play foam stamps in hand! I always love teaching with Birgit and Marsha and this time we all bring so many different ideas to the table that I know everyone will be inspired to think waaaaaay Beyond the Paper!