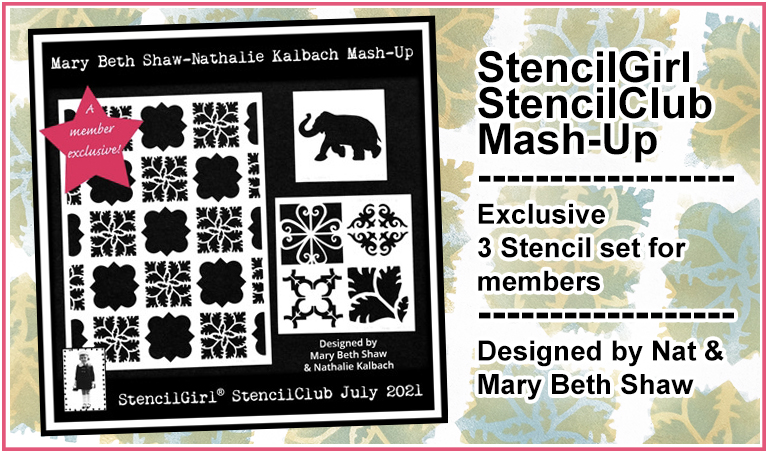 This month I am doing a stencil mash-up with StencilGirl's very own Mary Beth Shaw for their StencilClub! This is an exclusive 3 stencil set for July 2021 if you are part of their StencilClub (Info here). It's a mash-up so it includes design motifs from each of us, combined in a new way and new scale. Here is a little video introduction to the stencils with Mary Beth and myself:
I love how our patterns work together in this set and oh my, that little elephant is pretty cute! We had fun testing these out and I wanted to share a little sneak peak with you:
Here are the details: You get all three exclusive member stencils when you join StencilClub.
The large 9×12 inch stencil is easy to use to create repeating patterns. It evolved from Mary Beth's Leaf Diamond and my Hamilton stencils.

The small 6×6 inch pulls in elements perfect for layering to create stunning patterns.

A baby elephant completes the set as a mini 4×4 inch stencil, open, so you can paint one color and then slide another stencil underneath and paint with a contrasting color.
You also get a Project video and PDF that Mary Beth and I made especially for you that you can download and keep.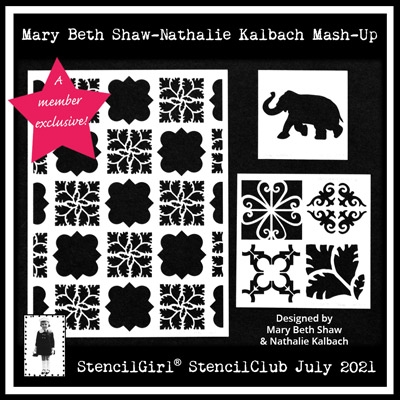 The set ships out to members on July 15th. Can't wait to see them in action!