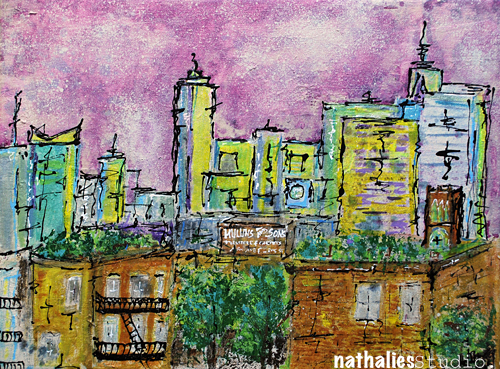 I started a new urban painting and wanted to change things up in how I start my paintings . So instead of the normal procedure I forced myself to do it a bit differently.
I was inspired by some sgraffito in paintings by Paul Klee and Jean Dubuffets – which I have just shown in my Post here. Here is how my painting looked for a couple days when I was undecided if I should leave it like this or not. I actually really liked it.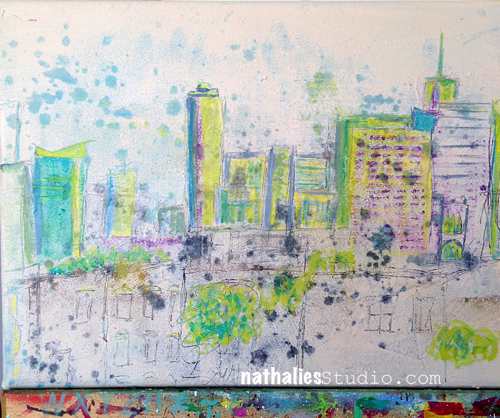 I love taking photos of my work in progress to see in hindsight what I did and sometimes also …where I should have not taken the next step. As in this. Now that I look back …I almost ;) wish I would have just stopped. But I didn't …a weird "this cannot be it" – feeling kicked in …and so I continued. And I went a bit overboard with it … kind of like when you hand me a jar of Ben and Jerry's "Chunky Monkey" Ice Cream …nothings gonna stop me there either ;) although I know pretty much after two scoops that should be it.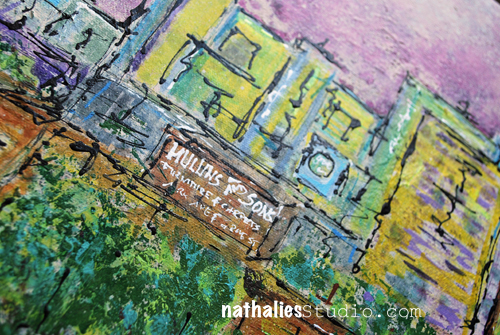 Pretty soon I realized that it is not going into the right direction, but then I just wanted to see how far I could push it and I painted a lot with palette knifes -which I usually only use for texture. That was cool.  And then I also got totally addicted to sketching with a mixture of Soft Body Paint and Ink (Titanium White and Carbon Black) filled into a Fineline bottle. I know now exactly the consistency of the mixture of those two paint media I need to make it work. I just loved the way the lines came out and the erased dimensional look.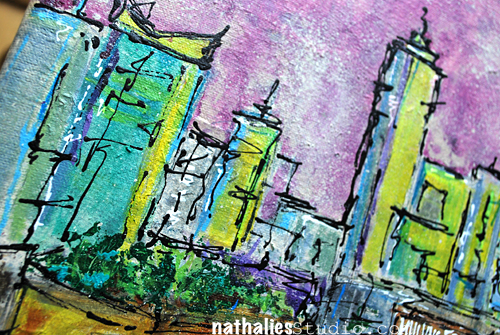 Do I regret going further although I am not loving the outcome? Nope …absolutely not. I learned a lot by doing this and I found some new things I definitely want to incorporate more into new paintings. I also learned that less is sometimes more and not boring …although overall more is more for me… I might just sulk and eat some Chunky Monkey now  ;)
I think it is important to do things in our creative process that we are not loving in order to stretch ourselves and learn . I really enjoyed the process and keeping track of this, so the time was not wasted.  And you know what …I can always make a new painting … maybe I even just gesso over this one …the texture underneath will probably already define the city skyline …what do you think? Now that makes me excited about this again … LOL – maybe it will be the continuing City Spring Canvas Saga.
Are you a less is more or more is more person?