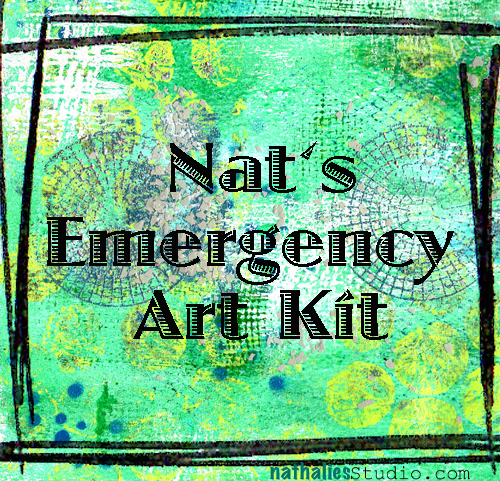 Have you ever been asked what art supplies you would bring to a deserted island? I always had fun answering this question – of course in a light hearted way *yeah-easy-duh!*. But now…although I am not really going to a deserted island, I actually have to give this question some serious thoughts. In less than nine weeks I will move to the U.S. which means that my art supplies and my whole studio will be in a sea container from 4 to maybe even 8 weeks. I will also not be able to ship certain supplies like my beloved Liquitex Spray Cans, Alcohol Inks, certain adhesives, oil paints etc. which means I will have some serious expenses on art supplies once over the pond. So in a way I am going to a deserted island and I pretty early came up with the thought to put together an emergency art kit to ship ahead of time to the States, to keep me able to work and the costs low in the beginning.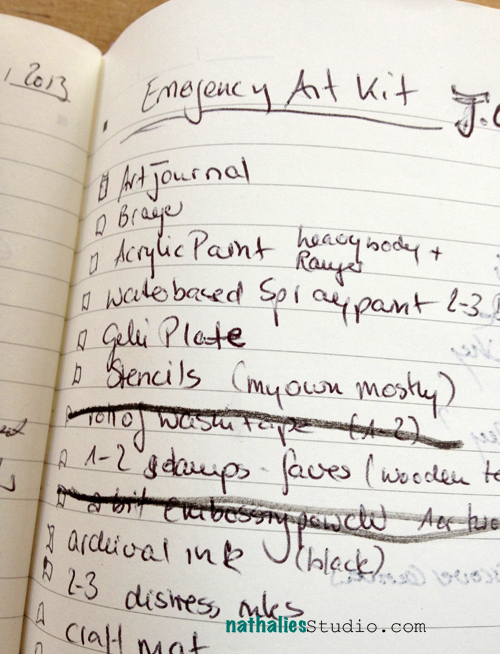 As you can see I was going back and forth a bit on my list. For example I decided against taking embossing powders or an embossing ink pad because my heating gun won't come with me to the States (220V) and I have to buy a new one there- so that can wait a couple weeks. The first item is my art journal- so the surface question is answered right away ;)  I picked a shoe box and a 12×12 flat box to put all supplies safely in, which also makes it safe to ship with some of our other emergency items we need in the first days (some kitchen stuff, towels etc.).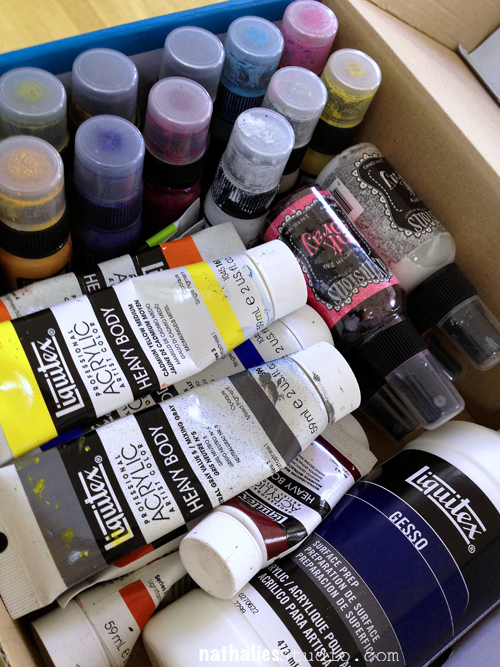 I packed some of my favorite Liquitex Heavy Body Paints and then also some of my Ranger Distress Paints-. They are so different that it made sense to pack two different kinds of acrylic paints and they do not take that much space. I packed actually 4 Dylusion Ink Sprays – it was hard to decide on the colors . All these supplies are perfect to use on their own for backgrounds, with stencils, or with each other. The Gesso bottle was actually an extra. I had Gesso along with Gel Medium, Cosmetic Sponges, Liquitex Spraypaints and the Heating Gun on my list to buy in the States, but since this bottle is brand new and still sealed I decided it makes just sense to bring it and safe on that bit of money. Plus remember – Gesso is my Dumbledore ;)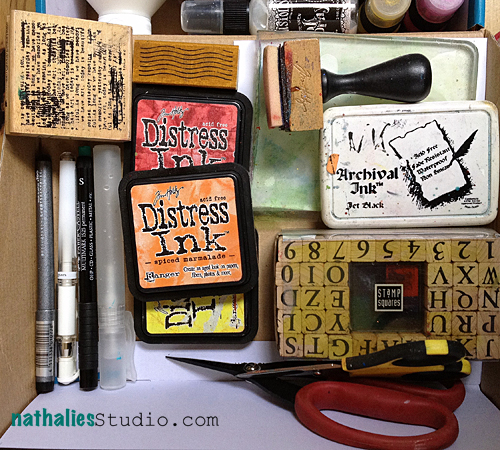 I then also packed a Gelli Plate- actually it is a cut piece of a Gelli plate – so just a small piece in order to be able to do some fun things with stencils and perfect also to use with the Ranger Distress Paints. As I always love to incorporate text and lines and love to use alpha stickers for titles, I decided to pack a small text background stamp, a stamp with wavey lines and my wooden alpha stamp set – which gives me more freedom when a couple packs of alphas where I will be missing the most important letters pretty soon. Going along with it, my Archival Ink Pad- of course re-inked. You see my three favorite Distress Inks with a Blending Tool – I love to use it to give depth and it is also perfect for stencils. Then a black journaling pen, my favorite foil writer, a white Signo Pen and a Water Mister -as you can use it with so many techniques for with the Acrylic Paints, the Distress Inks and the Dylusion Sprays in the kit. Furthermore you see in the picture my two favorite scissors – the bee cutter for finer cutting and the Tonic Scissors for heavy duty stuff.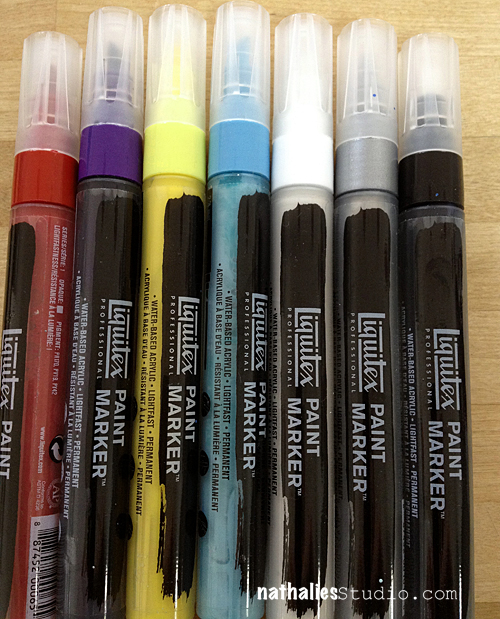 I also packed some of my favorite Paint Markers – as I use them for so many different techniques in my work nowadays and they really do not take that much space.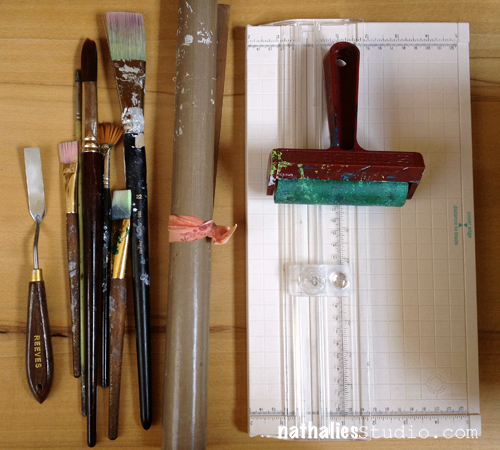 I packed a brayer- I love using a brayer for many different background techniques, with the Gelli Plate and even to smooth out adhesive – so that was a given thing to pack. The Paper Cutter wasn't actually super necessary but I am a klutz when it comes to cutting straight lines with a craft knife – so I am sure I will be pretty happy to find it in my kit later ;) I also packed a craft mat. Also some brushes – different ones and a palette knife -not a necessity but it really wanted to come with me because I love using this one ;) I also threw in a roll of Crafty Power Tape (not in the picture) – as this is my favorite adhesive for mixed media stuff.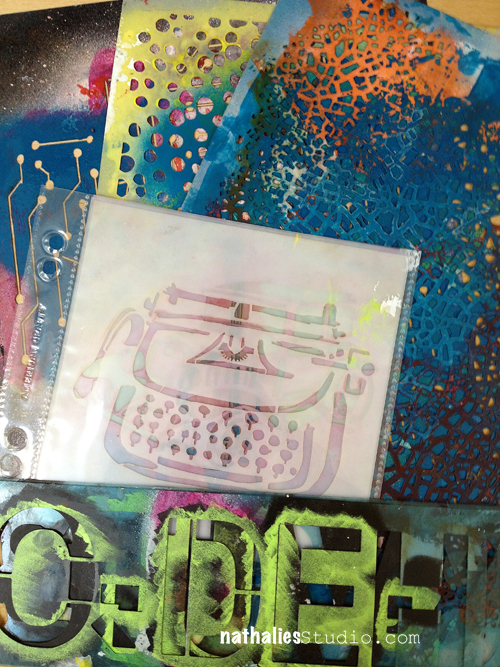 And at last stencils- and I decided to just pack my six stencil designs and a set of alpha stencils. As I am a stencil junky it was hard to leave the others behind for now but I am also looking forward to work on new fun projects with my own stencils.
And here is the whole list of what I take in my emergency art kit:

I hope this will cover me till the container arrives  plus it is going to be fun to be so restricted on supplies :)
What would you take with you ?

Nat