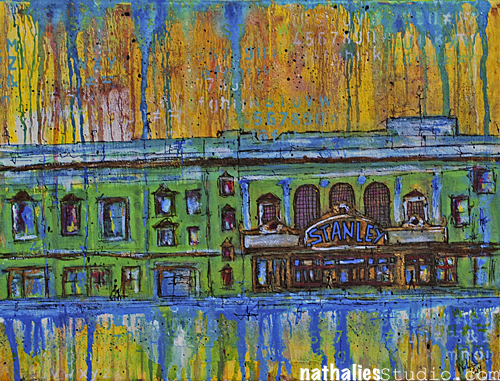 A new canvas is done- I call it "Witnessed" . It shows the Stanley Theatre on the right – a very beautiful theater here in Jersey City- right across another beautiful one- the Loew's Theatre.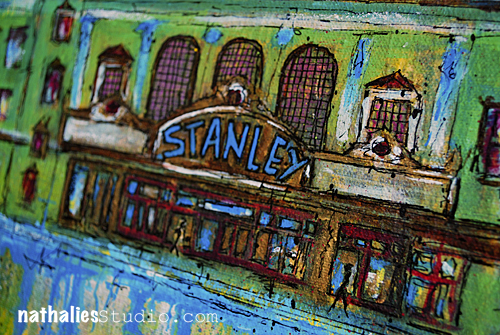 As the story goes the theatre was terribly neglected and falling apart, until it was purchased by Jehovah's Witnesses. Loads of volunteers worked on brining it back to old time glory- and I heard it looks beautiful inside.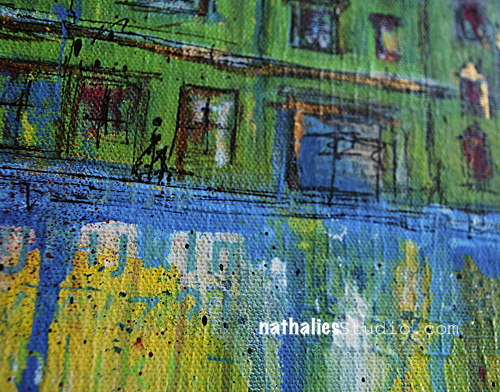 I find it fascinating how a building can be saved and used for something else as it was intended when it was built. It reminds me on the many discussions if it is ok to use a church that falls apart and turn it into an apartment building.  I am glad this building is still here and I stopped when I walked by and enjoyed and witnessed it's outside beauty.
Do you have a building in your neighbor hood that was turned into something surprisingly?
I used Acrylic Paints, Inks, Markers and Spray Paints, as well as some water-soluble wax bars – and some collage items. Here is a list




Have a wonderful day!