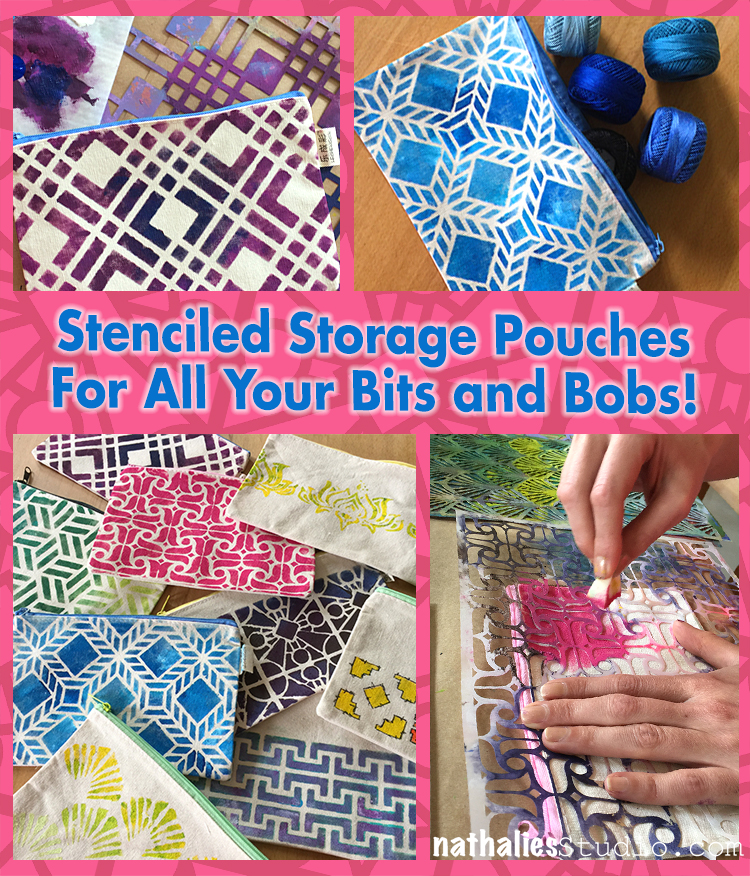 This week my friend Kim and I had a DIY morning again. I love our monthly creative time and this time we decided to stencil canvas pouches.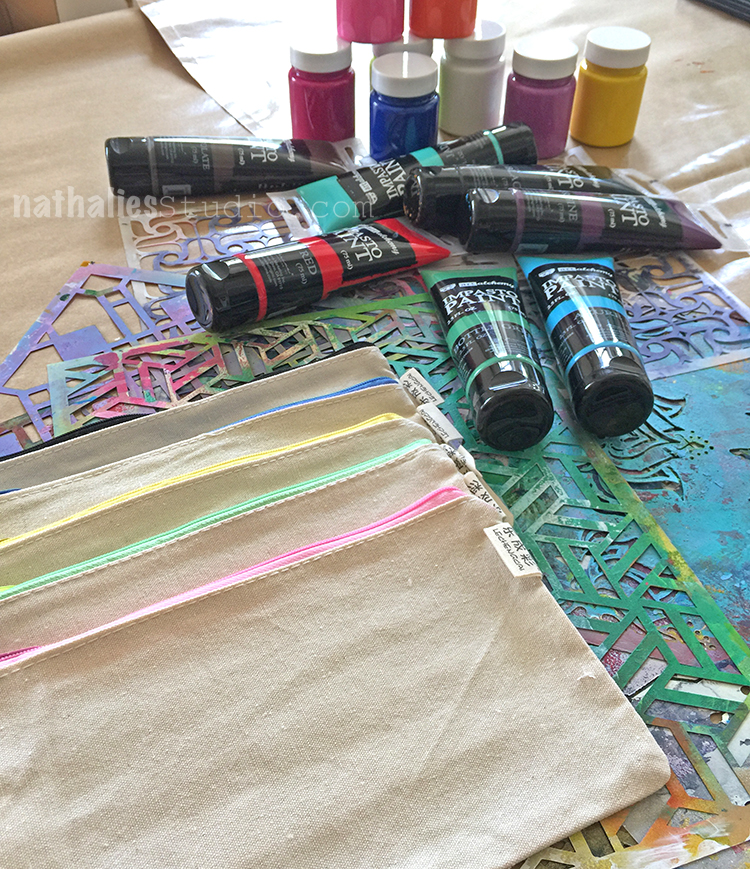 We each had five pouches and my friend Anna Dabrowska aka finnabair had just sent me a box with her new acrylic paints to play with and so we used those.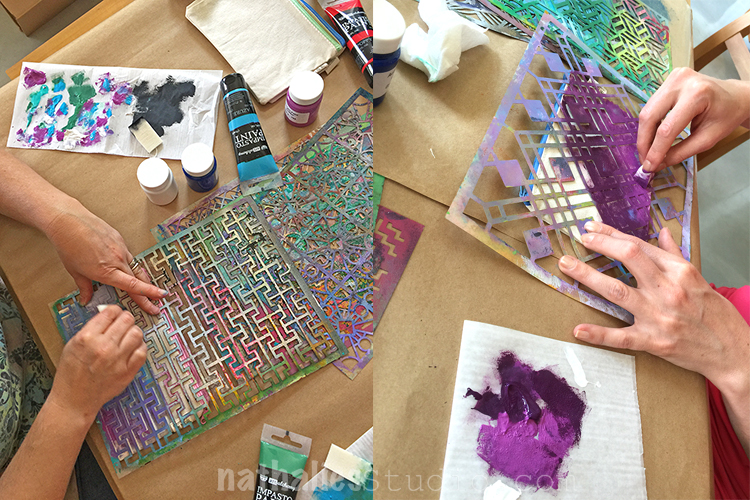 We both grabbed our favorite stencils and started dabbing through the stencils with cosmetic sponges. We added some plastic to the inside of the pouches to ensure that no paint seeped through the fabric.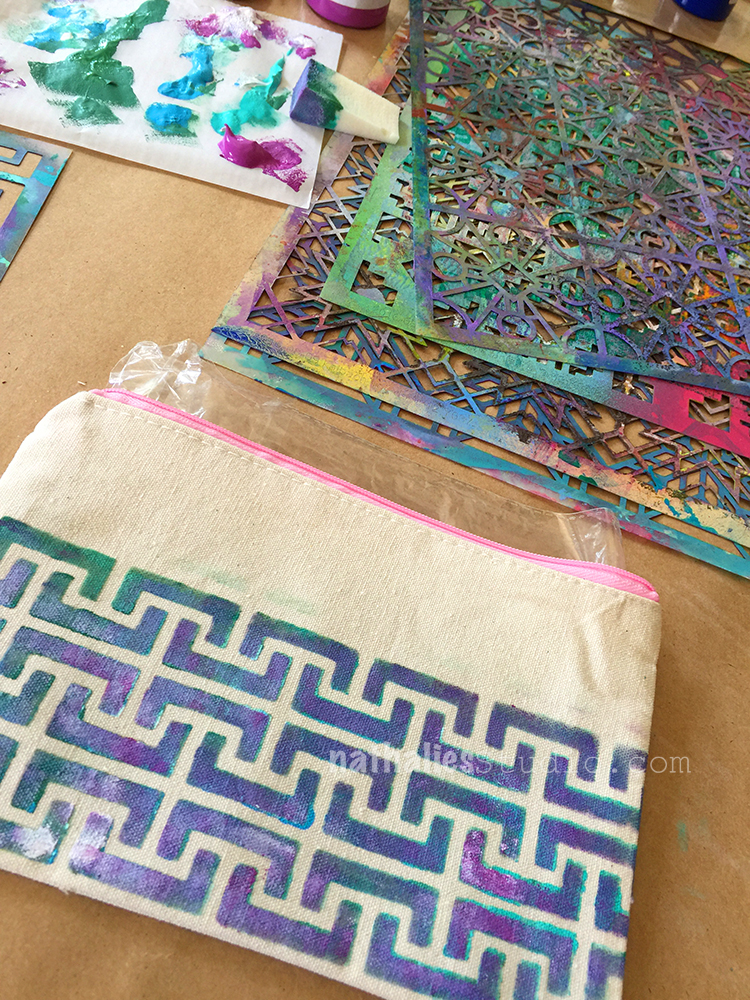 For this pouch I had first stenciled with green and teal through the Hamburg Stencil and then after it dried went over again with purple and white color – it leaves some of the initial color peeking out which I really like.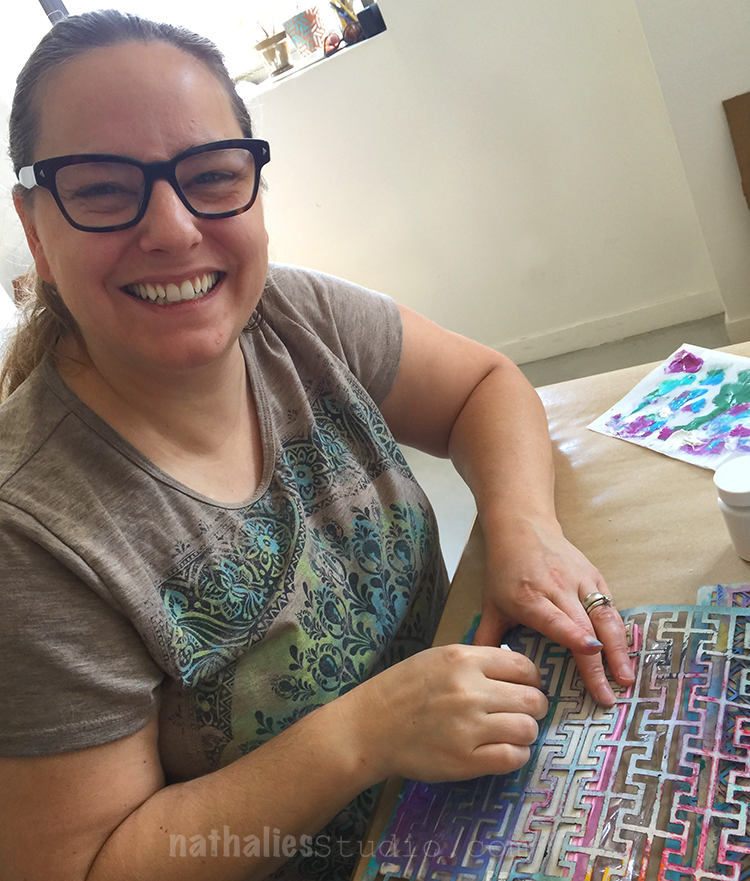 Ok…Kim…if you have to take a picture of me ;)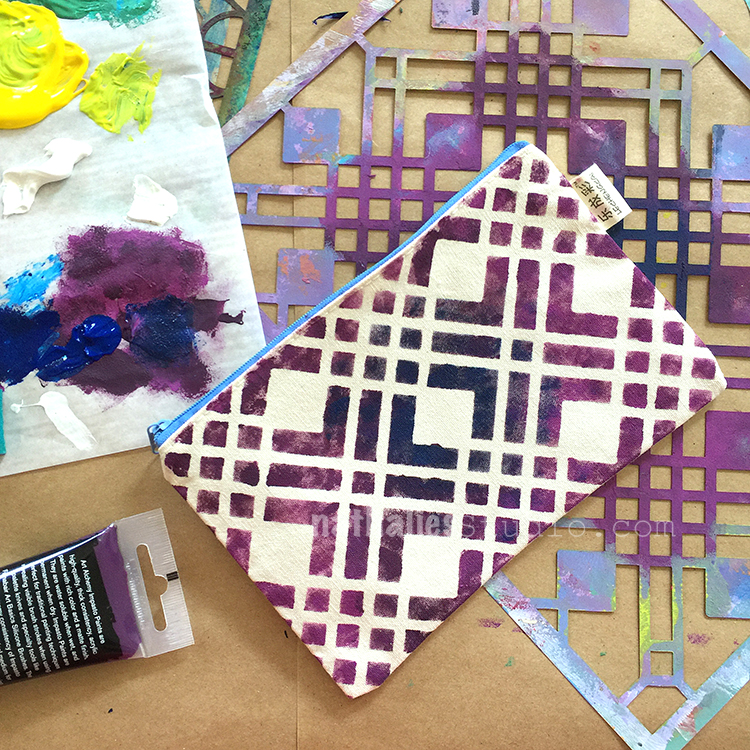 Kim used the Chicago Stencil  with Blue and purple and I love how she created a darker middle area with the dark blue and then went to purple.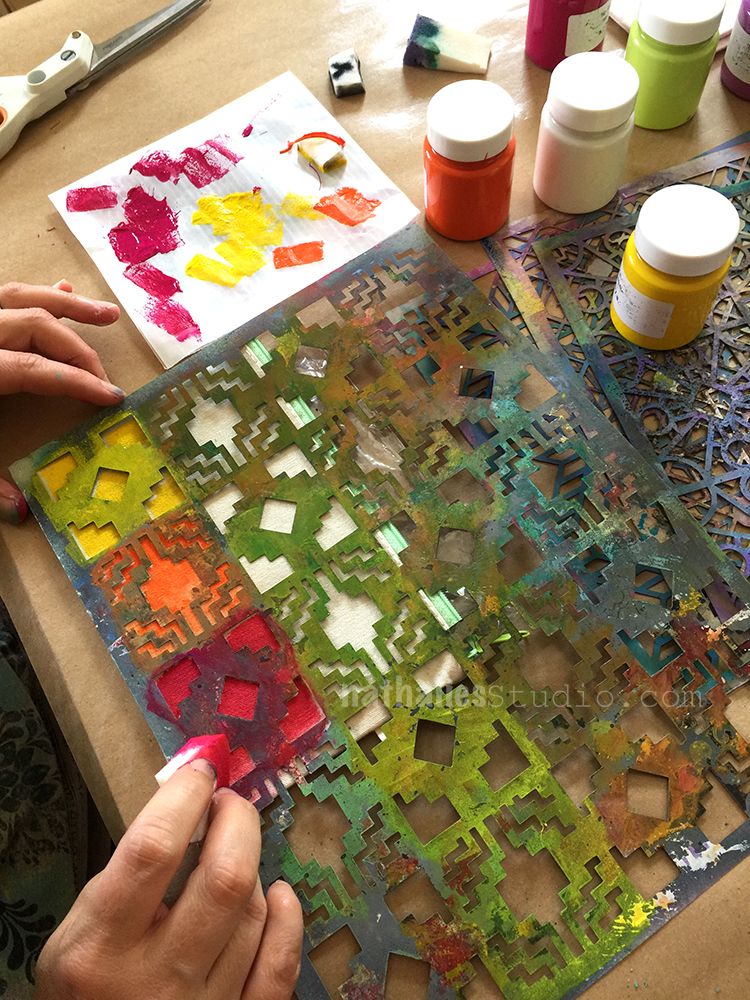 I used different colors through the Santa Fe Stencil – stenciling just one row of three squares of the pattern.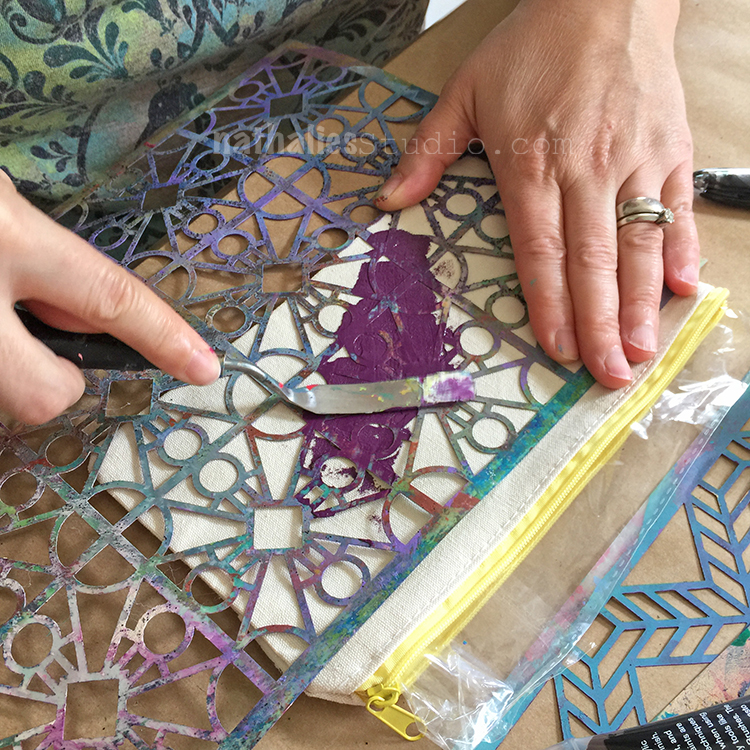 I also added some of the thicker paint with a palette knife through the stencil – here with the purple and Buenos Aires Stencil, which worked extremely well and was fast . After the thicker paint had tried, I made sure to place the stencil back on top in the same spot and used a cosmetic sponge to stencil the sides and make it all look nice.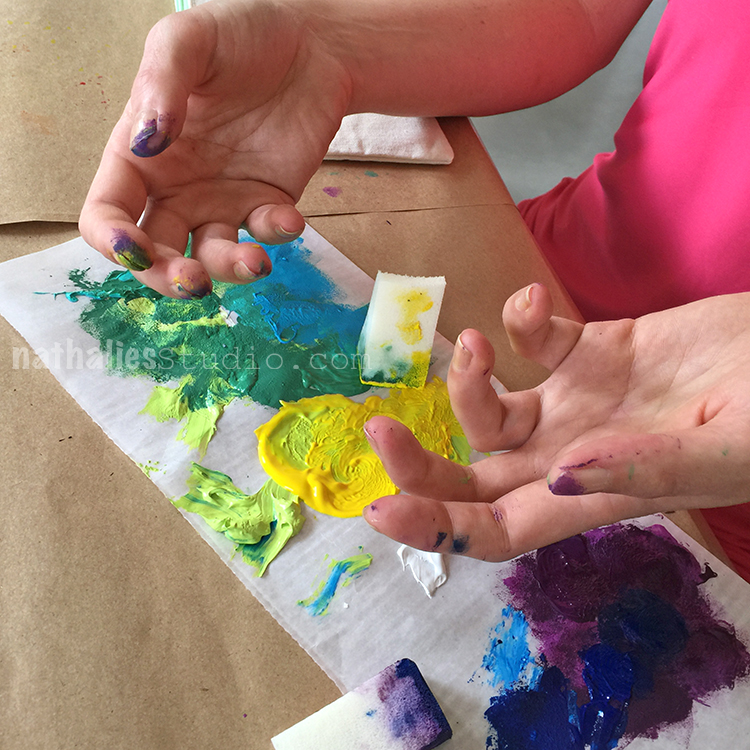 Yessss- Kim has paint all over her fingers- SUCCESS ;)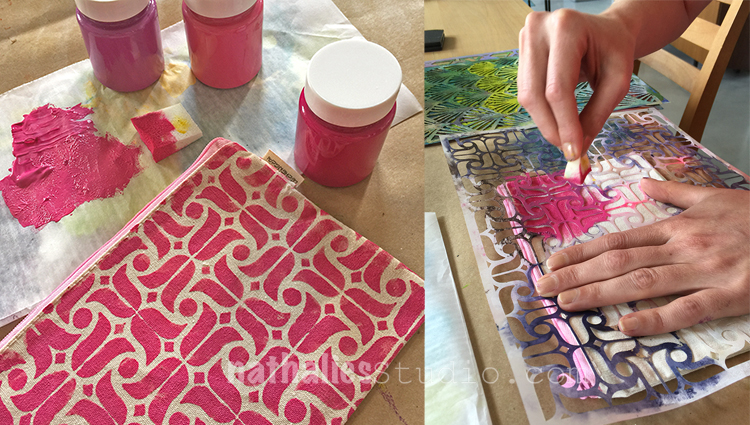 Kim using the Amsterdam Stencil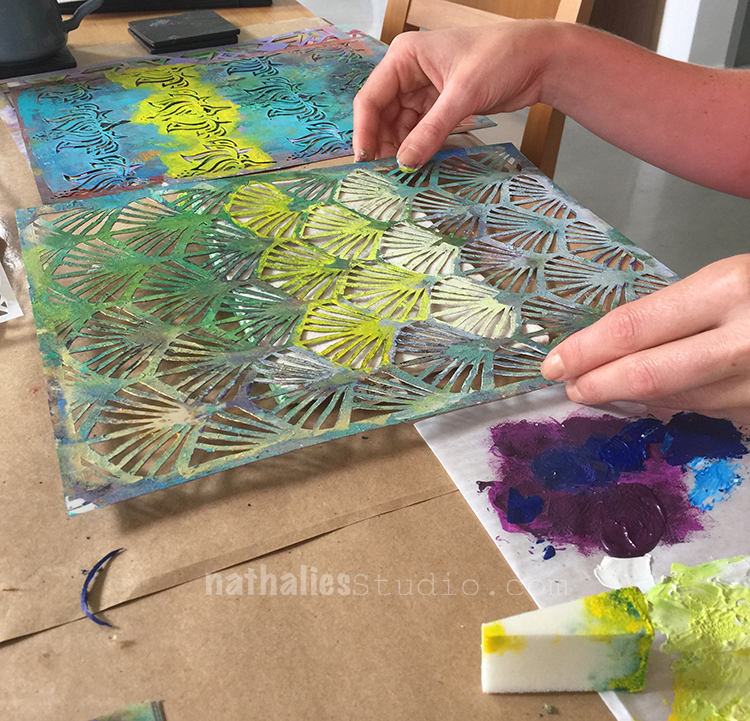 and then the Art Deco and Lily Stencil – I liked the yellow and green mix she used with both designs.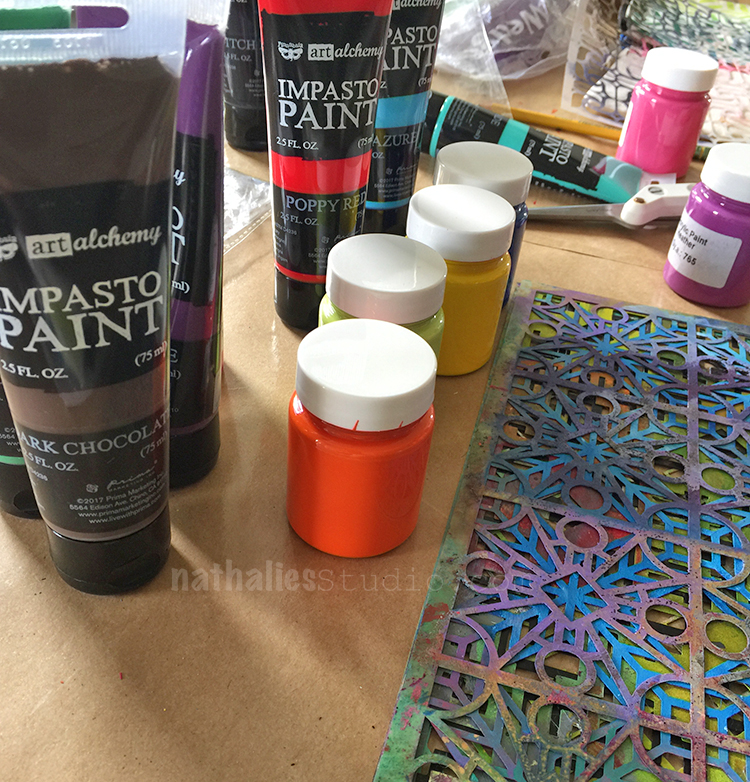 It was a nice morning project and easy and fun – and here you go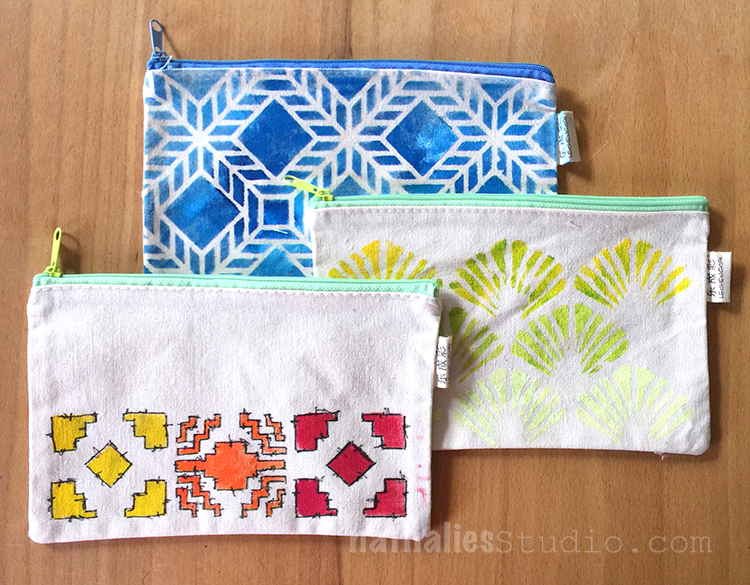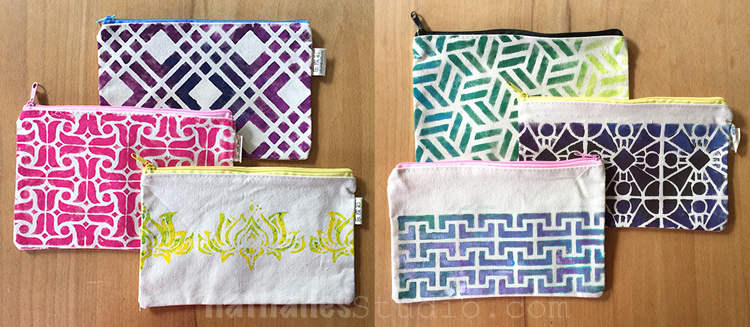 So many things that can be stored away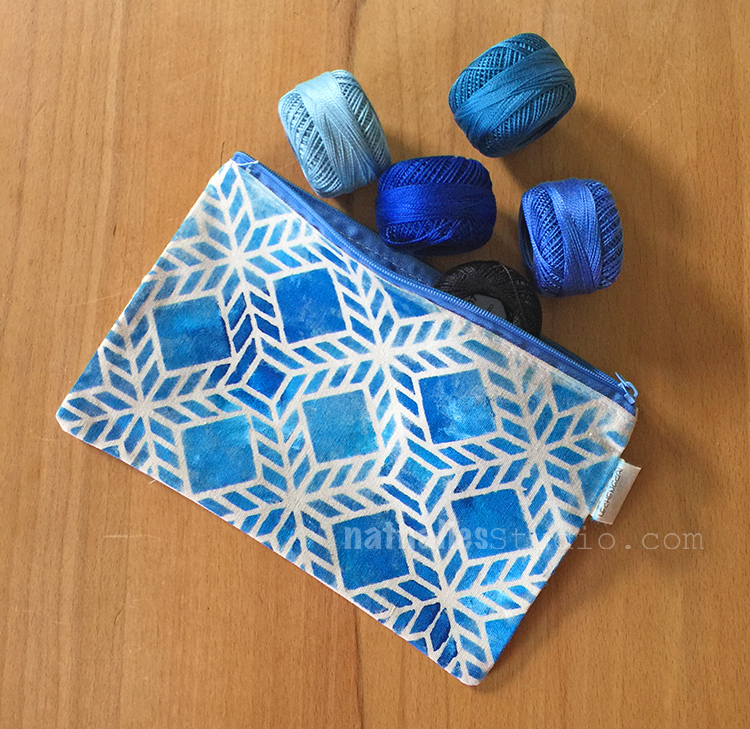 my new embroidery thread ….ohhhh- I should embroider on top of the pouch …bingo …just had this idea while looking at the photo :)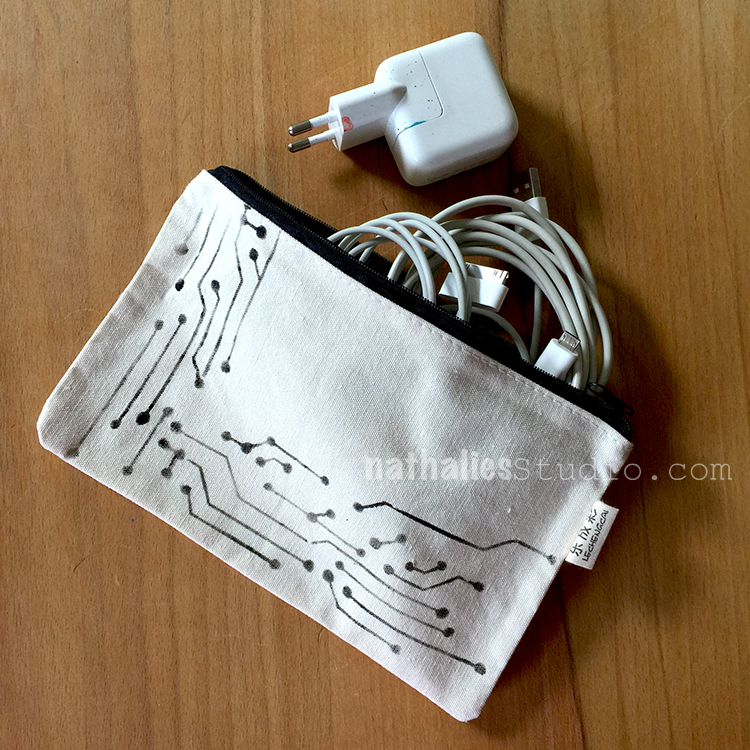 Hubs got a new pouch for his cable salad …although of course the German plug on top is mine as you can see as the paint specks give it away ;)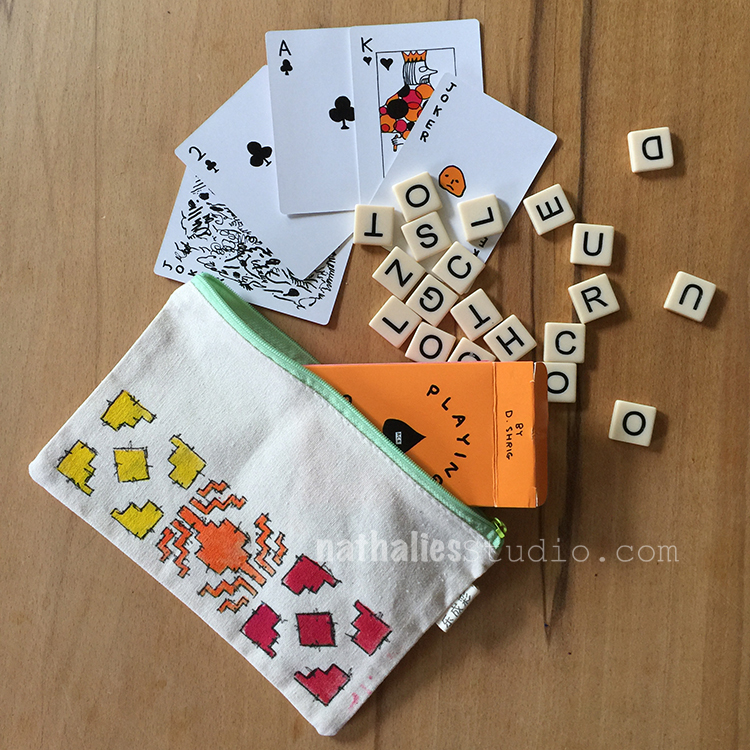 Travel pouch for games….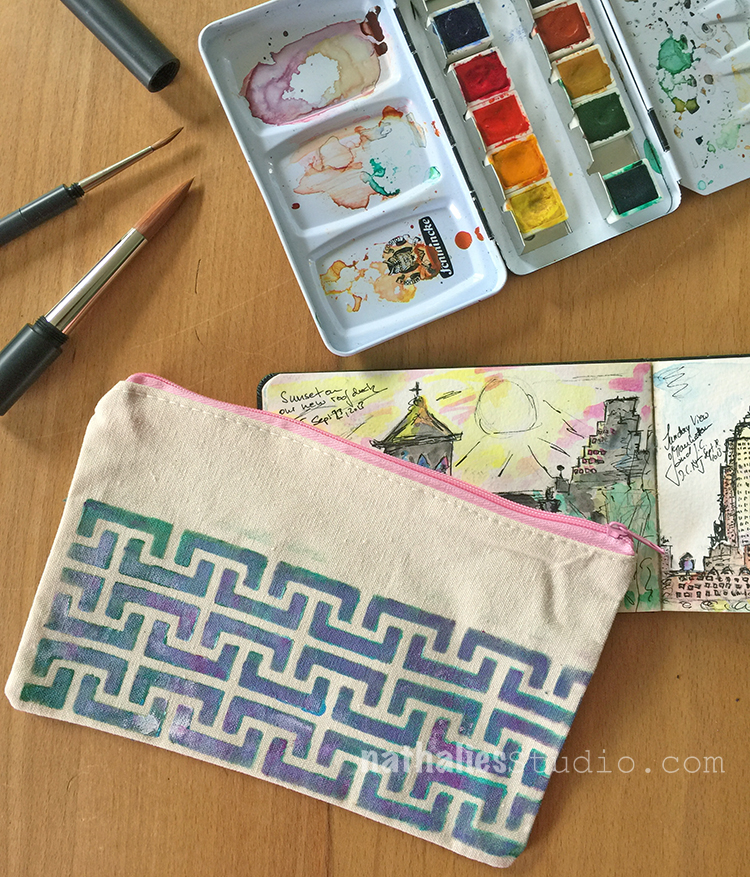 Mini Art-on-The-Go Kit
And hey a make up pouch…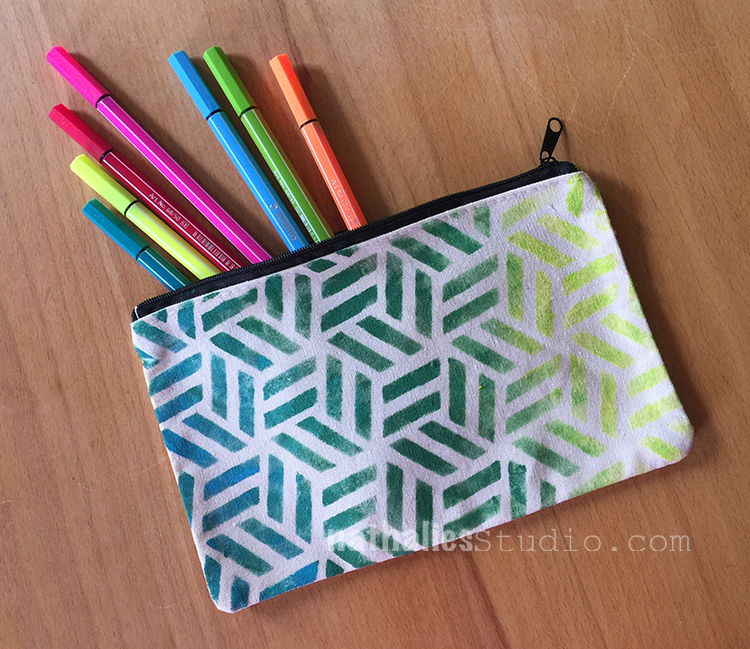 or a good old pencil case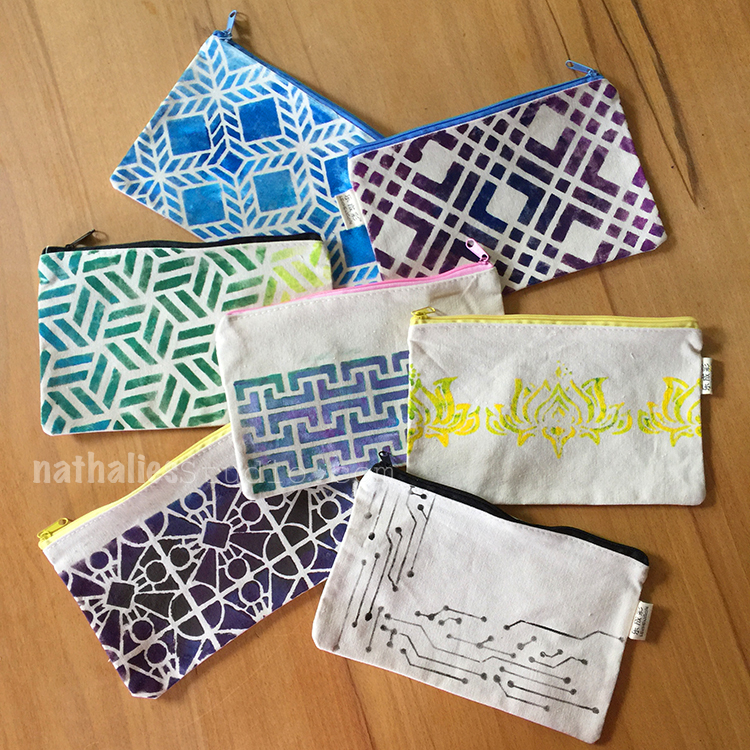 We will be so organized with our Bits and Bobs- HA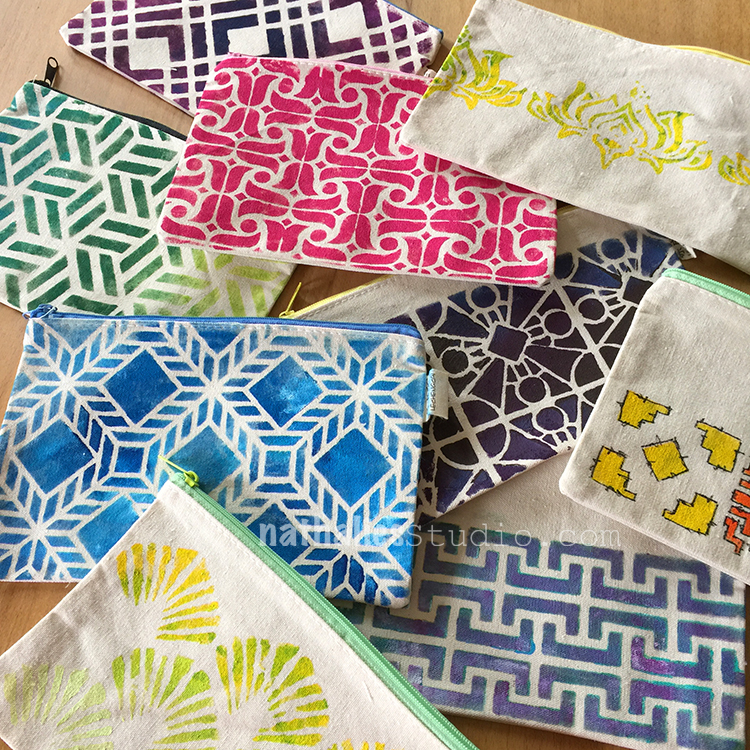 Hope you liked our litte fun DIY-project and don't forget, if you are eyeing the stencils we used and that are listed below – the n*Studio SALE is still going in the n*Store where you can get 20% off Stamps, Stencils, Mugs, Cards, and DVDs now through Sunday 7/16/2017. Just use the coupon code JULY20 when you check out to save. Start shopping here :)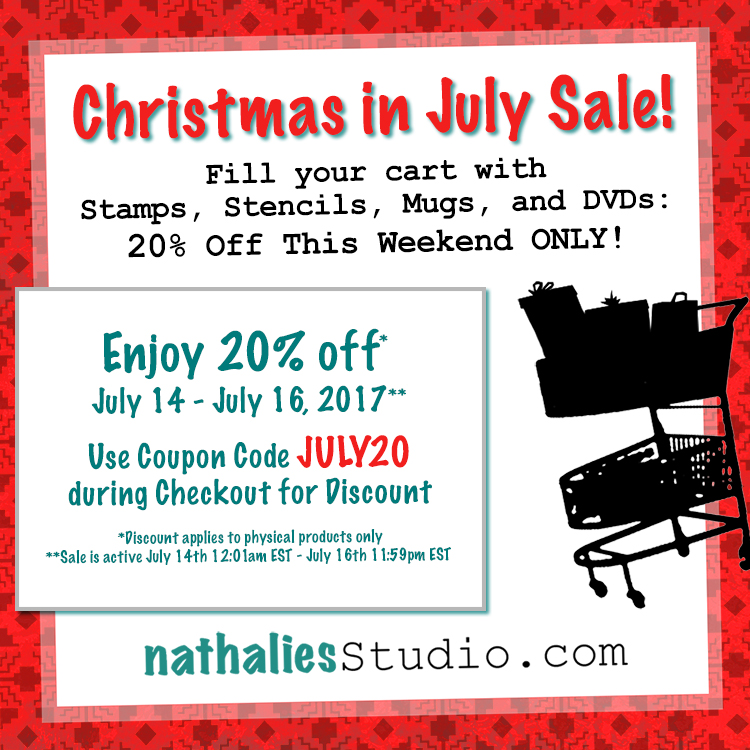 Here are the supplies we used for the pouches – some of the links are affiliate links:


have a wonderful day!