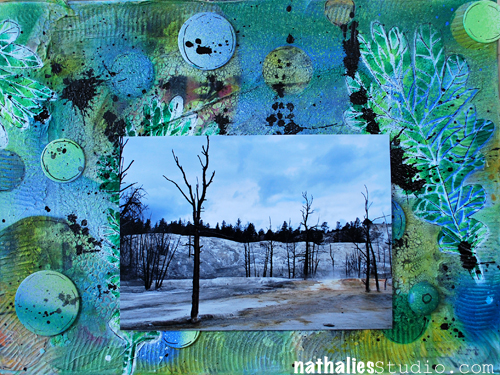 I created this canvas inspired by Yellowstone. Yellowstone is probably my favorite National Park. The nature, the colors, the wildlife, the texture – EVERYTHING. I want to go back there! I often create the backgrounds inspired by the photos that I want to use or the emotions I think of. It might sometimes not be so obvious but here I think it is like almost a slap-in-the-face-obvious- LOL. The texture of the ground here and there, the geyser colors, the forests, the burned wood stems.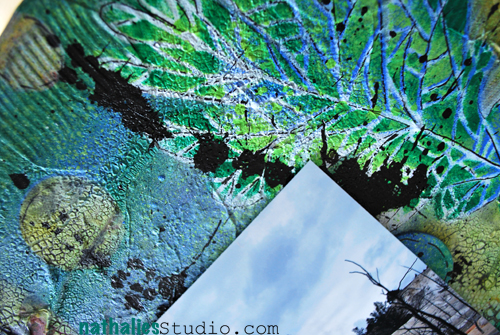 I used a lot of Kroma Crackle – my favorite for making super huge crackles – to achieve a lot of the texture. It took me a while to create this canvas as the crackle alone took about 3 days to fully reveal. But oh it was so worth it texture wise for me :) Especially for pieces I can and want to take a long time with, I love to use Kroma Crackle now.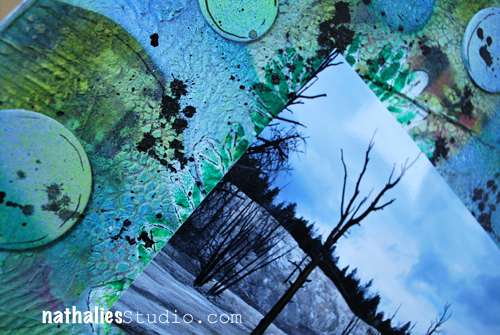 I also used Liquitex Acrylic Paints and Professional Spraypaints as well as Acrylic Inks. I also used some Stampendous Fragments and Princeton Catalyst Blades and Wedges to create some texture on the edges. Lot's of different stuff and many many layers. This is a 12×16 inch canvas.
The leaves are from Julie's Crafter's Workshop Template- love that stencil a lot. It was fun…I am not exactly where I wanted to be though…I want MORE texture … I keep working on it and definitely share with you  ;)
What is the most fascinating national park for you in the world?
Huge hugs
nat
P.S. – don't miss out on my new Über*Media Online Project Class "Discover"– Space is limited
[vimeo 60751181 w=400 h=300]