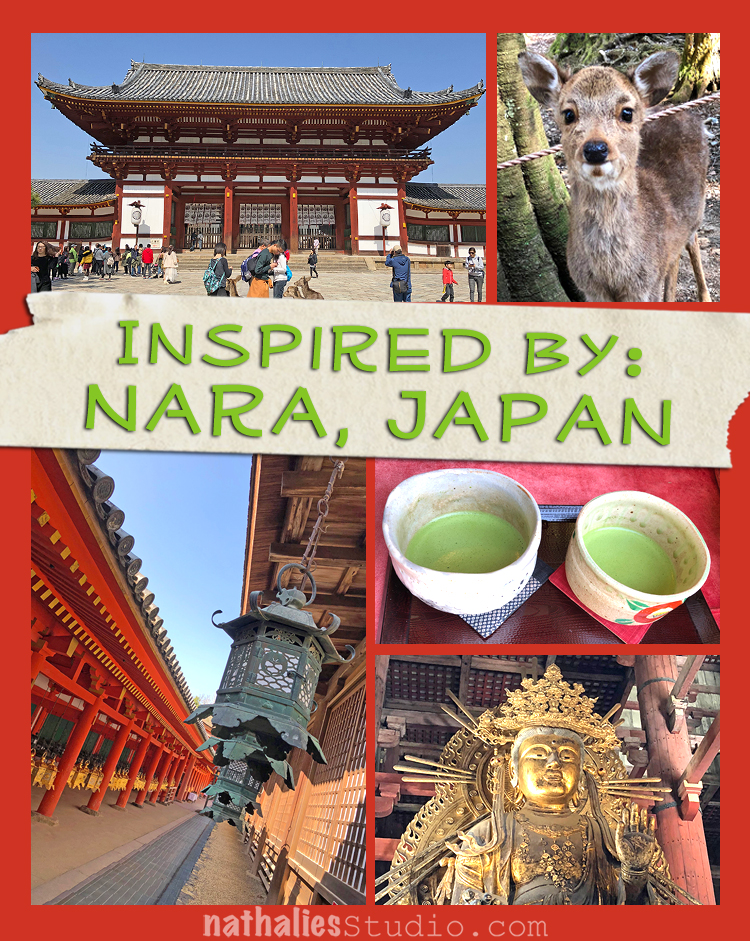 Nara was one of the super highlights of an already amazing trip! Nara was the capitol of Japan from 710 to 794 and it's Buddhist Monuments are a UNESCO World Heritage Site.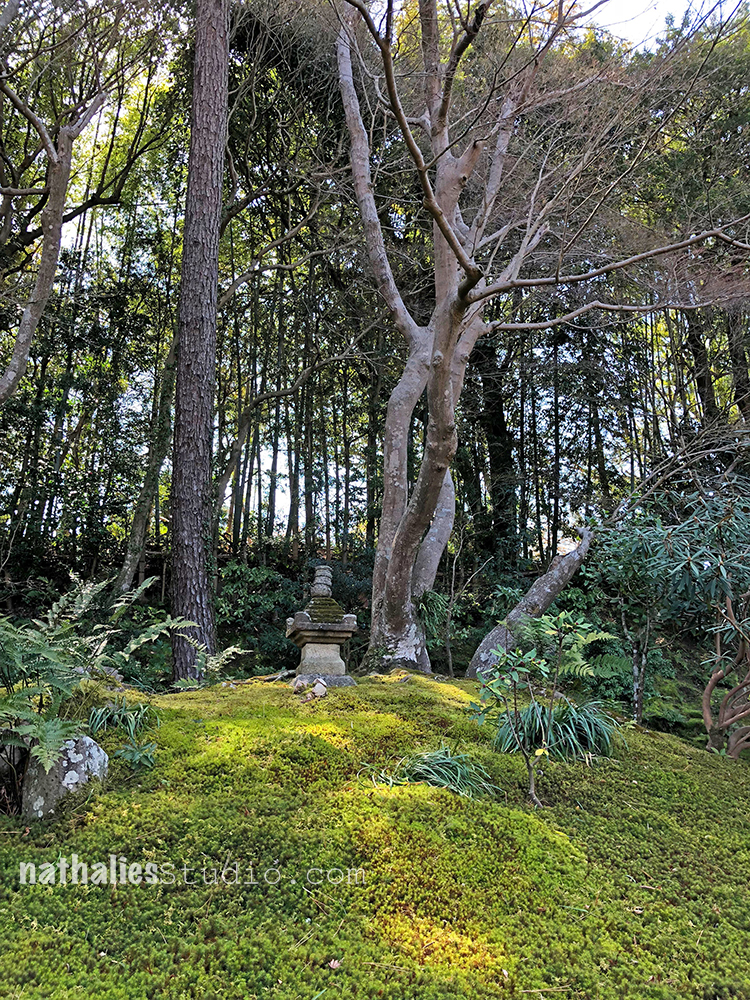 We started off with walking around the Yoshikien Garden and I really loved the moss garden! So beautiful! The only weird thing about the garden was, that it had a sign that sketching wasn't allowed. Mhhh – I was a good girl and left the sketchbook in but it did make me wonder.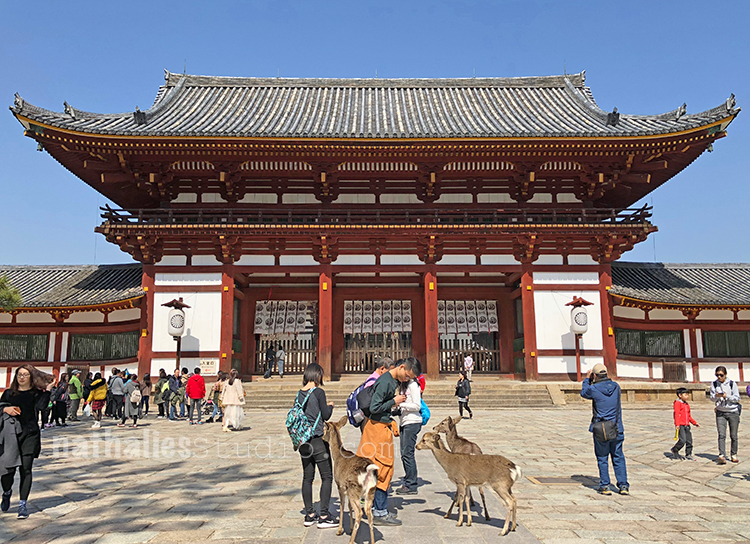 While walking through the Nara Park you will encounter a ton of deers – who like to be fed. Deer are able to roam freely and are believed to be sacred messengers of the Shinto gods that inhabit the shrine and surrounding mountainous terrain. Some of the deer have learned to bow in order to receive a snack and some will butt you if you nibble on a cookie without sharing.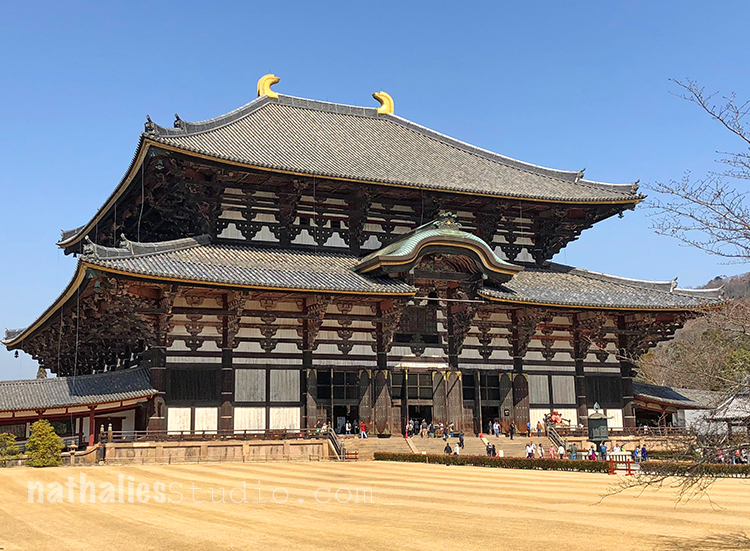 The Tōdai-ji Great Buddha Hall is the the world's largest wooden building. It is STUNNING. This picture cannot do it justice- it is just breathtakingly beautiful and massive!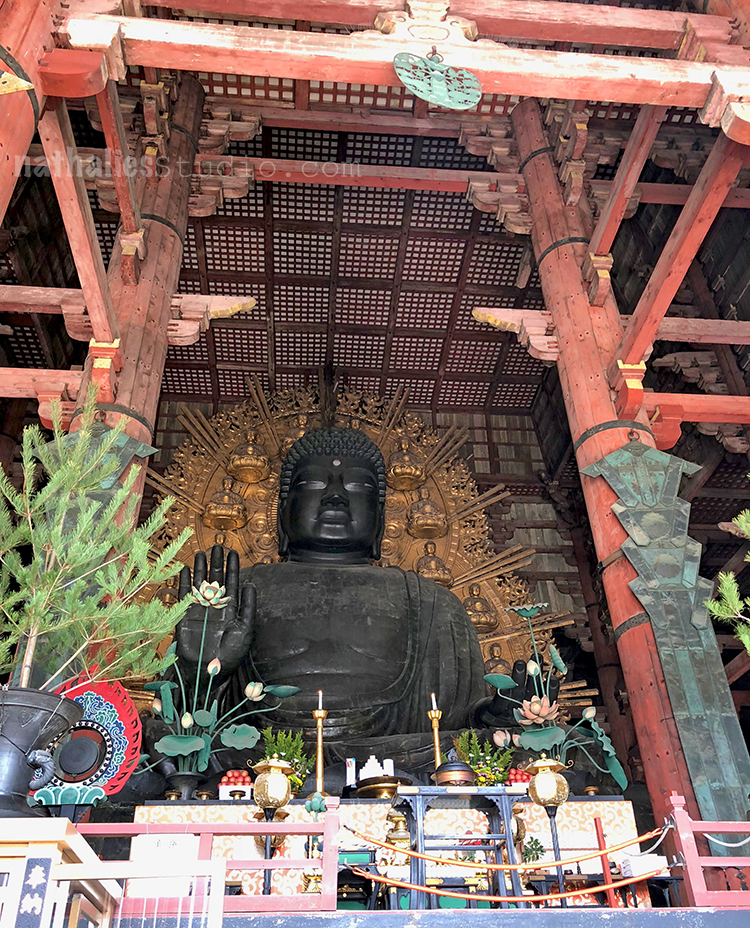 And while we were still catching our breath looking at the stunning doors and woodwork outside, we stepped in and gasped – again the pictures don't do this justice. The Great Buddha statue in bronze is about 15 m/49ft tall .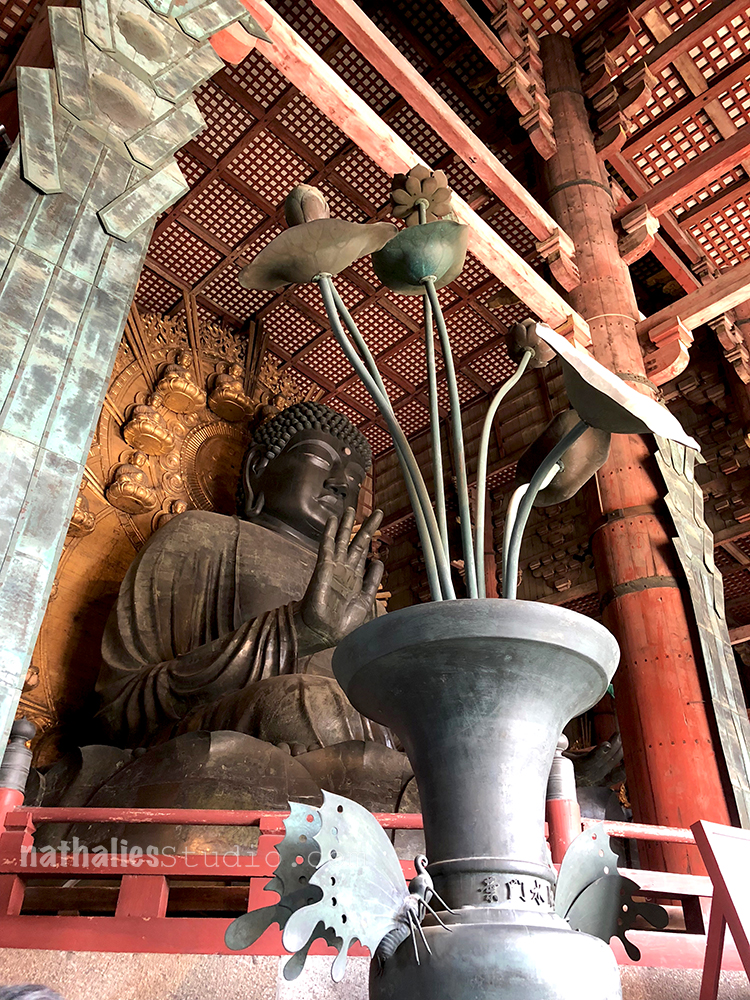 It was originally cast in 752 but typhoons and earthquakes destroyed parts of it over the centuries and so some parts have been recasted.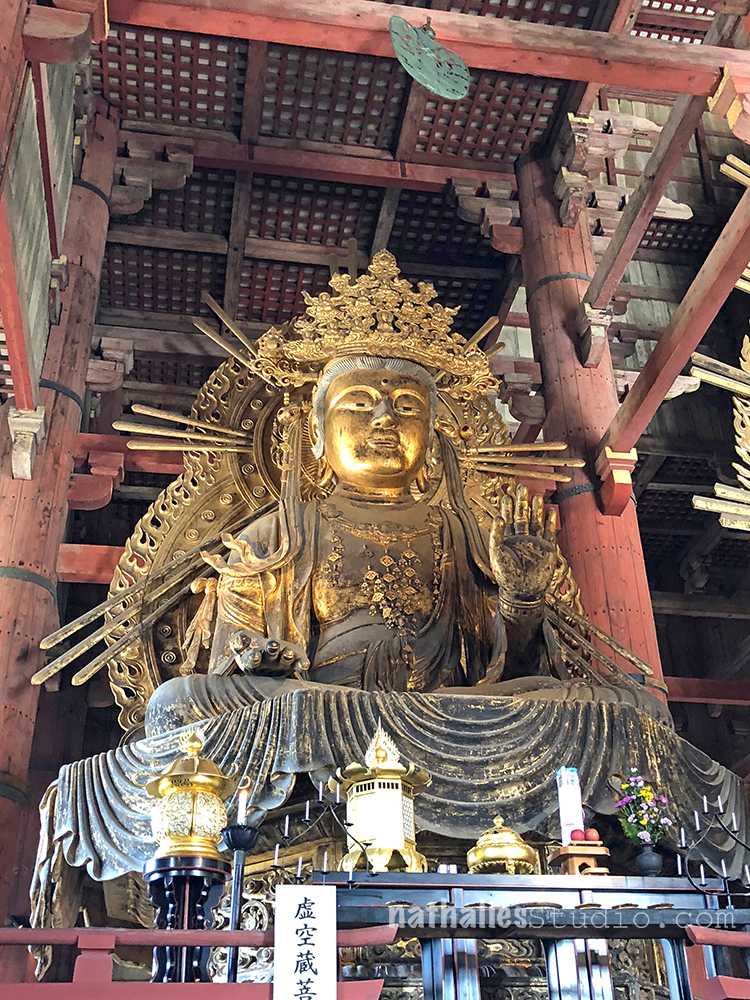 Kokuzo-Bosatsu Statue but also look at the inside wood construction of the building !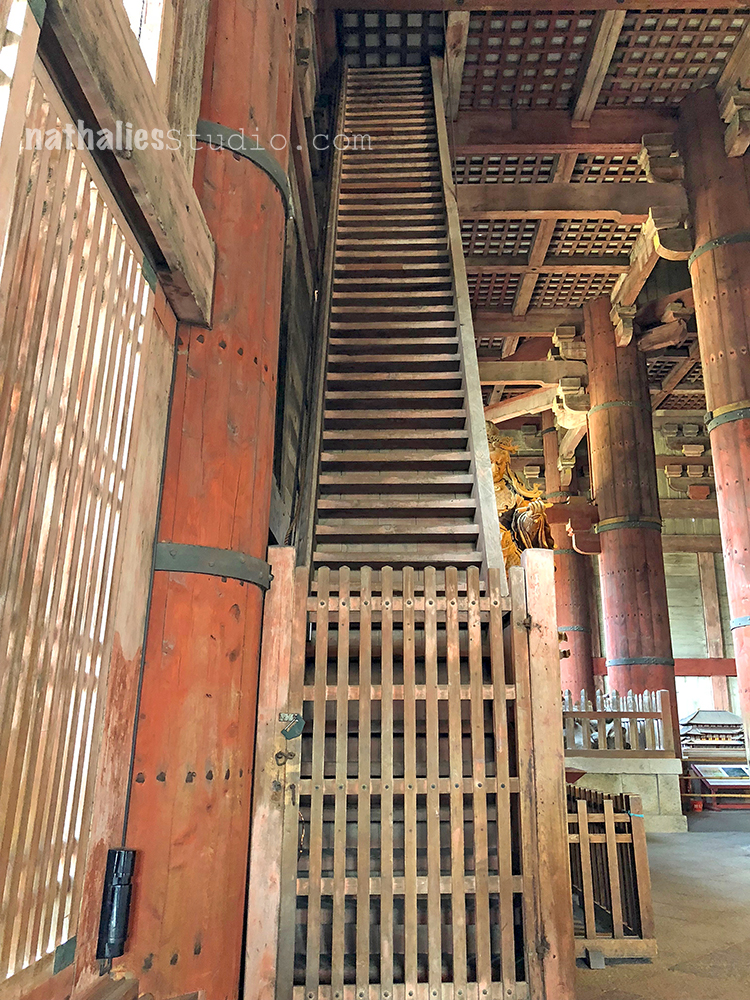 One hell of a staircase ….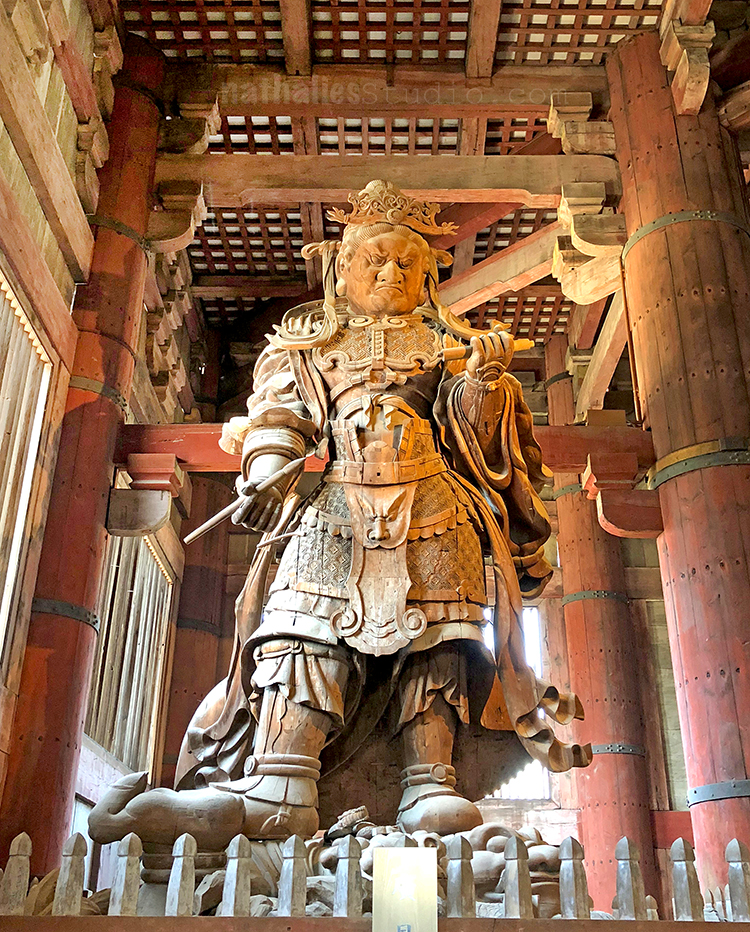 One of the wooden Nio Guardians who protect Buddha, carved in 1203. Komoku-ten is holding a writing brush and scroll.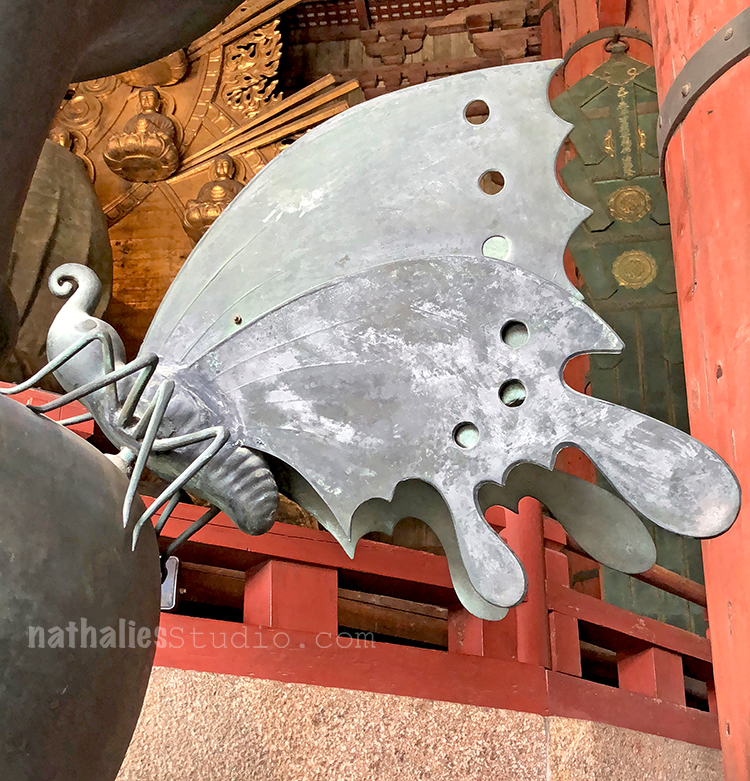 I loved this gigantic butterfly a the lotus vase. We indulged in some delicious udon noodles and continued our walk.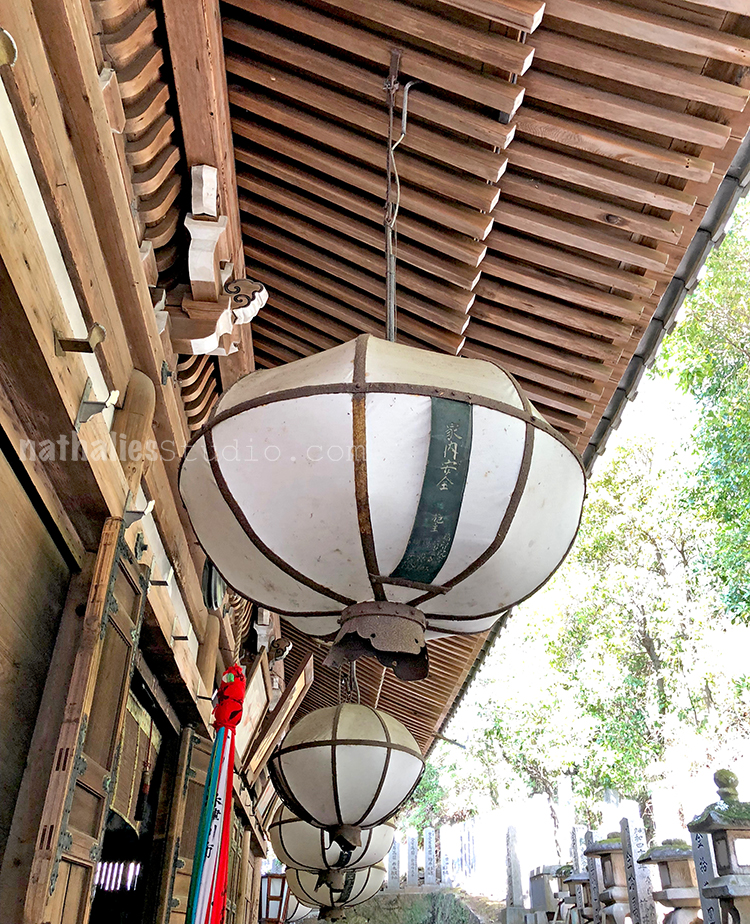 Next we visited the Nigatsudo temple. The Nigatsudo is best known for Omizutori, a fire and water ceremony on March 12 every year, where huge flaming torches are held out from the temple balcony. The next day – the day we were actually there, sacred water is drawn from a well under the temple, which is said to have healing properties. The ceremony has been held here without a break since the temple's founding in 752. Since it is a wooden structure it is a miracle that it still exists – The smell of the fire ceremony the night before was still lingering everywhere.
The temple tea room – I couldn't stay in the room unfortunately because the burned smoke still in the building made me cough madly.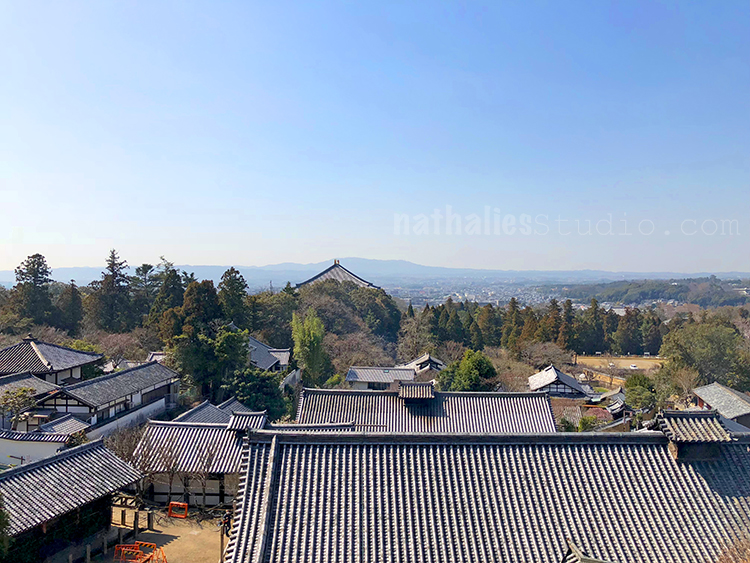 A beautiful view from the temple terrace while inside you heard monks chants. Beautiful and peaceful.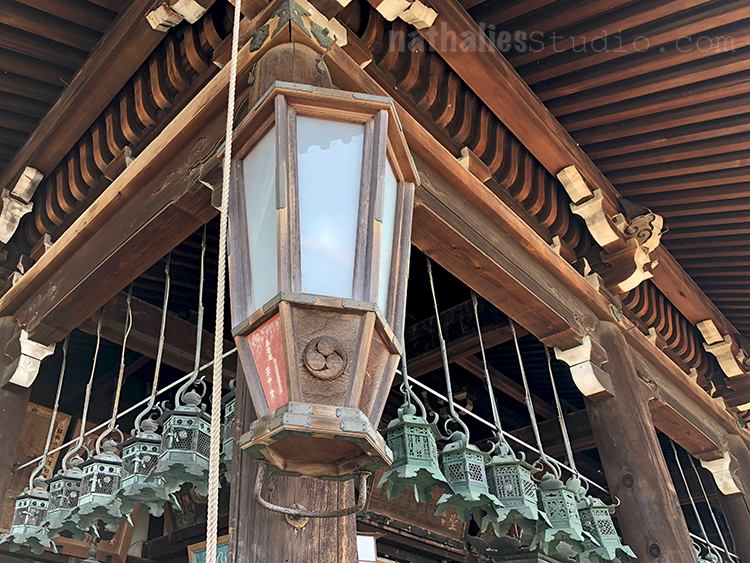 I loved all the little details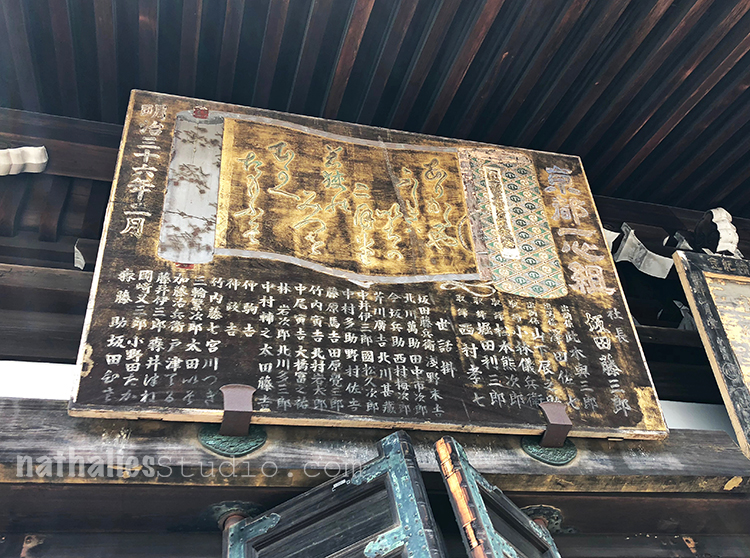 An old wooden plaque.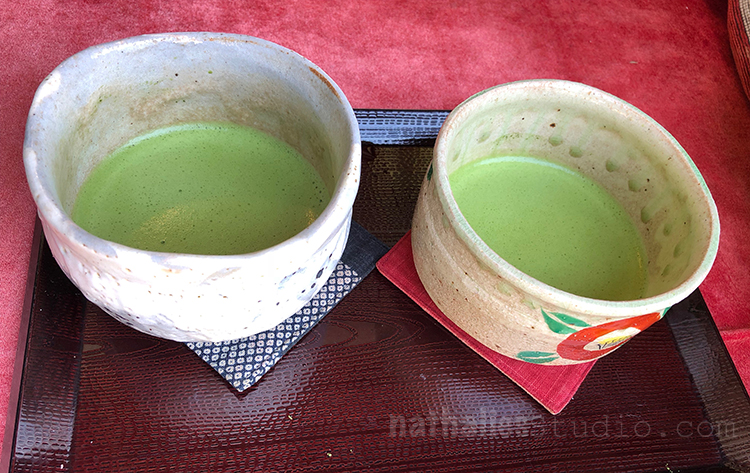 And then we had some Matcha tea sitting outside and I think I haven't been as relaxed as in that moment for a long long time.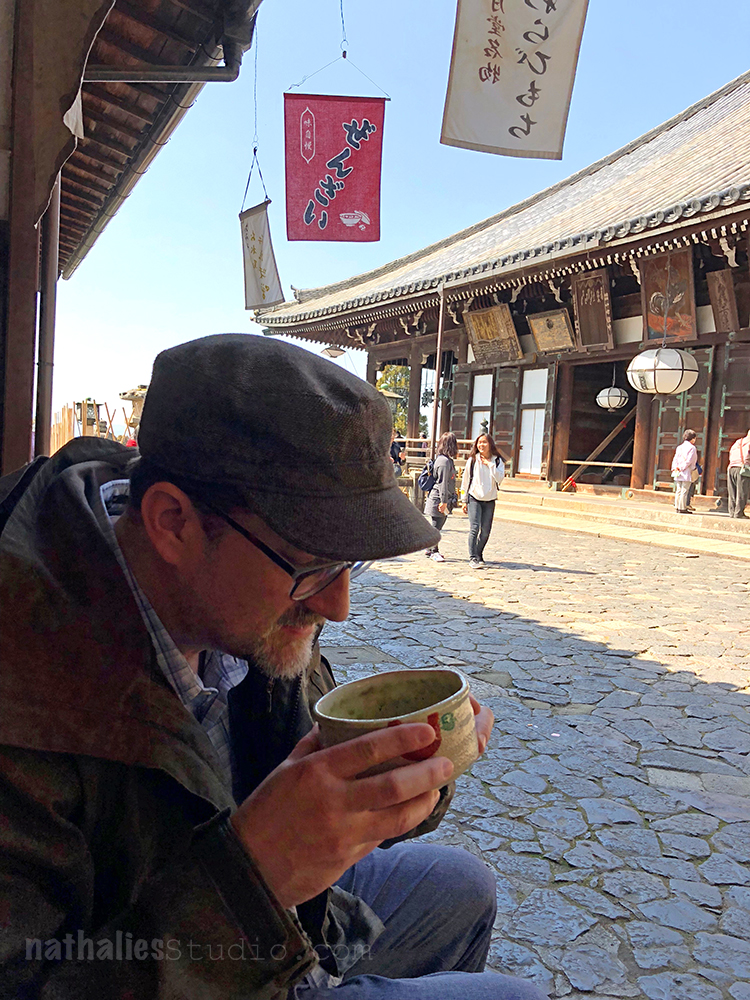 I guess my husband is trying to figure out where the ground is of the tea pot ;)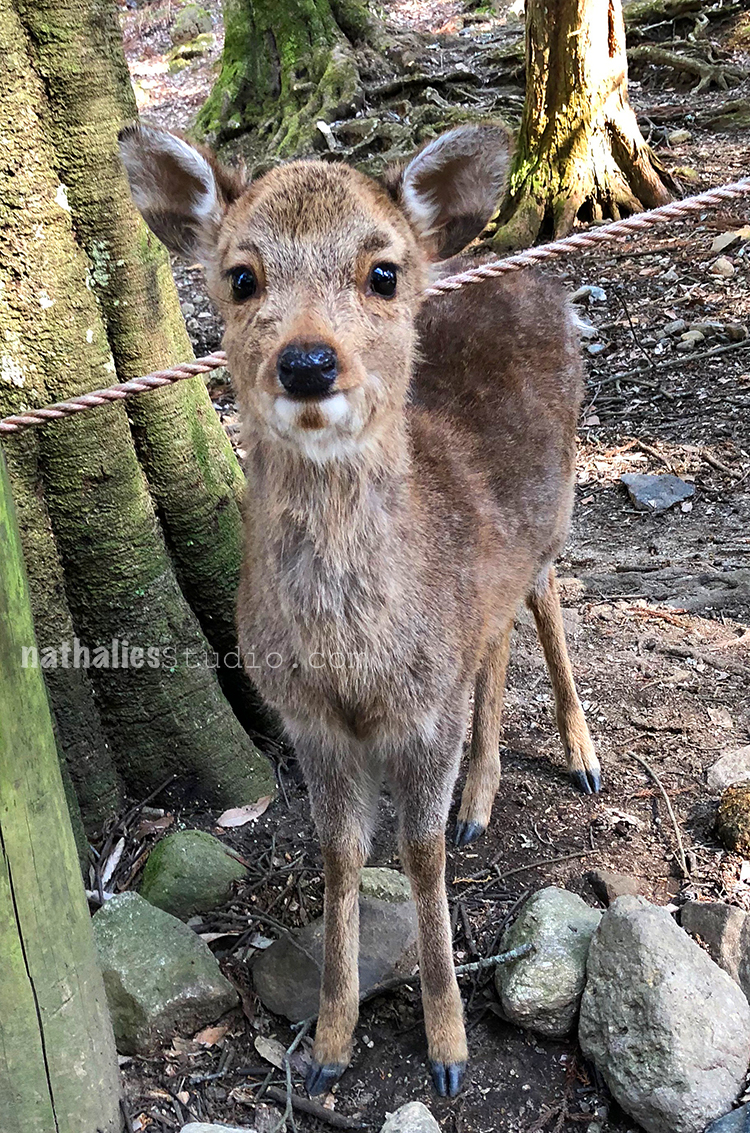 OK – guys, I have to put this photo in there…CUTEST deer EVAAAAAHHHH. Every time I need a cute-dose now I am pulling up this photo -I get all squeaky when I look at it. I contained myself when I saw it in person right next to me so I wouldn't scare it off – but please- tell me …isn't it the cutest deer you have ever seen?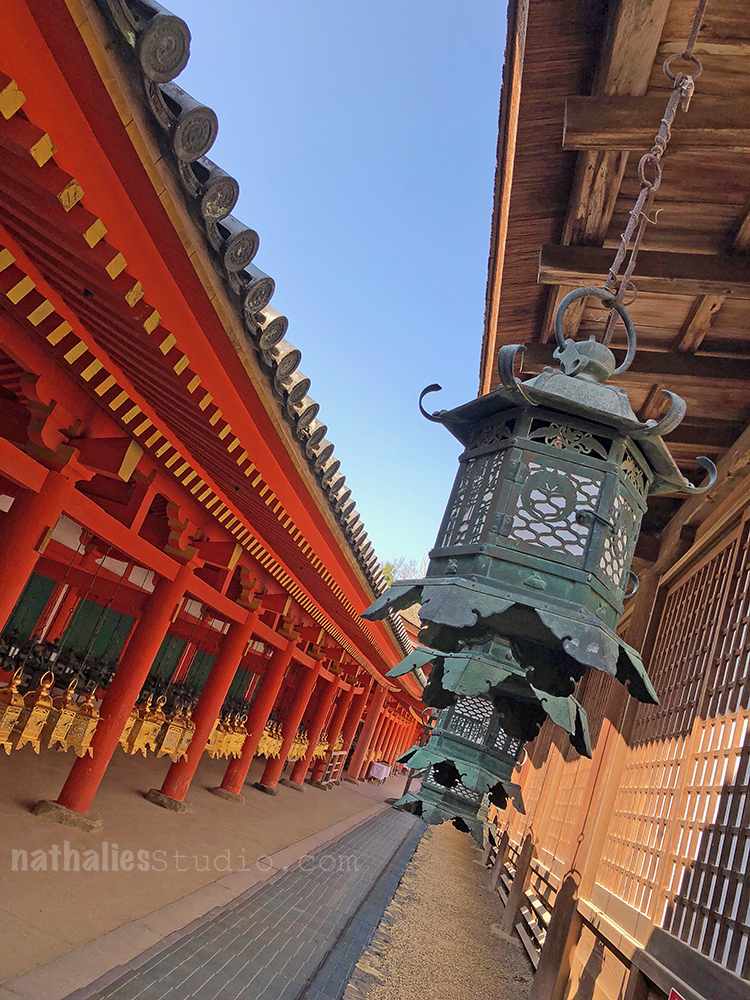 Next we went to to the Kasuga Grand Shrine. Bronze lanterns are hung everywhere.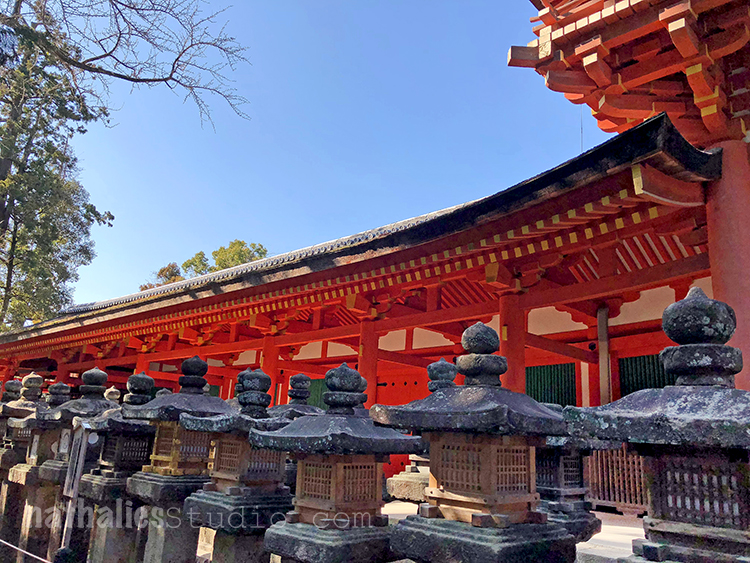 And tons of stone lanterns lead the way to it.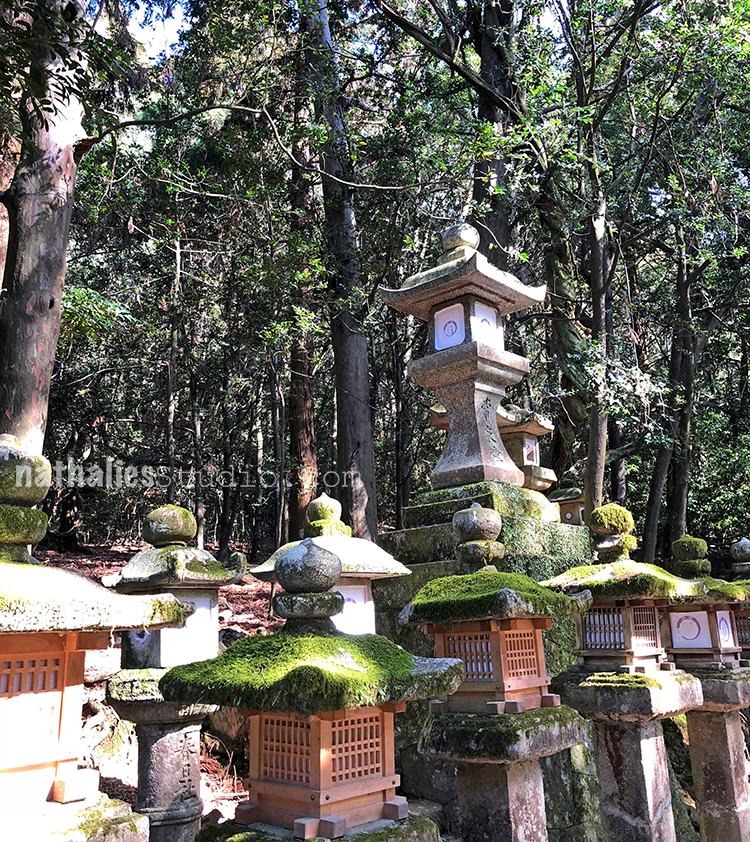 Twice a year all those lanterns get lit at once – I can only imagine how magic this must look- but it was magic already just to walk around the park and temple, with deers roaming around. Unreal ! We had a second tea break, saw a turtle walking by (no kidding!) and had a yummy piece of persimmon cake. There are so many pictures of just that one day….I tried to keep it on a what I hope manageable amount LOL. But one more ;)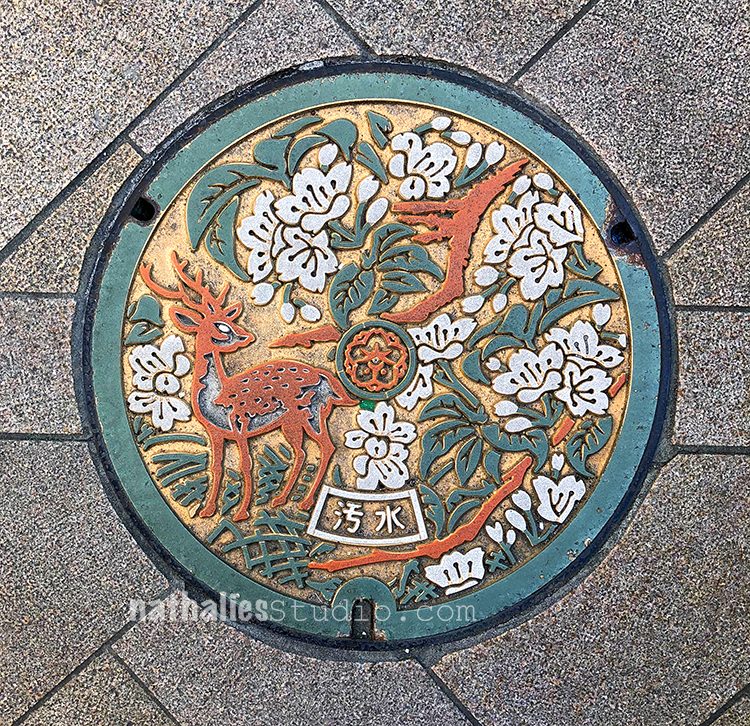 Here is a manhole in Nara – most beautiful manhole I have ever seen. I will show you a couple from the trip in an upcoming post but this one deserves to be shown twice ;) Hope you are inspired by Nara – more from my Japan trip to come soon.