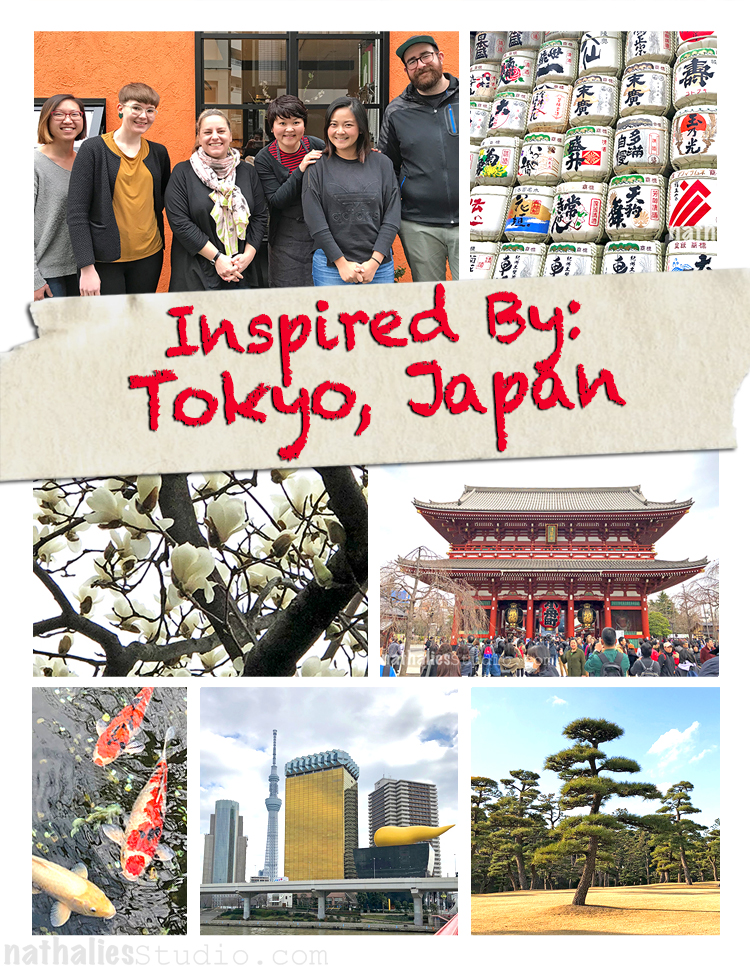 Japan was so so amazing – I am back now for a couple weeks and still so full of all the inspiration and impressions of this trip. I want to share some with you in a couple upcoming posts- this one is from our time in Tokyo. We were there a couple days in the beginning of our trip and a couple of days at the end.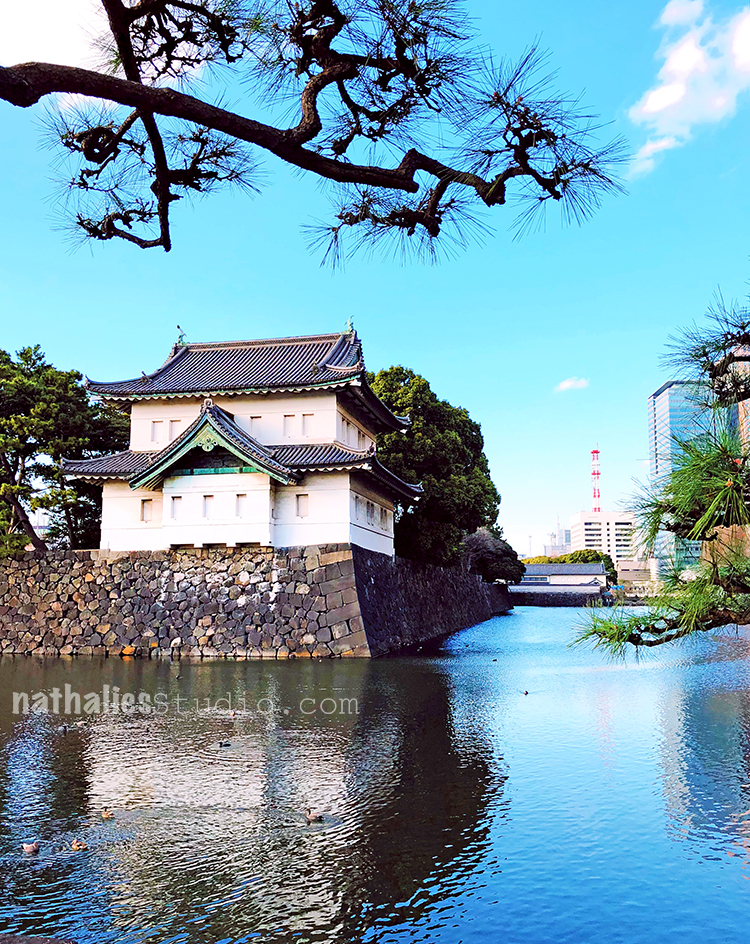 This is a corner of the area where the Imperial Palace is located -you can only get into the palace if you apply for tickets way in advance for a certain day and time -but just walking through the park surrounding it was just beautiful.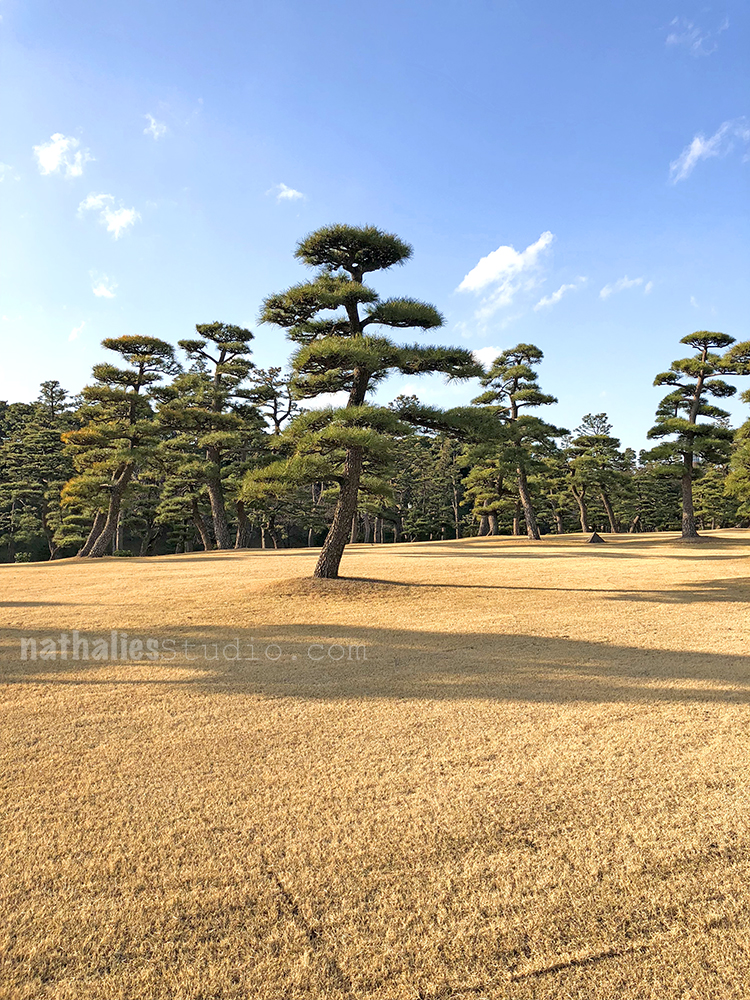 Love those trees!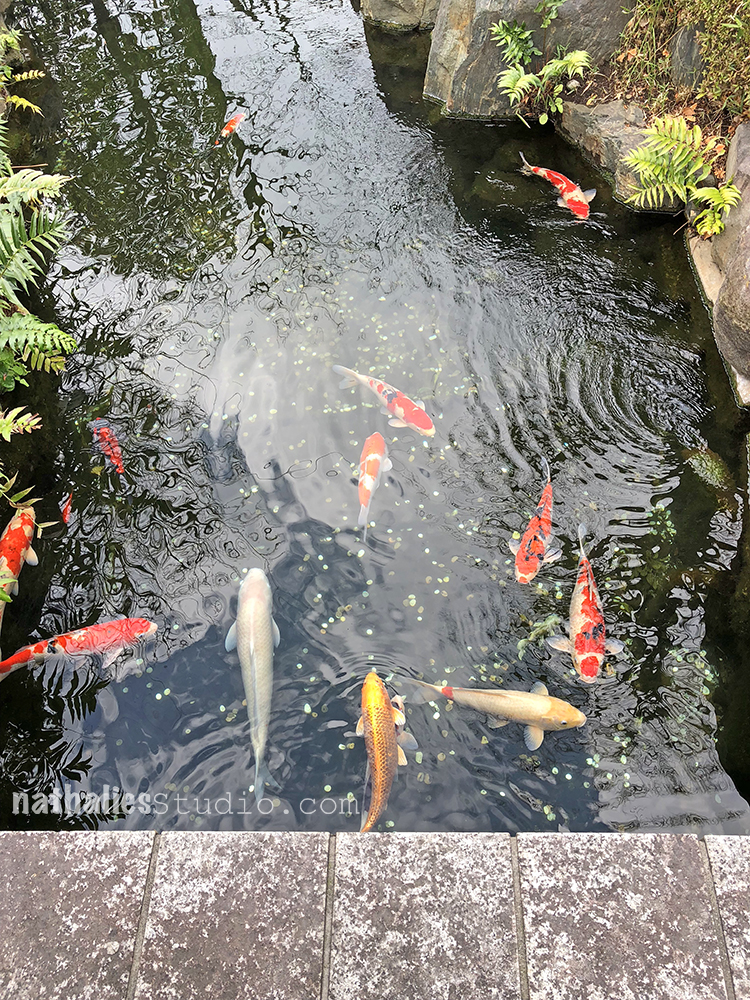 Koi everywhere – gigantic buggers- and to be honest, I am not actually a fish-person- LOL- I love their marks and colors- very cool!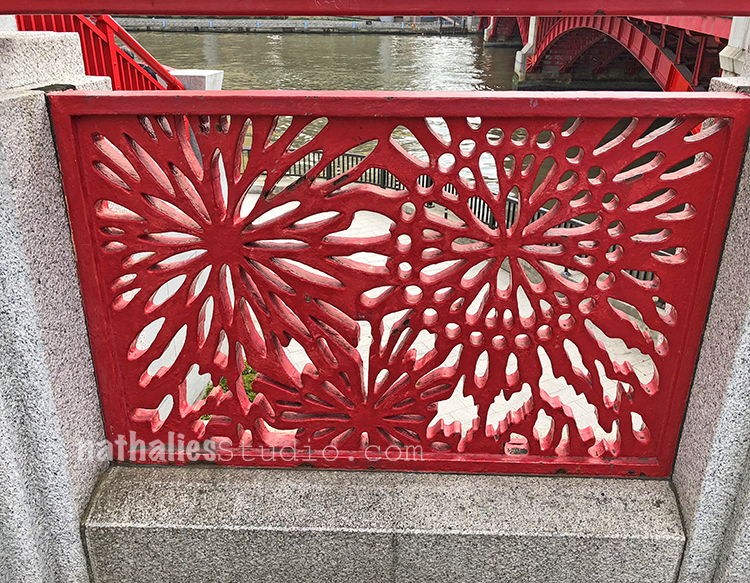 Beautiful bridge iron work.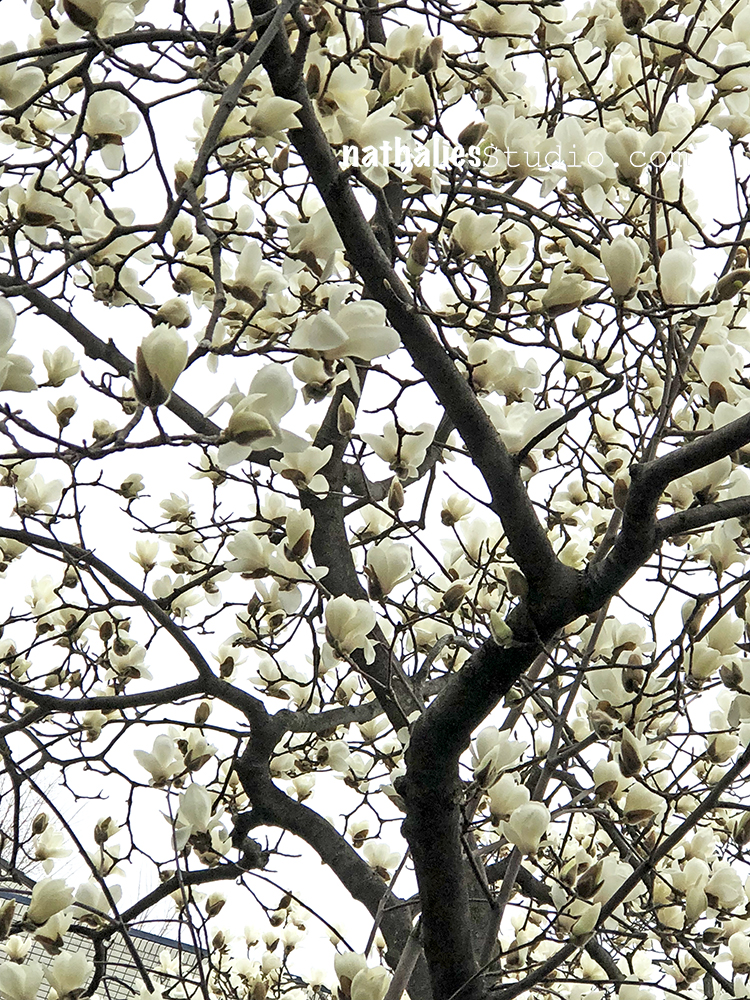 We were a couple days too early for a full cherry blossom bloom – Sakura -but some cherry blossoms and also as above magnolia were already out -so beautiful!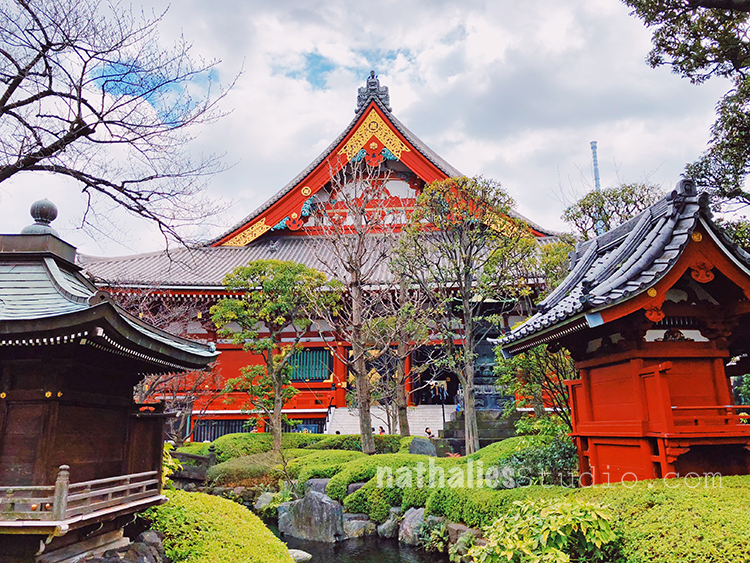 One of the many beautiful temple we saw. This one is the Hie Temple in Akasaka – I love the colors and all the details- the beautiful roofs.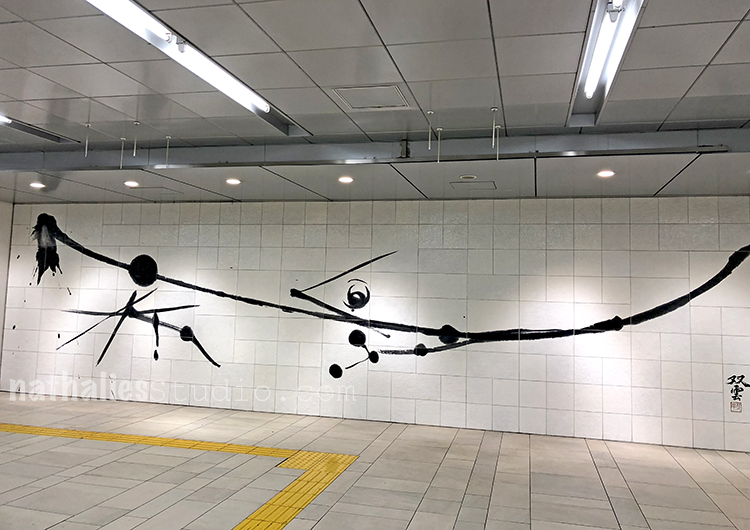 Subway art – so beautiful!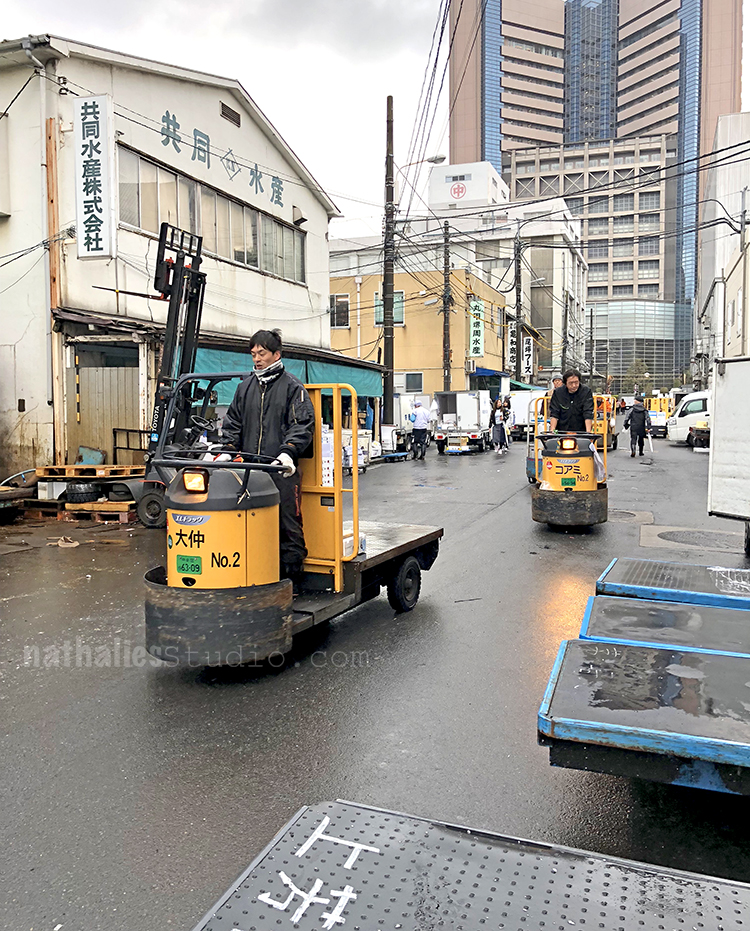 Little electric cars zipping around at the Tsukiji Fish Market, which is one  of the largest wholesale food markets of any kind. Watching those cars cruising around at the market is watching like a little ballet – it was fun …btw at 6am in the morning because jet lag said- hey- just get up and going ;)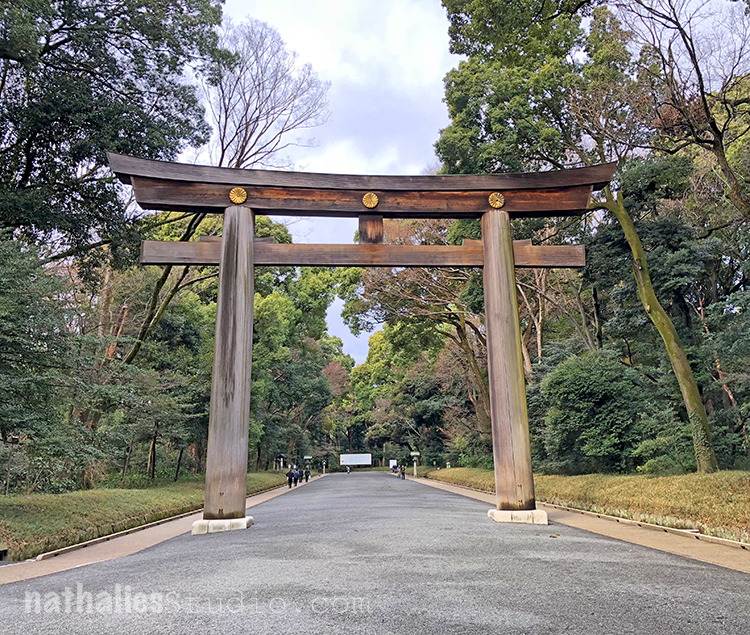 The Meiji Shrine is located in a beautiful forest – the Torii (gate above) is leading to the Shrine.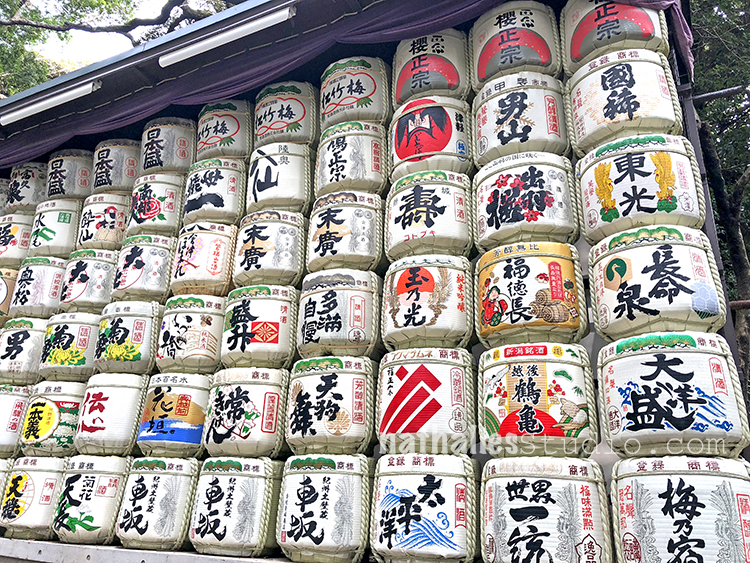 Colorful Sake Barrels on the way to the shrine, which are offered every year to the enshrined deities by nationwide brewers.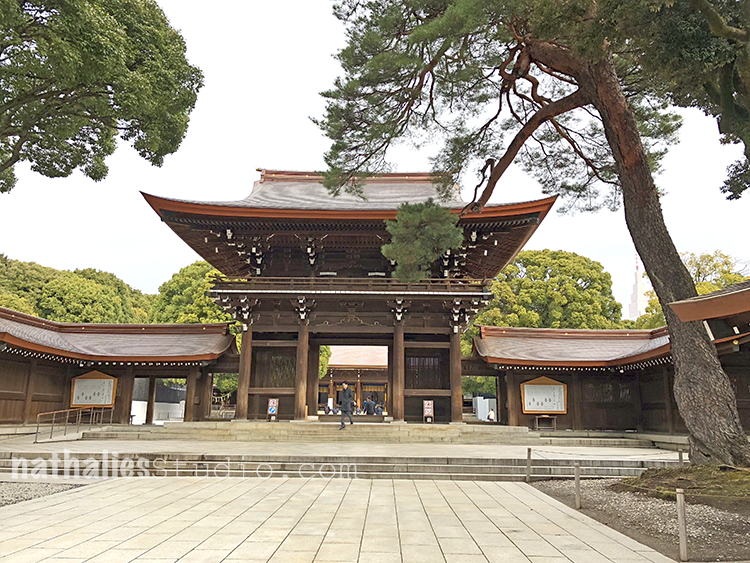 The Shrine – very empty as it was again early in the morning – see jet lag has some perks- ;)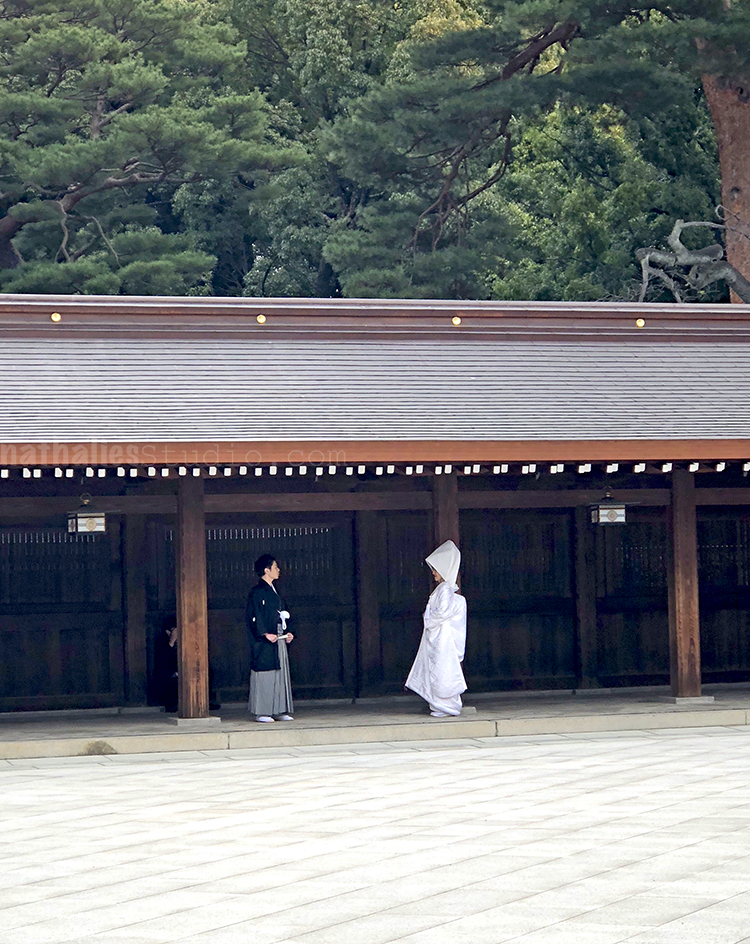 We were actually witnesses a traditional Japanese wedding. At a Shinto reception, the bride will get married in a long white kimono. Then she may come to the reception in a colorful, embroidered kimono, then change into a Western-style white wedding dress, and then into an evening gown or a party dress. phew I get tired just reading all this- but hey it was sure really beautiful to look at.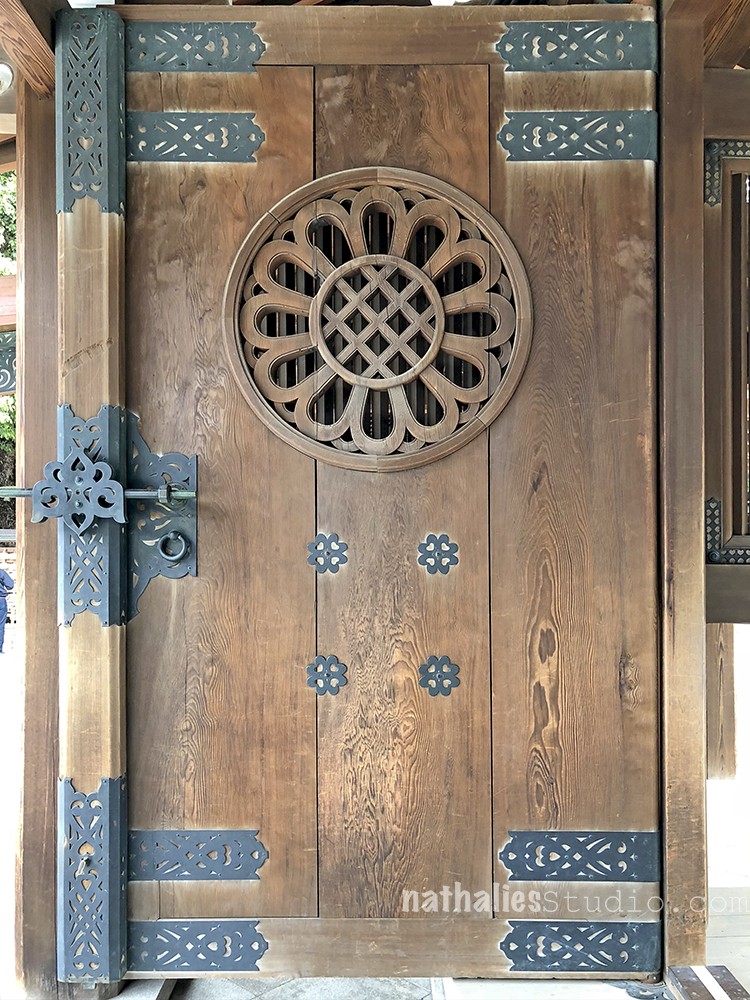 Such a beautiful door at the Shrine! We visited even more Shrines and Temples- but hey- before you get Temple Fatigue I am saving more pictures of those for my special post from Nara for later :)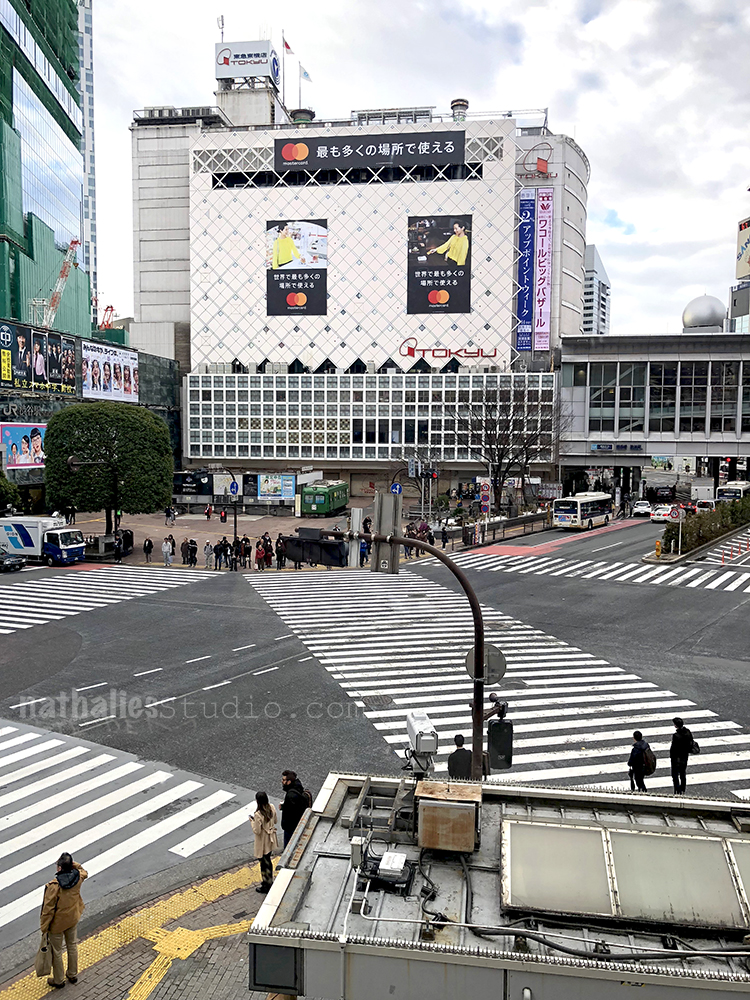 Did I mention that jet lag was a real troublemaker this time? Well 14 hours time difference were just not easy to deal with…but …well…you can actually see the busiest pedestrian crossing  of the world – Shibuya Crossing –  from a cafe window without ANY people on a Sunday morning- LOL. You might know it also from a scene in "Lost in Translation" – and boy I experienced the totally crowded crossing during rush hour in the middle of the week- woot what an adrenalin kick :)
There is actually a life camera of the crossing- check out if you are watching at actual rush hour- LOL otherwise it is boring ;)

Total nuts- telling you ;)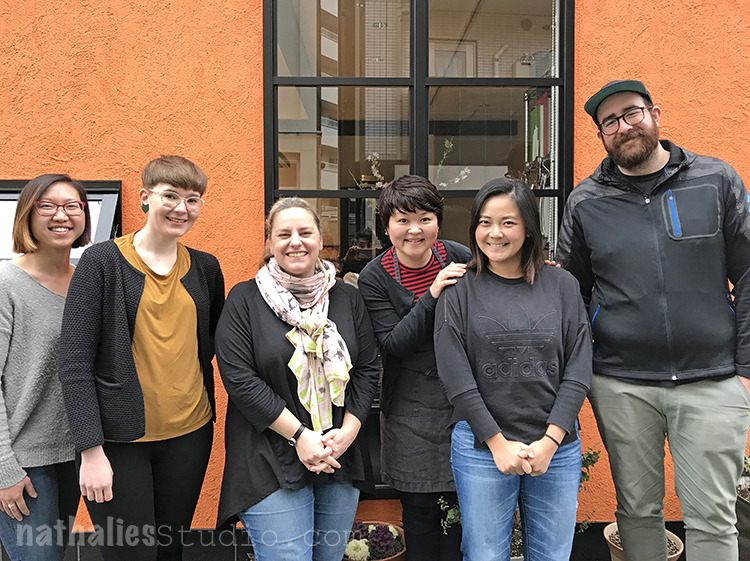 My husband was at a conference for a couple days and on one of the days I was on my own I actually took a Japanese Cooking Class. It was so much fun! I will tell you more about it in a different post- but I can highly recommend doing it through Airbnb Experiences with Yukari- From Market to Meal . It was a highlight of the trip and I already cooked several of the things I learned back home.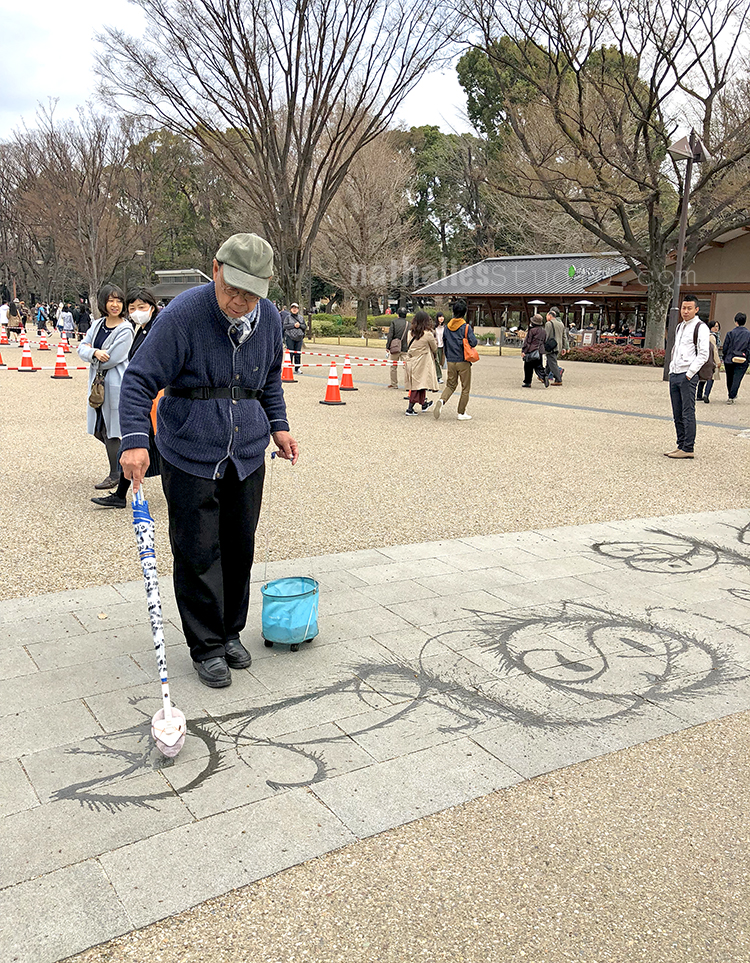 This man making water drawings was so cool – I loved this – he would ask people what their favorite animal is and then start drawing. And no…he did not want any money although he deserved it – he just did it for fun …so delightful!!!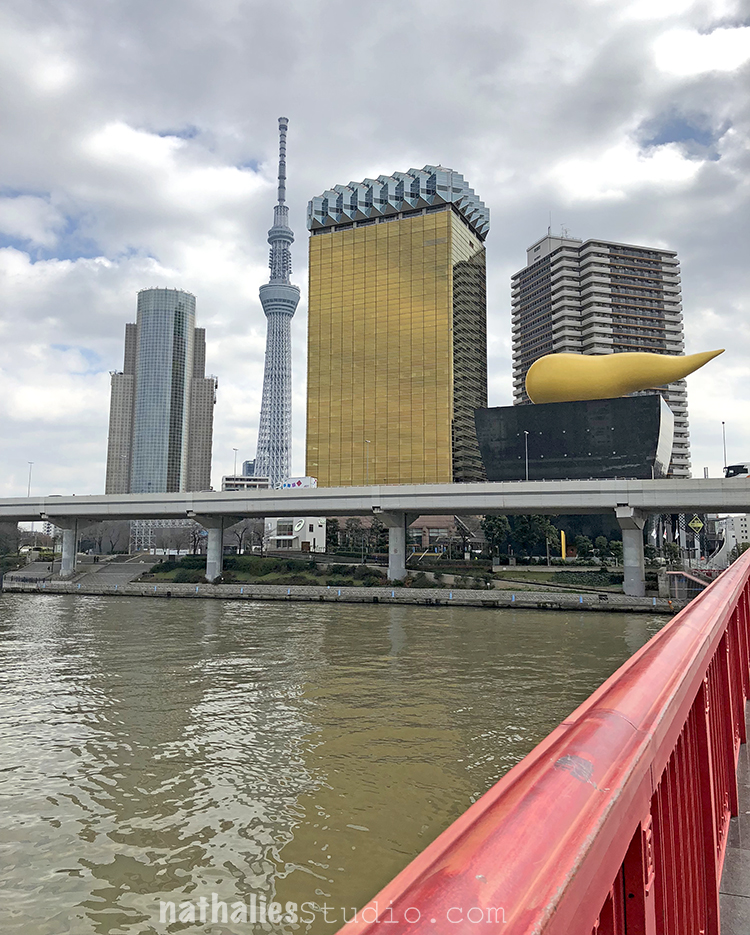 a little walk over to the Asahi Brewery – not really for the beer but for the view and definitely a cheaper view than from the sky tree. The brewery building with the golden thing on top designed by Philippe Starck is supposed to be a flame. Well…it  is also know as "Golden Turd" or the "Poo Building" …go figure- lol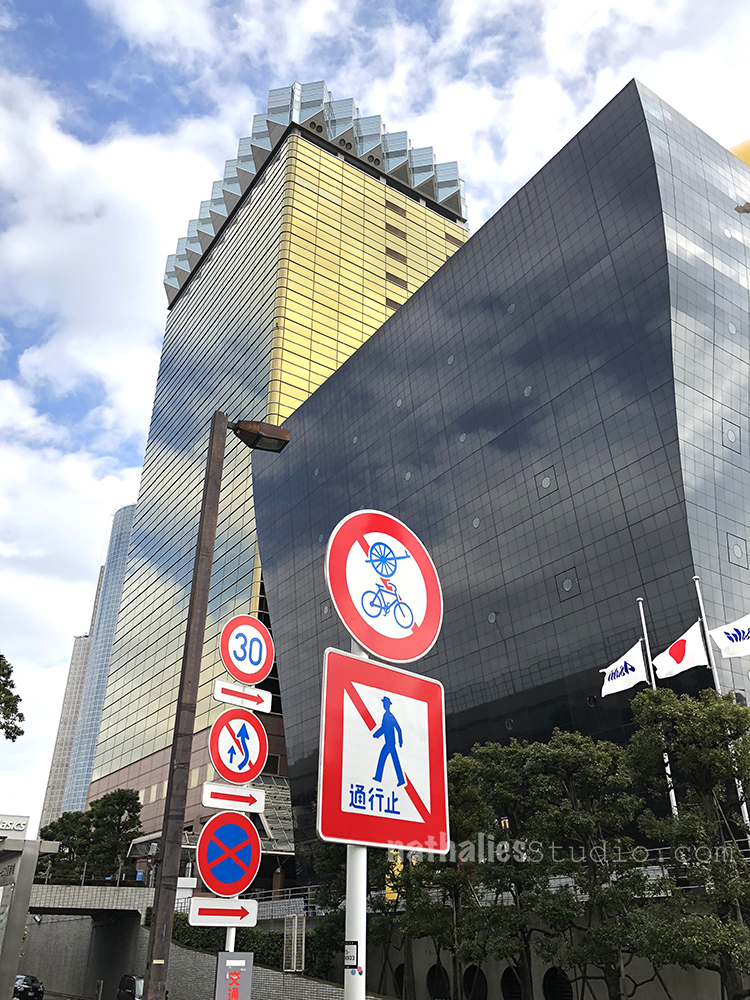 And I cannot resist showing those signs  – when do you usually see a "NO Rickshaws" sign?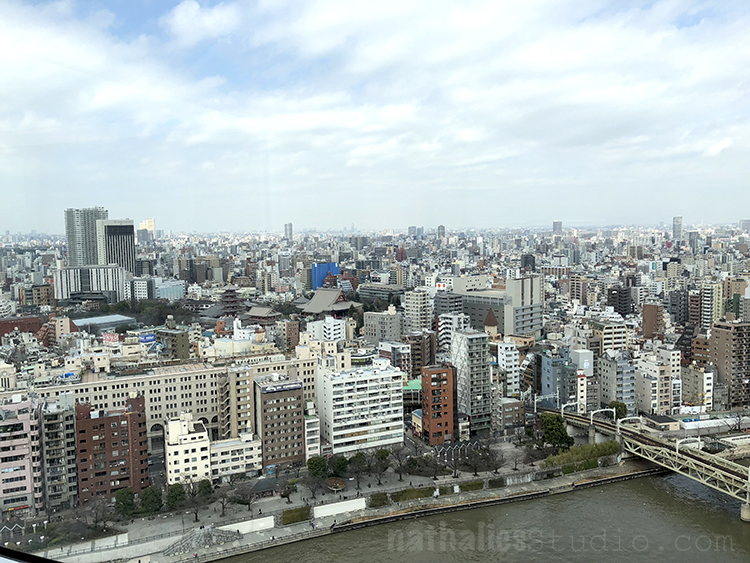 It was awesome in Tokyo -I am still trying to get a grip of all the inspiration. I am sure some of it will resurface in one form of the other in the future ;) Next stop is Kyoto, I hope you will join me :)