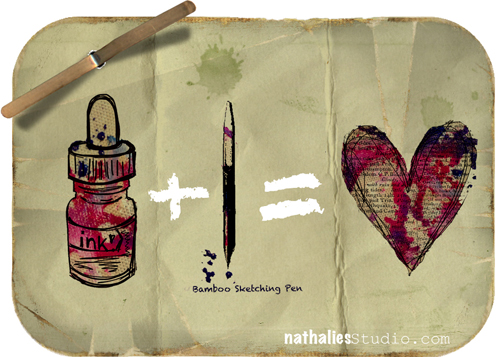 I love Liquitex Acrylic Inks for their wonderful colors, high and fine pigmentation and their versatility. I use them for staining raw canvas, painting, stamping and sketching and I love to use them with a Bamboo Sketching Pen- especially to handwrite journaling or quotes in my art journals. A couple of you have asked me how I use the Bamboo Sketching Pen with the Inks and so I thought I show you in a quick video how easy you can use those two supplies. You will see they are a match in heaven .
Liquitex Ink and Bamboo Sketching Pen from Nathalie Kalbach on Vimeo.
I did forget to mention in the video that some of the pens of an indent that is called inkwell- where some of the ink can accumulate and gives a bit more writing time in between dipping. The dipping pen I used in the video has a tiny inkwell- which can be almost neglected. So if you have a bigger one- dipping right into the jar is a good idea ;)
Here is a supply list:




Please note: I am an official Brand Ambassador for Liquitex, but all my ideas are my own and the opinions, comments and my love for their products are genuine!
Have a wonderful day