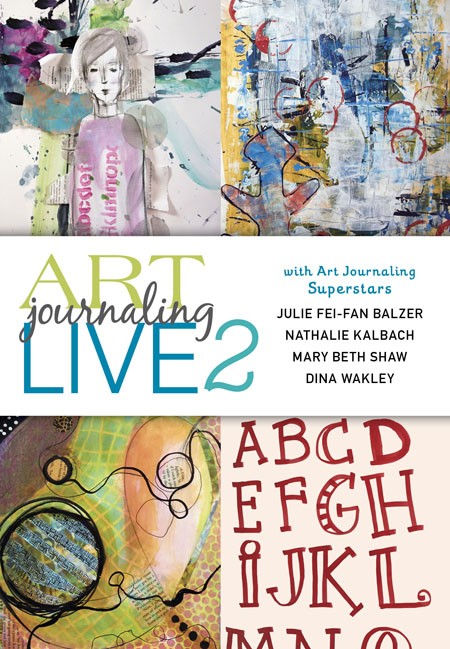 Soooo excited about this. Some of you might remember that in July I joined my friends Julie Fei-Fan Balzer, Dina Wakely and Mary Beth Shaw in Texas for a Art Journaling Live Workshop with 75 students. The four of us taught  different art journaling techniques and the event was recorded on video. Here is a little sneak peak
—-
You'll love this art journaling video workshop if:
You missed the Art Journaling LIVE event, but want the instruction from the sessions
You are a fan of mixed-media artists Mary Beth Shaw, Dina Wakley, Julie Fei-Fan Balzer, and Nathalie Kalbach
You want to learn exclusive techniques to grow your artistic skillset
Learn More about Each Session:
In "The Abstracted Journal," StencilGirl Mary Beth Shaw gives you techniques for creating your own stickers, decorative tape, collage papers and more as you create an abstract art journal spread with unique component parts!
Complete two art journal pages with Dina Wakley in her class, "Random by Design," as she gives you four fail-proof guidelines for creating an expressive, random look in your art journal without creating chaos!
In "Easy Lettering,"Julie Fei-Fan Balzer shows you ways to use your own handwriting to create more than 24 fancy lettering styles. Then, learn the best way to add shadows to make your text pop off the page!
Join Nathalie Kalbach for "Tooling Around," in which she'll show you how to create lusciously layered backgrounds by pushing your mixed-media tools to the max. Take part in a roomful of fun as you experiment with more than 10 techniques!

——-
You can now preorder the DVD set with 2 DVD's with all four of us or download the videos right away.
If you only want to buy single Downloads or DVDs for example of my session – you can do this too  (but hey- get the whole package- it is so much fun!): Art Journaling Live 2: Tooling Around with Nathalie Kalbach Video Download

For those of you who have been at the event: your complimentary downloads to the event will go out in the next 2-3 weeks !!!

Have a gorgeous day!!!
Nat