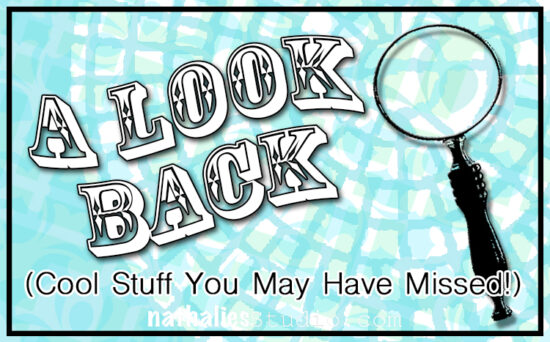 A Look Back… at hand carved stamps! I love using my rubber and foam stamp designs in my art journal pages. They add pattern and detail and another element of my style into what I'm creating. Sometimes though, I don't have the motif that I'm looking for in a ready made stamp so… I carve my own! It's a fun process and it can give you that look and ease of use that is so great about stamps, but it usually also has a slightly imperfect look that makes it special. Here is a Look Back at some pages where I mix up hand carved stamps with my other favorite art making materials: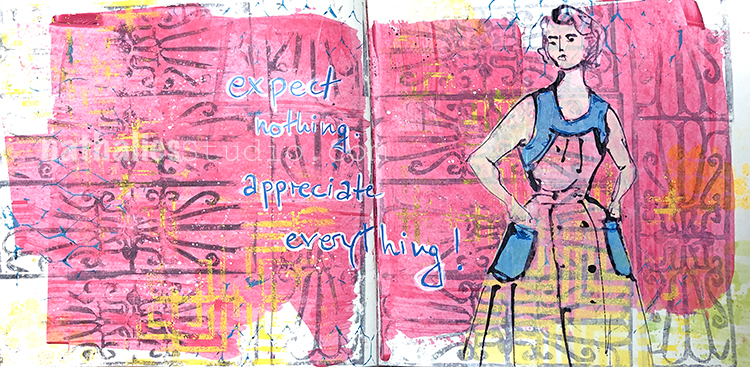 Here in this art journal page, the sinuous design in the background is a hand carved stamp. It looks like iron work or an architectural detail and was perfect for creating a background. I mixed in a little of my Manhattan stencil to soften things and blend the foreground and background elements.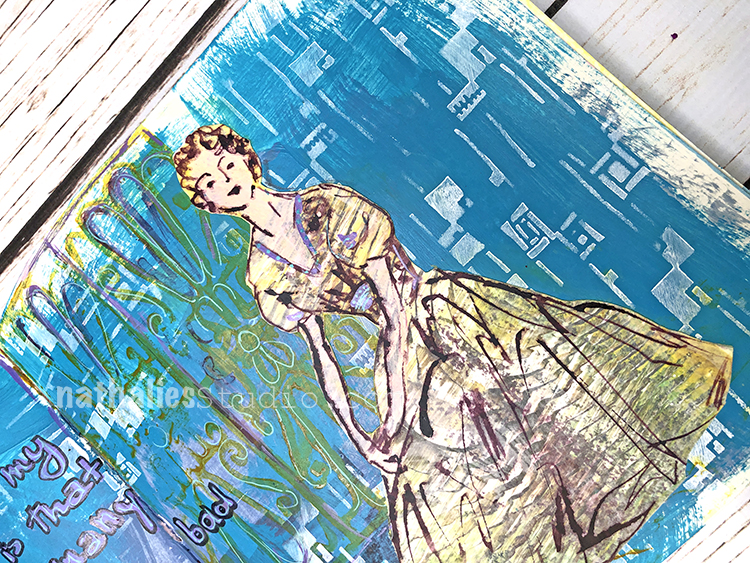 Just like any stamp, a hand carved stamp doesn't need to be a single use tool. As you can see I used that guy again in the background of this art journal spread. The double impression reminds me of a gate or doors behind the figure. I stamped it in yellow and then gave the design some more oomph (but not too much) with a fine white acrylic marker.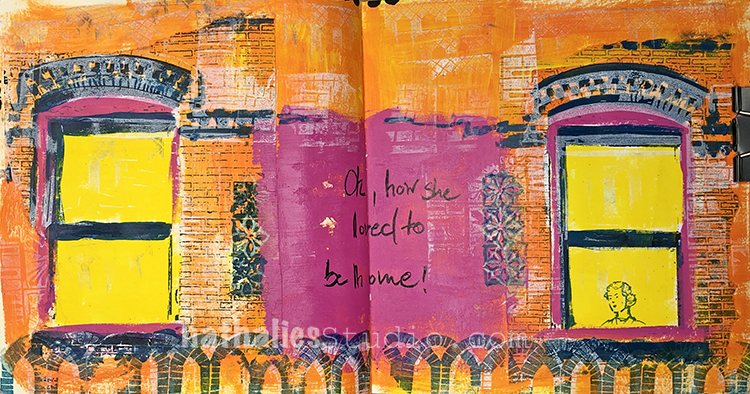 Speaking of architectural elements, that's how I made them in this art journal page: hand carved stamps! You can go quite big if you use a product like Speedy-Carve that comes in sheets. It's almost like linoleum printing but the material is so soft and easy to work with.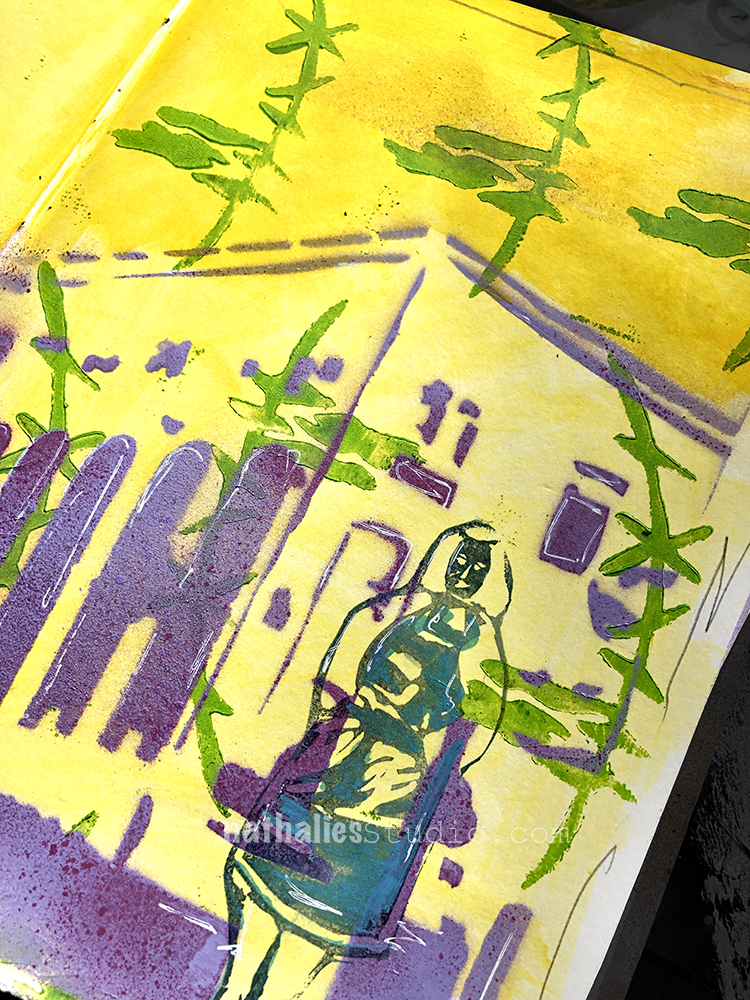 The figure above is a hand carved stamp, along with a hand cut stencil, and my Groovy foam stamp. I like how they all work together in this art journal spread, with similar line weights, curves, and scale. Don't be afraid to mix up and layer your hand carved stamps with other stamps and stencils. They can be the focal point or a supporting actor on the page ;)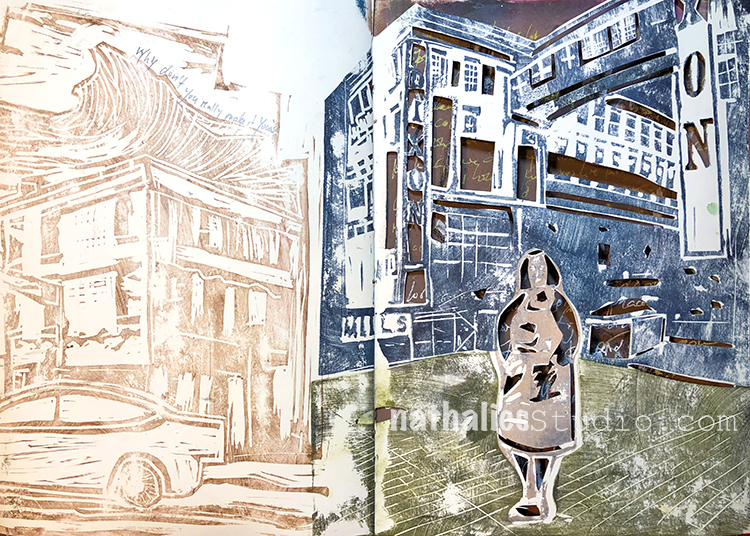 I'm finishing up with a double-header of an art journal spread: two pages that are celebrating hand carved stamps. The one on the left is a straight up impression and the right has cut outs and layering (and hey, recognize that figure from before?). Like I said, it's fun to go big. These are both scenes from my hood and subjects that I definitely wanted to explore as stamps.
Ready to try making and using hand carved stamps? Here are some of the supplies I used in the above posts: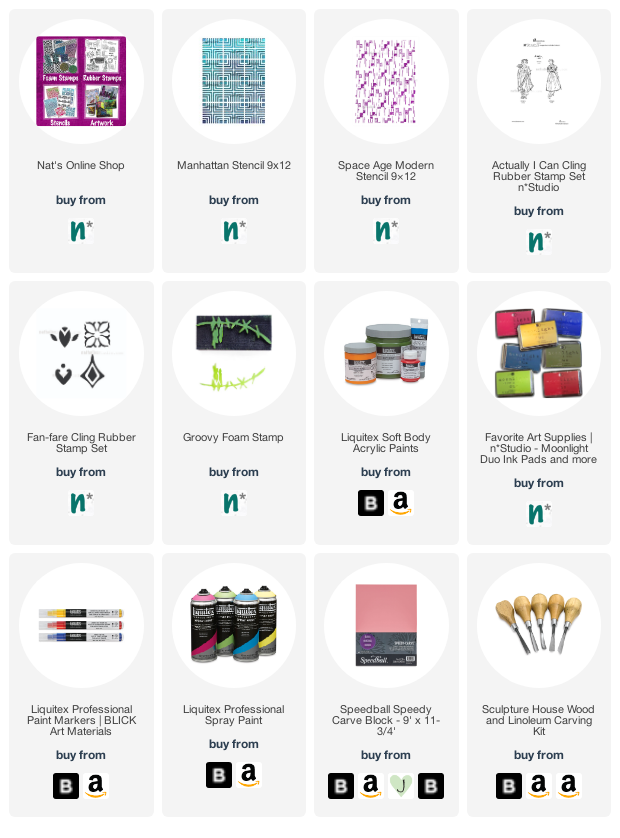 Look Back is a blog series to show you some projects and posts that you may have missed – sometimes going WAY back in the archive. I think it will be fun to revisit a few ideas that we haven't seen for a while. I'm excited to see how a little look back might inspire something new in the future :)