Instead of a New Year's Resolution I, amongst many others, pick a word that I try to live by in the new year. Last year it was light. Well…that didn't work out too well to be honest. It was as if 2015 was Opposite Year just that I didn't get the memo ;)
But …I have high hopes for 2016 – It is going to be an awesome year – I know it!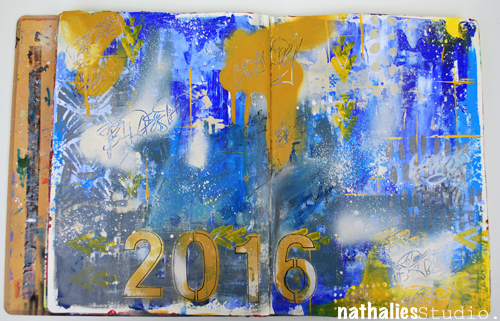 Now my word choice might sound harsh to some , please don't feel offended by it – that is not the intention behind it. I have no plan on being a rude or mean person, no worries! I just feel like I have to take more action in several parts of my life, instead of waiting for others to come to me, be more firm in some ways and to some people, stop procrastinating and seize the day,  take opportunities without questioning myself too much or what others might think of me and also …just finally feel more at ease with myself. I think I can call it summed up "Badassery" – LOL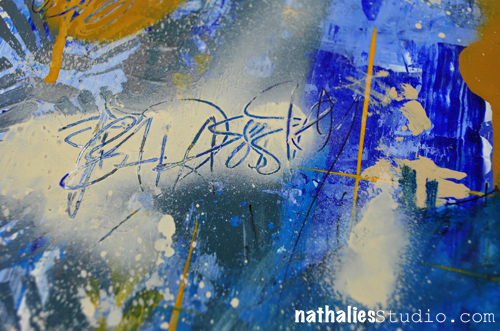 I felt pretty badassery scratching the work into wet spray paint …hahaha- see how "far" this word takes me ;) I also obscured some of my writing around my feelings and thoughts by spray painting and painting over it. I made some marks with stencils, brushes, self made foam stamps, palette knifes and dripping. I think the beautiful decayed houses and graffiti I admired in Buenos Aires last month influenced this page a lot.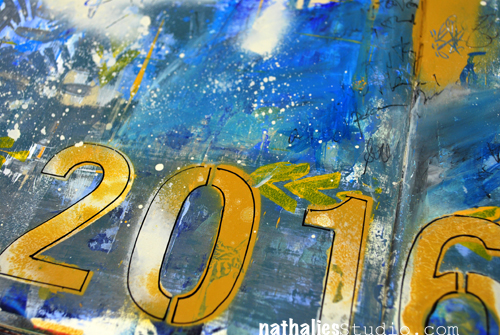 Do you have a word for 2016? And did you visualize it in your journal or sketch book? Share with me if you want- I would love to see it!
Here are the supplies I used for this spread