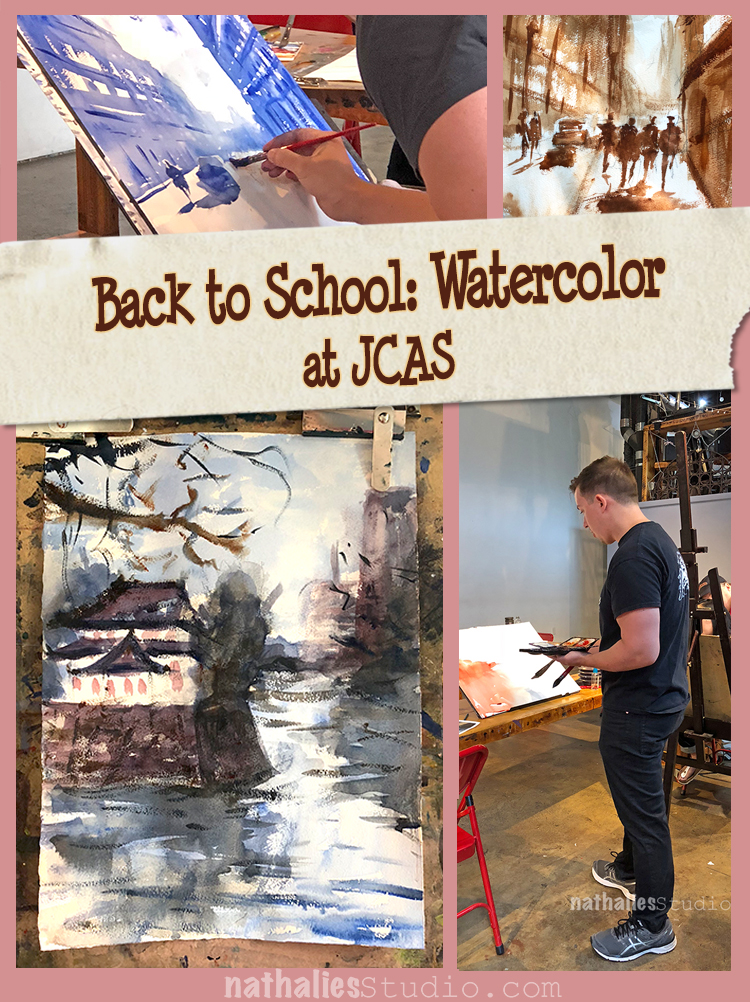 Last Sunday was the last lesson of six in a Watercolor class with John Duval at the Jersey City Art School. As some of you might know I have taken two printmaking classes already there and I really love being able to do something different over several weeks, and just being able to walk there.
This was the first time I took a Sunday morning class and I have to say, despite my first hesitance of getting up early on a Sunday it was really awesome – having my friend Mary join helped ;)
What drew me in taking the class were several factors – I really suck in painting with watercolors and I love John's loose expressionistic style depicting urban landscapes. Here are three gorgeous samples of John's work- check out his website for more or follow him on instagram!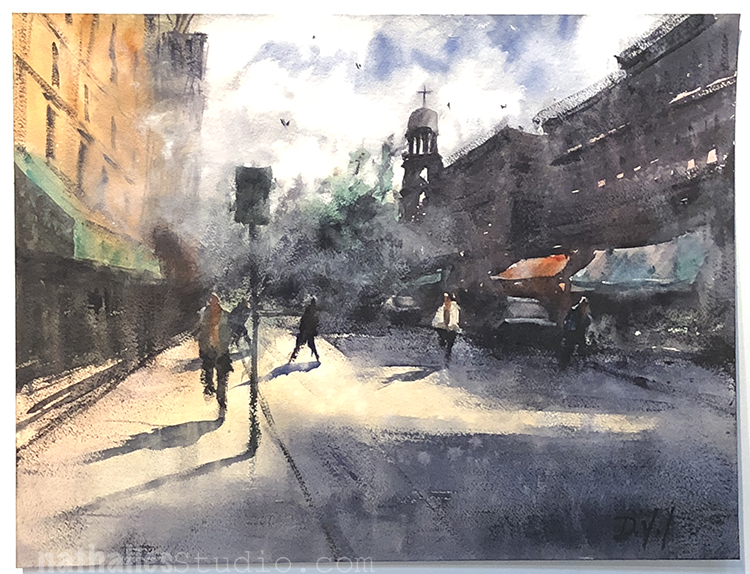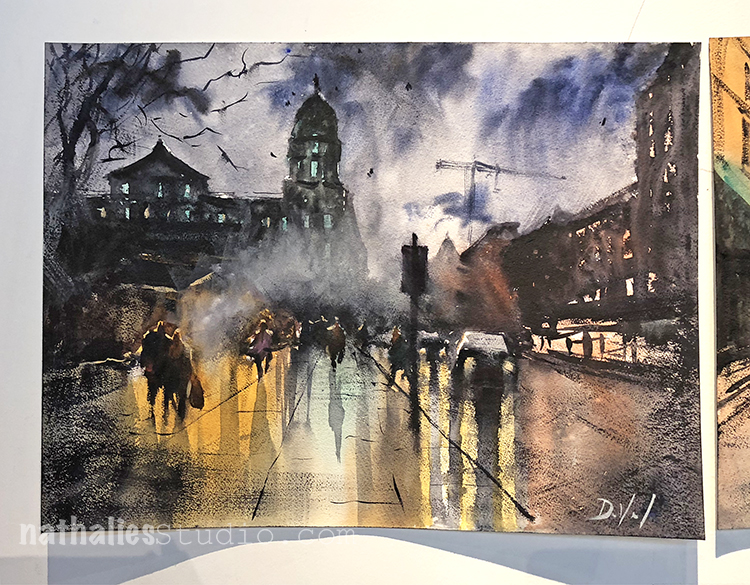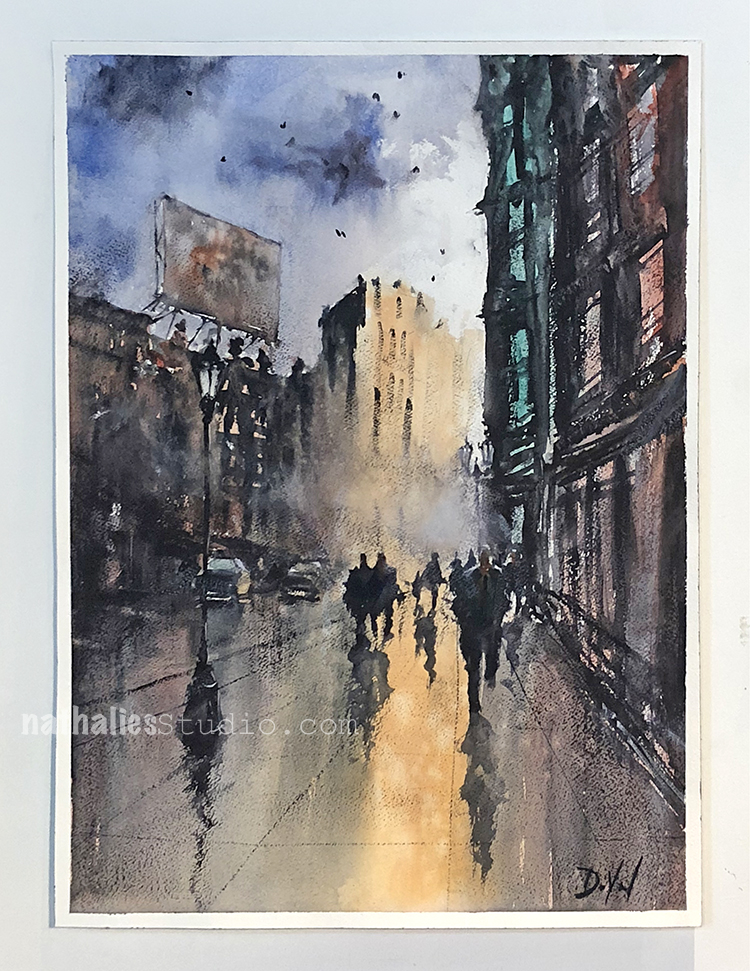 John started with explaining and showing the different applications of watercolor he uses for his watercolor paintings- from very wet application (wash), to medium wet and sticky watercolor application, to dry brush application.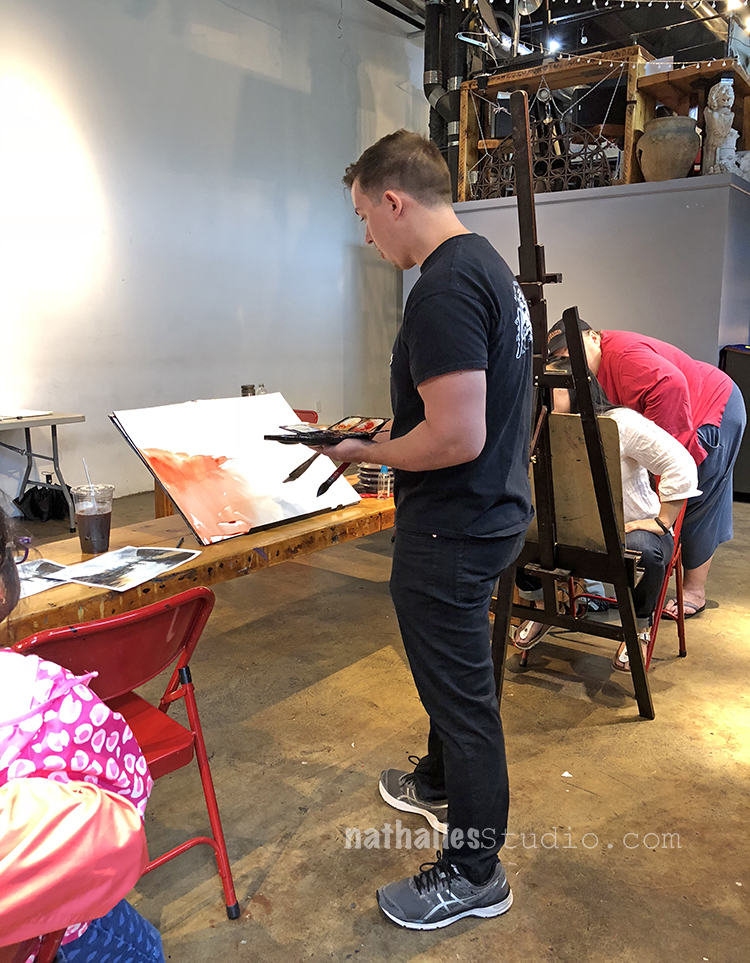 He talked about the importance of planning a painting and how to not shift your plan. You can imagine that was a tough one for me ;)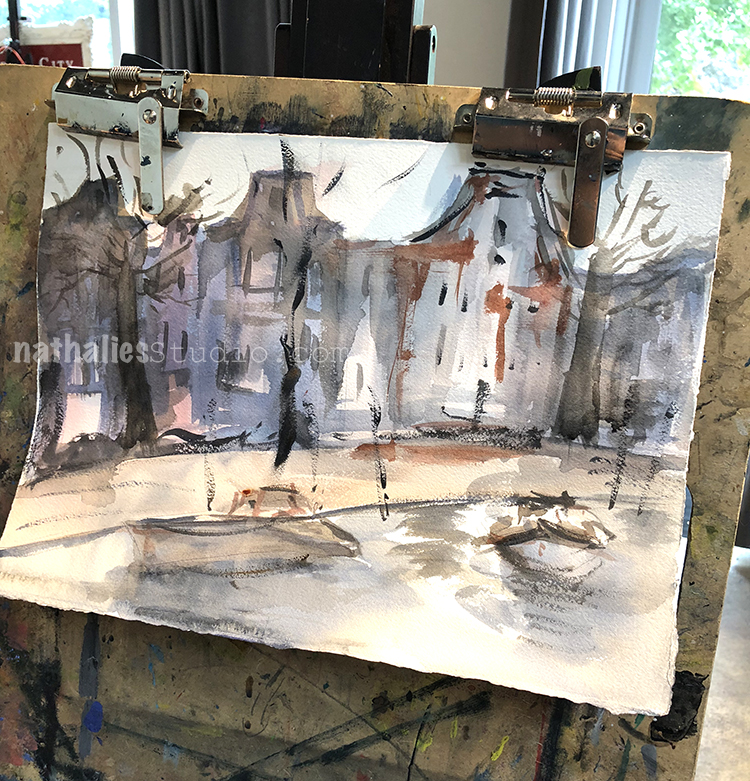 Above one of my first attempts …gosh …sigh …but hey- it was fun and I learned a lot
One of my favorite aspects of the class was his usage of a limited color palette (yeah I know guys- awkward right?) and how to play with alternating warm and then cool colors and vice versa in the layers.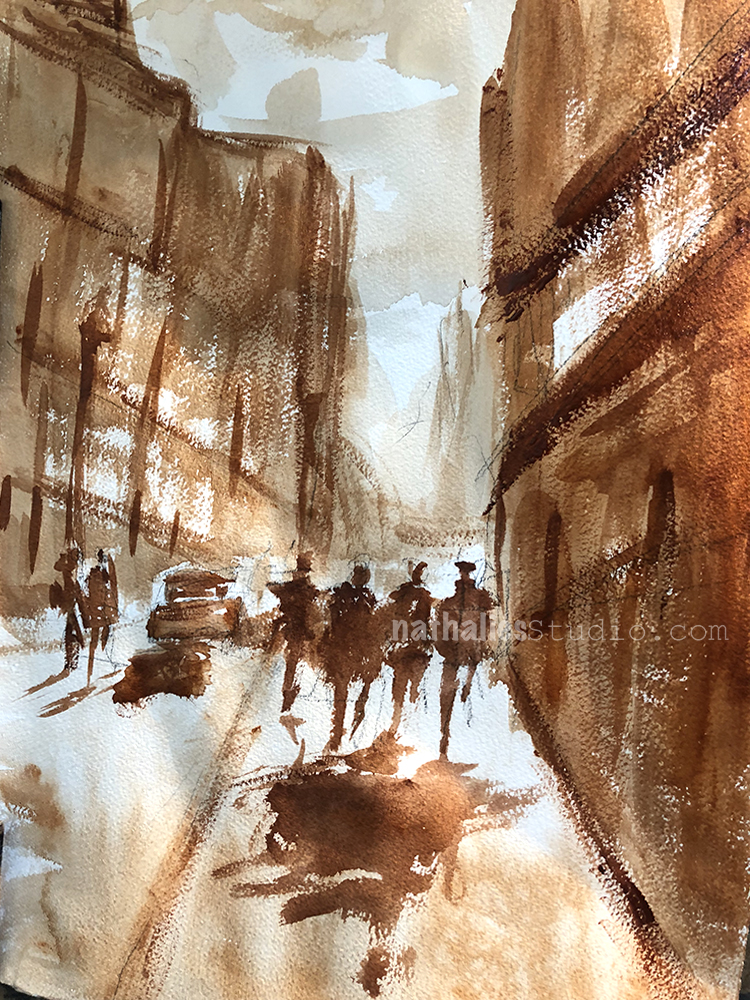 Me trying out the one tone approach – there are areas that I like and some I am like "WTH"?
I loved seeing his demos of painting from start to finish and talking through his process as well as how he chooses a subject to paint. At first I was really itchy to get back to the easel and paint myself, but I realized very soon that a lot of what he talked about and went through sticked in my head and was helpful for my own process. Very dear to my heart was his approach of not being afraid of changing up the scene so that it looks interesting or reflects how you feel rather than the actual depiction of the place.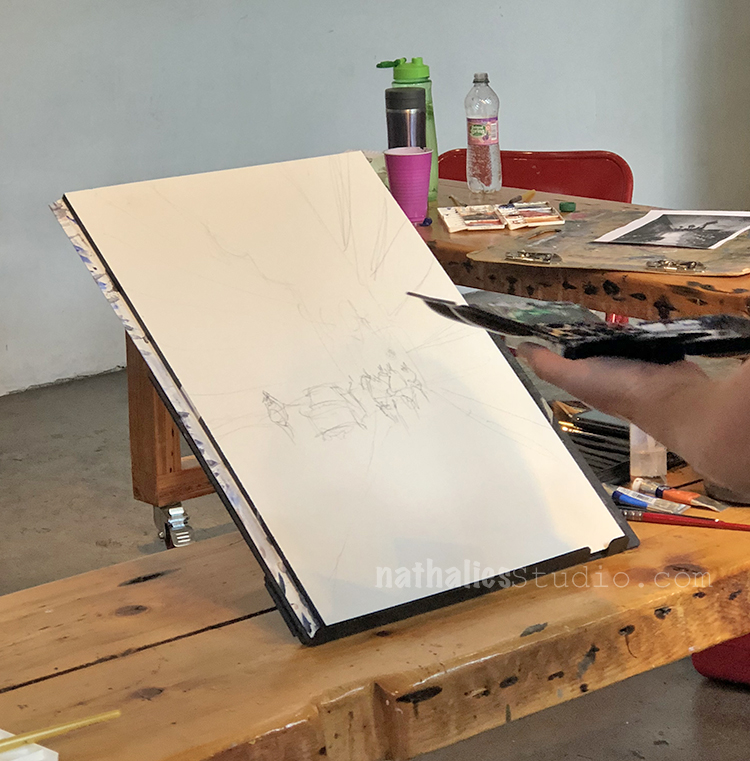 John about to start after sketching a rough scene from a photo.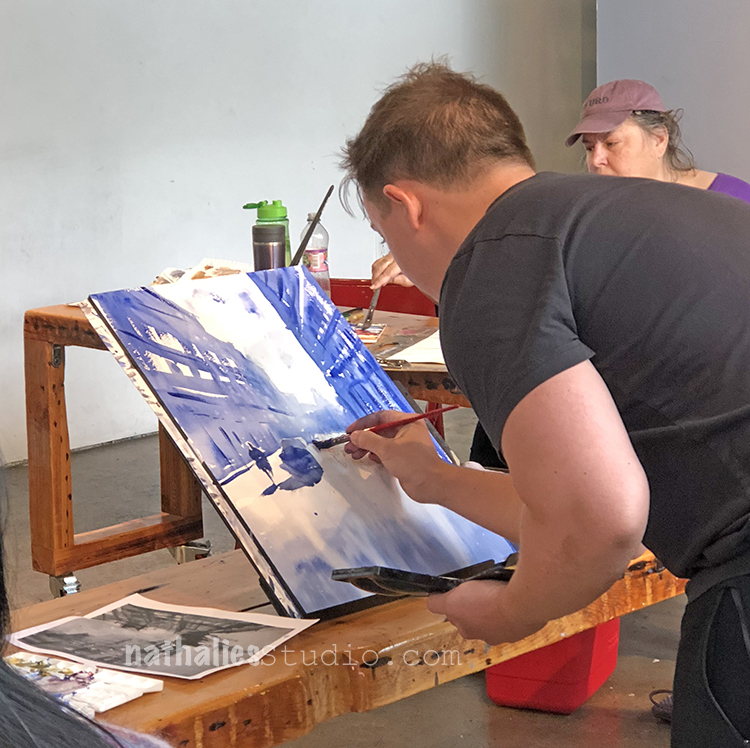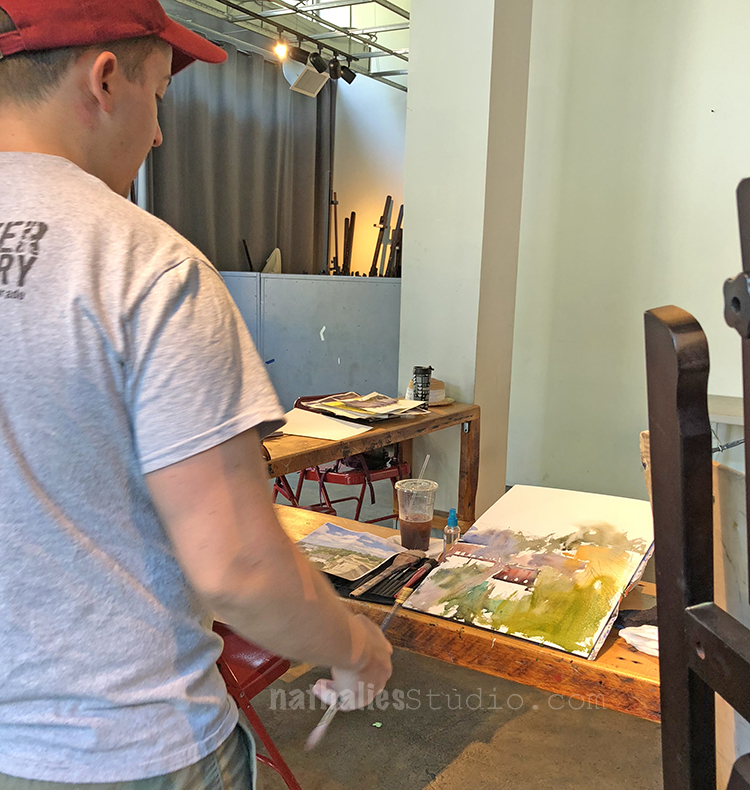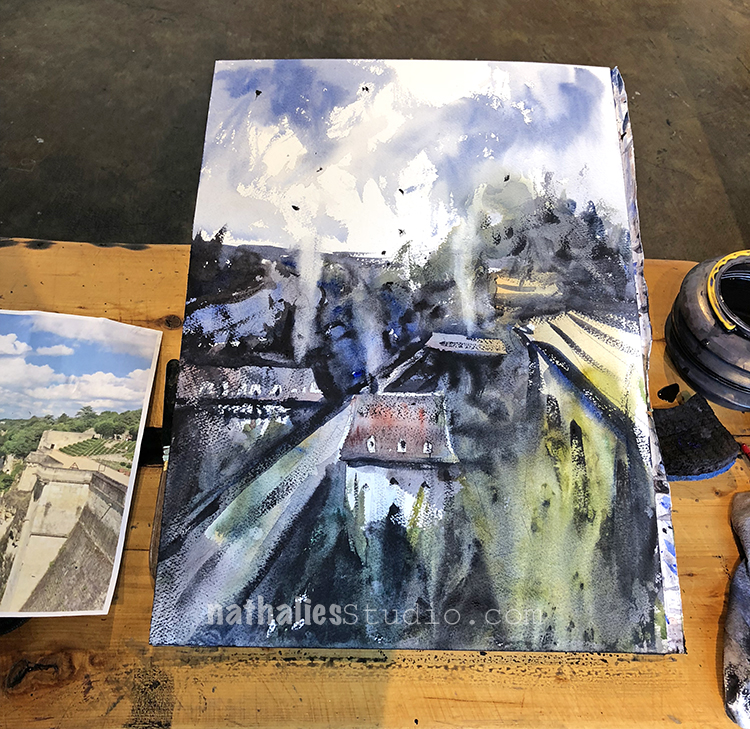 John's finished piece piece from one of the demos- you can actually see a bit of the original photo on the left.
As we progressed in the class we picked our own images and I loved seeing what everyone was doing and talk through it.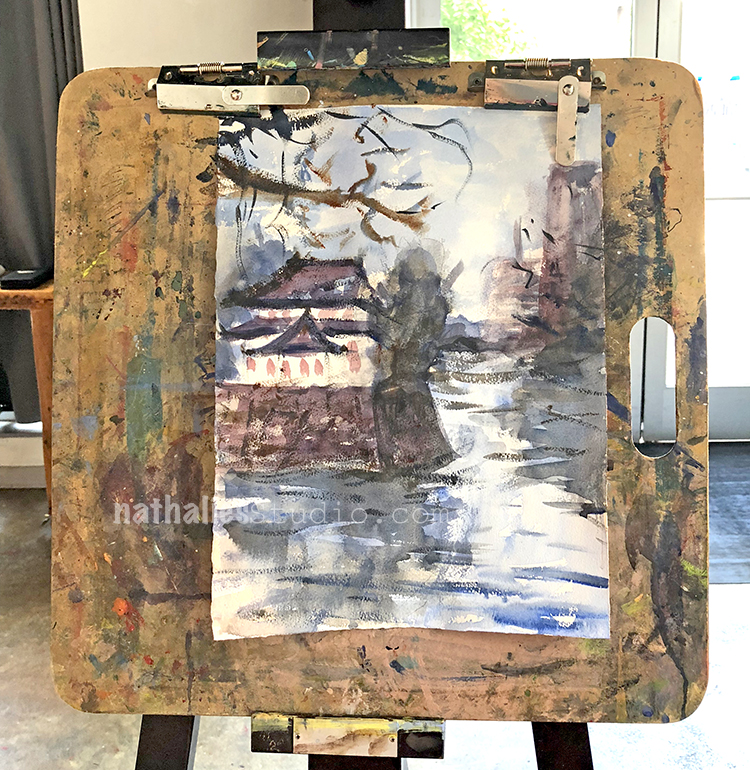 I focused on the house and the water …as you can tell trees and foliage …not so much ;)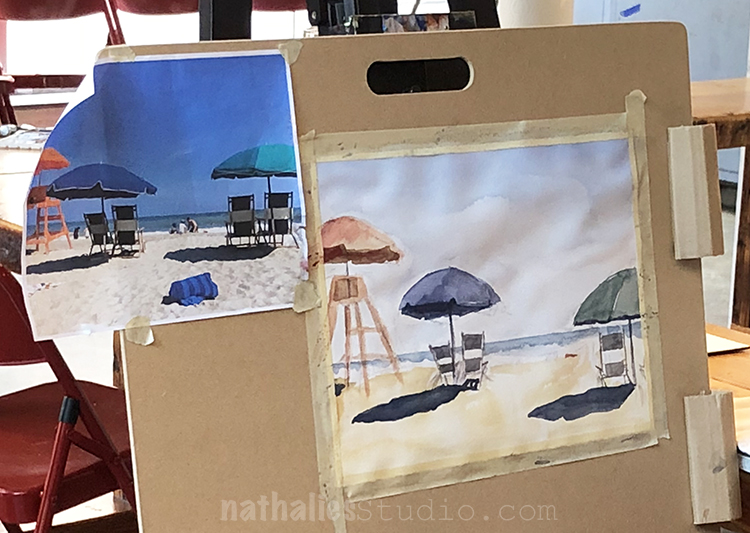 Love the beach scene of one of the fellow students- especially her shadows.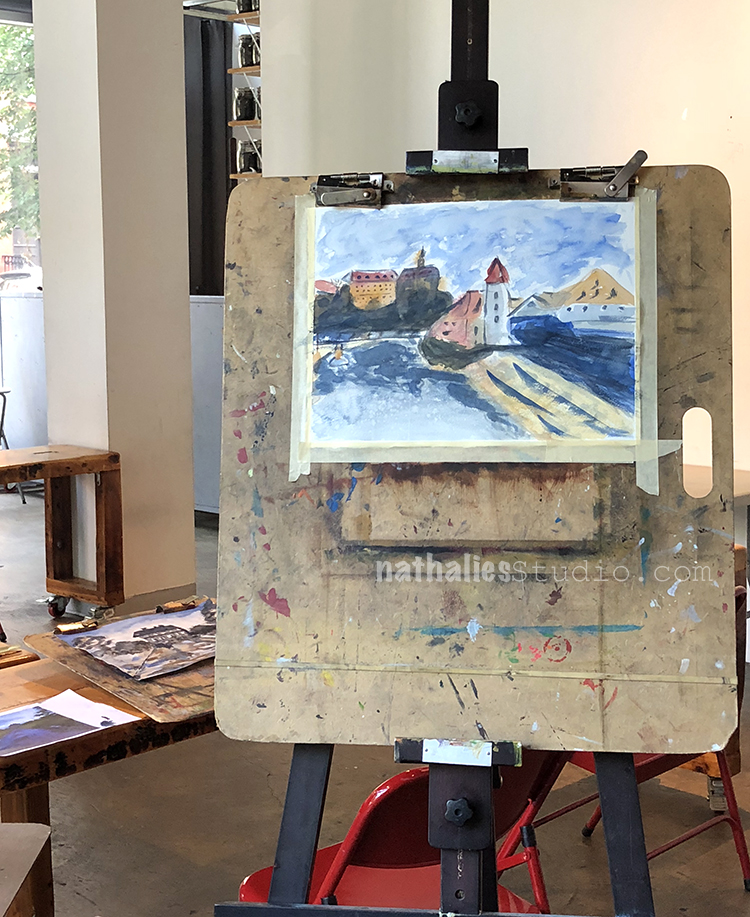 Such a great water texture here and I love the color scheme.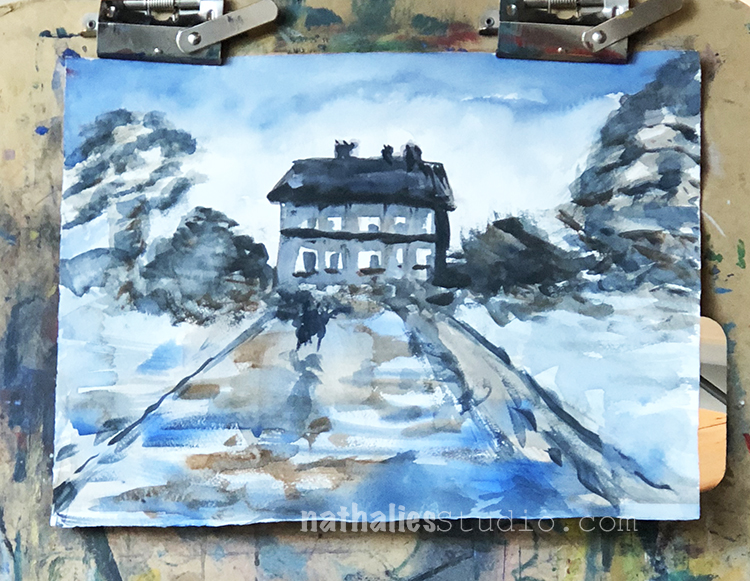 And I really loved the mood in this one- so gorgeous!
John is a great teacher, he is very good in explaining what he does and why he does it and he is good showing students why and where things work and where not. I loved taking a class from him and I will def. do so again …yes in watercolor —gasp ;)
If you are in the Jersey City – NYC area- take a class with John Duval – I am sure he sends out class informations through his newsletter !
What I learned in this class:
Watercolor is fun and sometimes you just need it to let it do it's own thing
"Never say die until it's dry" – John Duval – meaning once it is dry you cannot fix things so be quick
think about warm and cool colors more and how this can create visual interest and contrast
The watercolor consistency is defined by the water in the brush not on the palette – so don't dip your paint brush all the time into the water (I only learned this so far in theory- still working on it)
Don't give too much visual information – our little brains do a lot to fill in the gaps
What I take away for the future:
Why not add some "people" into a painting to make the scene more lively
Change scenes up – you can take a photo if you are going for reality
Have the wash or underpainting in my acrylic paintings look through a bit more often
Work with a limited color palette or even just one color and play with the tones, tints and shades for a study
Why not paint a bit more in watercolor – it is quick and it is just paper and I can actually only improve ;)