I invite you to an Artful Adventure Challenge with a Free Class !
Play along with me on this 30 Day Challenge, beginning on May 10th, 2017 and culminating in the release of my new book Artful Adventures in Mixed Media: Techniques Inspired by Observation and Experience on June 8, 2017!
Go on an Artful Adventure with me and join into a Free Classroom with some fun tutorials!
With the challenge find inspiration by taking a "Stroll Through The Hood" and observing the details of the world around you. Anyone can join in on the fun by following our list of daily prompts. Each day you will have a new word to inspire you. Go for a stroll outside, snap a photo of something that you feel illustrates the word of the day, and build a collection of visual material to inspire your artwork, art journaling, and mixed media projects. Along the way you'll discover things about your Hood that you may have never noticed before, and you'll learn to find inspiration just outside your door. Use #ArtfulAdventures on social media and share your photos and the projects you were inspired to make.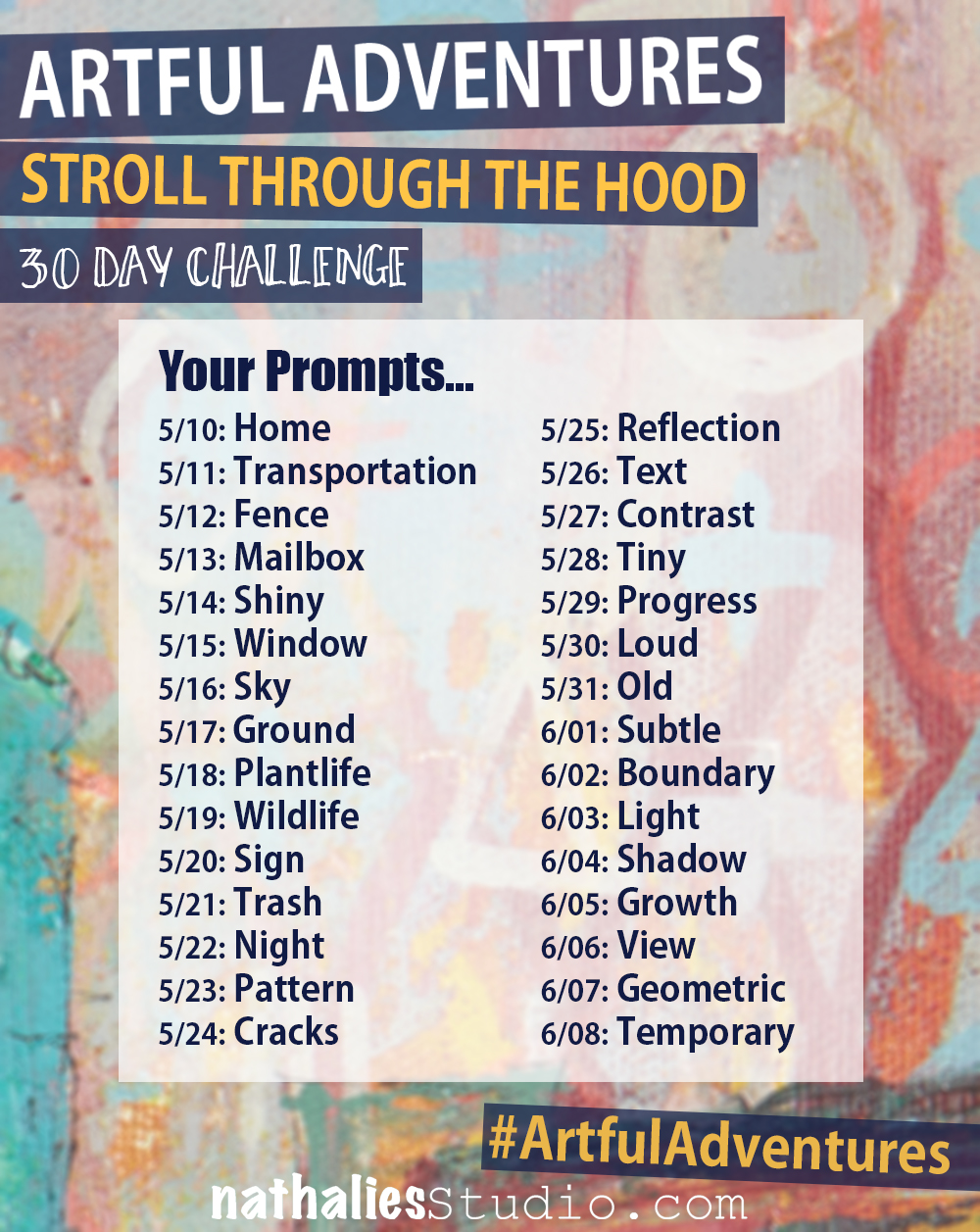 Go even further and sign up to access the FREE classroom going along with the challenge. The classroom will offer several tutorials by me, my photos for the challenge with explanation what inspires me, some surprise guests with tutorials, a place for sharing, a community environment, and multiple chances to win a free copy of my new book Artful Adventures in Mixed Media..  Join me on my #ArtfulAdventures as I show you how I transform my prompt-inspired photos into artwork. Share your photos in the daily lesson prompts and see what others are observing in their "Hoods". Comment and discuss with a whole bunch of people who are taking the challenge with you.
I hope you will join the fun! It's free- so …come on :)