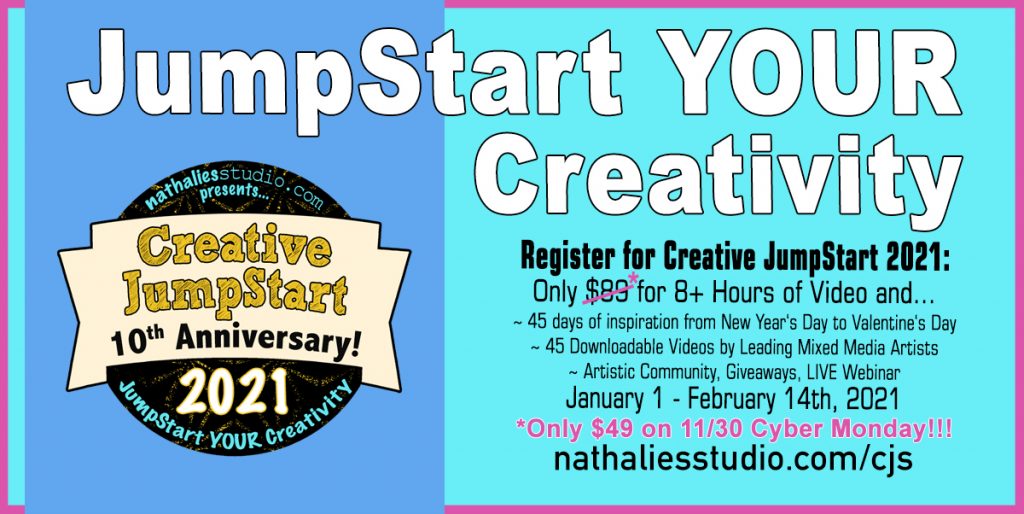 Are you ready for the BIGGEST Creative JumpStart EVER? We're celebrating our 10th Anniversary this year in a big way and I'm excited today to announce Creative JumpStart (CJS) 2021 is on sale!
Sign up TODAY and SAVE BIG: you can get CJS21 for just $49USD today. Our Cyber Monday Sale ends tonight, November 30th at 11:59pmEST.
What is Creative JumpStart? It's a one-of-a-kind online mixed media workshop, designed to kick your creativity into high gear from January 1st through February 14th 2021 and BEYOND. Learn techniques, discover new materials, and connect with other artists and crafters.
Check out the Promo Video to get a taste:
What does Creative JumpStart 2021 include? As this is our 10th Anniversary Year, we are bigger than ever with 45 leading mixed media artists sharing 45 downloadable video lessons with you. We've also got tons of added goodies: downloadable PDF supply lists and artist guides to assist you with the lessons, the chance to interact with students and teachers in the classroom, the opportunity to share your CJS21 inspired artwork with an incredible community of creative souls, exclusive giveaways from our sponsors, and LIVE webinars to enrich your artistic journey in 2021 and BEYOND.
Who are the wonderful teachers of Creative JumpStart 2021? We have a powerhouse of talent in the line up this year. I am thrilled to present to you many seasoned veterans of CJS but also some new faces that add to the excitement that is Creative JumpStart:

The theme this year is Storyteller and we asked our artists to create lessons inspired by the story that they wanted to tell. Art is such a powerful tool for telling our own stories, through subject matter, tools, materials, colors, style, and more. Our artists will share with you how they use creativity to tell a story and will teach and inspire you to translate these techniques into your own way of creating.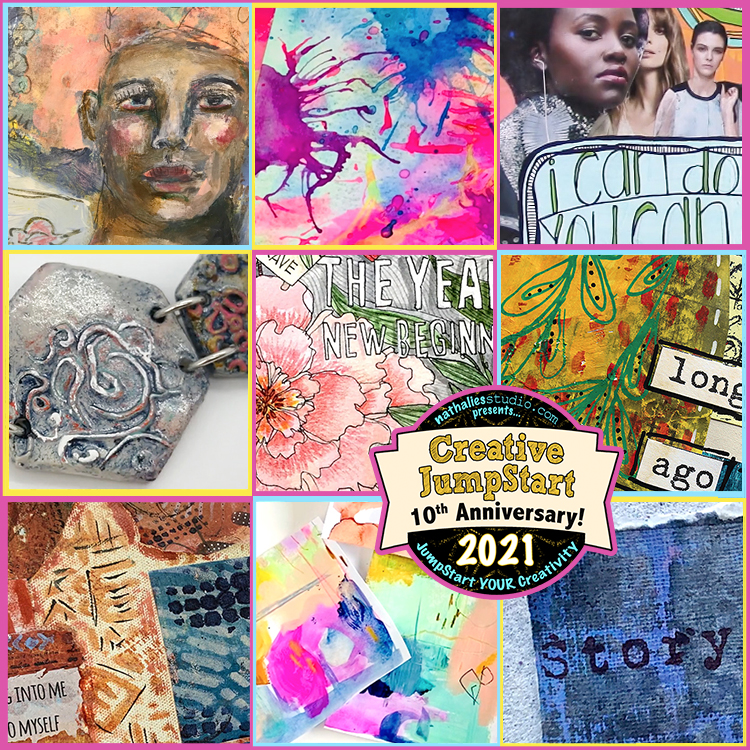 Sign up HERE for Creative JumpStart 2021.
You get 45 videos – over 8 hours worth of video content – for just $49 (USD) if you sign up by November 30th, 11:59 pm EST. Afterwards it will be $59USD until December 4th 11:59pmEST, and $69USD until December 31 11:59pmEST, before it goes to its normal sale price of $89USD on January 1st, 2021.
So what are you waiting for? SIGN UP HERE
Also: Our Seasonal Spectacular Sale is ending TODAY. So be sure to head to my online shop and add some rubber stamps, foam stamps, stencils, artwork, mugs and more (any physical product – woohoo) to your shopping cart. Then just use the coupon code SEASONAL25 to save 25% off. Hurry in – items are going fast and this is my BIGGEST sale of the year :) Here is the shop.