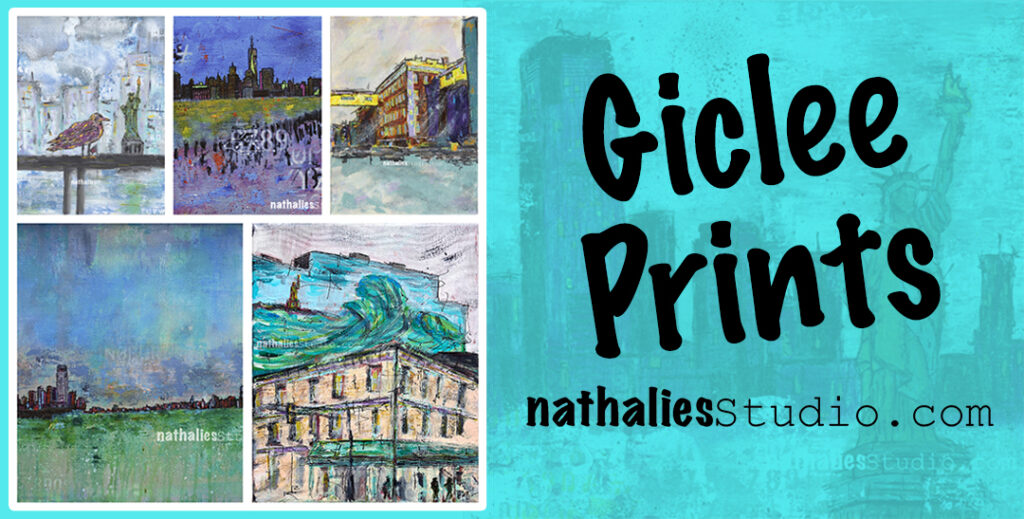 Not only do I love creating artwork, I also love hanging artwork that I enjoy on my walls, and I bet you do too! That's why I've had prints made of many of my paintings – I'd love for my artwork to be available for all who may want to hang one in their space.
These prints are Giclee Prints – brilliant and true colors printed on high quality paper that you can frame and hang and enjoy just as you might an original piece, but at a price that is accessible to everyone. That is the beauty of collecting prints and I thought it might be nice to look at some of the prints that I currently have available here in my shop.
The first piece is called "Whose Front Yard" and I painted the original shortly after moving to the US and Jersey City. I was and still am very much taken by the cityscapes around NYC and the drama and grandeur of the Statue of Liberty in the NY Harbor. I thought it might be interesting to consider this view from another perspective :) This print is available in both a small size and a medium size.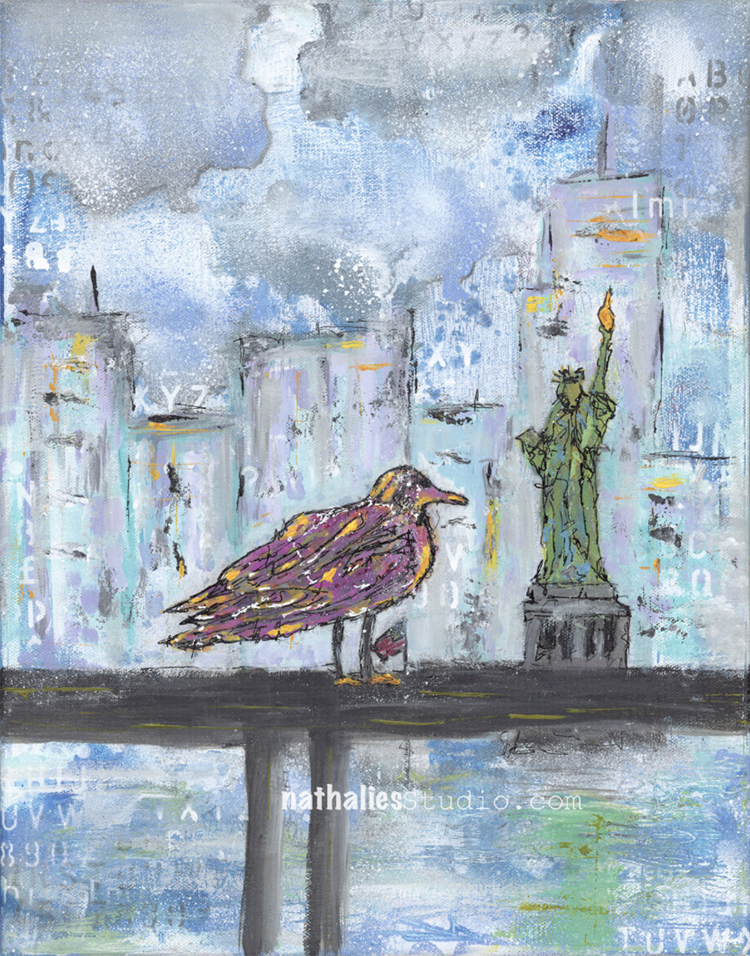 "Fallen off the Edge" is another take on the NYC skyline, as seen from the Jersey City side of the Hudson, arguably the best view of NYC that can be had. This piece combines cityscape with layered imagery and suggestions of past stories to be uncovered… something that is a big part of what inspires me to create art. Here is a link to this print in my shop.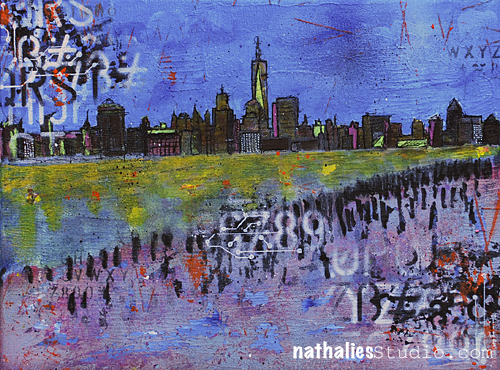 When I first moved to Jersey City, I lived in a converted pencil factory that wound up becoming my muse for several paintings, including this one called "1.25.2016". This is a winter scene, capturing the winds and driving snows of a blizzard that hit us on January 25th, 2016. It's always magical while it's snowing in the city and for a few hours after it's over and then… it's a total mess and a lot of hard work to dig out lol. I wanted to preserve the magical time, before the plows and shoveling. Here is this print in my shop.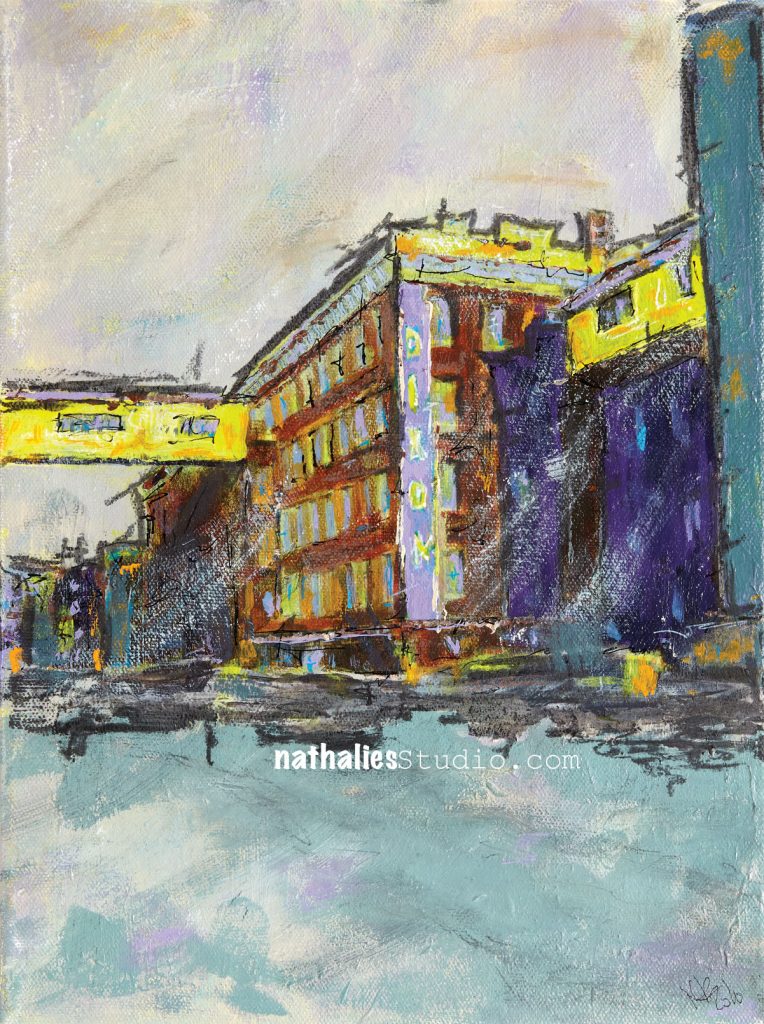 We have a couple Shepard Fairey murals in Jersey City but there is one in Downtown that grabs you right when you come up from the Path train station. It's pretty intense and I had to capture the whole scene in my painting, called "This Too Shall Pass". I will let you ponder the combination of mural and setting – a place in town that is just about 2 feet above sea level in our changing climate… and you can find that print here in my shop.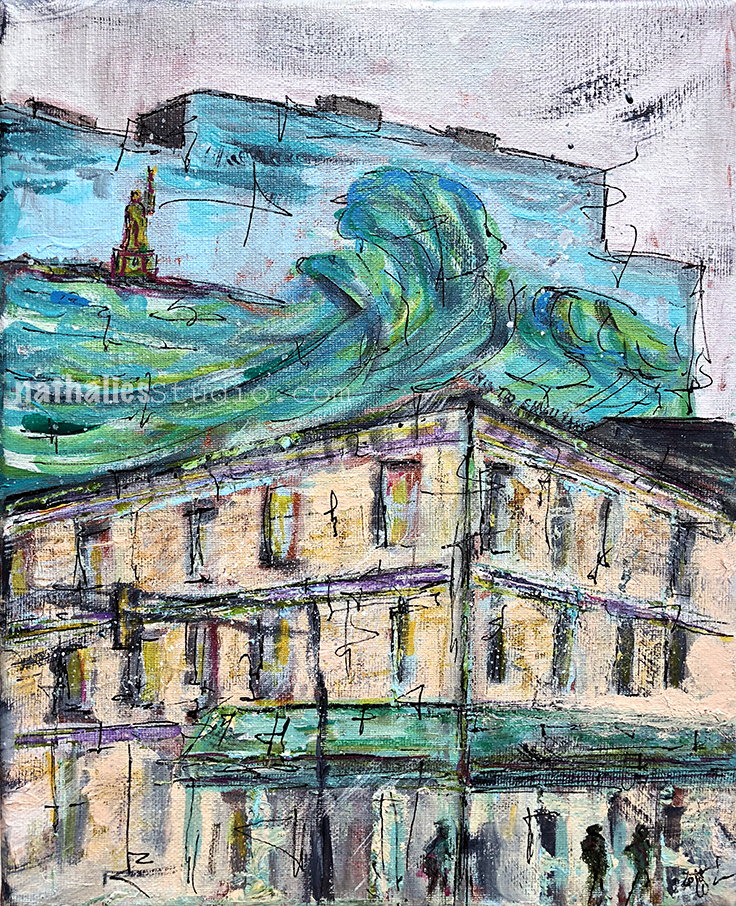 You can find all my giclee prints in my shop here and there are more to choose from – I just pulled a few to talk about today. I hope you find something you like and remember there are also original works to browse through in the Artwork section of my shop. Enjoy!