When I designed my Neato foam stamp, it was part of a suite of designs all based on some mid century modern stamp rollers I found in a vintage shop. I named all the patterns after slang words from the 1950's and for the most part they were pretty abstract designs… except Neato just always reminds me of a fish LOL!
It's kinda funny when you make a bunch of patterns and they really are just non-representational forms… but the more you work with them and get to know them they start to represent something. This is definitely what happened here and I am not alone either – a lot of you out there have seen the resemblance Neato has to a fish and I love that! We are on some similar mixed media wavelengths here :)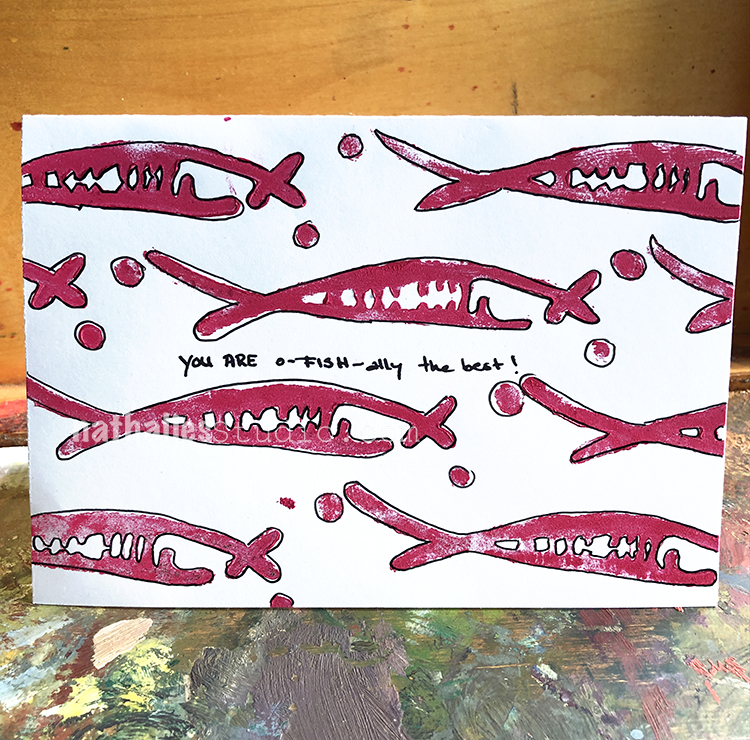 One of the first projects I made with Neato were these fish-themed Valentines. I hope you like puns too because I came up with a surprising amount of them… and I bet there are even more out there!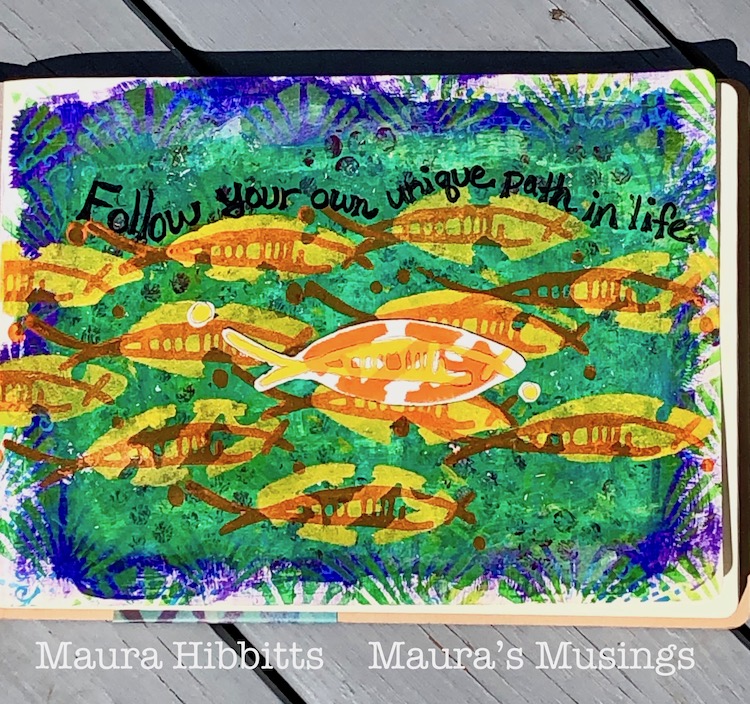 My Creative Squad got in on it too – in this art journal page Maura Hibbitts created an underwater scene using Neato and even an element from my Batik stencil to emphasize that sleek fishy body.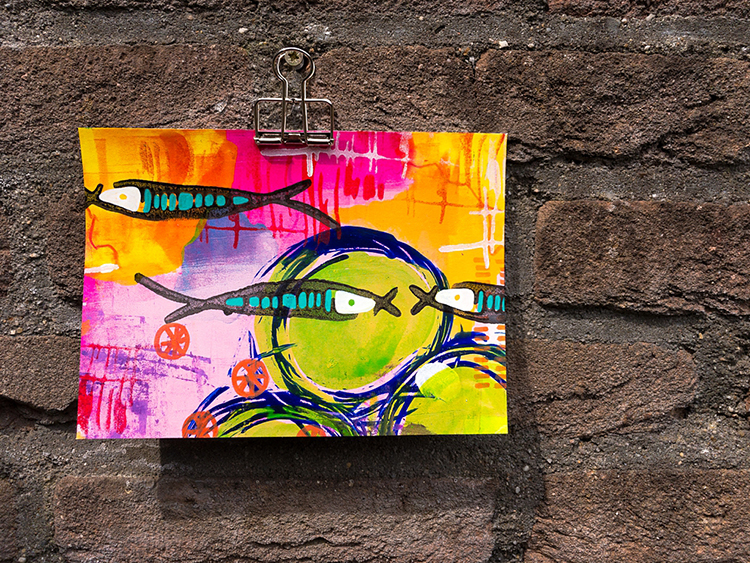 Marsha Valk created a series of cards and collage papers featuring Neato as a fish too, and she admitted it was hard to not add an eye to the stamped design haha.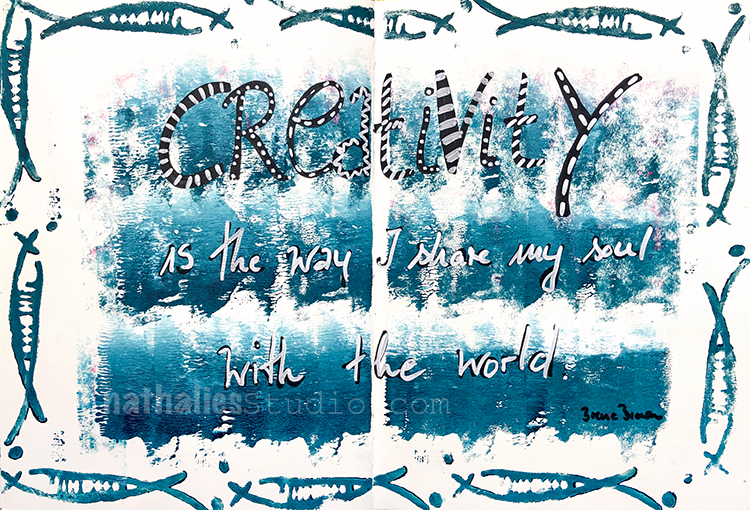 But ok, maybe Neato doesn't have to be a fish if that's not what you are looking for… in fact I really like using it as a border in an art journal spread!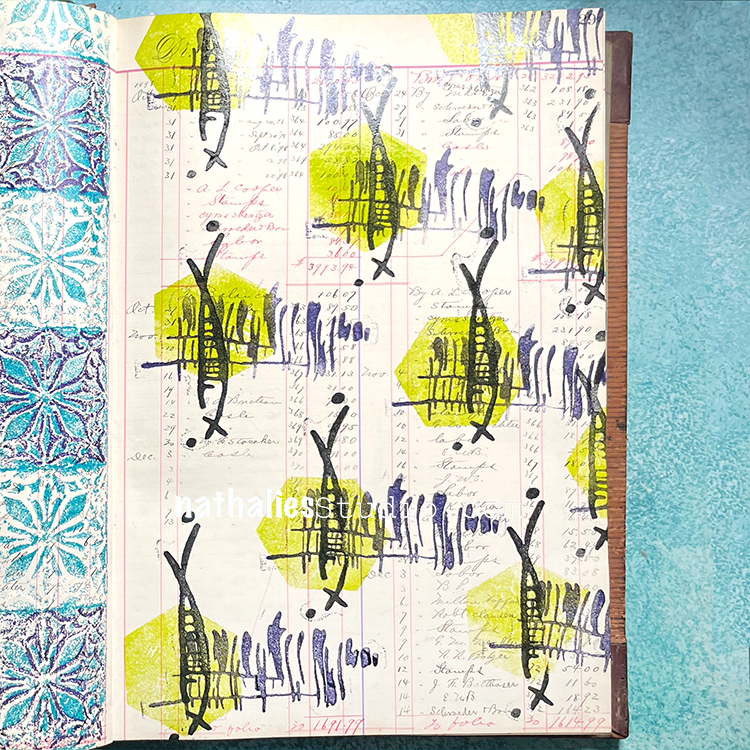 Neato can be just another abstract design that you can use as a tool for mark making in your artwork. In the above I combined it with my Far Out and the back of my Space Oddity foam stamps to create a more complex pattern.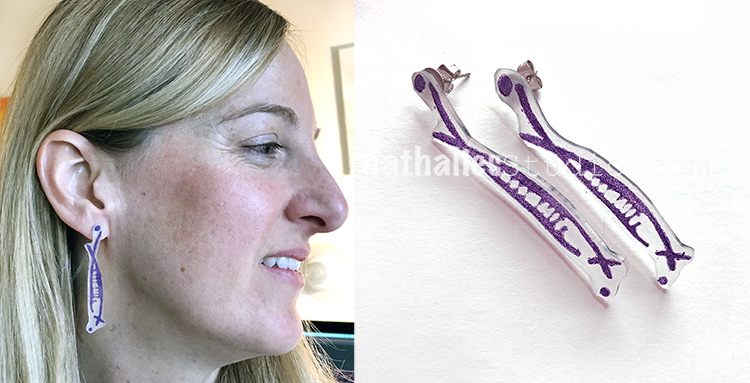 And finally here is my friend Kim from one of our playdates where we used Neato and other foam stamps to make shrink film earrings – pretty Neato accessories if I do say so myself.
So whether you see a fish or just a cool looking design, I will of course never get tired of seeing just how you use my Neato foam stamp! Tag me and share your projects with me, fishy or not :)