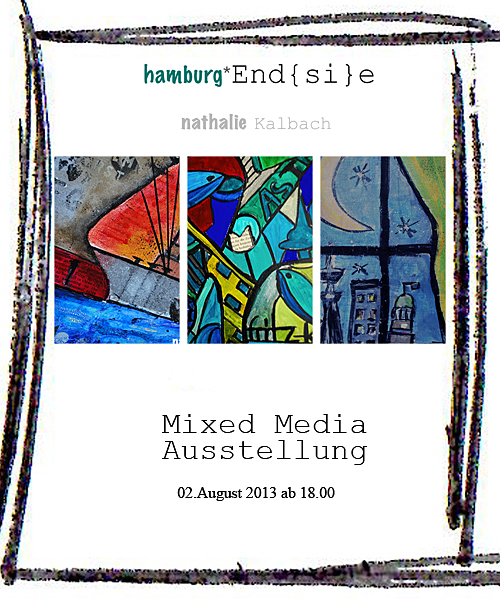 So last friday was the day of my first exhibition. If you are a regular reader of my blog and newsletter you know ow long it took me to do this and how scared and excited I was about the whole thing :) For the first time showing a bigger amount of my art work to friends and other people who have nothing to do with Mixed Media usually. Also most of my friends never really saw or got what I am doing anyway – not that they are not interested  – they just couldn't grasp the concept ;)
Let me say right away – IT WAS AWESOME! – so you are done reading, if that is all you want to know – LOL – for the rest…let's get into the details why it was one really cool experience!
1. Creating Process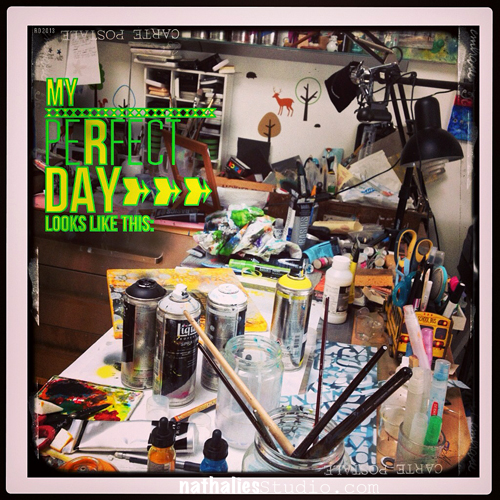 Once I had the theme of the Exhibition in my head – a mixture between all Hamburg-Related things -mixed with a good bye twist – I had ideas for more canvases to create. I spent many days from early morning till late night in my studio painting and it was awesome. I loved working with my favorite techniques – and as I said many times before- if you master the technique it is quite easy to just let creativity flow.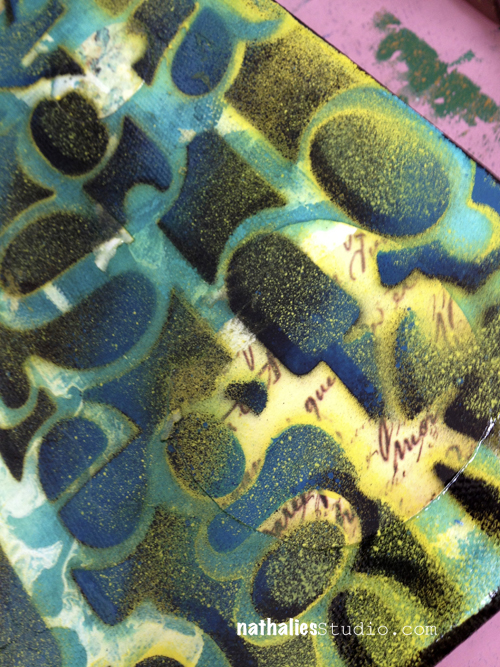 My obstacles were of other nature …painting on canvases that are bigger than my usual surfaces…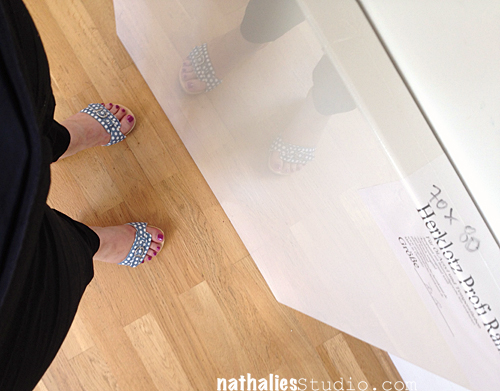 and I tackled that too and I loved it. I want to do more of those!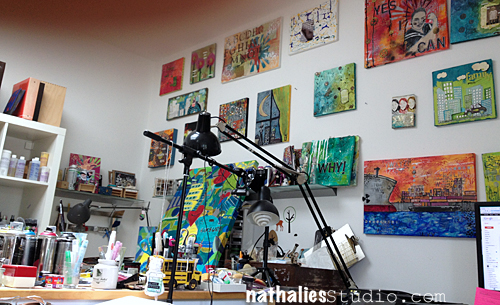 I am ready for it ;)
2. Preparing the Exhibition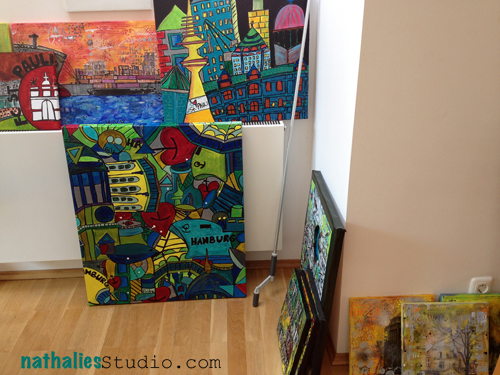 It was pretty amazing how much work even in such a small exhibition goes – I never really thought about it…see it is all a learning process for me. Gathering the artwork which I thought would fit best for the rooms and theme…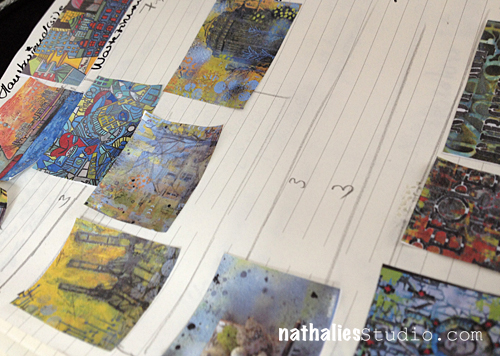 planning out in which rooms which art work can hang …trying to take into account space, wall size, windows and light – I didn't do the best job on the light in one room as at a certain point the light was glaring on the pictures distracting the view a bit- but oh well…that is why you do your first exhibition in a small and familiar place then ;)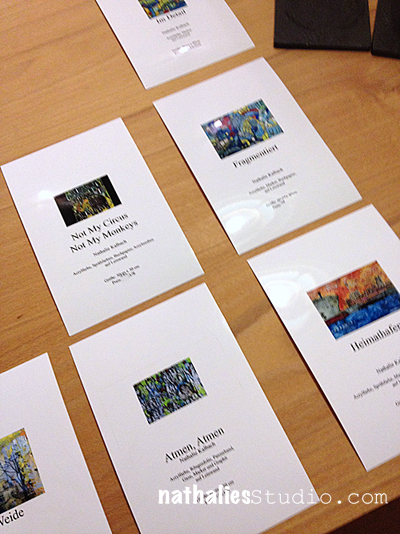 The hardest while preparing…coming up with names and …prices…the never ending discussion for an artist how to price your work. I was told I priced it to low by all of the people at the exhibition…I also talked a long time at the exhibition to a friend who is working at the Art Academy here in  Hamburg and she stated that in her experience it is mostly the women that have a problem pricing their art work, while the guys just do it. She has seen rows and rows of art students and it is always the same issue. Interesting…why is that? Well…I guess I fulfill the norm here ;)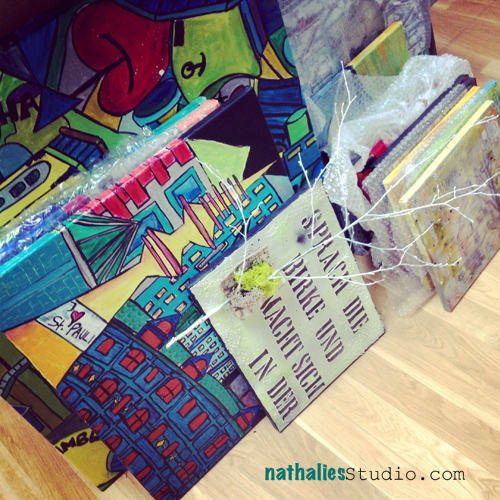 Transporting and packing the artwork…some are super easy, some are causing problems because of fragility. I also learned that huge canvases do not fit in a smart car…and I also learned that carrying a huge canvases for half an hour in about 90 Fahrenheit (32 C)  is quite straining…Note to myself: ASK friends for help next time ;) On the other hand – carrying canvases around in a bag and having strangers ask you if they can take a look to hear them saying "Oh that is so cool, where did you buy that?" is also pretty fun…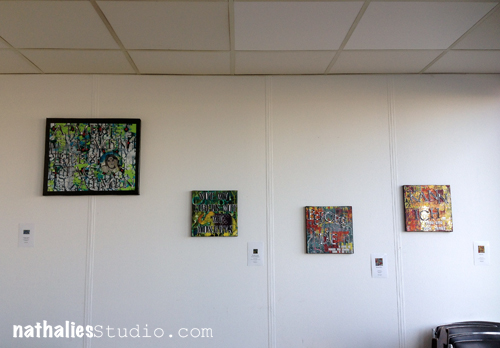 Hanging the work…it is good if you have a friend who is 6.76 feet tall (2.06m) – you do not need a ladder and hanging stuff is a breeze ;)
3. The Exhibition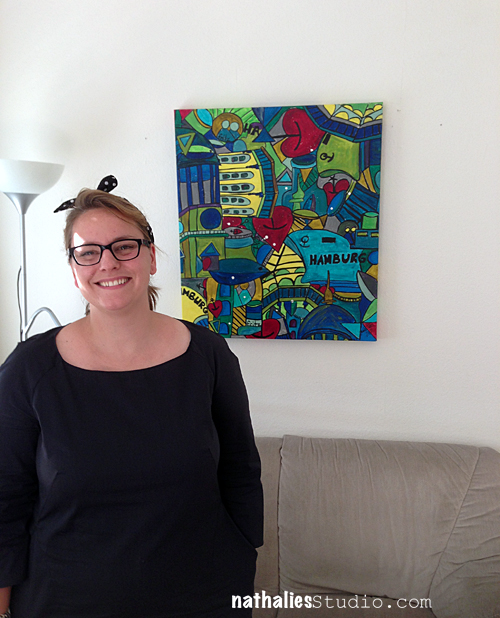 It was the hottest day ever and the last day of the school vacation – so only 1/3 of the people we invited came – it was small but yet wonderful . Sorry for not many pictures of the exhibition and people itself – I was way to busy and excited to take any…
It was special to show my work and the coolest part was hearing what others thought of my work, what they saw, what they liked (very different tastes- so fun to notice that once again ;) )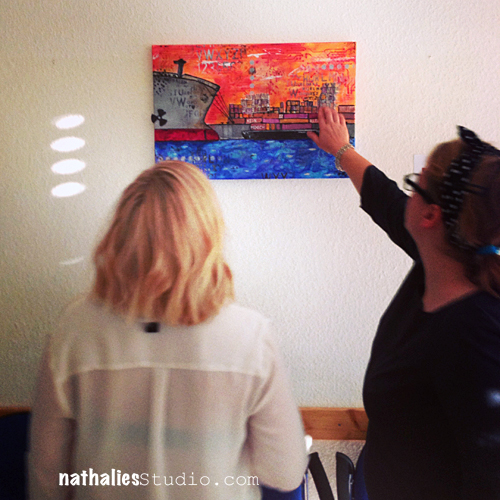 I loved when they discovered the tiniest details, asked questions and told me what they thought or felt seeing a certain canvas.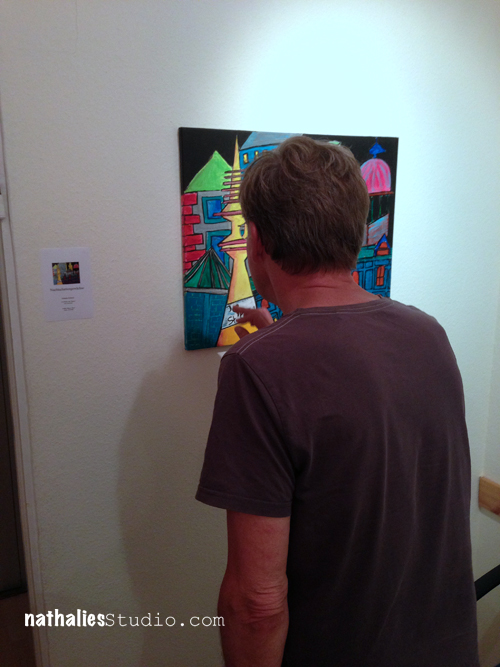 And after a while I started relaxing too and joining the party that formed on the balcony later that evening when it got a bit cooler outside when the sun started to go down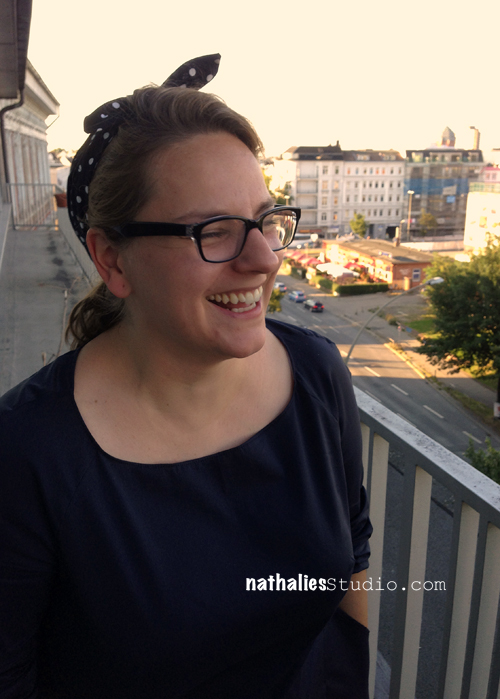 and we even got a nice firework to see to top off the exhibition :) What a great way to say an early good bye to Hamburg -even though we won't move for another five weeks ;)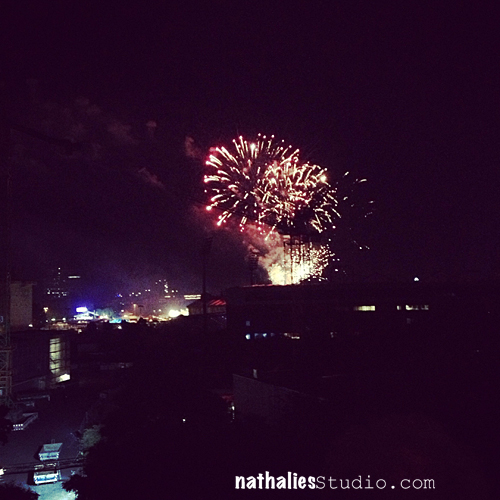 4. Conclusion
It was awesome. It was special for me and I am sure I will always remember this first intimate moment showcasing my work life. I had the feeling people liked my work and I even sold five canvases. I am stoked to know that four of them will be hanging in three different law offices throughout Hamburg (St. Pauli, Eimsbüttel and Altona). I am so giddy about it -I wanna go to all of them and look at them there- LOL. I would absolutely do it again and I hope there will be a chance to do so in my new home one day too :)
5. Thank You
Thanks to Klingner & Kollegen who invited me and made it possible to exhibit my work, to Liquitex for the support with their awesome paint media, to my wonderful readers that kept me going with my first exhibition, my awesome husband without whom this whole art adventure would have never started, my friend Julie Fei-Fan Balzer for her pushing and brain picking sessions and to all those that came to the exhibition on a very hot and murky day and who made me a really happy trooper. Thanks to A. to whom I sold my first two canvases – wow- that was so cool! Thank you!
Huge hugs
Nat