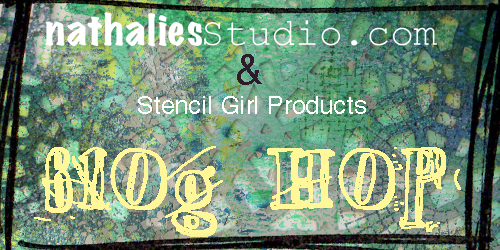 Welcome to my third Stencil  Blog Hop! This time I invited five wonderful artist friends to hop along with me and show case my Stencil Girl Products Crackle Stencil – size 9 x 12 inches.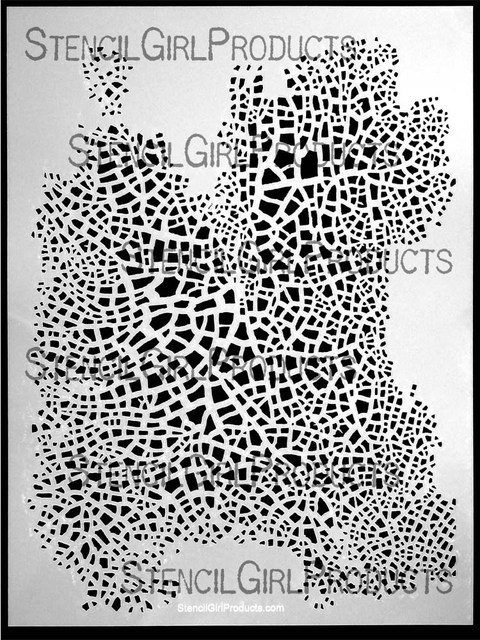 And I give away one Crackle Stencil!Comment here for an entry into this giveaway! And if you also comment on all the other listed blogs I will  give you an entry into the giveaway for each blog you comment on–how cool is that! You have six chances to win it. Leave a comment on each of the listed blogs and on my blog  and let us know how you like the projects and I will pick randomly one lucky winner. You have time to comment till August 13, 2013 – midnight EST.
Edited on August 14, 2013: The winner is Neija, Congratulations. Neija, please email me with your postal address so I can get this stencil sent out to you 
 , Nat
Here are my friends joining me:
Carmen Sanchez – aka Cuchy : Cuchy who lives in Madrid and I have been organizing our Art Mesa Mixed Media event in Spain for the third year already and I do love her as a friend and super talented artist too.
Cat Scanlon : one of my oldest artist friends who has released lots of wonderful products lately and wrote two amazing books on Mixed Media in the past too.
Marjie Kemper : Who does stunning work and blew me away already last week when she posted her take on my Circuit Stencil
Louise Nelson : My friend from Australia who has a stunning style in scrapbooking – and who has a wonderful soul too!
Maria Mc Guire: super talented and an ongoing never ending source of ideas and inspiration who also runs the Stencil Girl Talk Blog .
When I was thinking about my stencil designs – I thought about the stencils that I would love to own – and the Crackle stencil idea has been in my head forever! I wanted the closest possible pattern to real crackle effects and also in smaller sized cracks or bigger ones- so that is why there the stencil is 9×12 inch – which gives you lots of options.
Check out some samples here: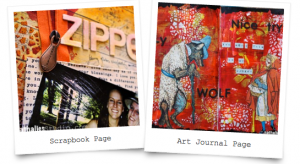 Here is what I created for today: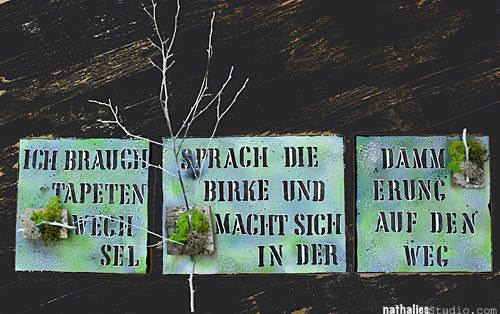 I created these three canvases for the hallway of the place where my exhibition took place last week. The writing is from a German song by Hildegard Knef and it could be translated into:
"I need a change of scenery", said the birch tree and set off at the crack of dawn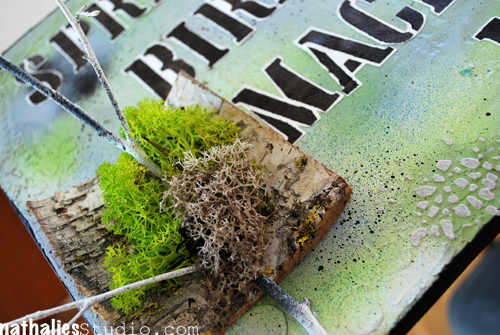 I used the Crackle stencil throughout those canvases in it's most simple use – with some Liquitex Modeling Paste spread over.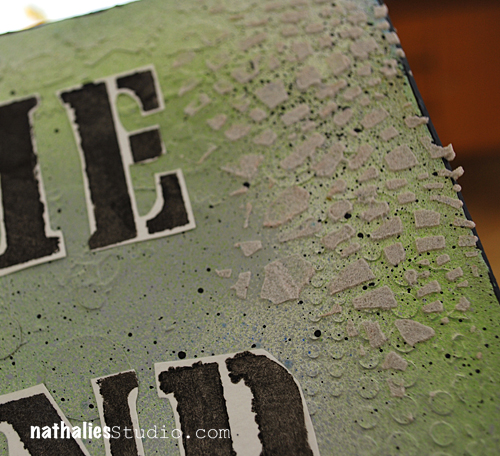 I love the simple texture effect you can archive with it. I had used my What's The Point Stencil underneath with some heavy gesso directly on the canvas, then spray painted with Liquitex Professional Spraypaint, added the texture with the Crackle Stencil and applied a birch tree panel, some moss and a sprayed tree branch to the canvases.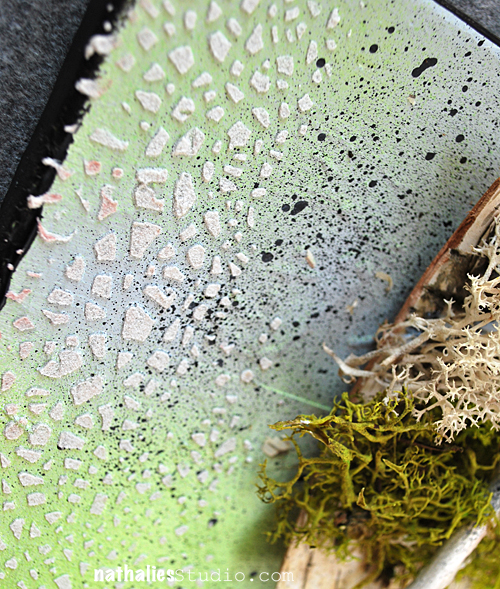 Here are the supplies I used:


Now hop on over to my friends and check what they did and comment for some changes to win the stencil 
Have Fun
Nat