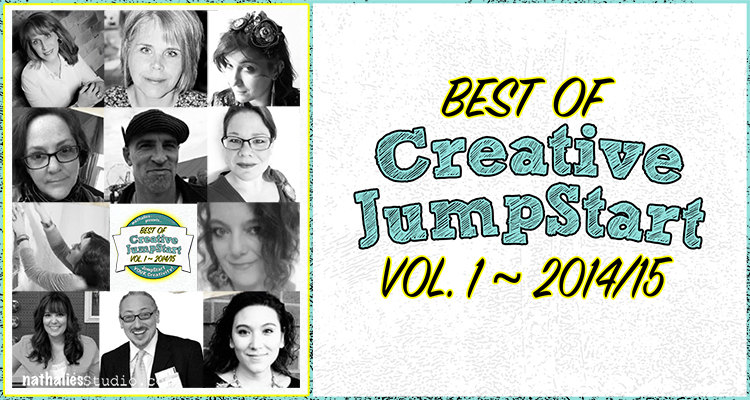 I'm happy to announce today that Best of Creative JumpStart Vol. 1 is now on sale! This is a bundle of mixed media lessons by some of our amazing CJS artist teachers from Creative JumpStart 2014 and 2015.
For just $9.99 you will receive access to download links for 11 inspiring Creative JumpStart lessons from 2014 and 2015. Here are the teachers and lessons in this bundle:
Anna Dabrowska (Finnabair) – CJS2014 Teaspoon assemblage
Catherine Scanlon – CJS2014 Monoprinted art journal
Pam Carriker – CJS2014 Stenciling techniques
Diana Trout – CJS2015 Painted landscape
Jimmy Leslie – CJS2015 Mixed media collage techniques
Marsha Valk – CJS2015 Painted cardboard panels
Natalya Khorover (Aikens) – CJS2015 Dryer sheet photo canvas
Jodi Ohl – CJS2015 Mixed media panel
Ronda Palazzari – CJS2015 Art journal cover
Joe Rotella – CJS2015 Acrylic skin decor
Julie Fei-Fan Balzer – CJS2015 Hand cut stencils
Sign up HERE today for a nice bundle of technique and project lessons from the Creative JumpStart archive!