This time when I came back from CHA I made an effort to play at least half an hour in my studio in my artjournal with the new CHA stuff before tackling all the emails and other things that had to be taken care of.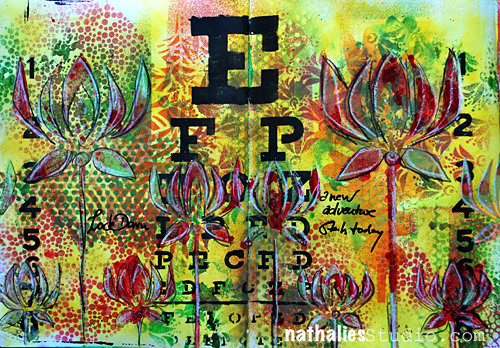 2013 is a very exciting year for me and the adventure started on the day I did this journal page. I will fill you in later in a couple of months- LOL.  The bright colors of this page are a good indicator how excited and full of hopes and happiness I am for things to come :)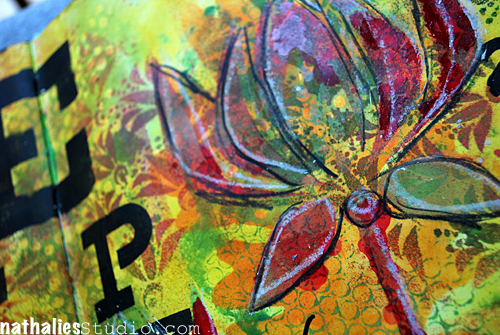 I used Julie Fei Fan Balzer's and Dina Wakley's new stencils for Crafter's Workshop – love! Also used Ranger Distress Inks, Liquitex Acrylic Paints, Liquitex Professional Spraypaints, Derwent Artbars and Posca Markers.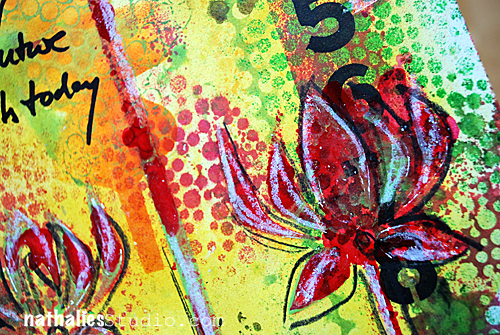 Are you going to spend some time in your studio today?
Have a wonderful day
Nat
P.S.
As you know the Creative JumpStart 2013 is over. Almost 6000 Subscribers – I am speechless…as I am wading through the comments -last time I checked it was over 500 on my final post…I got all teary eyed, in a good way ;) … thank you for all the sweet words about Creative JumpStart 2013- it means a lot to read all those wonderful comments!