Jessica Sporn asked me  and some other artists to be part of her Stencil Test Drive featuring her amazing new stencils for Stencil Girl Products.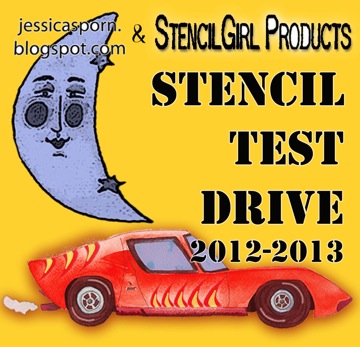 Today along with some others I will show you the use of the Cascading Leaves Stencil. I love this stencil. You can either use it as it is in whole or use little parts of it here and there or even make a frame.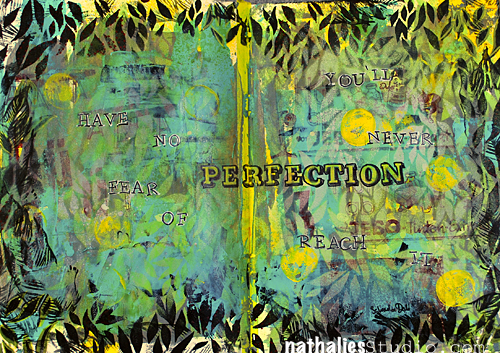 In my art journal spread I used it for the background several times layered up with acrylic spray paints and I loved how beautifully the stencil created a deep dimensional feel. I touched it up with some letterpress images, oil based inks and markers. Then I used the stencil for framing the spread.
Have No Fear Of Perfection. You'll Never Reach It
Salvador Dali.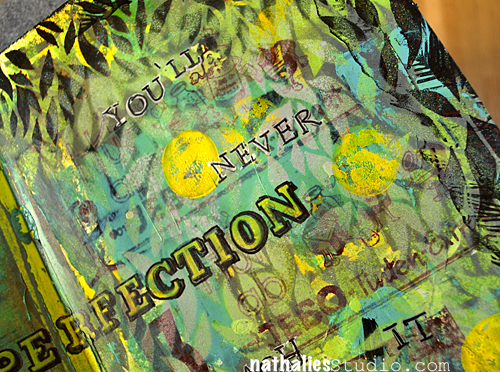 Supplies: Stencil Girl Productions Cascading Leaves Stencil, Letterpress Blocks, Tissue Paper, Liquitex Acrylic Paint, Liquitex Professional Spray Paints, Liquitex Professional Paint Markers, Louise Nelson Feather Stamp, Speedball Oil Base Block Print Ink.
Don't forget to check what all the other artists created with the stencil and also get the chance to win a giveaway on Jessica's Blog.
Have a wonderful day
Nat
Related articles