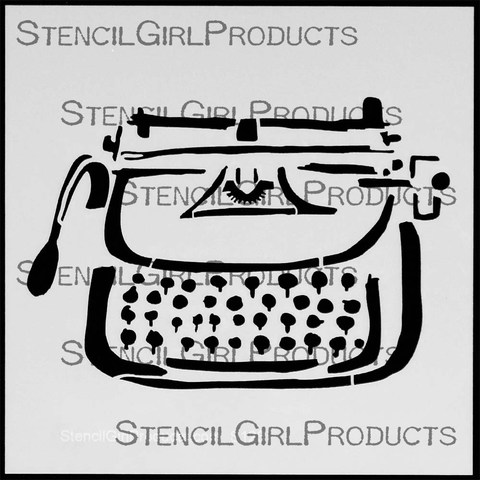 Time to show you my new 6×6 Typewriter Stencil :)

Typewriter …just love them..especially vintage ones. When I was in highschool I owned a huge office typewriter from the 40s. I wanted to be a writer or study journalism when I was a teenager and so my uncle and aunt gave me this typewriter and I hacked on it (you won't believe how loud this thing was!) and started several books…they usually contained about 5 pages until I thought I would move on and write a different story- LOL. Anyway I knew I wanted to design a typewriter stencil since especially with art journals, vintage photos etc. I saw how it would be so much fun to use it.
I used Wendi Vecchi's Black Embossing Paste over the stencil which is 6×6 inches – love the fluffy consistency the paste has and once it was dried I dabbed some Liquitex Markers over. The black of the paste makes the colors really pop off ad add even more dimension to the typewriter. Love it.
I used the heavy body acrylic paints for the background because I do love the texture I can create with it.

Hope you like it :)
Have a beautiful day
Nat
Related articles